Belge De Saison
| Brasseurs Sans Gluten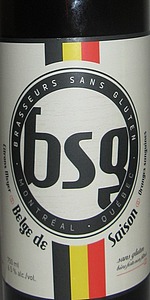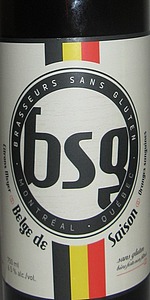 BEER INFO
Brewed by:
Brasseurs Sans Gluten
Quebec
,
Canada
brasseurssansgluten.com
Style:
Saison / Farmhouse Ale
Alcohol by volume (ABV):
6.50%
Availability:
Rotating
Notes / Commercial Description:
No notes at this time.
Added by Beersignal on 03-13-2012
HISTOGRAM
Ratings: 14 | Reviews: 6
Reviews by Krakpoff:
More User Reviews:
3.56
/5
rDev
+8.2%
look: 4 | smell: 3.5 | taste: 3.5 | feel: 3.75 | overall: 3.5
500ml bottle, the 2017 version at 7% ABV. Made with their twin malt attack of millet and buckwheat, as well as honey, lemon, and peppercorns.
This beer pours a hazy, pale golden yellow colour, with a teeming tower of puffy, finely foamy, and rather creamy bone-white head, which leaves some decent loosely webbed lace around the glass as it slowly disappears.
It smells of rather pungent perfumed florals, musty pepper, earthy honey, lemon Halls lozenges, some indistinct malt sweetness, and a bit of leafy, weedy, and musky green hop bitterness. The taste is semi-sweet alterna-malt, various shades of ground pepper, sort of exotic-seeming lemon, dried and crusty honey, and more weak leafy, earthy, and gently sauced-up floral hoppiness.
The carbonation is almost overwrought in its aggressive frothiness, the body a decent medium weight, and sort of smooth, as that estery perfume character kind of steps on more than a few toes here. It finishes trending dry, like the real boy Saison that it aspires to be.
Overall, this is a valiant enough attempt to mimic the style, but the whole is supposed to be more than just the sum of the parts, and that is clearly evident in this situation. Not a bad brew, but kind of disjointed-seeming, even if you concentrate (i.e. employ cognitive dissonance) on not thinking too hard about it.
1,339 characters
3.79
/5
rDev
+15.2%
look: 3.75 | smell: 4 | taste: 3.75 | feel: 3.5 | overall: 3.75
Salad in a bottle, 2014 edition.
32 characters
3.7
/5
rDev
+12.5%
look: 3.5 | smell: 3.5 | taste: 4 | feel: 3.5 | overall: 3.5
Bottle: Poured a bright golden color ale with a large foamy head with good retention and some light lacing. Aroma consists of semi-sweet malt with light fruity ester with light citrus and spicy undertones. Taste is a mix between some semi-sweet malt notes with light citrus and spices undertones and a typical fruity Belgian yeast strain final. Body is full with good carbonation. I can't say I detected every ingredient that was used for brewing or that I noticed that no barley malt was used but I must admits that this was a flavourful offering.
550 characters

3.75
/5
rDev
+14%
look: 3.5 | smell: 3.5 | taste: 4 | feel: 4 | overall: 3.5
The beer color is golden with some orange notes in there too. Hazy. White foamy head thrones on it for a little bit of time, but disappear quite fast.
The aroma is intense with belgium yeast with some tropical fruits in there too. Dominated by yeast. Tastewise it is very similar as the aroma. This is a good Belgium Saison. Miss a little bit of bitterness. This one is quite refreshing. It taste good and warms the body as you drink it. It appears more high ABV than 6.5%. Medium body.
Overall a decent beer.
511 characters



3.27
/5
rDev
-0.6%
look: 2 | smell: 3.75 | taste: 3.75 | feel: 1.5 | overall: 3
Version I had was 7% abv
A: Not very good looking. Super translucid pale pale yellow color with a little bit of soapy head with near 0 retention. No lacing.
S: Smell is not bad per se but feels a bit off. You really notice there's something weird about this beer. There are no malts and the yeast used isn't a Belgian yeast. But, to get the signature aromas of belgian yeast, they added lemon, pepper and other spices to the beer. And you kind of get that. So, not bad, but not typical. You get the light sweetness (honey), the lemon, the pepper and the spices, as they are all actual ingredients to the beer..
T: Goes with the smell perfectly. You really notice the different ingredients and it shows that the complexities are not emergent as in a traditional saison. Still, the taste isn't bad.
M: Well, it was the low point. Light, but a bit sticky, the carbonation was weird. Everything was off as in terms of feel in this beer.
O: Not a very good value for the 9$ they ask for this beer. BUT, considering this is a beer without gluten (malt), this is still pretty impressive and manage to taste quite like an actual beer. Still, if you compare it to the real deal, the taste and the smell are decent, but the rest is pretty boring.
1,241 characters

3.58
/5
rDev
+8.8%
look: 3.75 | smell: 3.25 | taste: 3.75 | feel: 3.75 | overall: 3.5
2014 up to 7% . This is my first gluten free beer as my wife gave up wheat and I thought I would look for something GF. Not the best smelling beer as the notes where kinda of lemon pledge. However the taste was quite decent with some yeasty notes as per the style but also a grainy taste that must be from the buckwheat. The meyer lemon also is to the fore but works within the context of the beer. I enjoyed my glass and think that this is good GF beer and almost on par with most Saisons.
490 characters
3.03
/5
rDev
-7.9%
look: 2.75 | smell: 2.75 | taste: 3.25 | feel: 3 | overall: 3
3.39
/5
rDev
+3%
look: 3.75 | smell: 3.5 | taste: 3.25 | feel: 3.25 | overall: 3.5
2.46
/5
rDev
-25.2%
look: 3 | smell: 2 | taste: 2.5 | feel: 3 | overall: 2.5
Had to eventually try a gluten free beer at one point. When I saw the ingredients list on this bottle I thought I would be in for something interesting... Let's see.
Among the items used to brew this: Millet, buckwheat honey, molasses, blood oranges, Meyer Lemons, pink peppercorns. Expecting big things here.
It pours a sunny straw blonde with a white but vanishing and fizzy thin cap of foam. Sounds like I'm pouring myself a glass of Sprite. Within seconds the head is gone leaving just a thin ring around my glass and no lacing.
Aromas are very faint for a saison. I'm accustomed to offerings from Fantôme, Dupont, and Pipaix, and the many brewpubs locally, that are so aromatic and complex that I'm left somewhat let down by the absence of complexity. Some hints of preserved lemons but none of the pink pepper or any peppery notes that might be produced by a quality Saison yeast.
Consistently, flavours are parallel to the aromas and fall flat. Don't detect much of anything other than mild citrucy notes and an afterthought of peppercorns. No real bitterness to speak of. Reminescent of one of the first Witbiers I brewed... not a success.
Dryish mouthfeel and brief finish, mercifully. Nothing I would want to drop $9 on anytime ever again.
If the brewer is going to call this a Saison he must expect it to be judged by those standards. This is very far from the yeasty complexity of the saisons I have drank. I also believe that with this style, less is more. Let the yeast do the talking. If you are going to throw the pantry at a beer then at least develop a flavour and aroma profile that beckons another drink. Sadly this does not.
Santé
SMD
1,681 characters
Belge De Saison from Brasseurs Sans Gluten
Beer rating:
3.29
out of
5
with
14
ratings