Glutenberg Bière Rousse (Red Ale)
| Brasseurs Sans Gluten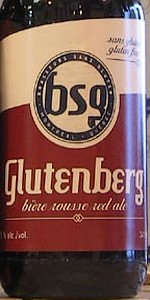 BEER INFO
Brewed by:
Brasseurs Sans Gluten
Quebec
,
Canada
brasseurssansgluten.com
Style:
American Amber / Red Ale
Alcohol by volume (ABV):
5.00%
Availability:
Year-round
Notes / Commercial Description:
No notes at this time.
Added by biboergosum on 07-05-2012
Reviews: 8 | Ratings: 30

4.21
/5
rDev
+27.6%
look: 4.25 | smell: 3.75 | taste: 4.5 | feel: 4 | overall: 4.25
I have been meaning to get at my remaining gluten-free beers for some time and with today being another installment of New Beer Sunday, I am making mine New Gluten-Free Beer Sunday. I picked up a mixed 4-pack of Glutenberg CANs in support of The CANQuest (tm) during my most recent New England foray and I am curious to give them a whirl.
From the CAN: "100% Gluten Free - 100% Great Beer"; "World Beer Cup Gold Award 2012 Winner Gluten-Free Beer Category"; "Ingredients: Water, Buckwheat, Millet, Molasses, Chestnut, CANdy Syrup, Quinoa, Hops, Yeast."
I feel as though I am really drinking healthy with these beers! Good thing, since once more, the tab & tongue seemed to fight me on the Crack! I debated on CANducting an inverted Glug, but given that it was a 16-fl. oz. CAN, I decided that discretion was the better part of valor. Even so, a routine Glug saw a LOT of foaming coming up in the glass, eventually forming two fingers of dense, foamy, light-tan head with decent retention. Color was Brown to Dark Brown (SRM = > 22, < 27) with NE-quality clarity. I get why they were referring to it as "Red", but it was a sort of chestnut-reddish color, relegating into the "Brown" range of the SRM spectrum. Nose actually smelled very nice & would have said "malty" except that I would be roundly laughed at. Really, though, it was very evocative of a standard Amber/Red Ale. Mouthfeel was medium, fuller than other G-F beers that I have reviewed. The taste had a light sharpness, undoubtedly of the treacle, I mean, molasses. Even then, it was offset by a sugary nuttiness that really helped to cut some of that harshness which seems to be a hallmark of G-F beers. This was a really brilliant commingling of seemingly disparate ingredients. I have to admit some trepidation when I CANscribed them, but it is working for me. Finish was semi-sweet and not much removed from a lot of Amber/Red Ales that I have reviewed in the past. Admittedly, I am not the intended audience for this sort of beer, but I figure that I like it, then the celiac set will really dig it. I am a neo-hippie in that I will try anything once, man. This one is recommended by The CANQuest (tm)!
★
2,171 characters

2.6
/5
rDev
-21.2%
look: 3.75 | smell: 2.5 | taste: 2.5 | feel: 2.75 | overall: 2.5
Served from the can in a Trooper shaker pint glass.
Part three of my four-part excursion into gluten-free madness heads into red ale territory. This stuff pours a copper topped by a couple fingers of ecru foam. The nose comprises menthol, arugula, dry caramel, and a touch of what may or may not be kiwi peel. The taste holds notes of green tea, light tobacco, and thoroughly watered-down caramel. The body is a light medium, with a light moderate carbonation and a slightly waxy feel. Overall, another miss from the GF camp. Only the IPA remains...
★
550 characters
3
/5
rDev
-9.1%
look: 3 | smell: 3 | taste: 3 | feel: 3 | overall: 3
Can: Poured a clear brown color ale with a medium size foamy head with OK retention and small lacing. Aroma of light grainy malt base with dry caramel notes. Taste is also a mix of dry caramel malt with some grainy notes. Body is about average with good carbonation. Standard red ale with limited hops and more grainy malt base than usual due to use of alternate grains.
★
371 characters

2.88
/5
rDev
-12.7%
look: 3 | smell: 3 | taste: 2.75 | feel: 2.75 | overall: 3
5% ABV. 473ml silver aluminum can. Served cold into a stangenglas at low altitude in NYC.
Reviewed live as a red ale per the label.
"Glutenberg Red Ale."
No bubble show forms as it's poured.
HEAD: 2 fingers wide. White colour. Fluffy, fairly soft, decently creamy, and moderately thick. Retention is good - about 4 minutes. Leaves no lacing as it recedes.
BODY: Dark amber colour. Deep hues. Clean; no yeast particulate or hop sediment is visible.
Overall, it's a pretty good looking amber, with nice carbonation. I'm looking forward to trying it.
AROMA: Amber malts, some breadiness, mild floral hop character, and cream. It's a bit insipid, but fits style conventions.
Aromatic intensity is below average. Not a real evocative aroma overall.
No yeast character, alcohol, or off-notes are detectable.
TASTE: Amber malts provide the base...and that's about all there is flavour-wise. A hint of bread char, some modest sweetness...there's just not much going on here at all, and it's painfully shallow. I look for chestnut, and I guess I find it when prompted.
Quinoa? Please.
Candy syrup? I guess.
The ingredients list on the can seems more like a marketing ploy than a genuine reflection of how this was brewed; maybe they used millet quinoa and buckwheat, but it was likely in such small amounts it had no effect on flavour.
TEXTURE: Smooth, wet, medium-bodied, and slightly overcarbonated. Suits the taste okay, but doesn't elevate the beer.
OVERALL: Those who actually have celiac disease diagnosis as a result of getting a biopsy (not those who merely feel bad after eating a bagel) would do well to pick this up for rotation in their fridge. But the gluten free diet fad crowd should stop aching for attention from their neapolitan friends and just drink the real beer they can actually phsyiologically handle. Drinkable and enjoyable, but not a beer I'd have again.
C
★
1,891 characters
3.54
/5
rDev
+7.3%
look: 3.75 | smell: 3.5 | taste: 3.5 | feel: 3.25 | overall: 3.75
A: The beer is crystal clear dark garnet red in color and has a light amount of visible carbonation. It poured with a short off white head that died down, leaving long wisps of bubbles on the surface and a collar around the edge of the glass.
S: Light aromas of nutty malts are present in the nose along with notes of cola.
T: The taste follows the smell and has bits of sweetness from the candy syrup and molasses.
M: It feels a bit more than light-bodied on the palate and has a moderate amount of carbonation.
O: This beer has a pretty good taste for something that is gluten-free.
Serving type: can
★
608 characters

2.73
/5
rDev
-17.3%
look: 4.5 | smell: 3.25 | taste: 2.25 | feel: 2.75 | overall: 2.5
16oz can labeled at Glutenberg Red Ale in the U.S. Pours a dark amber color with a frothy beige head. The aroma is malty with a slight smoke scent. The flavor is weak with grains and burnt taste of millet. Takes some getting used to as I am not big on the taste of millet.
★
272 characters

3.34
/5
rDev
+1.2%
look: 3.75 | smell: 2.75 | taste: 3.5 | feel: 3.5 | overall: 3.5
341ml bottle poured into tulip 3/11/13
A dark reddish cola, a finger of tan foam sits around for a few sips leaving a collar of lace
S coco, burnt sugar, molasses, slightly nutty, smells decent but I get a hint of outhouse in the back ground that I just cant shake
T no outhouse thank god, nutty hard toffee, a little plum, brown sugar and milk chocolate, some strange foreign grains have a weedy, herbal thing going on
M light bodied, feels flat at first but bubbles come out after a second, nutty coco on the finish
O unlike most gluten free beers I've had this one's not painful to drink, the nose leaves something to be desired but even then its not terrible
possibly the best gluten free beer I've had, doesn't that nastiness that I'm guessing is from sorghum I've been finding in other gluten frees. I've think I've had enough gluten free for a while, I'll finish on a high note
★
894 characters
3.67
/5
rDev
+11.2%
look: 3 | smell: 3.5 | taste: 4 | feel: 3.5 | overall: 3.5
341ml bottle. Made with buckwheat, millet, and quinoa for grain substitutes, and some molasses and chestnuts just for fun.
This beer pours a clear, dark copper amber colour, with a measly half-finger of thin foamy off-white head, which disappears momentarily, leaving a low berm of lace around the glass.
It smells of zingy caramel malt, a sort of wet ashiness, a bit of dry chocolate, some subtle nuttiness, and earthy, musty hops. The taste is grainy, somewhat biscuity malt, more oily nutty notes, a mild brown sugar sweetness, and leafy, earthy hops.
The carbonation is on the low, but still supportive, side, the body a decent medium weight, a bit pithy, but generally smooth. It finishes off-dry, the caramel malt holding steady, with a slightly sour grainy essence, and some lingering herbal leaf hops.
Huh. Handed to me without any identifying info, I would have treated this as just another red ale (with strong Brown Ale aspirations). And, accordingly, as I wrote this review, I found myself not trying to find justification or 'real-beer' analogies. While this brewer's Blonde and Pale Ale hit close to home, this is a full-on round-tripper - and a little better than average example of the style as a whole, at that.
★
1,232 characters
Glutenberg Bière Rousse (Red Ale) from Brasseurs Sans Gluten
3.3
out of
5
based on
30
ratings.