Steel Toe Brewing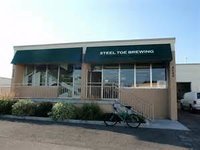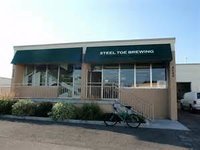 Brewery, Bar, Beer-to-go
4848 35th St W
Saint Louis Park
,
Minnesota
, 55416
United States
(952) 955-9965 |
map
steeltoebrewing.com
Notes: Here at STB we believe in working our ass off for what we believe in, following our passion, giving back to and working with the community that supports us, being conscious of the world around us, producing the best quality product we can and kicking back with great beer at the end of the day. We are a small MN craft brewery with big dreams of staying small.
Jason (co-founder, along with Hannah) has worn steel toed boots for most of his work career. It's not a colored-collar thing, its a hard-work thing. That's what we're about. Your 'steel toes' might be stilettos, loafers, wing-tips or hiking boots…..it doesn't matter. It's just about what makes you feel like you've earned the rewards at the end of the day, namely a great craft beer.

Vidblain from Minnesota
3.97
/5
rDev
-5.3%
vibe: 3.75 | quality: 4 | service: 4.25 | selection: 3.75
Strangely, I'd never been to Steel Toe until just recently in 2019. I've had Before the Dawn, Lunker, and the range of IPAs on tap or in bottles, but St. Louis Park is largely outside of my regular sphere of activity - I just do not get down there. But, a friend out of state asked for bottles, so I stopped by.
The bar area is fairly small and dark - not much seating, and there was actually only one spot to be had at the bar. I sat down and had two beers while chatting with the bartenders about music - Iron Maiden's The Trooper was on the stereo, so we discussed the upcoming summer tour. Nice guys, laid back, friendly.
The beer selection did not blow me away - I'd had everything that was on tap except a couple of lagers that I'd never heard of; I had a Sticker Fight (nice and piney, a good old school IPA) and a Munich Dunkel, and then had to get home. Both beers were good and to style.
Most notable to me about Steel Toe is the fact that they just do not do hype styles - no dessert stouts, no hazy IPAs. It's a pretty traditional brewery - and this isn't a bad thing, but it sort of puts them off of the typical hype radar. I like barleywine, so I'm always happy to find a Lunker or a Before the Dawn (not technically a BW, but also not a traditional stout...) - but these aren't generally beers that my whale-chasing buddies in other states want.
Is Steel Toe worth a visit? Absolutely. They make great beer. Will they impress your millennial buddies who want to crush some NE style IPAs? It's not likely.
Still - a great brewery, and a decent taproom spot for a few beers.
Apr 19, 2019
StonedTrippin from Colorado
4.26
/5
rDev
+1.7%
vibe: 4.25 | quality: 4.5 | service: 4 | selection: 4.25
this is about as no frills as it gets, and a great testament to the "if you brew good beer, they will come" sort of motto, it was absolutely packed on a saturday afternoon, no clue what they used to do before the addition of the back room! bar in the front when you walk in with a few tables, and then a new back room are with picnic table style seating, not a seat to be found! they had a great selection of beers on, including some of their special barrel aged stuff, the black barleywine in barrels was insane, as was the lunker, but everything we tasted (and in my experience everything they make) was fantastic! nice to see such a diverse selection all done so well. service was unremarkable, except that they seemed to be handling the business pretty well, we didnt wait long for full glasses at the crowded bar. no much decor in the place, cinder block walls, a small view to the brewing equipment, and mostly just places to sit, but with beer this good, the ambiance is almost irrelevant, and the enthusiasm of the folks inside was contagious, everyone was stoked! i have yet to have a beer from these guys that isnt excellent. from a beer standpoint alone, they are one of my favorites in the greater twin cities, hands down.
Mar 27, 2017

runmn from Minnesota
3.91
/5
rDev
-6.7%
vibe: 3.75 | quality: 4.25 | service: 4 | selection: 3.5
Neat location being close to Uptown in an industrial park. Their taproom is pretty basic and kind of dark. It always seems pretty busy. The service is usually solid and the pours are generous for the price. It kind of seems like their variety lacks if one is looking for a variety of session able beers. They often have food tucks and have outdoor seating. One issue is their quality seems to have plateaued if not slightly declined. Size 7 was my go to IPA but everyone seems to be catching up and this beer seems like it is losing its charm.
Feb 14, 2017

FourBetter from Minnesota
4.04
/5
rDev
-3.6%
vibe: 3.75 | quality: 4 | service: 4.25 | selection: 4
Newly renovated larger taproom just opened. Front bar is always well tended by Chelsea. New back room is pretty simple but doubles the capacity.
Taps are solid. Always the year rounders plus a couple good seasonal. You won't notice much difference week to week. But the limited seasonals typically remain on tap for several weeks.
Aug 22, 2015

Joe320 from Minnesota
4.37
/5
rDev
+4.3%
vibe: 3.25 | quality: 5 | service: 4.25 | selection: 4.25
My favorite brewery in the Twin Cities. Size 7 is consistently one of the best IPAs around. Solid West Coast IPA with floral nose. They've gotten a lot better about seasonal offerings. Tap room is no frills which fits theme of the entire brewery. Blue collar, hard-working and not substance over style. The brewmaster Jason built the bar, stools and tap set up himself if that gives you any indication as to the type of dude he is. Their barleywine Lunker is awesome!
Jul 20, 2015

Senatorweims16 from Minnesota
3.3
/5
rDev
-21.2%
vibe: 3 | quality: 3.5 | service: 2.5 | selection: 4
I've been here a few times for parties and birthdays. I've never received great service. I like the selection of beers and the quality of the beer, but the place always seems dead and boring when we go and our service is still slow.
Jun 03, 2015
Ilovemesomegoodhead from Minnesota
5
/5
rDev
+19.3%
vibe: 5 | quality: 5 | service: 5 | selection: 5
Best brewery in the Twin Cities, hands down. Great variety of styles. GABF awarded Best Scotch Ale and the Size 7 is the best IPA in the state of not Midwest
May 29, 2015
PlatonicOtterLuv from Minnesota
4.44
/5
rDev
+6%
vibe: 4 | quality: 4.5 | service: 5 | selection: 4
Small, dimly lit, industrial themed taproom. They usually open up a bit of space into the brewery for events, busy days, etc. Solid year rounders and a couple lovely seasonals always on tap. Their friendly taproom manager / usual bartender is friggin' Cicerone certified to boot. Food trucks scheduled regularly as well.
Mar 05, 2015
pat61 from Minnesota
4.12
/5
rDev
-1.7%
vibe: 3.75 | quality: 4.25 | service: 4.25 | selection: 4
Its right off a bike route so its a perfect place to hydrate. It has a sort of machine shop ambiance but the beer is good and the people friendly. They are open Wednesday through Saturday.
Jan 19, 2015
Taybeh from Minnesota
3.75
/5
rDev
-10.5%
Very nice guys/staff, in a little industrial park off Hwy 100, kind of a dark, smallish/low ceilinged space. All the regulars on tap and one or two seasonals. Often pretty busy with lots of neighborhood supporters.
Nov 29, 2014

KarlHungus from Minnesota
4.29
/5
rDev
+2.4%
vibe: 3.75 | quality: 5 | service: 4 | selection: 4
(Re-reviewed 1/18/17, original score 3.5)
The taproom at Steel Toe was expanded greatly a short while back, and now has enough room to fit the amount of people they usually draw. I find the décor somewhat cold, but the clientele is beer people so that makes the space somewhat inviting. The service is good with the beertenders knowing the beers they are pouring, and being able to describe them well. The selection is mostly their standard beers with some seasonals rotated into the mix. Steel Toe has never been known for making a plethora of different beers, so I could easily get bored with their taproom line up if I visited on a regular basis. With that said, their regular beers are all on the good to great end of the scale.
Overall, I would encourage anyone touring Twin Cities breweries to put Steel Toe toward the top of their list.
May 13, 2014
emquilxy from Pennsylvania
4.09
/5
rDev
-2.4%
vibe: 4 | quality: 4.5 | service: 4 | selection: 3.75
Small taproom designed for growler fills and a quick pint. There's a bar and a few other seats. Customer service has always been great, and it's very reasonable to get some samples of what's on tap before deciding to fill your growler. Some other swag (shirts, hats, etc.) available as well.
Super close to the Four Firkins beer store: I recommend hitting both if you're in the area!
Mar 10, 2014

gatornation from Minnesota
3.87
/5
rDev
-7.6%
vibe: 3.5 | quality: 4 | service: 4 | selection: 3.75
a very small taproom with a few seats/tables and maybe a dozen bar seats taproom is clean and offers around 5 ST Taps , growlers are for sale here and they offer some swag to purchase ,no food on premise just taps, service was good and friendly had a size 7 and rainmaker while there nothing fancy about this place just great beer
Nov 17, 2013
Steel Toe Brewing in Saint Louis Park, MN
Brewery rating:
4.09
out of
5
with
2566
ratings