Kölsch
| Occidental Brewing Co.
BA SCORE
83
good
15
Reviews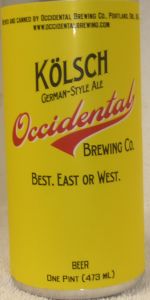 BEER INFO
Brewed by:
Occidental Brewing Co.
Oregon
,
United States
occidentalbrewing.com
Style:
Kölsch
Alcohol by volume (ABV):
4.50%
Availability:
Year-round
Notes / Commercial Description:
No notes at this time.
Added by msubulldog25 on 08-13-2011
Reviews: 15 | Ratings: 58

4.01
/5
rDev
+10.5%
look: 3.75 | smell: 4 | taste: 4 | feel: 4.25 | overall: 4
Appearance: clear gold, full white head like a frothy bath
Aroma: bubblegum, fresh peach, pineapple, apple - loads of sweet pulpy fruit, super vibrant
Taste & Mouthfeel: satin smooth, a pleasure to drink, caressing the tongue; flavour matches the aroma perfectly with same lip-smacking fruit; somehow it's not cloying despite this sweetness, with just enough dry bitterness cutting through
Overall: unexpected flavours for the style, but welcomed; ridiculously easy drinking and a great session beer for the summer
517 characters
4
/5
rDev
+10.2%
look: 4 | smell: 4 | taste: 4 | feel: 4 | overall: 4
Pours polished golden with a short-lived white head... grainy with hints of corn.. Very balanced with none of the hoppiness that clouds many American takes on the style.. This is fantastic.
All 4s
197 characters
3.93
/5
rDev
+8.3%
look: 4 | smell: 3.5 | taste: 4 | feel: 4.5 | overall: 4
A first taste from a young brewery that recently found its home in North Portland's St. John's neighborhood ~ they embrace traditional malt-focused Germanic styles, which is a kinda cool angle to take in hop-loving Portland. This is a 10 oz. glass, poured at Bailey's Taproom.
A: Served in an hourglass-figured half pint with a short, lazily ebbing creamy white cap. Milky, unfiltered wheat-golden, the finest hazy fog, no visible carbonation. Ripples of ribbon-like lace with long tongues that reach downward to reconnect with a hugging ring.
S: A bright and mildly spicy nose, plenty of bread/crust and hints at fruit.
T: Expectedly bready, crackery and bone dry in the finish. Mild fruit, crisp apple, and sturdy spice... really peppery! Honeyed moments for some balance.
M: Creamy in feel overall, but a spark on sharper carbonation with each sip. Light/medium body. Exceedingly refreshing.
O: Kölsch isn't a style many get excited over; though I'm not turning cartwheels over this, I'm pretty impressed by flavor, feel and all the subtleties layered inside a seemingly simple 'session beer' like this. Will gladly have this again.
[Aside] A perfect name for Summer 2011 in Oregon, in all its cool/overcast grayness...
1,229 characters
3.88
/5
rDev
+6.9%
look: 4.25 | smell: 3.75 | taste: 3.75 | feel: 4.25 | overall: 4
Can from New Seasons.
A crystal clear yellow with a dense, white head with good retention and lacing, this looks great. The nose is soft and doughy with a mild lemony hop character, a little bit of a fruitiness, a little bit of dust and a mild floral note. The bready note is really pronounced here, with a blend of honey and mildly yeasty dough, bordering on a Helles in some ways. The palate opens with a mild, fruity sweetness, a little jasmine essence, earth and a touch of lime. The mid-palate does have some doughy and bready notes before a mildly bitter drying finish takes over, with a lingering leafy and earthy bitterness. Really, really soft and silken on the palate, though it does feel a little thin at times. Carbonation is crisp and ample. Delicious stuff.
773 characters

3.8
/5
rDev
+4.7%
look: 3.5 | smell: 3.5 | taste: 4 | feel: 3.5 | overall: 4
On a hot day there is nothing better than a Kölsch from Occidental Brewing Co.
After biking to the Mississippi Neighborhood Street fair and back this afternoon I headed over to Occidental Brewing Co. Tap room for a growler of their Dunkelweizen, one of my preferred beers, and decided to try the Kölsch. In addition to the growler I took home a four pack of tall cans.
Pours a nice foamy head that dissipates fairly quickly. Nice mouth feel. Also it is not overly hoppy, a fault I find in many of the beers produced here in Portland. The color is a light golden, and the fizz continues to rise after poured into a tall glass. It has a nice lite citrus finish.
Again, a Great beer for a hot day!
699 characters
3.72
/5
rDev
+2.5%
look: 4.25 | smell: 3.5 | taste: 3.75 | feel: 3.75 | overall: 3.75
Malty, Bready, Balanced, Simple
Pale, straw, yellow with a touch of chill haze (clears up) and a creamy white foam head. Clean aroma, soft bready notes. Crisp, semi-sweet, malty and bready, caramel suggestions, with just a hint of herbal and a faint bitterness. Dry, crackery finish. If you seek balance and simplicity, this beer delivers.
STYLE: Kölsch | ABV: 4.5% | AVAILABILITY: Year-round
Review from BeerAdvocate magazine issue #95 (DEC 2014)
451 characters

3.69
/5
rDev
+1.7%
look: 3.5 | smell: 3.75 | taste: 3.5 | feel: 3.75 | overall: 4
I am reviewing their 16oz. can merely labeled "Kolsch". I am assuming this is the same beer, just renamed/packaged.
Clear, golden yellow with a fizzy, foamy white head that dissipates within a minute or so of pouring.
Predominately bready malts upfront, with light grassy, spicy hop notes. Simple, but quite enjoyable.
Medium+ body, fizzy foamy carbonation.
As stated above, there is nothing too complex about this style of beer, but the flavor profiles are well executed and enjoyable. A good easy drinking, warm weather beer.
531 characters
3.65
/5
rDev
+0.6%
look: 3.5 | smell: 3.5 | taste: 3.75 | feel: 3.5 | overall: 3.75
Clear gold with one finger of white head.
Smell is not major but no corn or apple juice!
Taste is bitter euro hops with just enough malt to keep it an easy drinker. A bit of pepper from the hops.
Mouthfeel is plenty good for such a low alcohol beer and carbonation is just right.
Overall a very tasty beer. I might raise the numbers after I have enjoyed a few more.
It was very warm today and this one was just what I needed. Wish I had more.
442 characters
3.65
/5
rDev
+0.6%
look: 4.25 | smell: 3.5 | taste: 3.5 | feel: 4 | overall: 3.75
Look: stubborn pockmarked two finger head levitating above a field of golden wheat from which swarms of carbonation ascend into the stratosphere.
Smell: peppery hops of the Old World spice a crips, clean air before it dissipates into candy and bubblegum after thoughts.
Taste: a mouthful of dirty honey and sweet fruit, bready malts surrendering to a bed of weak, almost sleepy, disinterested hop tang.
Feel: quite creamy and deep for such low potency
Overall: a giant among a typically dainty class of brews. the foretaste is especially chromatic, and the feel much more substantial than that of usual kolsch species.
624 characters

3.56
/5
rDev
-1.9%
look: 4 | smell: 3.5 | taste: 3.5 | feel: 3.75 | overall: 3.5
Attractive golden color with a big foam in the Pilsner glass. Plenty sudsy on the tongue with a nice sparkle. The head is quite long lasting. A big suds-up with every pour.
This is the resiny rather than perfumey variety of Kölsch. Some crackery malt and a pleasant tang. Just slightly tart to go along with the distinct malty sweetness. Faintly lemony. A nice quaff on a hot afternoon but not an example of the style to seek out. It's what you wish a Blonde Ale would be, but not such a great Kölsch.
From the 16 oz can purchased at Market of Choice on 29th in Eugene. Cost was three bucks.
595 characters
3.53
/5
rDev
-2.8%
look: 3.5 | smell: 3.5 | taste: 3.5 | feel: 3.75 | overall: 3.5
my very first beer from these guys and one of the lighter craft beers i have ever had really. it looks more like water than beer in the glass, and has very little flavor really, even compared to other light kolsch styles, i was blown away how delicate and simple and clean this was, and i mentally go back and forth on whether i like it because its a great spicy food beer, a hot weather crusher, and more to drink than think, or if i dislike it because there is so little german authenticity to it in the flavor, no mass at all, and really pretty unimpressive as a beer. leaning toward the first one, but this could definitely use a little more of the german pale malts here as well as some of a minerally crackery yeast that tends to define these beers more often than not. i could drink it forever though, it doesnt fill up the belly even a little bit, and the carbonation is pretty on point actually, so its hard to hate on, even though there really just isnt much here. ill give this one a pass, but will look for a whole lot more robustness next time i have one of their beers...
1,085 characters
3.43
/5
rDev
-5.5%
look: 3.5 | smell: 3.5 | taste: 3.5 | feel: 3.25 | overall: 3.25
Clear light straw. Pineapple tropical fruit and wheat on the nose. Sweet grain, straw and a touch of lime on the taste. Steel mineral with a syrup swryness lingers on the finish. The sweetness lingers a bit too long on the tongue. I prefer a sharper finish to my kolsch; just too sweet for my taste.
299 characters
3.42
/5
rDev
-5.8%
look: 3.5 | smell: 3.25 | taste: 3.5 | feel: 3.75 | overall: 3.25
Can from the Brew Shop in Bend. Pale golden with abundant foamy head. Aroma is mostly grains, cereal, taste is pure grain, malt, some hops present in the finish, very dry and chalky. A decent representation of the German original. Light in body and palate, refreshing
267 characters
3.32
/5
rDev
-8.5%
look: 4 | smell: 3.25 | taste: 3 | feel: 4 | overall: 3.5
16 oz. can poured into a Boneyard taster.
Appearance - Clear yellow body. Nice white head. Great retention. Sticky lacing.
Smell - Not much aroma, but a dynamic malt and hop aroma. Nutty, grainy, earthy hops, slightly sharp. Muted, but good.
Taste - Sharp hop flavor. Malts get nuttier as it warms. Finishes with a touch of bitterness and a slight sharpness.
Mouthfeel - Easy drinking, but very light. Not much body.
Overall - Decent. Interesting malt flavors.
465 characters
3.18
/5
rDev
-12.4%
look: 4 | smell: 3.5 | taste: 3 | feel: 3 | overall: 3
A - poured to a pilsner glass. Three finger head, slow to recede. Golden straw in color and clear as can be. Really nice bubbling
S - an interesting Belgian yeast nose. Somewhat inviting but mild bubblegum lingers
T - not off putting in the least, but it makes no statement. It really asks for more flavor. Almost a beer flavored water
M - unlike the bubbly appearance, this beer lacks carbonation. The mouthfeel also makes no statement. Flat, watery
O - It would be nice and refreshing for someone on a hot day. This beer has it's place, just not with me.
560 characters
Kölsch from Occidental Brewing Co.
3.63
out of
5
based on
58
ratings.