Altbier
| Occidental Brewing Co.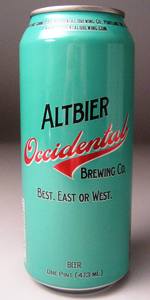 BEER INFO
Brewed by:
Occidental Brewing Co.
Oregon
,
United States
occidentalbrewing.com
Style:
Altbier
Alcohol by volume (ABV):
5.30%
Availability:
Year-round
Notes / Commercial Description:
No notes at this time.
Added by msubulldog25 on 07-26-2013
Reviews: 15 | Ratings: 41
3.64
/5
rDev
-6.9%
look: 3.5 | smell: 3.75 | taste: 3.5 | feel: 3.75 | overall: 3.75
Great cold day for an altbier. Served in my shiny new Full Sail tumbler.
Look : Honey colored body; 90% opaque; faint silhouette of my fingers on the other side. The head is edgy, fluffy, porous, and popcorn colored. 3 fingers. Leaves diseased lace as it recedes.
Smell : Orange peel; caramel; amber malts; some toffee notes and fruity esters. Medium strength.
Taste : Caramel malts forward; orange peel and grapefruit; a bit of bread crusts, yeast, fruit and spices. It ends candy-like with yeast and fruity esters.
Feel : Hard water carbonation; prickly feel, but with a slight creaminess; semi-dry cap.
Overall : Not all that impressive but still not a bad trial. If I were up in Oregon again I'd probably skip this one. Still, it's another brewery to check off my list.
3.5
3.75
3.5
3.75
3.75
807 characters

4.19
/5
rDev
+7.2%
look: 5 | smell: 4 | taste: 4.25 | feel: 3.75 | overall: 4.25
Malty grain goodness, with a crackery sweetness that possesses just a hint of chocolate. Spectacular rich deep copper color. Hard to imagine a more handsome beer. Drinking it on a cool fall day, but seems like it has a flavor/mouthfeel profile that would fit any season. This pint canned about 2 months ago - very appreciative of the clear dating that Occidental uses. Excellent beer!
390 characters
4.06
/5
rDev
+3.8%
look: 4.5 | smell: 4 | taste: 4 | feel: 4.25 | overall: 4
Canned 16 June 2016.
A clear burnished copper with a dense, off-white head with excellent retention and lacing, this looks great! The nose has a nice blend of mildly caramelized Vienna malt, a firming, earthy noble hop character (wet wood, grass) and some toffee. The palate opens moderately bitter, earthy, mildly minty with a hint of allspice. This is followed by a moderate malt flavor, a blend of Vienna malt, toffee, a little caramel, and a little bread. Drying, bitter on the finish, this beer is medium-light in body and well-carbonated. Delicious.
556 characters

3.94
/5
rDev
+0.8%
look: 4 | smell: 3.75 | taste: 4 | feel: 4 | overall: 4
Wish I had better access to this beer and brewery. Probably the most authentic German style American craft brewery that I know of, and this beer is no exception. Dark amber, malty,grainy, bready aroma and flavor, complimented perfectly by a just over balanced bitterness. Prost!
278 characters
3.94
/5
rDev
+0.8%
look: 4 | smell: 3.75 | taste: 4 | feel: 4 | overall: 4
Smooth, Malty, Grainy, Sweet
Bright amber, impressive creamy head with a sticky lace. Grain and metallic in the nose. Smooth and even bodied with moderate carbonation. Solid malt foundation with grainy sweetness and dark grape flavors. Light citric bitterness. Finishes with more sweet grains and a dry crackery finish. Malt-licious! A damn fine Albier that begs to be consumed in large quantities.
STYLE: Altbier | ABV: 5.3% | AVAILABILITY: Year-round
Review from BeerAdvocate magazine issue #95 (DEC 2014)
510 characters

3.83
/5
rDev
-2%
look: 4 | smell: 4 | taste: 3.75 | feel: 3.75 | overall: 3.75
Pours a bright copper color with a thin and pretty quickly dissipating white head. Not much lacing on glass. However, the very sharp color is pretty notable.
Smell by crisp malt, buttery biscuit and buttery elements, caramel, with some herbal hops.
Taste is malty and crisp--the bread-type presence of the smell also noted in the mouth. Sharp piney hops also make themselves known here.
Moderate carbonation, pretty full body, and a nice sharp flavor with quite a bit of malt mark mouthfeel.
This is a pretty pleasant and drinkable beer. It is pretty simple and basic, but it impresses with its quality and tastiness. It is a nice, easy-drinking, somewhat no frills beer.
685 characters
3.55
/5
rDev
-9.2%
look: 4 | smell: 4 | taste: 3.25 | feel: 3.5 | overall: 3.5
Not sure if I have an off-pack or what, but I was highly disappointed by this beer. Not really an altbier in my opinion, having been to Dusseldorf and enjoyed the "real thing". This beer has a strange, almost fruit beer kind of thing going on that I just don't enjoy. Not a great representation of the style in my opinion.
322 characters

4.05
/5
rDev
+3.6%
Great creamy mothfeel that is delightfully Germanic. Lightly flavored with a dry finish. Attractive brownish amber color in the tall glass with a plenty of suds. Malty but not a heavy body. Just a hint of butter and a faint bitterish aftertaste.
One of the better Altbiers in my experience. Highly drinkable but more interesting than the Oktober, Marzen, etc. styles. From the 16 oz can purchased at New Seasons Market in Portland.
3.75 3.25 4.0 4.25 4.0
456 characters
3.83
/5
rDev
-2%
look: 4 | smell: 3.5 | taste: 4 | feel: 3.5 | overall: 4
Served from the tallboy can into a pint glass.
A- Poured a clear dark ruby red with off-white fluffy head that left glass coating lace.
S- Prominent bready notes, some rich malty notes, and slightly fruity notes.
T- Lots of bready notes,some rich caramel malt notes, slightly fruity, some grainy and nutty notes.
M- Soft carbonation, medium body, smooth, and semi-dry finish.
O- A pretty solid altbier that tastes very traditional just like other German beers I have had from Occidental. Very malt forward but also a nice bitterness on the finish.
553 characters

4.05
/5
rDev
+3.6%
look: 4.5 | smell: 3.75 | taste: 4 | feel: 4.25 | overall: 4.25
16oz : flute
Clear, coppery, amber red color with a thick, craggy off white head. Really inviting.
Lightly sweet, bready malt base with a spicy, herbal hop character.
Medium+, foamy body. Quite nice.
A beer of subtle flavors, but they are very enjoyable and tasty if the time is taken to appreciate them. Very easy drinking as well. The 16 ounces went by far too fast!
372 characters
4.78
/5
rDev
+22.3%
look: 4.5 | smell: 4.5 | taste: 5 | feel: 4.75 | overall: 4.75
Gorgeous light red, transparent beer with a head that is somewhat on the thin side. Interesting variety in the aroma, very bready with some banana, apple, toffee and caramel notes, subtle but pleasant noble hops. Nutty, biscuity, caramel, toffee, nice mellow bitterness from the hops on the finish. Low-moderate level of carbonation, hard not to guzzle this one. This is a beer I pick up almost every time I see it. Every beer I try from Occidental makes me like them more, one of my favorite local (PDX) breweries. More people should know they exist!
551 characters
4.94
/5
rDev
+26.3%
look: 5 | smell: 4.75 | taste: 5 | feel: 5 | overall: 5
I had this at the taproom in one of their cool Occidental logo glasses. The glass is uniquely shaped and larger than expected. Beer was poured and presented with a nice creamy head that retained for the long haul.
Appearance: Deep amber in color with 2 fingers of off-white/dense head that provided quite a bit of lacing.
Smell: I get quite a bit of nuttiness out of it but after that the smell is a bit thin, at least compared to the complex taste.
Taste: Picks right back up with great nuttiness, decent amount of clean tasting noble hops balance out the maltiness of this beer perfectly.
Mouthfeel: Exactly what is expected from such a nicely balanced beer. Very creamy and smooth. Goes down very easy, but has just enough carbonation to bite the tongue and remind you to respect it.
Overall: Top notch. This might be my favorite of the regular offerings from this small and under-appreciated Portland brewery.
Serving type: on-tap
946 characters

3.5
/5
rDev
-10.5%
look: 3.5 | smell: 3.5 | taste: 3.5 | feel: 3.5 | overall: 3.5
473ml can from "Lifesource" Grocers in Salem. $2.99 . can is 5.3% alc Pours a hazelnut ,clear brown colour with a very nice thick,creamy eggshell white head. Good creamy biscuit malt aromas,slightly nutty with a whiff of grassy hop. Smooth malty creamy ,nutty flavour, some hop bitterness and a burnt grain after taste.Very nice and as they say a bit hoppier than the usual for style but still within i think! Nice mouth feel on the thin side and low carbonation helps. Very nice beer a good change of pace from the usual up here.
530 characters
3.73
/5
rDev
-4.6%
look: 3.75 | smell: 3.75 | taste: 3.75 | feel: 3.5 | overall: 3.75
Occidental Alt - on tap at the First National Tap House - served in an imperial style (but not sized) pint, the beer is a nice bronze with a beige head and a chill haze.
Beer smells very fresh. It has a nose of lightly milled malts, a bit of ripe red apple and touch of caramel.
Taste is malt forward. Slightly sweet and grainy. Hops are evident but mainly for balance. They add a bit of back-end floral bite.
The mouth is medium with some prickly carbonation late.
I think they hit most of the notes for this style.
520 characters
4.08
/5
rDev
+4.3%
look: 4 | smell: 4 | taste: 4 | feel: 4.25 | overall: 4.25
A pint pour at the Occidental Taproom. On "OBF Friday" after a few magnicent tastesat the Beer Fest.
A: Perfectly amber/bronze; clear with plenty of carbonation. 1/2 finger of dense whiteness, almost no lacing.
S: Sweet and a bit nutty.
T: Finishes ashy, woody and slightly tangy. Smoked apples and pears, more than a little woody.
M: Creamy and incredibly smooth.
O: So delicious, among the best from this brewer's Germanic-styled list of beers.
462 characters
Altbier from Occidental Brewing Co.
3.91
out of
5
based on
41
ratings.