The Lamb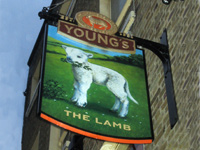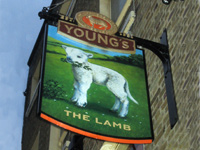 Bar, Eatery
94 Lamb's Conduit Street
London
,
England
, WC1N 3LZ
United Kingdom
+44 20 7405 0713 |
map
youngs.co.uk
Notes:
4.22
/5
rDev
-1.2%
vibe: 4.5 | quality: 4.5 | service: 4 | selection: 4
Atmosphere-
The atmosphere of this historic pub stems largely from the unique nature of its layout and decor. The horseshoe-shaped bar made of dark, worn wood, the plaid carpet floor, and the green leather booth seating around the perimeter give the Lamb a ton of character.
Quality-
All cask ales were served at a perfect temperature and tasted very fresh. The quality of Young's beer precedes itself, and lends to the overall quality of the Lamb. Lastly, clean and appropriate glassware was used for all beers.
Service-
The service was quite good, although the bartender wasn't much for chit-chat.
Selection- Lots of sessionable and specialty Young's beer on cask, including the Winter Warmer, which was a pleasant surprise. If Young's beer is what you're after, then you will be satisfied with the selection.
815 characters

4.38
/5
rDev
+2.6%
vibe: 5 | quality: 4.5 | service: 4.5 | selection: 4 | food: 4
A beautiful old Young's pub near Russell Square. Had a few pints here on my first visit to London, but it was very crowded, so I couldn't get a good impression of the place. Came back again in 2011 to see what it was like on a tuesday afternoon.
The interior is adorned with rotating squares of decorative glass, which, according to the barstaff, were used in the old days for discreet meetings with disreputable ladies. Six ales on cask and a number of draught beers. The barstaff was polite and helpful, and I appreciated the quiet, contemplative atmosphere. No music or televisions, just the gentle muddle of conversation. Had a few pints of Directors Bitter and soaked it in. A great pub.
693 characters
3.53
/5
rDev
-17.3%
vibe: 4 | quality: 4 | service: 3.5 | selection: 3 | food: 3
Nice place, classy and lots of old fashioned charm in a non-pretentious way. Has an antique polyphon by the door that they'll play ( and like a dumbass I forgot to request) for a donation to a charity. Has real ales, and macros plus some cider. Lots of dark wood and some very nice cut glass panels on swivels built into the bar. Friendly bar staff. 'Cept they didn't know the dif 'twixt cottage and shepard's pie when I asked. I said if there's a diff and it's lamb or beef, i'LL Take the lamb. So they sent me beef. eh. In any case, food was dece and beer was more dece. Ambiances was A1- a. I'd return.
605 characters
4.1
/5
rDev
-4%
vibe: 4.5 | quality: 4 | service: 4 | selection: 4 | food: 4.5
Wonderful Victoria era Pub with traditional interior fixtures and fittings, and terrific Youngs beers on hand pull. About 5 minutes walk from Russell Square Tube Station (come out of the Station and walk AWAY from Russell Square eastwards along Guildford Street till you reach the Hospital buildings and Lambs Conduit St)
You can also walk to (or from) Euston Station in about 15-20 minutes down Woburn Place/Street till your reach Russell square then turn East along Guildford Street.
Smallish L shaped bar with seating around, then a smaller room down a few steps, and also small outdoor patio area at rear. Seating upstairs for those in a restuarant area too. A couple tables outside at the front in fine weather.
Youngs beers on hand pull, both the Bitter and Special were first rate and typical London prices (£2.80 a pint for Special August 2007) Food Menu looked very good and reasonable prices, and although we did not eat here, from what we saw, we would do so on a future visit.
Very relaxed atmosphere, good friendly and attentive service, though imagine could get very crowded - but worth a visit anytime.
High recommended.
JohnW
B'ham UK August 2007
1,181 characters

4
/5
rDev
-6.3%
vibe: 4 | quality: 4 | service: 4 | selection: 4
Let me start this review by saying that The Lamb is a great pub because it serves Young's cask beers. This is something that a visitor to England quickly learns to appreciate after realizing that most pubs only offer Carlsberg, Carlings, Guiness and a dull, luke warm bitter. When I stepped inside I could immediately sense the quality of the place. It felt like most, but not all, guests were there for the same reason. At the time of my visit they were only serving Winter Warmer, Special, Bitter, and Bombardier (see elswhere on the BA site for the recent changes Young's have been through). Having said all these good things about the beer I don't think the place itself is all that special. I was there a Friday afternoon, and 90% of the guests were men in suits most likely working in the neighborhood. But it's far from the garage feeling many British pubs seem to have these days, and it's indeed an oasis in the Carlsberg desert.
938 characters
3.86
/5
rDev
-9.6%
vibe: 4 | quality: 4 | service: 4 | selection: 3.5
Situated at the fringe of many campuses of Univ. of London, this pub is so close to where I used to live seven years ago (when studying in that area), yet I overlooked it without knowing what a decent pub I'd missed!! Actually now that I'm more familiar with that area, this pub could serve as an ideal starting point for a little pub crawl in that area, from there on towards The Calthrope Arms, another fantastic Young's pub, then to The Pekenham Arms, a decent freehouse, then down the Gray's Inn Road for other nice places on the Holborn Street like Cittie of York and Ye Olde Mitre, etc.! All within five-ten minutes' walk~~
The interior of this pub is really classic and warm-ish. A classic bar decorated with a row of cute, small "snob screens", occupies the centre of the pub and divides the whole area roughly into two equal-sized small saloons on both sides, with a reasonably-spacious standing area at the front, and a dining area at the rear... With green-cusioned long, side-sofas, plenty of rectangler and round wooden tables, and a mysterious, secluded, small room with a high table and stools... there's plenty of sitting space. But it gets "very cozy" (read "crowded and smokey") under the invasion of waves of local office workers, university staff, lawyers/solicitors especially after 6pm.
The bar has four handpums on the front and two more at the rear, but serves only three house ales upon my visit (Bitter, Special, and St. George), plus two of Young's tap beers (AAA and Pilsner). As in all other Young's pubs, their range of bottled beers are on display by the bar for a take-away deal of "4 for a fiver". But certainly most punters here are for Young's real ales, and the condition doesn't disappoint at all.
Overall, this is a cozy street corner pub for good atmosphere, nostalgic interior, and a relaxing pint "before" 7pm. Otherwise it could get horribly busy and I wasn't able to get in once before. Yet, as I'd take it, its location serves well as the starting point of a nice and relaxing pub crawl in the Gray's Inn/Holborn area.
2,072 characters

4.05
/5
rDev
-5.2%
vibe: 4.5 | quality: 4 | service: 4 | selection: 4 | food: 4
The Lamb is located on Conduit St., just off Guilford St., about a 10 minute walk from the Russel Square Tube station.
This is a very traditional English pub with green carpet and green leather(?) booths along the long wall with some stools around the round tables. Seats about 50. There are 2 non-smoking areas though the main area can be quite smokey. The ceiling is nice red painted wood. There are windows at the front, with the lower half frosted. There is a small patio out in the rear for drinking during warm weather. There is also a room upstairs for private parties ("The Empire Theatre Bar"). Signs and framed old photos on the walls. Very clean and comfortable.
They offer mostly Young's beers. There were 6 Young's on cask (served fairly cold), and about 7-10 other taps which included the likes of Stella Artois and Guinness stout. There were about 9 bottled beers, all seemingly Young's. So, if you don't like Young's beers, this is not the place for you. They also have a full liquor selection and some wine.
The food menu was pretty typical British pub fare, and what I tried was good. The service was very good and very pleasant. Open at noon on Sunday, with food service until 2:30 pm on Sunday.
1,224 characters

4.45
/5
rDev
+4.2%
vibe: 5 | quality: 5 | service: 4 | selection: 4
What can I say, that has not been said already? This is a wonderful traditional Englih pub, serving up the finest ales from Youngs' portfolio of fine beers. This pub has a lovely atmosphere. It is all dark, old wood, with lovely mirrors and old pictures all over the place. The beers are all excellent of course, with the ordinary bitter, and the special being the best. All of the beers are served in tip-top shape and they are cheap to boot. The servics is great, except for the fact that this place seems to be always packed.
One of the most traditional pubs in London. So....if you go to London
DRINK HERE
615 characters
4.7
/5
rDev
+10.1%
vibe: 5 | quality: 5 | service: 4.5 | selection: 4.5 | food: 4.5
This pub was my introduction to the world of "real" English pubs. I had the great good fortune to live around the corner on Mecklenburgh Square and it was on my route home every day, so this became my "local." As mentioned above, one could not find a more original, Victorian pub. It is still very much frequented by locals, as well as an interesting mix of tourists, students, business people etc., as it is listed in several travel guides and is near the Russell Hotel. Furthermore, it is around the corner from one of Charles Dickens' former houses, which is now a museum very much worth visiting; as well as the British Museum, Bloomsbury Square, and other tourist sites. Lincoln's Inns of Court (sort of a campus for lawyers) are also nearby. The quality of the beer and food is excellent, although food choices are limited to traditional English fare (all to the better). Look for the excellent Sunday special, served upstairs buffet-style, which usually offers two roasted meats (roast beef and another, usually lamb or a ham), Yorkshire pudding, potatoes, and veg. The beer is always served in exceptional condition, and is selected from Young's best offerings, including the seasonal Winter Warmer; and when I was there, Oatmeal Stout on tap (but not cask-conditioned according to LBB). They also serve some nice malt whiskies (although from those awful "optics"). My only regret is that its competition across the street, The Sun, which was a "free house" (not limited to one brewery) has since closed. Between the two, one had an awesome choice of beer.
A great leaping-off place (or terminus) for a pub crawl of Holborn and Clerkenwell/Farringdon: The Calthorpe Arms, The Pakenham Arms, The Rugby, and The Eagle.
Bottom Line: Not to be missed. Historical location with many sights. Easy access from Russell Square Station (Piccadilly Line) and not far from King's Cross Train Station. The only downside is that it can be very crowded, stretching service.
1,972 characters
4.95
/5
rDev
+15.9%
vibe: 5 | quality: 5 | service: 5 | selection: 5 | food: 4.5
A great traditional, very friendly Young's Pub in London.This our favorite pub, Is in the area of Russell Square near the British Museum. This friendly local has it's regulars queing up outside before it opens. Tremendous pints of Young's fine ales are served up fresh and tasty. Wonderful bulgy pint glasses add to the ambience. Has a small "snug" for non-smokers that is adequate only when the pub is not crowded (rare). I dream of this place often. Suzanne and I enjoyed the Ploughman's lunch many times.I have always hated to leave this place. Only negative selection wise is it would have been nice to see Dirty Dicks Ale on cask. The ordinary bitter though is the king so is it a negative after all? Take the Piccadilly line to Russell Square, turn left out of the station and make the first left in what appears to be a small alley like street. Make a left when you run in to Guilford street. Lambs Conduit Street is on your right just past the hospital. A real winner!! After the smoking ban this place is even tougher for us to leave. Love it.
1,052 characters
4.5
/5
rDev
+5.4%
vibe: 4.5 | quality: 4.5 | service: 4.5 | selection: 4.5 | food: 4.5
For me one of the two places you simply must drink Youngs Bitter if you are ever in London (other-see Morpeth Arms). Built in the 1720's, altered many times, thankfully the last of which was when Queen Victoria reigned. It is now a Grade II Listed Building. From the start it makes a majestic aristocratic impression, beautifully individually crafted green tiles adorn the ground floor wall of the Pub outside. Inside is a real treat. Dark woods, green upholstery and leather sofas (these are so relaxing), Victorian wallpaper, old photographs, its all here. The architectural highlight for me are the smoked glass pivoting Snob Screens, they are genuine and Very Rare these days. Cask beers are Youngs Bitter, Triple A, Special and often a Guest, or a seasonal beer. All are without doubt served in the highest of condition by very friendly and accomodating staff. The Clientele can at times be eclectic but nonetheless, always interesting. Food is excellent. In the Summer you can drink outside on the Pavement and watch the world go by. So drop in, travel back in time and drink fine English Ale in authentic Victorian surroundings - ah.... just as it should be guv'nor!.
1,174 characters
The Lamb in London, GB2, United Kingdom
Place rating:
4.27
out of
5
with
16
ratings