Alluvial Peach
| HopDog BeerWorks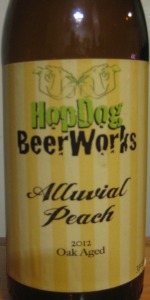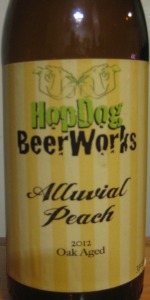 BEER INFO
Brewed by:
HopDog BeerWorks
Australia
hopdog.com.au
Style:
Witbier
Alcohol by volume (ABV):
5.30%
Availability:
Limited (brewed once)
Notes / Commercial Description:
No notes at this time.
Added by danieelol on 04-11-2012
This beer is retired; no longer brewed.
HISTOGRAM
Ratings: 14 | Reviews: 9
Reviews by CrazyDavros:
3.54
/5
rDev
-7.8%
look: 3 | smell: 4 | taste: 3.5 | feel: 3 | overall: 3.5
Pours pale amber with a fading head.
Nose shows elderflower, horseblanket, floral notes and soft doughy yeast.
Very acidic flavours but with a little sweetness underneath. Very tart, some funky yeast is present too.
Needs more carbonation, feels a little flat at the moment.
274 characters
More User Reviews:
3.57
/5
rDev
-7%
look: 3.5 | smell: 4 | taste: 3.5 | feel: 3 | overall: 3.5
Turbid apricot with a large but loose white head that falls busily with minimal lacing.
Quite a lively, bright tartness that plays well with the oak. Lots of pithy sourness, mainly lemon and grapefruit rind and some bitter melon. The peach combines with some candy sugar high notes to give a nice sherbety sweetness. Good stuff.
Flavours don't quite match the clarity in the nose, and emphasise the sour over the sweet.
Firm body thanks to the wheat, although fairly mild carbonation for a Belgian. Finish is surprisingly astringent and sour, verging into lambic territory.
Well executed Belgian Wit whose only real flaw is the extent to which the sour characteristics dominate (and I love sours). The oak aging and the peach character are nicely integrated and not at all over the top. This brewery continues to impress.
826 characters

4.03
/5
rDev
+4.9%
look: 4.5 | smell: 4 | taste: 4 | feel: 4 | overall: 4
I think the term is - STOKED! bug thanks to danieelol for the bottle.
looks brilliant in the glass. stable frothy white head. leaves a bit of lacing but just sits there on top of the beer, stoic. slightly cloudy with some sediment settling at the bottom. medium carbonation.
a bit reminiscent of the hedgerow with that same funky character. nice gentle wit yeast and softness. hints of oak but only seems to come out in conjunction with the brett like funk. not sure if that is due to yeast or barrel ageing.
lightly tart, definite wheat dryness, a bit spicy more from yeast than actual spice. such a light fluffy character though that it fgoes down very quickly. and the clean finish means i am quickly looking for another sip.
while i like the idea of adding peach, i am not able to pick up a lot of it in the finished beer. guessing it has probably been fermented out or been covered up by other aspects of the beer. regardless this has been very well made and very enjoyable.
been looking forward to trying hopdog since finding out about them. love the attitude and outlook on brewing and beer. thankfully i have two more beers to go and after this introduction i dont think they will last too long in the fridge.
1,222 characters


3.89
/5
rDev
+1.3%
look: 3.5 | smell: 4.5 | taste: 3.5 | feel: 3.5 | overall: 4.25
Pours a pale golden colour with a saffron tinge. Cloudy with unfortunate floaties I couldn't quite avoid. Head is whispy white, decent lacing, but not amazing. Looks alright.
Smells very oaky, funky and fruity. Yeah, peach with apple overtones, and lots of French oak characters putting me in mind of a good young Chardonnay. Slight tart and vinegary undertone, with a bit of barnyard funk as well. Exciting, fresh and inviting. This beer's so inviting to me.
Taste is also very oaky - maybe too oaky? The oak really dominates here, with a flat, woody kind of flavour for the most part. Some nice peachy fruit comes through later, lifting the palate but it's overall quite dry and a bit one-note. Maybe some more malt would up the complexity and give some more body, although I do like the peach character later. It's nice.
Mouthfeel is, as I said, dry. Pay attention, would you? Not bad on the midway point but it really does dry out at the end.
I like this a lot more than I've let on, though. I like the funk and I like the oak. I've had a lot of beers that use either of these two things in more exciting ways, but there's certainly a lot to like in this beer.
1,168 characters

3.87
/5
rDev
+0.8%
look: 3 | smell: 4 | taste: 4 | feel: 3.75 | overall: 3.75

3.79
/5
rDev
-1.3%
look: 3.5 | smell: 4.5 | taste: 3.5 | feel: 4 | overall: 3.5
"Another day, another HopDog review" as they say [no they don't... who's "they" anyway?]. I'm not a huge peach fan, I'm a nectarine fan, which you can argue is simply a smooth skinned peach - they are from the same species, to wit I counter: Shut up, they taste different, QED and on we go. The take home point of this whole mini-saga is that I don't like peaches but I like HopDog that much that I will suck it up to review their Alluvial Peach, and I may even enjoy it [you know you will, you fake peach hater Doc].NB: This is the 2015 vintage.
Poured from a 330ml bottle into a Duvel tulip.
A: Pale golden body with some yeast particles floating around along with a dog hair* (I kid you not!) perhaps it is a hair from the mythical HopDog? Regardless I plucked the hair out of the glass and like the mighty beer explorer that I am I continued the review with a shrug. The head BTW is thin white lace. 7/10.
S: WOW, this is one Tart brew (with a captial 'T'). Peaches give a bold Umeboshi character which dominates any other aromas. Hints of a sherbet sweetness cower in the background along with oaky overtones. 9/10.
T: Gueuze sourness is present throughout the flavour profile. Following this is the eponymous peach, almost ume, character, some sherbet (without the accompanied sweetness) and some oak barrel vanilla. The overall palate is a bit one sided, slanted towards sour, and you've got to expect that with an intentionally soured brew, but it's missing something else, some je ne suis pas certain some extra element of sweetness that would cut through the tartness and give it more character. 7/10.
M: Mid to light bodied with a fizzy, sharp carbonation that works well with the tartness of this brew. 8/10.
D: This is one beer which proves that Australian brewers can brew Belgian-style sour beers. Compared to a real Belgian sour it comes close to stacking up against the big boys but ultimately falls short of the complexity and finesse of a true Belgian brew. That said I did enjoy how the tartness of this brew wasn't heavy-handed or overbearing, it was in that sour-sweet-spot (to coin a contradictory term) and reasonably moreish. Not one of HopDog's best brews, but their best brews are damn fantastic so they've set the bar high there. 7/10.
Food match: This palate cleansing brew will cut any cheese platter in twain.
*This brew gives new meaning to phrase "hair of the dog".
2,442 characters

3.97
/5
rDev
+3.4%
look: 3.75 | smell: 3.5 | taste: 4.25 | feel: 4 | overall: 4
From Beer Cartel. Bottled Feb 2014.
A - cloudy straw, heads dies quickly.
S - peach, funk, little oak, vinous, a tad modest overall.
T - all funk and peach, really quite good in a tart sour way. Dry finish.
M - quite light, zesty carbonation.
O - is it a wit? Is it a wild ale? Is it a fruit beer? all of the above methinks. Its well made tho, best HopDog since Superbeast 2103.... Well done!
397 characters

3.64
/5
rDev
-5.2%
look: 3.25 | smell: 3.5 | taste: 3.75 | feel: 3.5 | overall: 3.75
330ml bottle poured into tulip
L - orange, pours thin white head, partly hazy, large chunks of yeast visible
S - earthy, funky smell, acidic, peach and apricots
T - lemony sour taste upfront, not too much different to a lambric. Some mild sweetness mixed with the tarty finish, bit like a dry white wine.
F - dry texture, thin bodied, moderate to high carbonation
O - a bit different to what I was expecting, more sour and tarty. Refreshing though.
457 characters


4.1
/5
rDev
+6.8%
look: 4 | smell: 4 | taste: 4 | feel: 4 | overall: 4.5
2012 Oak Aged
With thanks to Adam @ Platinum.
Time to give these HopDog beers a fair shake of the sauce bottle.
Pours a classic slightly cloudy lemon orange colour. Good head/lacing.
Smell initially presents a slight plastic character which I have previously experienced in the Rye IPA on tap. It quickly falls away for the most part. It leaves an enticing fruity, very peachy witbier character. Lots of Belgian esters here and I think a fruity hop character. Very well integrated. Really nice nose actually.
Taste is more Belgian-wit phenols, reminiscent of Hoegaarden. The oak largely contributes a dryness in the finish which keeps the beer very nicely balanced and drinkable.
Mouthfeel is also very good- moderate body, moderate carb, very dry on the palate.
Overall this is actually an excellent beer. Slightly fruitier version of Hoegaarden. Will have no trouble finishing the six pack.
Very well done HopDog. If they could sort out the plasticcy thing they'd be even better.
989 characters
4.07
/5
rDev
+6%
look: 4 | smell: 4.5 | taste: 4 | feel: 3.5 | overall: 4
When I was recently down at the brewery I got a chance to taste the base beer for this. In fact, I was the first other than Tim Thomas and his wife. At that stage there was real potential for the beer to turn into something special, especially if the barrels added a little tartness. Let's see how they went.
Pours a cloudy dark straw colour like any good witbier should. Big, fluffy white head with below average head retention.
Nice wheaty aroma with a nice tartness. Mild stone fruit. Lovely lactic notes.
Mild peach and lactic tartness. Hints of wheat. Quite mild on the whole but nice.
Medium-light body with high carbonation.
I really like this beer. I feel it could improve with a little more barrel character but for a first shot at barrel aging Tim has done well. An enjoyable beer and up there with everything else Tim is doing.
844 characters
Alluvial Peach from HopDog BeerWorks
Beer rating:
3.84
out of
5
with
14
ratings