One Thousand Eight Hundred Twenty-Five

Kane Brewing Company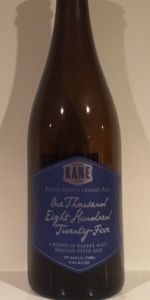 Write a Review
Beer Geek Stats:
| Print Shelf Talker
Style:

ABV:

11.4%

Score:

90

Avg:

4.36

| pDev:

5.05%

Reviews:

8

Ratings:

From:

Avail:

Retired (no longer brewed)

Wants

Gots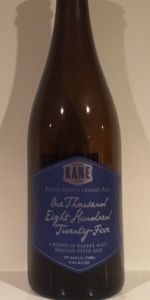 Notes: For our Fifth Anniversary we brewed a Belgian-style quadrupel and racked it into rye barrels where it sat for a year, then blended in the barrel aged versions of our previous anniversary ales. 1,825 marries the complexities of its individual components and the intricacies of barrel aging with the dark fruit notes of a traditional Belgian-style quadrupel.

4.42
/5
rDev
+1.4%
look: 4.5 | smell: 4.25 | taste: 4.5 | feel: 4.25 | overall: 4.5
Dark brownish-black with dark ruby red edges and a tall fluffy khaki head slowly settling to a thin ridged collar.
Rich caramel, toffee and ginger snaps meet sweet charred oak in this surprisingly clean, beautifully presented quad. It's especially impressive to me for its age. As it comes to temp, further expressions of cocoa dusted date, black pepper and tobacco develop, via a medium body that has a soft froth before finishing semi-dry. At its peak it exhibits a wonderful aroma and aftertaste of maple bruleed brown sugar.
529 characters

3.88
/5
rDev
-11%
look: 4 | smell: 4 | taste: 3.75 | feel: 4.25 | overall: 3.75
A: dark, matte dark brown color that is almost black. Large, 2 finger tan head
A: molasses, prunes, raisins, berries, leather, tannins, oak, vanilla, whiskey, caramel, toffee, and some coriander
T: raisins, dark cherries, oak, and a touch of chocolate. Dark berries and a subtle kiss of rye and whiskey. Leather and molasses behind that. Huge note of fresh dough and candi sugar
M: heavy, low carbonation
O: it's tasty, but in my opinion, quads are better not BA. It's a good beer but the barrel takes away from some great Quad flavors
545 characters
4.18
/5
rDev
-4.1%
look: 4.25 | smell: 4.25 | taste: 4.25 | feel: 4 | overall: 4
Pours very dark, no head. Aroma is mainly dark dried fruits: figs & raisins. Flavor follows nose: lots of raisin, dried figs, pretty fruity, a touch acidic. Bourbon barrel on the finish. High abv is not noticible. Carbonation adds to a creamy mouthfeel. Overall, not my favorite but I thoroughly enjoyed the 4 oz pour. Would not have liked a 750ml bottle.
9/6/18
Draft at brewery
4 rating
10:13/18. Tried the raspberry variant at brewery - this was excellent, would have drank a bottle of it.
502 characters
4.46
/5
rDev
+2.3%
look: 4.25 | smell: 4.5 | taste: 4.5 | feel: 4.25 | overall: 4.5
750 mL bottle aged for nearly a year. Poured into Kane tulip glass and allowed to come to temperature.
L: 1F very light tan head. No retention, only a very thin ring left. Beer is very dark brown with edges lighter brown when held up to light.
S; Bourbon barrel and bourbon. Kandi sugar and Belgian yeast. Dark fruits. Really very good, a step up from the prior year.
T: Bourbon barrel and bourbon. Sweetness like molasses and kandi sugar. Dark fruits and mulling spices. This is excellent. A little bit of alcohol heat on the finish.
F: Medium to full bodied, still a decent bit of carbonation, just the right amount. Construction and balance are very good. As I noted, a little bit of heat on the end. Maybe another year melds and rounds it, maybe it doesn't.
O: Seriously good. I think Kane is putting an amount of the previous year's (or multiple) into the new ones so can't wait for Two Thousand One Hundred Ninety, which probably will be out soon.
958 characters
4.43
/5
rDev
+1.6%
look: 4.25 | smell: 4.25 | taste: 4.5 | feel: 4.5 | overall: 4.5
Love Kane's beers so when I was given a bottle of this by Ryan (the owner) at the Cloverleaf Tavern, I was very grateful to have a chance to try a full bottle of this. The idea that has past blends of the anniversary mixed in with the current batch is beautiful and for the most part, so was this final result. A beast of a beer, this was a slow sipper that deserved to be enjoyed over a relaxing span of time!
This poured a dark cola brown with just a hint of light seeping in around the edge, with a moderate, tan head that quickly and loudly receded. Lots of rye and bourbon-like stickiness in the understated nose as the more colorful flavors were to be found in the taste. Plum, raisin, and dark and bitter chocolate combined with cherry and blueberry juice for a dark, slick, and warming mouthfeel that fit in beautifully with the rye barrel aging as this beer was as balanced and full as could be for a Quad. Nearly felt like a Stout given the thickness and potency of it but this finished clean because of the rye and low carbonation. Of course, this allowed the dark, mysterious, and alluring flavors to subtly shine and hold their own long after each sip went down.
Make no mistake - this was a strong and although much of the alcohol went undetected during my session, I could feel a slight burn and stronger warming sensation once this was finished. Deserving of it's style, age, and moniker, there couldn't possibly be a better beer for this 5th Anniversary that honored their past and the level that they've achieved here in my home state. A stronger nose and bolder appearance would have put this over the top but as it was, this may have been their best beer that I've had. Worth seeking out by all means!
1,723 characters

4.49
/5
rDev
+3%
look: 4.25 | smell: 4.5 | taste: 4.5 | feel: 4.5 | overall: 4.5
Poured from bottle into Kane goblet. It pours jet black with dark purple hues when held to the light, and one finger of creamy, khaki-colored head and lacing. It smells of bourbon, red grapes, plum, chocolate, vanilla, and spice. It is super fruity with abundant dark fruit: raisin, plum, and grape; as well as toffee and rye, along with a noticeable, but subdued, alcohol. There is little if any hop profile. This ale is mildly carbonated and its 11.4% ABV packs a punch. Overall, this is a fitting 5th anniversary offering from what very well may be New Jersey's finest brewery. One thing this proves is Kane's versatility. More than any other New Jersey brewery, it has proven its ability to excel in disparate styles. I wish I had purchased more of this gem.
770 characters

4.39
/5
rDev
+0.7%
look: 4.25 | smell: 4.5 | taste: 4.5 | feel: 4 | overall: 4.25
first kane beer, thanks to ravishing for hookig up this non fl beer!
bottle says it is a mix of a quad in rye barrels mixed with there previous anniversary. solera method much like what the bruery does with their anny old ale.
beautiful bottle with blue wax into 2 perfect stout glasses. paired with decorating the xmas tree and split with the wife l
looks great in the glass almost like a stout! small thin foam head
wow the nose is very nice. bourbon raise right up front. quad at full force
taste is fantastic! follows the nose but adds layers of vanilla and rye spiciness in the finish. lots of dark fruits. definitly a well brewed quad base for sure. beer warms the body, perfect for a cold winters night
body feels nicely carb but a tad thin. body still delivers the flavor.
overall this is very good. for my first kane beer i am impressed! i've actually heard mix feelings about their ba beers, well they pretty much nailed this one. quad was the first style that got me into craft, it's always nice coming back to a well made quad. it's definitly feeing like xmas!
1,080 characters

4.39
/5
rDev
+0.7%
look: 4.5 | smell: 4.25 | taste: 4.5 | feel: 4 | overall: 4.5
Pours reddish, blackish, dark brown with a mocha head that disappears quickly. Soft foam remains, leaving nice lacing that sticks to the sides of the glass. Smells like bourbon, rum, and "clear" liquor. Taste is thinner than I expected, tinny and roasty, raisiny, with a warm burn of liquor on the back. Sweet malt character is also strong. Lighter mouthfeel than I expected, moderate carbonation, and slightly oily feel.
421 characters
One Thousand Eight Hundred Twenty-Five from Kane Brewing Company
Beer rating:
90
out of
100
with
31
ratings