Mexican Brunch - Bourbon Barrel-Aged

Kane Brewing Company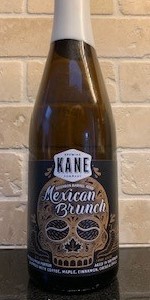 Write a Review
Beer Geek Stats:
| Print Shelf Talker
Style:

ABV:

11.4%

Score:

Avg:

4.53

| pDev:

5.08%

Reviews:

13

Ratings:

From:

Avail:

Rotating/Seasonal

Wants

Gots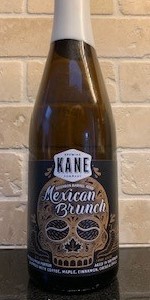 Notes: Bourbon barrel aged imperial milk porter with coffee, cinnamon, maple, cacao and chilies.

aleigator from Germany
3.91
/5
rDev
-13.7%
look: 4.75 | smell: 4.25 | taste: 3.75 | feel: 3.5 | overall: 3.75
Pours night black with a solid dark brown head, revealing a spongy texture, which slowly receeds to a coating lacing atop the glass.
Smells of cinnamon milk chocolate, espresso beans and of warming spices, coming from the Bourbon barrel.
Drinks with a slightly creamy silkness and just a light carbonation spark during the finish, creating a nice refreshment without concealing the heavier body of this.
Tastes of milk chocolate, lighter earth from the coffee and cinnamon, creating a rather sweet first impression, gently enhanced by the warming barrel. Turns even sweeter then with rock sugar and slightly enhancing bitter chocolate, peaking with just a faint spicy Bourbon presence. Finishes with an interplay of sweet maple syrup and dry, roasty coffee among maintaining cinnamon and a light heat impact from the oak barrel.
Solid adjunct leaden Ba Porter, ranging on the sweeter side of things. The barrel in this is pretty faint, adding just a note of sweet spices and a warm hint, with a mouthfeel which does not entirely convince, due too its thinner nature.
May 31, 2020
VoxRationis from New York
4.5
/5
rDev
-0.7%
look: 4.5 | smell: 4.5 | taste: 4.5 | feel: 4.5 | overall: 4.5
Decanted from a 16.9 oz (500 ml), waxed and capped bottle into a muffin top taster pint; released in 2019. Have to thank my friends Elina and Bob for obtaining this for me.
A: Pours a very dark brown to black color with mahogany highlights, a one finger, light brown head, solid, solid more than rim retention, but mostly parameniscal lacing.
S: Aromas of milk chocolate, cinnamon, pumpernickel, and walnuts. Definitely a subtle bourbon note.
T: Sweet. Flavors follow the nose, but with the addition of maple, cinnamon, licorice, and chili notes. Very, very much over-balanced bitterness.
M: Full bodied with moderate carbonation. Smooth and creamy.
O: Although a porter, reminiscent of a sundae stout. Obviously the two styles have a common origin and constitute somewhat of a spectrum. Wanted to try this for years, but was holding on to it for an opportunity to relax and really savor it. A really delicious, barrel aged, American Imperial Porter.
Feb 20, 2020
JLK7299 from North Carolina
4.65
/5
rDev
+2.6%
look: 5 | smell: 5 | taste: 4.5 | feel: 4.5 | overall: 4.5
The one thing I didn't like about Mexican Brunch was I thought the cinnamon was too strong. Barrel aging really balanced that out and made this into a truly outstanding drink. Kudos!
Oct 13, 2019

Radcpa from Washington
4.67
/5
rDev
+3.1%
look: 4.75 | smell: 4.5 | taste: 4.75 | feel: 4.5 | overall: 4.75
Tried at the Denver Rare beer event. Very dark appearance with tan head that dissipates quickly. Aroma is a very pleasant bourbon malt combination with a nice blend of maple, cinnamon and coffee with a little spice. Taste is even better than the aroma.
Oct 05, 2019
StoutSnob40 from California
4.37
/5
rDev
-3.5%
look: 4.25 | smell: 4 | taste: 4.5 | feel: 4.5 | overall: 4.5
This bourbon barrel-aged version of Mexican Brunch doesn't explode with barrel character, but it's a wonderful coffee, vanilla, cinnamon bomb. A little thin (it's a porter), but the dense head makes up for it.
Sep 21, 2019

Vidblain from Minnesota
4.31
/5
rDev
-4.9%
look: 4.25 | smell: 4.5 | taste: 4.25 | feel: 4.25 | overall: 4.25
Very pleasant cocoa. Ancho chiles are not overwhelming - subdued, which is surprising, given how fresh the bottle was. Smokiness was minimal. No discernible barrel notes, but mild bourbon present. Not hot, fairly smooth. Nice nose, lots of chocolate.
Jun 09, 2019
thebeers from Pennsylvania
4.34
/5
rDev
-4.2%
look: 4 | smell: 4.25 | taste: 4.5 | feel: 4.25 | overall: 4.25
Pours a very dark brown with two fingers of mocha-colored foam. Sloppy sheets of lacing.
Huge dessert-like aroma: cake batter, brownie batter, chocolate syrup, maple and a touch of smokey chili pepper.
Loads of chocolate and maple in the taste, along with nuts, cinnamon and more pepper heat than the nose let on — without being extreme. What is borderline extreme is the chocolate and maple syrup combo going on up front. But the nice, light chili heat in the aftertaste helps balance against it.
Normal body for a stout ("imperial porter"), although a touch thin for anyone expecting an imperial stout. A little milky, with just the right amount of fizz.
The coffee and the barrel are pretty much lost behind all that chocolate and maple, but the chili pepper and cinnamon additions are excellent and the feel is quite lovely. The ABV catches up with you quickly. Definitely a dessert beer, but no problems here polishing off the bottle more quickly than I intended.
May 18, 2019
q33jeff from New Jersey
4.44
/5
rDev
-2%
look: 4 | smell: 4.25 | taste: 4.5 | feel: 4.75 | overall: 4.5
**
05/05/19
Bottle to snifter. Side by Side with base Mexican Brunch.
Smoother feel and flavor. Bourbon is mellowing and gives some nice depth of flavor. The bourbon barrel also mutes some of the pepper and cinnamon notes.
Different, but not necessarily better. I think the BBA treatment works better on Sunday Brunch.
**
May 08, 2019
Tony210 from New Jersey
4.43
/5
rDev
-2.2%
look: 4.25 | smell: 4.25 | taste: 4.5 | feel: 4.5 | overall: 4.5
Pours dark and a bit on the thin side for a BA Kane beer. Nice mocha head that slowly recedes. I smell a lot of coffee and cinnamon, some chocolate, which begins to dominate as it warms. Flavor is: noticeable maple syrup, ample coffee and cinnamon, chocolate finish. Barrel aging is not overly noticeable. Maple syrup creates an odd slick feeling on my tongue and an almost artificial aftertaste. Chili is faded in the background. Overall a really good BA offering from Kane.
4/27/19
500 ml bottle released a few weeks ago
4.5 rating
Apr 28, 2019

Sabtos from Ohio
4.17
/5
rDev
-7.9%
look: 3.5 | smell: 4.5 | taste: 4.25 | feel: 3.75 | overall: 4
Unfortunately, I didn't find this much different than the base. Fortunately, the base is phenomenal.
It's still mostly that insanely aromatic sort of freshly ground coffee stealing the show, paired with a slightly smoky roast, charred chilies, and caramelized brown sugar. There's not much barrel except for a nice bit of vanilla, which is a surprise, because most of their other BA beers are very expressive in barrel character.
Another surprise is that the body is light and bouncy relative to the base, with a dry finish.
Mar 29, 2018

Devileyedog from Massachusetts
4.81
/5
rDev
+6.2%
look: 4.75 | smell: 5 | taste: 4.75 | feel: 4.75 | overall: 4.75
I just ate some cinnamon toast crunch and a stout all at the same time.
This beer is unique. You either love it or hate it. Regardless, even if you're a hater because it is chock-full of breakfast cinnamon goodness, you can't help but say it's a well-crafted beer.
I have never had anything like it. I hope to again.
Feb 22, 2018
GreesyFizeek from New York
4.77
/5
rDev
+5.3%
look: 4.5 | smell: 5 | taste: 4.75 | feel: 5 | overall: 4.5
EBF pours.
This pours a very dark black, with a small head and not much lacing.
This smells incredible, with cinnamon rolls, spicy pepper, oak, bourbon, chocolate, and creamy coffee.
This is unbelievably tasty. The adjuncts are well balanced, with a killer creamy vanilla and cinnamon character. The peppers are light, with a nice silky bourbon flavor.
The body on this is surprisingly rich and thick. There's a normal level of carbonation here.
Kane absolutely stole the show at EBF.
Feb 03, 2018

Knapp85 from Pennsylvania
4.29
/5
rDev
-5.3%
look: 4.5 | smell: 4.25 | taste: 4.25 | feel: 4.5 | overall: 4.25
Poured out black with a thin mocha colored head on top. The smell of the beer gives off the aroma of the cinnamon and the spice from the peppers. The taste reflects the nose on this beer. You definitely get all the flavors you see in the description. Overall it's probably my least favorite of the series but still a very good beer
Feb 02, 2018
Mexican Brunch - Bourbon Barrel-Aged from Kane Brewing Company
Beer rating:
95
out of
100
with
63
ratings