Solitude
| Kane Brewing Company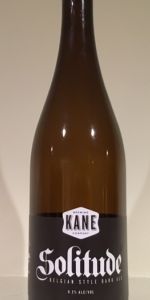 BEER INFO
Brewed by:
Kane Brewing Company
New Jersey
,
United States
kanebrewing.com
Style:
Belgian Strong Dark Ale
Alcohol by volume (ABV):
9.80%
Availability:
Rotating
Notes / Commercial Description:
No notes at this time.
Added by themind on 05-05-2013
Reviews: 13 | Ratings: 123

4.98
/5
rDev
+24.5%
look: 5 | smell: 5 | taste: 5 | feel: 4.75 | overall: 5
Had this on tap at 90 acres Culinary Center located at Natirar State Park. What an exceptional brew. I had several of these and was wanting more but held back so I could actually walk out of the place. Deep dark in color with a rich Belgium triple aroma. The mouthfeel was near perfect and the taste was flat out amazing! I would buy this, store this, drink this anytime I could. Just a stellar brew by Kane.
Bottom Line: A must try! seek this out...period!
Ok had this again, well I rated it even higher! love this beer!
523 characters
4.25
/5
rDev
+6.3%
look: 4.25 | smell: 4.25 | taste: 4.25 | feel: 4.25 | overall: 4.25
Look - Dark red/amber in color
Smell - Tons of sweet dark fruits on the nose. Plums, cherries, toffee, raisins
Taste - Follows the nose perfectly. Basically tastes like plum/prune juice. The 9.8% is so well hidden.
Overall - A very tasty Belgian Strong Ale from Kane.
270 characters

4.18
/5
rDev
+4.5%
look: 4 | smell: 4 | taste: 4.25 | feel: 4.25 | overall: 4.25
Poured from 750 ML bottle into Kane tulip glass. It pours a dark mahogany with ruby hues when held to the light, and an enormous, light khaki colored head and lacing with great retention. It smells of plum, dark cherry, burnt coffee, and a whiff of tobacco smoke. It's full of dark fruit: raisin, plum, and cherry, along with some nice chocolate in mid-sip, and some subtle spice at the finish. It has a chocolate covered cherry quality. As the glass warmed, I tasted more of the smoke. This ale has a creamy mouth feel with lively carbonation. The label shows an ABV of 9.2% which gives it a nice potency without being overtly boozy. Overall, this is a nicely crafted and tasty Belgian Ale. The chocolate gives it a unique taste and makes it ideal as a dessert beer. It would also pair well with a hearty meal.
817 characters
4.15
/5
rDev
+3.8%
look: 3.75 | smell: 4.25 | taste: 4.25 | feel: 4 | overall: 4
Served on-tap at Cork City Pub in Hoboken, NJ
A: Pours an opaque very dark brown (almost black) in color with minimal amounts of visible carbonation and some cola brown + dark amber highlights. The beer has a thin (slightly less than a quarter finger tall) light beige head that quickly reduces to a small patch of very thin film and a thin ring at the edges of the glass. Minimal to light amounts of lacing are observed.
S: Moderate aromas of chocolate, dark fruit, Belgian yeast, and just a hint of spices.
T: Upfront there is a fair amount of malts sweetness in this brew with notes of dark fruits, candi sugar, and toffee. That is followed by light to moderate flavors of Belgian yeast and just a hint of spiciness. Lingering sweetness and minimal amounts of bitterness.
M: Just heavier than medium bodied with moderate amounts of carbonation. Smooth.
O: Another really great brew from Kane - I have been a longtime fan of BSDAs and this is a top notch example. Definitely s brew I would recommend - easy to drink and quite enjoyable.
1,043 characters
4.05
/5
rDev
+1.3%
look: 4.25 | smell: 4.25 | taste: 4 | feel: 3.75 | overall: 4
750 mL bottle purchased at brewery 2/4/17. Poured into Belgian ale glass.
L: Dark brown but not completely dark, sort of a chestnut with deep red edges. 2F head not a lot of retention, but a cap and ring.
S: Roasted malts and dried pit fruits carry the day here. Quite good.
T: Follows nose, but a decidedly chocolate element slips in midway and carries to finish. Neutral finish, less candi malt, which I like.
F: Medium body, light carbonation. Good construction, but balance runs away towards the bitter/sour at the end. Maybe could tighten that up a bit.
O: Solid new regular entry for Kane, though if they could swap Mysterioso 47 for this, I would be even happier.
676 characters
4.01
/5
rDev
+0.2%
look: 3.75 | smell: 4 | taste: 4 | feel: 4.25 | overall: 4
Appearance: Arrives with a fudge brown color capped by a modest head that leaves just a few strands of lacing
Smell: Graham cracker, chocolate, dark fruit and spicy Belgian yeast elements
Taste: Surprisingly dry for a BSDA, up front, though there is some graham cracker, chocolate and dark fruit; in the mid-palate, the spices kick in nicely and the finish brings a return of the graham cracker
Mouthfeel: Medium to full body with moderate carbonation
Overall: A very nice brew; lack the depth of dark fruit flavors (and sweetness) of the great Belgians but the graham cracker is a nice touch
596 characters

3.9
/5
rDev
-2.5%
look: 4 | smell: 4 | taste: 3.75 | feel: 4 | overall: 4
From 07/27/13 notes. Had on tap at the brewery in Ocean.
a - Pours a deep medium nut brown color with one inch of light tan head and low to moderate carbonation evident.
s - Smells of bananas, roasted notes, spices, Belgian yeast, cloves, fruity malts, and toasted malts. Nice bananas and yeast, very good nose.
t - Tastes of roasted malts, bananas, spices, pepper, Belgian yeast, cloves, chocolate, toasted malts, earthy notes, and light fruit. More spice and pepper than the nose, and more chocolate malts. A slight step down for me.
m - Medium body and low to moderate carbonation. Pretty smooth and easy to drink.
o - Overall a solid Belgian style dark ale. Bananas and roasted malts in the nose with more spice and chocolate in the taste. Pretty easy to drink, would have it again.
791 characters

3.85
/5
rDev
-3.8%
look: 4.25 | smell: 3.5 | taste: 4 | feel: 4 | overall: 3.75
On draft at barcade. Tulip glass.
Beautiful dark color.
Traditional quad taste. Less candy sugar, which is great. Trends towards sour for this variety.
Excellent brew from a great brewery.
191 characters

3.85
/5
rDev
-3.8%
look: 3.5 | smell: 3.5 | taste: 4 | feel: 4 | overall: 4
nice dark flavors; deep sweet berry, coffee, toffee, caramel, chocolate raison. a bit boozy almost like a brandy or bourbon barrel beer. super deeply complex layers but subtle
176 characters

3.8
/5
rDev
-5%
look: 3.75 | smell: 3.75 | taste: 3.75 | feel: 3.75 | overall: 4
This was actually a 10.5 ABV. Deep red color tells the tale... dark fruits, cherries,lums, raisins all over the nose of this one. Peppery, esters yeast notes drift in from the background. Well done to style. Would love to try the BBA version. Seek this out... seek all Kane out!
278 characters

3.79
/5
rDev
-5.3%
look: 4 | smell: 3.75 | taste: 3.75 | feel: 4 | overall: 3.75
The last of the four beers that I tried while visiting Kane Brewing. Here goes:
A: Looks good, but there's really nothing special about it. Pours reddish-black with a fair head. However, the head leaves almost no lacing (figure that this has to do with the specific gravity of the beer), and it dissipates rather readily.
S: Dark fruit with some bitter chocolate. Can smell plum, raisins, and some espresso. While one might characterize these scents as complex, they are rather poorly combined and faint.
T: Interesting, but not my cup of tea. Taste is one of dark fruit followed by a coffeeish twang. That is, one detects sweet fruit at the front of the tongue but bitter coffee at the back of the tongue. Kind of weird, but I guess that some people like this.
M: Thick and sticky, but very little carbonation.
O: Good beer. but nothing special.
864 characters
3.77
/5
rDev
-5.8%
look: 4 | smell: 3.75 | taste: 3.75 | feel: 3.75 | overall: 3.75
Appearance: Nice dark brown, black color, with good tan head, leaves lacing
Smell: Dark, fruity, plums, Belgian yeast,
Taste: Again, fruity, plums and raisins, has nice Belgian yeast character, some nice roasty malts
Mouthfeel: Full body, good carbonation
Overall: Pretty good representation of the style, but not the best, and not the best from Kane. A solid offering, would drink again, but would rather search out other offerings from Kane.
456 characters
3.74
/5
rDev
-6.5%
look: 3.5 | smell: 3.75 | taste: 3.75 | feel: 3.75 | overall: 3.75
First beer from this well received brewery. The beer pours a very dark nearly black ruby highlighted brown. There is a very thin milky tan colored collar that clings to the glass.
The scent is of rains, plum, molasses and a hint of cocoa. Very enjoyable scent that comes off as belgian based, but uniquely American. It does lack in complexity of the finest of its style.
The taste begins with a cocoa bitterness and touch of alcohol. It moves to a sweet flavor dominated by by dark fruits, especially plum. The mouthfeel is medium bodied with a light lively carbonation.
Altogether a very good and enjoyable beer that lacks the depth and complexity of the finest examples of the style. That said I would enjoy having this again.
731 characters
Solitude from Kane Brewing Company
4
out of
5
based on
123
ratings.