Fernet Aged Porter
| Odell Brewing Company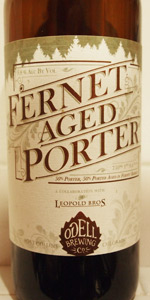 BEER INFO
Brewed by:
Odell Brewing Company
Colorado
,
United States
odells.com
Style:
American Porter
Alcohol by volume (ABV):
9.80%
Availability:
Winter
Notes / Commercial Description:
Over the past year, we've collected empty Fernet Barrels from our friends at Leopold Bros. Distillery. Their distinct Fernet includes lavender, honeysuckle, ginger root, bitter aloe, dandelion root, rose petals, chamomile, and pepper. Inspired by the herb & spice flavors of this dark minty liqueur, we promptly filled the barrels with a rich porter. The roasty chocolate malt character is infused with hints of mint and licorice from the herb-soaked oak, creating a decadent flavor and aroma.
Added by 1759Girl on 10-11-2013
Reviews: 39 | Ratings: 204

3.66
/5
rDev
-5.2%
look: 3.5 | smell: 4.25 | taste: 3.75 | feel: 3.25 | overall: 3
Chocolate mint liqueur pretty well covers the sensation. Not a gusher but huge foam-up, taking eight minutes for the tall glass to settle down to a half-inch of brew. In the snifter, more success after five minutes with piles of beige whipped cream and enough beer to taste, finally.
The smell is my favorite feature, with a deep minty fragrance and some floral aromatics. The flavor is sharp and sugary, with an intensity matched by few beers outside the hop showboats. Syrupy is for once applied accurately to this stuff. Yet weirdly sudsy as well.
From the big Belgian-style bottle purchased at Wilbur's Total Beverage in Fort Collins, Colorado. Fortunately I have forgotten how much this cost.
★
699 characters

3.8
/5
rDev
-1.6%
look: 4 | smell: 4 | taste: 3.75 | feel: 3.5 | overall: 3.75
Poured from a formerly corked and caged 750 ml bottle into an Odell Brewing Company branded snifter
Pours a very dark brown, bordering on black capped by light tan two finger head. Average retention, some thin lacing here and there. Very unique nose, bakers chocolate with hints of roasted malt, mint, herbs, flora, and mixed spice rounded out by anise. Some herbs and spice upfront with quickly shifts to minty dark chocolate. Roasted malt pokes through; finishes with continued dark chocolate notes, some oak, and boozy black licorice. Smooth, medium bodied, fairly high level of carbonation. One of the more unique brews I've had lately. Very enjoyable.
★
657 characters

3.67
/5
rDev
-4.9%
look: 4.25 | smell: 3.5 | taste: 3.5 | feel: 4.75 | overall: 3.5
Pours black with a creamy khaki head. Aroma is peppermint, licorice, a touch of roast. Flavor is similar with its peppermint, licorice, and roast, but also a touch of creaminess in the flavor and chocolate as well. A soft, creamy, fuller mouthfeel. The highlight of the beer for me. Overall, one of the most unique and interesting beers I have tried. Not familiar with the liqueour, so perhaps why I was so intrigued by it. Not sure I was a huge fan in the sense of how much I liked it, but it was very interesting and I definitely enjoyed trying it.
★
550 characters
4.21
/5
rDev
+9.1%
look: 4.75 | smell: 3.75 | taste: 4.5 | feel: 3.75 | overall: 4.25
Pours an effervescent ebony with 3 fingers with mocha colored head. Stellar head retention & lacing
S: Grapes & plums & carob & oakyness
T: Follows the nose, some dark chocolate, figs & a bit of booze bite up front, I do get some mint & some gin-like flavors. Figgy & herbal notes as this warms, plus oaky dryness, plus a touch of anise & mintyness & carob once warm. Finishes with red grape notes, oaky dryness, herbal & minty notes
MF: Medium bodied, firm carbonation. warming
Nice offering, a tad pricey, well over 80 cents an ounce. This drank very well despite the complexity & heft
★
591 characters
3.75
/5
rDev
-2.8%
look: 4 | smell: 4 | taste: 3.5 | feel: 4.5 | overall: 3.5
Large pillowy head sits atop a dark black brew. Light spotty lacing is left down the glass. A thin cap remains behind.
Herbaceous aroma that is not a surprise. I have no experience with Fernet but the description of the label gives me an idea what to expect. Chamomile and lavender being the most distinctive. Slight mint notes as well as influences from the oak barrel.
There is a robust porter that is the base for this beer, and in the end, it has the most positive qualities. The barrel-aging aspect did not result in a product that appealed to me. This tastes very woody, earthy, herbal, and licorice. It kills the chocolate malty notes that I enjoy.
Big robust body. Expertly carbonated results in a silky smooth, soft texture that is a joy to drink.
The first few sips were very enjoyable, but it soon became overwhelming. Not sure what the use of Fernet is, but there is probably a reason why I never came across it before.
★
936 characters
3.75
/5
rDev
-2.8%
look: 4 | smell: 4 | taste: 3.5 | feel: 4 | overall: 3.75
high hopes for this as I'm no stranger to taking drinks (read: shots) of fernet, and I'm a fan of the cutthroat porter. this was pretty good -- I bought two bottles, and plan to age the one I haven't opened yet. sometimes drinks of this beer were unpleasantly sharp, others were smooth and mellowed out. ultimately pretty enjoyable, and a fun riff on a mainstay beer. as for whether it's worth the price... tbd 0:-)
★
415 characters
4.02
/5
rDev
+4.1%
look: 4.25 | smell: 4 | taste: 4 | feel: 4 | overall: 4
Serving glass: Poured from bottle into Tulip.
Appearance: Near black with good sized tan head and decent lacing.
Smell: Chocolate, molasses, licorice and some odd spiciness that I can't identify. Mostly though, it smells like a Porter.
Taste: The Porter backbone is evident out of the gate, with chocolate, molasses and light licorice (although the licorice could be more more from the Fernet barrels than the base beer). Some light oak shines through, and then the finish is herbal, with touches of lavender, flower petals and ginger. There is a lingering aftertaste that is minty and herbal in a slightly bitter way.
Feel: Fairly full bodied and creamy. Moderate carbonation. I guess the finish is somewhat dry, but is mostly just a little odd.
Overall: Interesting and unique beer. The Fernet barrel aging really imparts some flavors that mostly play well with the Porter even if the aftertaste was occasionally distracting. Some sips I loved it and some I was distracted by the mint and herbs, but overall I was quite pleased.
★
1,035 characters

3.49
/5
rDev
-9.6%
look: 3 | smell: 4 | taste: 3.5 | feel: 2.5 | overall: 3.5
Deep ebony in the glass, a thin yet dark liquid. A sandy tan head composed of large, fragile bubbles pops away rather quickly.
Giving up beautiful aromatics as is does. Chocolate is noticeable foremost, in multiple forms: cocoa powder; milk chocolate squares; mint chocolate chips. Herbal mint, anise. Alcohol.
The flavor is much more Fernet-forward. Peppermint zings around the mouth, balancing the bitter dark chocolate notes of the base porter. Some oaky char. Floral imprints are apparent, decorating the darker beer and liqueur. Licorice and lavender. Molasses, gingerbread. Clean, zesty, cooling finish. Refreshing, like I've just finished brushing my teeth.
A strange sensation, the cooling action of mint combined with the warmth of alcohol. The body's a little thinner than I'd like and the lively, fizzy carbonation is much higher than it needs to be.
I would be surprised if this porter was the same base used in Odell's decadent beer/wine hybrid, Amuste. It's rich chocolate notes and pungency are nearly the same. Leaves a funky, herbal bitterness in the mouth. Maybe even settles the stomach.
★
1,114 characters
4.07
/5
rDev
+5.4%
look: 4.5 | smell: 4.25 | taste: 4 | feel: 3.75 | overall: 4
A very nice looking brew in the glass. A 2 finger head of off white foam sitting on a pitch black beer.
The smell is of roasted and chocolatemalt, some kind of barrel aging that must be Fernet, what ever that is. Reading the label on the bottle...holy heck. all sorts of herbs and spices are used. Hell yes, I do smell some peppermint here. Ginger too. The others kind of, at least those I'm familiar with.
And so steps forward a biggish blast of peppermint in the taste. The very first thing I noticed. Plenty of chocolate goodness there as well. Roasted malt in lesser quantity, I get some ginger but also what has to be lavender slash rose petals..anywho, pretty much what I'd expect to taste if I grabbed a flower way form the long missed honey bees. A real mix of flavours that, obviously, is confusing the heck out of my palate.
Fairly light bodied for the style.
I'm guessing that this is a brew that will have a love/hate relationship with the peeps that try it. Or at the very least, a like/dislike. I like.
★
1,022 characters
3.61
/5
rDev
-6.5%
look: 4.5 | smell: 3.5 | taste: 3.5 | feel: 4 | overall: 3.5
750 ml bottle. Pours dark brown with a huge rocky brown head that retains very well and laces the glass.
The aroma is minty roast chocolate with some alcohol.
The flavor is roast chocolate malts with mint and some black licorice and alcohol. The mouthfeel is medium to full bodied with smooth carbonation.
Overall, an interesting minty beer.
★
344 characters
3.52
/5
rDev
-8.8%
look: 3.75 | smell: 3.5 | taste: 3.5 | feel: 3.5 | overall: 3.5
Bottle pour at Woodshop 8 held at The Hermosillo in Los Angeles, CA.
Pours an almost opaque super dark brown with a foamy dark khaki head that settles to a film on top of the beer. Small streaks of lace form around the glass on the drink down. Smell is of dark roasted malt, herb, and spice aromas. Taste is much the same with spice and herbal toothpaste flavors on the finish. There is a mild amount of herbal bitterness on the palate with each sip. This beer has a lower level of carbonation with a slightly crisp and medium bodied mouthfeel. Overall, this is a pretty good beer with an interesting barrel aged treatment that makes the base beer super herbal and spice forward.
★
680 characters
4.4
/5
rDev
+14%
look: 4.25 | smell: 4.25 | taste: 4.5 | feel: 4.25 | overall: 4.5
Deep, dark brown body with a very thick, very creamy, light tan head; lots of lacing. Peppermint, anise, and chocolate aromas immediately greet the nose; some nuttiness. A cornucopia of flavors: chocolate, mint, various aromatic herbs, nice bitterness and a touch of alcohol warmth. Thick and smooth on the palate; semi-sweet feel.
I'd never heard of fernet, but a little research indicates to me that aging a good porter in fernet liquor barrels has great potential. Odell has done a superb job with this concept. This porter is thick and heady yet easily drinkable and yields great flavors and aromas. Unique and exciting...
★
627 characters

4.96
/5
rDev
+28.5%
look: 4.75 | smell: 5 | taste: 5 | feel: 4.75 | overall: 5
Poured from a cork-and-cage bottle into my DFH tulip. Served at around 60 degrees.
A - Pours a rich burnt-coffee brown, that is almost impossible to see the light through.
A heavy pour generates almost three fingers of rocky head, that hangs around for more than two minutes, leaving a light amount of wispy lacing on the glass. When swirled in the tulip, it kicks back up to a one-finger head, all by itself. Methinks a decent amount of flaked oats went into this beer, to help all that head-retention.
S - Peppermint, Chamomile, and Lavender take center stage, backed up by light Black malt notes that keep it from being cloying. I'm pretty sure I get hints of spearmint, and there is also some honey-ish sweetness there too, which bring to mind the honeysuckle used in this beer. Just smelling it makes me want to taste the Fernet that the Leopold brothers make! Just sticking my nose in it tells me this beer is something completely different.
T - Herbal notes hit the front of the palate hard. Peppermint, sage, and rosemary lead the way, being rounded out by honeyed sweetness, lactose, and a hint of sweet basil.
The malt is there, and hops make little to appearance at all, which is fine with this beer, taking into account the fact that it IS aged in Fernet barrels.
My buddy Byron who brought this home to me told me "I got you this beer because there is so much going on with it, that we KNEW you'd appreciate it." You were right, Sir. You Handsome, Spectacled Sonofagun.
M - Creamy, rich, and smooth, this guy leaves nothing to be desired.
It is round, full, and lingering, hanging on to the back of your palate like a Titanic passenger trying not to fall into the icy waters waiting below them. The carbonation is there, but serves only to help the beer settle onto the palate, and hang out like Snoop Lion in Jamaica. The herbs add a bit of soapiness to the mouthfeel, but in no way make this beer abrasive.
O - An amazing effort in the world of Robust/Imperial porter, FAP (HA!) should have a place on a pedestal in the frigging Smithsonian. This is one of the most versatile, deep, and mind-punching beers that I have ever had the pleasure to lay lip to.
Yes, I know Odell's will be available in Texas next year, but this makes me want them here NOW!!! Truly the nectar of the Gods. If you see this bottle, GRAB IT, And don't look back. RUN HOME, grab your favorite tulip glass, and hide in a closet under a blanket while you carefully savor every single sip. To quote Peter Griffin from Family Guy "Holy Crap, Lois!" I wish this bottle was never-ending... *Sigh* Anyone want to trade one for some Black Butte 25 or Stone Woot??? It's that good. I'd even give up my last FSW Parabola for another.
Cheers!!!
★
2,730 characters
4.35
/5
rDev
+12.7%
look: 4 | smell: 4 | taste: 5 | feel: 3 | overall: 4.25
Gorgeous black pour in a tulip glass. No head and not much lacing. The aroma is spicy with strong emphasis on anise. Tastes like a spiced porter, clove, cardomom, and a little molasses. Hang of perfect Fernet; if you love the taste of fernet branca, you will love this.
★
269 characters
Fernet Aged Porter from Odell Brewing Company
3.86
out of
5
based on
204
ratings.