Bourbon Barrel Stout
| Odell Brewing Company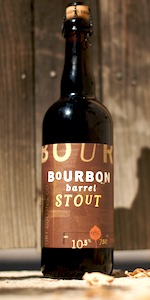 BEER INFO
Brewed by:
Odell Brewing Company
Colorado
,
United States
odells.com
Style:
American Double / Imperial Stout
Alcohol by volume (ABV):
11.50%
Availability:
Limited (brewed once)
Notes / Commercial Description:
Imperial Stout aged in Buffalo Trace and Old Fitzgerald bourbon barrels. 2011 batch was aged in Stranahan's barrels.
Added by waltonc on 09-12-2009
This beer is retired; no longer brewed.
Reviews: 189 | Ratings: 348

4.77
/5
rDev
+22.6%
look: 4.5 | smell: 5 | taste: 4.5 | feel: 5 | overall: 5
When I heard Odell was purchasing dozens of used Buffalo Trace Bourbon barrels, I think I wet my pants. When I had the privilege of tasting it from the barrel thanks to a very generous Odell employee, I nearly crapped myself. Now the day is here, I am sitting in front of a glass of Odell Bourbon Barrel Stout and I am so excited I just can't contain it. Did I mention Buffalo trace is one of my favorite Bourbons? That I have consumed half a bottle in the past week? Yeah, this is a big day for me...
The aroma is...EXCEPTIONAL. The Bourbon barrel is there, but it is only the first wave, then comes milk chocolate, vanilla bean and a hint of prune. My first sip was sweet milk chocolate but that was only the first of many layors: mild coffee, vanilla bean, toffee, oak, a just a hint of Buffalo Trace. The body is creamy like a milk stout, the finish long with notes of cocoa and Bourbon. I spli this bottle, but unlike 99% of the Imperial Stouts I have tasted, I think I would really like to sit down and drink a bottle to myself. It was just that good. Not too rich, no overbearing Bourbon, just a nearly perfect example of what Barrel-aged Stouts should be.
Today, was a very good day.
1,193 characters
4.5
/5
rDev
+15.7%
look: 4.5 | smell: 4.5 | taste: 4.5 | feel: 4.5 | overall: 4.5
Pours dark brown to nearly black with an inch of tan head that recedes to a thin layer of foam across the surface of my entire tulip glass. Smells terrific - milk chocolate, bourbon, and vanilla. Tastes that way too. Bourbon and oak flavors are integrated well without dominating this brew. Fairly sweet, but not like an Expedition Stout or Darkness by any means. Body is medium, and I could see some folks criticizing this as being too thin for their taste (based on the criticism I've seen of Black Ops). Carbonation is fairly high. Not sure if this is force carbed or bottle conditioned. Bubbles are fairly fine and soft, a little like Black Ops' champagne yeast. Very nice brew from Odell. Glad to see them bottle a second adventurous beer (on top of Woodcut). Hopefully we'll see more interesting stuff from Odell soon.
824 characters

4.12
/5
rDev
+5.9%
look: 4 | smell: 4.5 | taste: 4 | feel: 4 | overall: 4
Growler purchased at brewery and poured into Urthel chalice. Beer was black with a one-finger, toffee color head. Thick lacing around the glass.
Aroma was heavy coffee, vanilla and bourbon notes.
Taste was coffee, vanilla and heavy bourbon. Long, moderately bitter finish.
Very nice beer. Gets better as it warms.
319 characters
4.2
/5
rDev
+8%
look: 4 | smell: 4 | taste: 4.5 | feel: 4 | overall: 4
Had on-tap at the Falling Rock. Notes from the phone.
A- Pours a dark chocolate with a nice mocha head.
S- Lots of coffee malts and some vanilla. Bourbon slightly accents the scent.
T- Much like the aroma, the bourbon plays a secondary role, which is a good thing in this beer. Lots of roasted coffee beans and chocolate malts. Overall a nicely balanced taste.
M- Somewhat creamy and great mouthfeel. Coats the palate well.
D- I could have easily had two of these as they were served in a smaller glass. Alcohol was not really detectable making it pretty enjoyable.
Overall I really like the fact that this beer was not made into an RIS. I think the bourbon paired with a stout is great combination because it makes it more sessionable. More brewers should be doing this.
777 characters
4.22
/5
rDev
+8.5%
look: 4 | smell: 4.5 | taste: 4 | feel: 4 | overall: 4.5
Really dark, black with mahogany edges when held to the light. Small but dense head, khaki colored.
Strong sweeet bourbony vanilla jumps right up my nose. Roasted malt, cocoa and dark plum flavors. Sweet, bitter and hot alcohol sensations all at once.
Chocolate, marshmallows, dark fruit (plum, raisin) with nice bitterness showing up after the initial bourbon/vanilla sweetness up front.
Pretty damn drinkable. Most all of the flavor of a BBA Impy, but much more safe to drink.
481 characters
3.66
/5
rDev
-5.9%
look: 4.5 | smell: 3.5 | taste: 4 | feel: 3.5 | overall: 3
Sampled at Odell's Brewery actually called Buffalo Bourbon Aged Stout. In reviewing this beer I had to really focus on the style and what the brewer was trying to obtain when crafting it. Just so you all know, I did not like this beer specifically because I do not like the taste of hard liquor. I tried to not let that destroy the review.
A: Color was black with a thick frothy brown head that had substantial retainability and lacing.
S: The bourbon oak barrel really came through in the smell with light vanilla and strong alcohol bourbon. This smell was so over whelming to me I could not smell anything else.
T: The taste was strong of bourbon whisky with hints of toasted oak vanilla, yeast, and charred cigar tobacco.
M/D: The brew was heavy and seemed to burn my mouth with the high alcohol content although this could have been my own reaction to the bourboness of the beer. The was not able to finish so I would have to say it is not very drinkable but that is my own issues and should not reflect poorly on the achievement.
1,038 characters

4.55
/5
rDev
+17%
look: 4.5 | smell: 4.5 | taste: 4.5 | feel: 5 | overall: 4.5
I believe the technical name is Buffalo Bourbon Barrel Aged Stout as the barrels the used are from Buffalo bourbon whiskey casks. Sampled at Odell's, the appearance is a rich midnight black color. A frothy darker tan head with great retention and lacing throughout the tasting.
The nose is rich with malt and bourbon notes. Some really nice malt sweetness backing and noticeable chocolate and a hint of roast. A creamy almost oatmeal in aroma. The bourbon is subtle but easily detectable. Some noticeable yeasty notes that I get with all Odells beers, but in addition some alcohol notes but everything is blended nicely.
In the taste, the malt really takes over as the bourbon/cask notes are limited. To start a big malty backing comes out on par with a Imp Stout. The chocolate notes come out first but is balance then buy some roast and kettle melanodian notes. The chocolate malt flavor really lingers into the finish, but not strong in astringency. Some minor spicy notes and textures that I associate with oats. There are some nice wood notes and every once in a while a nice bourbon note really comes out but subtle mostly. Would like to have more of the wood/whiskey notes come out overall. Very clean in yeast though.
The body is on par with a Imp Stout as well. Big malt flavors with some minor alcohol heat notes. Some very nice smooth textures with only a minor astringent kick. The carbonation has a almost nitro effect which helps smooth everything out.
Overall a very tasty and savory beer. This is one of those beers you sit and enjoy for a long time.
1,570 characters
4.43
/5
rDev
+13.9%
look: 4.5 | smell: 4 | taste: 5 | feel: 4 | overall: 4
Sampled at Choice City Butcher and Deli in beautiful downtown Fort Collins on a perfect fall day (no wind, no clouds, 70 degrees).
Served in a standard pint glass. Beer was a very, very dark brown with only a hint of amber at the edges. A 2 finger head in a very appetizing brownish wight color. Pretty much your standard Imp. Stout look.
The smell was very nice. Lots of roasted coffee and chocolate with a good background of bourbon. My smell isn't perfect, so please don't quote me on this.
The Taste was excellent. It started out with chocolate and coffee notes with just a hint of bourbon while the beer was still cold. But after a half hour of sips, the beer really opened up with a strong taste of bourbon and hints of coffee and chocolate. I loved this gradual shift in taste. That is why I rated it so high.
Mouthfeel was decent. it had a nice body to it and was pretty smooth. It was what you would expect from a imp. stout.
Drinkability was also very good. There was pretty much no hint of alcohol in this beer, even when it was warmer (for better or worse, I would really like to know the true ABV of this beer). I could have (and would have if it wasn't for class) had another or three. Also, this beer was very nice on my wallet. The pint cost me 4 bucks. Thank you Odells and Choice city for what was a very wonderful afternoon.
1,348 characters
4.2
/5
rDev
+8%
look: 4 | smell: 4 | taste: 4.5 | feel: 3 | overall: 4.5
not sure if this is a new batch or left over from the small batch fest (this was my favorite that day by a big margin), but a growler of it was produced none the less through a rep from odell's. they have it on tap this week for the gabf i am told. tasted around 7-8 hours after pouring into the growler.
a - pours a medium to dark brown. decent head retention, perhaps 1/8in. light beige in color - would be nice to see it a bit darker, but that's okay. nice lacing.
s - mostly bourbon & coco on the nose. not much coffee at all, maybe some roasted malt? the nose in the growler is that of sweet. somewhat boozey. not sure what the abv is on this one?
t - where no coffee was picked up on the nose, it is present in the taste. could use more, actually. the finish lingers of bourbon and sweetness. lots of roasted malts that were picked up from the smell. very good.
m - not much body; it's a bit thin here. similar to czar i think, or perhaps a porter. no alcohol burn here. mild sugars; overall very mild. maybe they should start with an overmalted version of their imperial stout here.
d - both in the super heat of the small batch fest and now the 48 degree fall weather, superbly drinkable. as it clearly isnt over the top in abv, this one is pretty easy to have several of.
review was done at second pouring, 7-8 hours after pouring (there was a sampling done a few hours previous). surprising that this held up as well as it did, considering that it made a 40 mile trip to me, then another 5 mile trip in my truck to my house.
overall, a very good beer. it would be very interesting to see them make this into a future woodcut, but beefed up a bit on body and a little of abv.
1,686 characters
Bourbon Barrel Stout from Odell Brewing Company
3.89
out of
5
based on
348
ratings.