Amuste
| Odell Brewing Company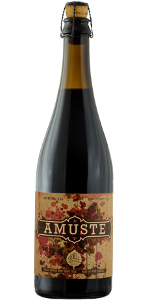 BEER INFO
Brewed by:
Odell Brewing Company
Colorado
,
United States
odells.com
Style:
American Porter
Alcohol by volume (ABV):
9.30%
Availability:
Limited (brewed once)
Notes / Commercial Description:
Must is to wine as wort is to beer; the primordial ooze, the source and foundation, that feeds the process of fermentation we all love so much. Amuste is the culmination of a two year endeavor to marry these two fuels into the same fire. An Imperial Porter aged in oak wine barrels accented with juice with Tempranillo grapes grown on the Western Slope of Colorado, this harmonic carbonation is truly, a must.
Added by Mebuzzard on 02-15-2013
This beer is retired; no longer brewed.
Reviews: 38 | Ratings: 157
3.82
/5
rDev
-2.3%
look: 4 | smell: 3.75 | taste: 3.75 | feel: 4.25 | overall: 3.75
It pours a very dark brown with a 1 finger head of foam and leaves some impressive lacing.
A strong grape nose here. Semi sweet, I reckon. There's no sign of the base beer aromas but what I get, I like.
Okay, with the taste, I do recognize this as being a Porter/Stout with some roasted malts drenched in grape juice. The oak wine barreling imparts a semi sweet taste that at times, does get a bit too sweet but only at times. Lots of booze in the taste too so naturally, this is going to be a long session of sips.
Close to if not full bodied with medium carbonation, it has a good mouthfeel.
Overall, I like it but I'm not sure at this point if I like it enough to buy it again. Try it.
692 characters
4.1
/5
rDev
+4.9%
look: 4.75 | smell: 4 | taste: 4 | feel: 4.5 | overall: 4
Serving glass: Poured from bottle into Snifter.
Appearance: Dark brown with a massive root beer float head that takes forever to recede. Loads of lacing tendrils left behind.
Smell: Chocolate, molasses, licorice, oak and berries. Somewhat boozy. (As an aside, my three year old daughter said it smelled like potatoes).
Taste: Fairly sweet at first, with chocolate and loads of fruit. After the initial taste, it becomes more balanced as the wine characteristics become more noticeable. Finishes with berries, cherries, oak, tannins and light hops.
Feel: While certainly not light bodied, it is lighter than most Imperial Porters / Stouts, with a decent level of carbonation. Smooth, silky, creamy and tannic. Finish is somewhat dry, keeping the beer from becoming cloying.
Overall: This is a very cool experiment, as this really tastes like a Porter / Red Wine hybrid. I am not sure that I can tell it is Tempranillo grapes, but the wine characteristics are stronger than in any other beer I have had. The only downside for me is the sweetness, as it could have used a little more of the dry Tempranillo mouthfeel.
1,121 characters

3.58
/5
rDev
-8.4%
look: 3.25 | smell: 4 | taste: 3.5 | feel: 3.25 | overall: 3.5
Appeance is a deep red/light brown with thick tan head and heavy lacing. Smell is chocolate, light vanilla, grape juice, and some roast at the end. The taste is sweet with heavy grape character that is followed by light milk chocolate and roast. Mouthfeel is light and moderately carbonated. Overall, this tastes pretty mild overall and lacks the appearance of a porter.
370 characters

4.17
/5
rDev
+6.6%
look: 4.25 | smell: 4 | taste: 4.25 | feel: 4 | overall: 4.25
Corked & caged 750ml into my Hair of the Dog snifter.
A: Medium dark brown pour, nearly opaque in the glass with tawny transparent edges...tan head is huge (probably a product of my glass) but kind of soapy...leaves some nice lacing.
S: Roasted malt character and fruitiness are prominent...dark cherry, pressed red grapes, significant oak, suggestions of vanilla sweetness, and a nice vinous component...there is some char and little smoke, as well as a dark chocolate/espresso character to the maltiness.
T: Unfolds as you would imagine after smelling the nose...touch more heat here in the vinous character...dark cherries, toasted oak, dark caramel and espresso...and again, there is a hint of smoke woven into the flavors...vanilla as well...very harmonious.
MF: Medium bodied beer with medium carbonation after my hard pour...felt alcohol is low...finishes dry.
O: Warmth brings out the complexities of this one, as well as a more vinous booziness. Certainly the alcohol is still manageable at that point though. This beer is good; complex, diverse, unique, and good quality.
1,086 characters
4.19
/5
rDev
+7.2%
look: 4.25 | smell: 4 | taste: 4.25 | feel: 4.25 | overall: 4.25
Purchased bottle for $16 at Papago in Scottsdale. Poured into tulip.
Pours a deep black brown with a huge amount of tan chewey head.
Aromas of wood/oak and definite wine. Its a little astringent but is mellowed out with a bit of chocolate notes.
Really nice flavor...definite woody and wine mixed well with some chocolate and maybe a bit of cherry-like and vanilla flavor. Really smooth and easy.
Overall, a very good brew. Unique and well thought out.
So jealous I dont get Odell in NY!
491 characters
4.12
/5
rDev
+5.4%
look: 3.5 | smell: 4 | taste: 4.25 | feel: 4 | overall: 4.25
A: Dark brown with effervescent carbonation. 1/3 inch of off white head.
S: Has some vanilla, cherries, oak, and red wine aroma.
T: Has lots of oak/wine barrel taste, lots of grape/red wine flavor, cocoa, and little bit of vanilla. very complex!!!
M: big body, citrusy, and creamy.
O: never tasted a winish porter but this wasn't bad. Its very complex
356 characters
3.96
/5
rDev
+1.3%
look: 4.25 | smell: 3.75 | taste: 4 | feel: 4 | overall: 4
750ml corked and caged bottle served in a tulip. Poured a deep brown with some red hints. A couple of fingers of tan head. Chocolate malt and some fruit in the aroma. Medium to full bodied. Some more chocolate along with vanilla from the oak in the flavor. A little fruit comes through especially as it warms. Alcohol is well hidden. Very smooth and rich. This experiment works for me. Very drinkable beer, although pretty expensive at $15.
440 characters
3.96
/5
rDev
+1.3%
look: 4 | smell: 3.5 | taste: 4.25 | feel: 3.75 | overall: 4
Thinner bodied, massive foamy head. Soapy and floral smelling. The taste grows on me more and more. Chocolate malt with lots of oak tannins and some fruity grape notes. Decent depth of flavor. Pretty thin body, but overall unique and quite enjoyable. $15 for a 750 will probably prevent me from getting more, but I'm glad I tried it. Well done unique brew again from Odell.
373 characters

3.95
/5
rDev
+1%
look: 3.5 | smell: 4 | taste: 4 | feel: 4.25 | overall: 3.75
Pours black with an off white head that quickly recedes. Aroma and flavor are both pretty similar; sweet, juicy grapes and oak tannins on top of of some slighty roasty, slightly chocolately underbelly. A medium bodied, creamy mouthfeel. Overall, I went in unsure if I would be a fan but willing to give it a shot because it's Odell.Glad I did. Definitely unique and enjoyable.One I would happily drink again.
408 characters
4.69
/5
rDev
+19.9%
look: 4.5 | smell: 4.75 | taste: 4.75 | feel: 4.25 | overall: 4.75
Dark brown color with a hint of crimson. Very little head retention. Faded by the time the glass was placed in front of me. Smells like a deep, rich, fruity red wine, with a bit of roast malt and chocolate. Taste is delicious and complex! Definitely some roast character as well as an abundance of red wine grape flavor (tempranillo in this case). Oak tannins come through as well, and a nice dry finish round out this beautiful beer.
434 characters

4.48
/5
rDev
+14.6%
look: 4.5 | smell: 4.5 | taste: 4.5 | feel: 4.25 | overall: 4.5
Nice lasting coffee colored fluffy brown head; left behind awesome lacing. Brew is deep dark brown.
Lots of roasted chocolate, slight grape funk, vanilla.
Super smooth, deep, robust, coffee, milky, dry, high carbonation, sweetness is nicely balanced, chalky, pleasant, deep, complex, toffee and slight grapey bite, not over the top.
Well done Odell!! Nothing is over powering, everything is very well balanced. Drinks best at room temp. Recommended @ $18/750ml.
466 characters
4.62
/5
rDev
+18.2%
look: 4 | smell: 4.5 | taste: 4.75 | feel: 4.5 | overall: 4.75
750 Cage and cork Bottle
Popped for Valentines day.
A- Cloudy Brown with a gold/tan head
S- Chocolate, grape, dark fruit, a little coffee, a little wood.
T- Effin awesome! A nice big porter at first, all the usuals from an imperial porter, (Coffee, malt, chocolate, ) and then just a really nice spice from the Tempranillo grape, that creates almost a dry finish, sweet and malty at first, then dry and spicy to finish. I loved it, my wife loved it!! Bonus!
Mouthfeel- I was worried that the carbonation on this one was going to be too much, but it was nice, silky, allowed the taste to linger.
O- I found this bottle to be a LOT better as it warmed, I had a hard time picking up a lot of the subtleties right from the fridge, but it really got great as it opened up and warmed.
Yum
790 characters
3.75
/5
rDev
-4.1%
look: 4 | smell: 3.25 | taste: 4 | feel: 3.75 | overall: 3.75
A new one from Odell. A porter made with Tempranillo grapes from Western Colorado, aged in oak wine barrels.
Pours a muddy brown, rustic color. Huge off tan had, rocky, lacing is sticky. The body looks like a dark old English ESB, but the head kills that image. A bit soapy as it falls.
Hint of coffee in the nose. With some sweet toffee and green vine. Not a strong aroma. A touch of leather and background toast.
This has a nice blend of flavors. While none stand out and overpower or take the headlines, I get a mix of leather, plum, coffee, toffee, black cherry and toasted dark bread. A bit more fruity at the end, right after a soft bite.
Feel is smooth, silky. Would seem flat, but it's just the flavors that smooth it out. A bit spicy on the finish. This might pair well with a grilled burger
808 characters
Amuste from Odell Brewing Company
3.91
out of
5
based on
157
ratings.