Jasper Ridge Brewery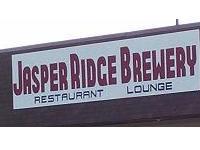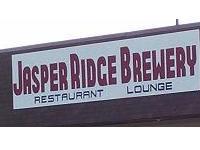 PLACE INFO
Type:
Brewery, Bar, Eatery
1075 Country Lane
Ishpeming
,
Michigan
, 49849
United States
(906) 485-6017 |
map
countryvillageresort.com
Notes:
No notes at this time.
Added by BeerAdvocate
HISTOGRAM
Ratings: 12 | Reviews: 6
Reviews by Deuane:

3.3
/5
rDev
-2.7%
vibe: 3 | quality: 3.5 | service: 3.5 | selection: 3
Visited after having a wonderful meal and experience at The Vierling in Marquette so this place was a bit of a let down after that. Regardless this place is basically a sports bar with a brewpub. Lots of TV's and typical sports bar type decor and memorabilia adorn the walls.
We sampled their six offerings and found the beers to be average to good with nothing off tasting but nothing truly exciting either. Food was not in our plans as we had eaten just a few hours previously.
The bartender was nice enough to us but it was kinda late and he had a few friends in so we were certainly not his priority.
Jasper Ridge is the kind of place that deserves a visit if you find yourself in the area but is certainly not a destination brewpub. I would stop in again if traveling in the U.P. but would not go out of my way to stop in again.
839 characters
More User Reviews:

3.53
/5
rDev
+4.1%
vibe: 2.75 | quality: 3.25 | service: 4.25 | selection: 3.5

3.44
/5
rDev
+1.5%
vibe: 2.5 | quality: 3.5 | service: 3.75 | selection: 3.5

3.45
/5
rDev
+1.8%
vibe: 3.25 | quality: 3.25 | service: 3.5 | selection: 3.5 | food: 4

4.15
/5
rDev
+22.4%
vibe: 3.75 | quality: 4 | service: 4.25 | selection: 4.25 | food: 4.5
2.68
/5
rDev
-20.9%
vibe: 2.75 | quality: 3 | service: 3 | selection: 1.5 | food: 3.75

3.5
/5
rDev
+3.2%
vibe: 3.5 | quality: 3.5 | service: 3.5 | selection: 3.5 | food: 3.5

3.41
/5
rDev
+0.6%
vibe: 3 | quality: 3.5 | service: 3.5 | selection: 3.25 | food: 3.75
My wife and I stopped here as part of a pub crawl in northern Michigan and the UP to visit the newer brewpubs (plus several others) that have opened since our last trip 'up north'. This is not a new brewery, but it was our first visit here. The place is in an ordinary-looking building behind some fast-food restaurants that lined the highway that passed thru this retail area at the edge of town. Our stop here was to have lunch and try the beers. They were not busy so we took a table in the bar area (full bar and some wine). Could not see the dining room, but as customers came it they all went to sit in the dining room.
We ordered a sampler flight of all 6 of the beers that were on tap ($1 each). I had never heard much about the beers here, so maybe they have a history of being unexciting and that is why there is a lack of reputation. 'Unexciting but close to the correct style taste' is how we found the beers, and we graded them from a B minus to a C minus. However, they just hired a new brewer last week, so maybe improvement is in the works. They also make their own root beer, and it was excellent. The food was typical pub fare, and the items that we ordered were very good.
I'd be curious to stop back again to see how the new brewer is doing, and since this brewery is convenient to the highway I'll stop again when we are in the area.
1,368 characters
2.13
/5
rDev
-37.2%
vibe: 2 | quality: 2 | service: 2 | selection: 2.5 | food: 2
Stopped on my way back home to the Keweenaw after making a little southern L.P. brewery weekend getaway. Never visited, I was hungry, give it a shot...
Location is very interesting. It's tucked in with a few mini-malls, a McDonalds, corporate hotel, and an older IGA grocery store (U.P. classics). It was actually rather hard to find, even though I've driven by thousands of times, saw the enormous sign, and thought "I should stop".
When I entered the restaurant/bar area, I felt like I entered a bowling alley circa 1998. Kind of run down with some odd looking matted carpet, old school padded bar stools, formica bar top, etc... The bartender was friendly, but not really knowledgeable of the product she was selling. She was asking the group next to me if they wanted "big boy glasses or just samples". Okay. She seemed like she had been there for a while, yapping in my ear non-stop. I wasn't in the mood, sorry for being disgruntled. I didn't initiate any of this.
The beer was OK. Had their Pale Ale. It had a nice hop character, but the lack of ambiance and static coming in my dome was enough scare me off. The food was very off-the-truck like, overall not that enjoyable.
I like to support local, but I just can't do this place. Vierling and Black Rocks in Marquette are much more worth your time...Don't even bother, cruise by north to the Library, KBC, and Red Jacket Brewing.
1,395 characters
3.53
/5
rDev
+4.1%
vibe: 3 | quality: 4 | service: 3.5 | selection: 3 | food: 4
Visited on 9-20-08
I visited the Jasper Ridge Brewery while WAY up north for a wedding. Just a couple hundred feet from my hotel, the location was excellent. Pretty much a regular bar inside, you can see the brewing equipment through a window behind the bar. The only beer on tap is their own, but unfortunately the selection was rather slim. They had a wheat, a brown, a pale ale, and a stout. The waitress said they were having some problems so I won't take too many points off. I had the brown, which was very solid, and the food was good, although a little on the pricey side. The beers however were decently priced at $3.50 a pint, and the service was good. Overall, a pleasant surprise to find so far away, and definitely worth a stop.
742 characters

3.68
/5
rDev
+8.6%
vibe: 3.5 | quality: 3.5 | service: 3.5 | selection: 4 | food: 4
This bar falls more into the sports bar category. When you walk in there is about 4-5 T.V.s going, one of them being a big screen in the back. There is also a lot of sports memorobilia hanging on the walls, mostly from the local high schools. I noticed that on their website it says that you can smoke cigars in there but when you go there they have signs that say NO CIGAR SMOKING. So who knows on that one.
The quality of the food is usually up to par. I've never been unsatisfied with my meal whenever I eat there. They have a great Cheese Beer soup that is a must try if you ever go there.
The service is adequate. It's usually pretty good. I had only one experience there where I was getting slow service or felt neglected.
The selection is great as far as the food goes. I've eaten there many times and have yet to eat the same thing twice. They always have great lunch specials. I believe they normally have 8 beers on tap. They only had 7 when I went there today but I think they must have ran out of the Copper Kolsch that is a pretty good beer. Last time I was there it seemed like all the beers I ordered except for a couple had really low carbonation non-typical to the style. It really hurt the mouthfeel of the beer. I was kind of disappointed.
Great food. They cover pretty much everything when it comes to the food and everything is done to perfection.
I just went there today and my fiance and I both ordered soup, sandwiches w/fries, two pints, a growler, and a beer sampler of 7 beers and the bill came to about $40.00 Not bad. I brought home a bunch of leftovers as well.
1,606 characters

3.9
/5
rDev
+15%
vibe: 3.5 | quality: 4 | service: 4 | selection: 4 | food: 3.5
This place is right off the main Hwy 28/41 to or near Marqutte, Mich in the U.P., eh. A small neighboring town Ishpeming, what a great name and what very nice place. Wide open restaurant with the bar area right in front as you walk in, pretty big menu with good options and average to high prices. The food is OK, nothing to spectacular, just ho-hum Perkins-like taste. Although the Snickers cheesecake for dessert was awesome! Copper kettles are viewed through some large windows inbetween the bar area and the restaurant. Service was good, our wait staff person, being politically correct here, (watiress) was super chipper and a blast to talk with, she knew her stuff on the beers too. The beers are middle of the road to pretty good, definately worth a stop to check em out. The Red Earth Pale and the Gallager Stout were my favs and the brown ale is pretty good as well, with two seasonal brews that were a blueberry and black cherry wheat. They were both OK.
Go for the beer, stick with appetizers and you may just have a good time. Growlers available for $10.
1,067 characters
Jasper Ridge Brewery in Ishpeming, MI
Brewery rating:
3.5
out of
5
with
18
ratings