Phoenix Gold
| Phillips Brewing Company
BA SCORE
82
good
13
Reviews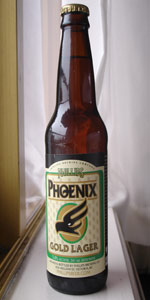 BEER INFO
Brewed by:
Phillips Brewing Company
British Columbia
,
Canada
phillipsbeer.com
Style:
Czech Pilsener
Alcohol by volume (ABV):
5.00%
Availability:
Rotating
Notes / Commercial Description:
This unpasteurized Bohemian lager is no ordinary bird. As refreshing as it is smooth, Phoenix showcases well-balanced malt flavours with a crisp, dry finish. Plummet into a flaming spiral of satisfaction.
Added by BeerAdvocate on 05-15-2004
Reviews: 13 | Ratings: 37
3.65
/5
rDev
+3.1%
look: 3.5 | smell: 3.5 | taste: 3.5 | feel: 4 | overall: 4
341ml bottle. Part of the Phillips Showcase currently available at yer finer Alberta likka purveyors.
This beer pours a hazy, frosted glassy medium golden straw hue, with one finger of straight-ahead foamy white head, which leaves a few hurrahs of arched columnar lace around the glass as it genially recedes.
It smells of raw cereal grain, an indeterminate earthy herbal character, and dead grass/fresh hay hops. The taste is pretty consistent with the aroma - enveloping biscuity and oaten malt, some musty tea-like notes, and a late-season, rather peppy wild grass hoppiness.
The bubbles are pretty laid back, but not exactly lazy, the body comes across as a sturdy middleweight, and smooth, with more than a mere twinge of frothy creaminess. It finishes rather off-dry, the biscuity nature gaining some further sweetness, in the face of a relatively unrelenting, if still sub-par noble hop bitterness.
A pretty tasty Bohemian Pils, though I have to admit I'm still missing just a bit more of that crisp, crackery, fresh grass essence that seems lacking here (for the masters of the style, anyway). In the absence of such pedantry, I could surely hit this again, and I very well might, given the influx of this brewer's products into our province of late.
1,262 characters

3.8
/5
rDev
+7.3%
look: 4 | smell: 4 | taste: 3.5 | feel: 4 | overall: 4
341ml bottle poured into pint glass 29/5/12
A slight chill haze in a golden yellow body, average carbonation but a dense thumbs width of foam that slowly falls to a thin film and leaves a fair bit of unorganized lace deep down the glass
S dried grass and hay with some dried cereal and just a little lemon tea
T pretty similar to the smell, tastes pretty good for the style, I get a little of what I thought was Phillips house ale yeast but this is clearly a lager? perhaps its a house hop profile or malt base? I'm confused but I'm liking this beer
M light and crisp just a little snap too it, good carbonation with a grassy aftertaste
O decent example of the style and I'm surprised it doesn't get a little more love, this one went down very quick
I'd drink another and I have two more thanks to my mixed pack, rated for style I thought its pretty good but I'm not sure if I'd need a 6er
900 characters
3.4
/5
rDev
-4%
look: 3 | smell: 3 | taste: 3.5 | feel: 4 | overall: 3.5
A - Pours a light golden colour with a bit of a copper hue, thin finger of head which quickly dissipates leaving minimal lacing.
S - The scent isn't overpowering, and it's a little difficult to nail this one down. Some light caramel and a bit of a fresh cut grass.
T - Again, a little difficult to nail down but I picked up some cedar hops and some grassy and bready malts coming through on the finish. Nothing mind blowing, but still rather tasty.
M - This one goes down smooth, with perfectly balanced carbonation. The feel of this one makes it a prime session beer.
D - Overall, this offering was nothing special, but nothing to shrug at either. A tasty session beer, with some mild flavours interesting enough to maintain your interest. Recommended to anyone looking for a tasty session beer, which is easily drinkable, yet won't overload the taste buds.
862 characters

3.82
/5
rDev
+7.9%
look: 3 | smell: 3.5 | taste: 4 | feel: 4 | overall: 4
Top marks for the oldtime stubby bottle and retro label. This is a good Canadian style lager ,well made and finished with just the right amount of sweetness. I have put down Phillips for their lack of balance and off flavours in their beers but this is a good lager as nice as Granville Islands or Shaftebury's. I have to admit that I would buy this just see the stubbies in my fridge.
385 characters
3.62
/5
rDev
+2.3%
look: 3 | smell: 3.5 | taste: 3.5 | feel: 4 | overall: 4
A - a clear gold-bronze, bubbly, short white head dissipated quickly not leaving much
S - nice bready biscuity malt, slight sweet syrup quality, light grassy hop qualities, mild berry quality
T - pleasant biscuit malt, leafy and somewhat citrus hop taste, a light alcohol sweetness on the finish
D - a full mouth carbonation kick off the bat, smoothing out to a thin feel with dry and sweet sensation
D - a very easy drinking brew, flavour are somewhat subtle but well balanced, this would be an enjoyable sessioner
515 characters
3.78
/5
rDev
+6.8%
look: 3.75 | smell: 3.75 | taste: 3.75 | feel: 4 | overall: 3.75
Enjoyed a pint on tap at Beer Revolution. If Phillips has made it, I will try it. This lager is a straw gold color, just shy of copper, with some white foam that retained its shape well for the style. Smells clean and crisp, a cracker malt backbone decorated with Saaz-type floral/herbal perfume, clean yeast that has that unique Phillips character (hey, did they use ale yeast in here?), dry fragrant hay and grass. Smells like a really fresh and well-crafted brew from the old country. Briskly carbonated and with a thicker and chewier body than expected. The palate is sweet dough and crackers, tart green rhubarb and fresh salad greens, hints of licorice root, a dash of white pepper (although the herbs trump the spices here), copper pennies ... Tangy and assertive, with the barest echo of citrus rind. Certainly a tasty pilsener, with enough complexity to satisfy a wandering palate yet well-balanced and hitting all the marks. Goes down smooth, with nice herbal hop flavors and semi-chewy mouthfeel that satiates admirably.
1,031 characters
3.23
/5
rDev
-8.8%
look: 3.5 | smell: 3 | taste: 3 | feel: 3 | overall: 4
Phoenix Gold Lager pours a pale, bright gold color with a thin head that fades quickly. The aroma is light malt and a bit grainy. Pale malt and graininess dominate the flavor, with a grainy, slightly fruity character. The beer finishes dry, and slightly vinous.
261 characters

3.81
/5
rDev
+7.6%
look: 4.5 | smell: 3.5 | taste: 4 | feel: 4 | overall: 3.5
341ml bottle poured into a 16oz pint glass.
A - Pours a golden-yellow hue with a touch of amber in it. Hard pour gave little head to look at, but what's there is about two fingers high and bone-white. Head retention is as good as I've ever seen on a lager, and this is easily the most lacing I've ever seen from one as well... by a wide margin. Taking style into account, this is way, way above average.
S - A bit disappointing. No hop presence detectable, mainly just clean barley malt. Really typical lager aroma, without much depth or interest to it at all. Not even a bit grassy or bready, just some 2-row and subtle sweetness.
T - Slightly more here than the aroma. The profile is dominated by simple barley malt, no surprise, but offers some mild grassiness in the finish. A touch of bready malt rounds out the flavor here. Not too bad for a lager. It's clean, crisp, and refreshing, and remains unoffensive throughout.
M - Packs a bigger body than I expected, and certainly fills the mouth more than an average lager. In typical lager fashion, the carbonation here is higher than I generally like, but it doesn't get fizzy at any point. This is actually a pretty smooth beer, with a clean finish.
D - Well, as far as lagers go this is about the best I've ever had. Just a clean and crisp tasting brew from start to finish, with a refreshing although simple profile. No off flavors, and no adjuncts detected. This is far from my preferred style, but I wouldn't turn this one down on a hot summer day.
1,512 characters
3.72
/5
rDev
+5.1%
look: 3.5 | smell: 4 | taste: 3.5 | feel: 3.5 | overall: 4
A: pours a clear, dark amber with a two finger, slight off-white head. Decent retention and a few rising carbonation bubbles. Leaves a gorgeous sticky lace.
S: very hoppy nose with hints of lemon zest and caramel malt
T: bready, grassy flavour with a subtle nut-like, roasty finish
M: medium bodied, crisp and creamy, not overly carbonated and a clean finish
D: another quality beer from Phillips. Crisp, clean and refreshing with nicely balanced flavours. Highly drinkable too - would make a great session beer. I would definitely buy this one again.
556 characters

3.45
/5
rDev
-2.5%
look: 3.5 | smell: 3.5 | taste: 3.5 | feel: 3 | overall: 3.5
I have to start by disagreeing with the style classification. It's definately not a Czech pilsener. I know Phillips calls it a Bohemian Lager but I think they intended it more in the German style. The beer poured in a nice golden yellow colour smelling of fruity malts and a touch of yeast. The taste had an initial sweetness paired with toast notes. Then there was a watery dryness, some citrus and apples. It was fresh and generally OK but it would not be among my first choices of lager.
490 characters
2.71
/5
rDev
-23.4%
look: 3.5 | smell: 2.5 | taste: 2.5 | feel: 4 | overall: 2.5
Bought at the local BC Signature Store.
Pours a nice dark yellow colour. Almost reminds me of a pale ale, only slightly lighter. When I smell this beer, I get a lot of metallic aroma with kind of a sour chemically type smell. Actually, it smells like a band-aid. The taste is quite bitter, with the metallic aroma translating to the taste as well. Leaves a bitter taste on the back of the tongue. surprisingly, this has a great mouthfeel. Lighter carbonation than your cheap macro swill means it is easy on the old tastebuds. Because of the metallic taste and smell, I don't think I'll buy it again. I'm not really the biggest fan of Lagers to begin with(with the exception of a good ole Marzen), so maybe this just isn't for me.
732 characters
3.52
/5
rDev
-0.6%
look: 3 | smell: 3.5 | taste: 3.5 | feel: 4 | overall: 3.5
A yellow/amber color with a white head that quickly dissipates and leaves some lacing.
Smells of hops and grain with some notes of citrus zest.
Taste is brady malt, a bit sweet with some floral hops and some bitterness in the finish.
A medium body, crisp with a dry finish.
276 characters
3.58
/5
rDev
+1.1%
look: 3 | smell: 2.5 | taste: 4 | feel: 3 | overall: 4.5
Pours a slightly dark brownish yellow.
Head recedes pretty quickly.
Smell is kinda faint.
Taste is where this one really shines. It's smooth with just the right amount of kick. Taste (at least to me) is the most important criteria to judge the beer. So for me that wins me over right there.
Usually I buy this in 6 packs of bottles, but recently Phillips started selling it in mini kegs. Ive bought them a couple times, and they're pretty good. Tho as is typical with kegs, the first cup is noticably better than the last cup.
533 characters
Phoenix Gold from Phillips Brewing Company
3.54
out of
5
based on
37
ratings.