Rifflandabrau
| Phillips Brewing Company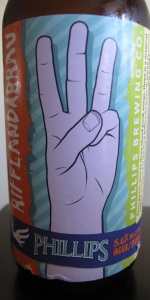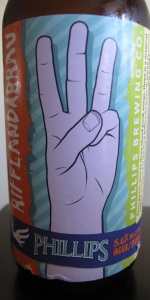 BEER INFO
Brewed by:
Phillips Brewing Company
British Columbia
,
Canada
phillipsbeer.com
Style:
Czech Pilsener
Alcohol by volume (ABV):
5.00%
Availability:
Summer
Notes / Commercial Description:
Rifflandabrau is back! The annual concert-crushing pilsner is making its fourth straight appearance. Now with more lazers!!
Added by andrenaline on 08-04-2010
HISTOGRAM
Ratings: 12 | Reviews: 5
Reviews by rugbykimmie:
3.83
/5
rDev
+1.6%
look: 3.5 | smell: 3 | taste: 4 | feel: 4 | overall: 4.5
A: Light golden and clear with a short white head that quickly dissipated, left a small amount of lacing.
S: Not a whole lot...some grassy hops, but that's about all I really noticed. Possibly a slight sweetness, but I really had to work to smell it.
T: Well balanced...A nice combination of the hops and malt. Just the right amount of hops, kind of tinny on the finish, but doesn't ruin it.
M: Nice and light, with just enough carbonation.
D: I actually really liked this beer. I wasn't too sure what to expect, but I am pleased. Goes down easy, and could definitely stand to have a few of these in a sitting.
614 characters
More User Reviews:

3.74
/5
rDev
-0.8%
look: 3.75 | smell: 4 | taste: 3.5 | feel: 4 | overall: 3.75
341ml single bottle - strange old Eastern Bloc imagery and marketing babble on the label. Apparently, this is a brew named for the Rifflandia Music Festival, which the brewery sponsors - cool.
This beer pours a hazy, pale golden yellow colour, with three flabby fingers of puffy, loosely foamy, and yet somewhat creamy bone-white head, which leaves some decent EKG readout lace around the glass as it slowly sinks away.
It smells of grainy, crackery pale malt, sharp lemon zest, mild gasohol, and leafy, grassy, and straw-like hops. The taste is more of a bready, doughy, and slightly buttery pale malt, ethereal white pepper spice, muddled tame citrus rind, and a rather disappointingly mild earthy and weedy hoppiness.
The carbonation is average in its low-key, supportive frothiness, the body just on the lee side of medium weight, and plainly smooth, especially once the initially promising hops turned tail and ran. It finishes off-dry, the bready, doughy version of the malt persisting, alongside a still wan and unimpressive, especially for the style, hoppiness.
More German in orientation, which might explain a fair bit of the whole marketing angle, which, when considered, casts this in a whole new light - easy to drink, nice and malty, and understated in its hoppy astringencies. Just don't go expecting the crispness of yer finer Bohemian examples of the style.
1,378 characters
3.74
/5
rDev
-0.8%
look: 3 | smell: 4 | taste: 3.5 | feel: 4 | overall: 4
A - a clear white-yellow, short white head dissipated to thin layer, okay lacing
S - grainy wheat and yeasty aromas, some grassy hops, and a light buttery scent
T - lighter on the wheaty malt than the smell, the grassy hops are nice, slightly metallic, a little savoury pastry hint on finish
M - medium carbonation fills the mouth, as that fades it's slightly dry and bitter but not overpowering the flavours
D - flavour balance keeps me interested enough, and the mix of lingering flavours with some dry bitter makes you want the next gulp quickly, a worthy offering
567 characters
3.82
/5
rDev
+1.3%
look: 3 | smell: 3.5 | taste: 4 | feel: 4 | overall: 4
This was the first selection in their summer mixer pack and was identified as their seasonal. I'm inclined to think that it was a clever marketing scheme to pump their product prior to the start of the festival which it was intended to celebrate, but I'm still pleased to have the opportunity to try it!
A - Pours a light hazy golden colour, with a finger of big bubbled head, which dissipates to a thin layer of fine bubbles and holds its retention nicely. A small amount of lacing was present as well.
S - Surprised by the scent, as grassy hops were actually noticeable, which I often struggle to find in pilseners. Bready malts follow through on the finish, making for a nice balance.
T - The flavours are quite nice, but nothing mind blowing. The grassy hops come of the top, followed by the bready malts. What was interesting was the spices that lingered on the tongue. I found that some peppery cinnamon and nutmeg lingered on the tongue. Very unique.
M - Very light and bubbly, goes down smooth. No complaints in this department.
D - Overall, quite impressed by this 'seasonal', and it would've been nice to enjoy such sessionable beer at this particular festival. I took a look at the line-up and it's pretty wicked, too bad I'm out of holiday time. Festival go'ers will be pleased with this offering, thought it may go under-appreciated!
1,351 characters


3.8
/5
rDev
+0.8%
look: 3.5 | smell: 3.5 | taste: 4 | feel: 3.5 | overall: 4
Came in the mixed 12 pack as the seasonal and it tastes a lot like Phoenix Gold with slightly more hops. Not great but worth drinking. Its tto bad with all the lagers from the craft brewers in BC that we don't have one as hoppy as Prima Pils from Victory. They all taste kind of the same
287 characters

3.8
/5
rDev
+0.8%
look: 3.5 | smell: 3.5 | taste: 4 | feel: 4 | overall: 3.75
Rifflandabrau from Phillips Brewing Company
Beer rating:
3.77
out of
5
with
12
ratings