GrowHop Series - Cascade IPA
| Phillips Brewing Company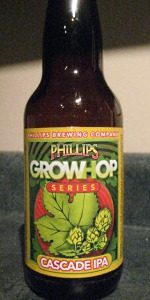 BEER INFO
Brewed by:
Phillips Brewing Company
British Columbia
,
Canada
phillipsbeer.com
Style:
American IPA
Alcohol by volume (ABV):
6.50%
Availability:
Limited (brewed once)
Notes / Commercial Description:
No notes at this time.
Added by wordemupg on 10-27-2011
This beer is retired; no longer brewed.
Reviews: 8 | Ratings: 20

4.25
/5
rDev
+5.2%
look: 4.5 | smell: 4.5 | taste: 4 | feel: 4 | overall: 4.5
341ml bottle poured into tulip 26/10/11
A slight haze in a golden orange body with lots of tiny suspended particles being moved around by just a few random bubbles that somehow produce a dense two finger head that retains very well leaving a few partial rings as it slowly falls to a thin film
S a nice mix of mellow citrus and toffee, some tropical notes when you dig your nose in there followed by floral hops
T a little less citrus in the mouth, well there's still lots of citrus but its more rind now, a little bready with even more toffee then I could smell
M quite full for the color and just enough carbonation to give it some life, fairly long finish of faint pine and toffee
O another Phillips IPA with zero booze detected and not lacking in any area, could use a little more bubbles but that's not a major thing
from what I can tell this is a different beer then the Growhop listed already, different style, hop, and 6.5% compared to 5%. Great stuff and the last one out of my Hopbox may have been the best one in there.
1,053 characters
4.15
/5
rDev
+2.7%
look: 4 | smell: 4 | taste: 4 | feel: 4.5 | overall: 4.5
A- Hazy golden IPA that holds a fingers worth of off white head up respectably. Lacing gets better as you drink.
S- Another nice smelling IPA from Phillips, light orange citrus and really floral. There's a hint of grapefruit rind and a mild graininess.
T- Mild bitterness throughout, but nice flavors from the hops. Again, lots of floral type flavors going on more than anything. Faint malt traces in the background.
M- The mouth is creamy & soft for an IPA. Medium bodied, extremly smooth going down.
O- A sessionable IPA, abv be damned. This was all about the mouthfeel and drinkability for me.
600 characters

4.13
/5
rDev
+2.2%
look: 4.5 | smell: 4 | taste: 4 | feel: 4 | overall: 4.5
341ml bottle poured into a 16oz pint glass. I know I should be weary about the age of this bottle, but the box clearly stated "Freshest Before: Sept 06 2012" on the top...
A - Pours a light golden-amber color with a small foamy head despite the very rough pour (uh-oh...) Despite the small head, it stubbornly retains as a thick foamy cap the absolutely covers the glass ion a sheet of lace. This beer looks perfect and I love the label-art.
S - Still smells like some hop juice to me. Juicy fruitiness with grapefruit and mango upfront big time, and a mild pine sap backbone. Buttery caramel malt provides some balance.
T - Alright, I'm assuming age has taken its toll on this brew, but it's still damn tasty. Fruity notes of mango and grapefruit with lots of floral hoppiness and hints of pine. Some bready malt in the background. Slight earthy metallic note in the finish. It tastes old, but definitely not 6+ months old. Still has a nice citrusy kick to it with a touch of pineapple. Good stuff!
M - Medium bodied feel with prickly carbonation. Mild lingering bitterness. Nothing really special, but an appropriate feel for the style.
D - Old or not (I really can't tell) it's still excellent. I can't wait to dive into the rest of my Phillips Hop Box after this one! Just an all around solid and drinkable IPA, that illustrates the qualities of Cascade hops perfectly; citrusy-floral aromatics with a mild but delicious flavor and low bittering character.
EDIT: By the sounds of it, this review was done on a fresh bottle. Good to know!
1,547 characters
4.12
/5
rDev
+2%
look: 4 | smell: 4.5 | taste: 4 | feel: 4 | overall: 4
341ml bottle, the guest star in the most recent Hop Box.
This beer pours a cloudy medium golden hue, with two fingers of tight foamy ecru head, which settles at due pace, leaving a distant shoreline vista of painted lace around the glass in the process.
It smells of spicy, perfumed fruit - citrus, pineapple, guava, and papaya, with some subtle bready, grainy undertones. The taste is more earthy, perfumed, floral fruitiness, muddled between tropical and meaty citrus leanings, with the malt still playing second fiddle in its placid grainy breadiness.
The bubbles are present and accounted for, but pose little further concern, the body a decent medium weight, and quite agreeably smooth. It finishes off-dry, the malt finally pushing through at some level, and the floral, musky hops still holding their ground.
A decent, eye-opening experiment in hop billing, which turns out to provide (or at least accentuate) flavours possibly lost in the normal run of things. Nice to see the individual effects of a single popular IPA hop, illustrated as to show that it is the combination of hops that make, at least my own, favorite IPAs the way they are.
1,154 characters
4.1
/5
rDev
+1.5%
look: 4 | smell: 4 | taste: 4 | feel: 4 | overall: 4.5
This is the first Phillips brew I've had in a while... Thanks joemcgrath27 for sending this one across Canada for me!
A - Pours a slightly hazy golden copper colour, solid finger of head with decent retention and some nice sporadic lacing.
S - Quite floral and very fruity, sweet pineapple and loads of citrus followed by an oily and soapy finish.
T - Again, very fruity and floral, the pineapple notes are intense and a solid representation of the west coast take on an American IPA. Nice citrus flavours, along with the pineapple, and some earthy leafiness lingers. Solid caramel and toffee undertones make this one nicely balanced.
M - Medium bodied, smooth going down and finishes surprisingly wet.
O - Definitely a solid brew from Phillips and one of the better ones I've had the pleasure of trying. Very flavourful hop bomb with the perfect balance between sweet and bitter. Definitely worth procuring a bottle!
922 characters
4.03
/5
rDev
-0.2%
look: 4.5 | smell: 4 | taste: 4 | feel: 4 | overall: 4
A - slightly hazy copper, tall off white head retained extremely well
S - citrus and floral aromas, some toasty and grainy odours
T - perfume floral hops out of the gate, some light citrus and earthiness, biscuity malt with light peppery flavour finish
M - medium body with a gentle bitterness and light breadiness
O - an understated and very tasty IPA, the hops are not overdone but are very pleasant, another great beer from Phillips
435 characters

3.83
/5
rDev
-5.2%
look: 4 | smell: 3.5 | taste: 4 | feel: 3.5 | overall: 4
This is an old-school IPA.
Pours crystal clear, golden-yellow, thin ring of retention leaves a bit of head.
Not a lot of hop aroma (somewhat floral with grapefruit rind).
There's not a lot of finishing (or dry) hops here, and it shows in the flavour as well. It's quite bitter, with some grapefruit rind and a bit of pine, but not overly 'hoppy' by today's standards.
Nicely attenuated with the body on the lighter side of moderate, crisp finish. It seems a bit thin, wonder if they used a fine filter for clarity.
Overall it's like taking a time warp back a decade or so. It's good, but not overly enticing.
615 characters
3.72
/5
rDev
-7.9%
look: 3.5 | smell: 4 | taste: 3.5 | feel: 3.5 | overall: 4
Pours deep golden body with a little retained white foamy head. Little hop aroma. Smooth mouthfeel,very drinkable despite ibu. A nice drinking IPA, that leaves a little grapefuit acid behind in the mouth. Excellent with food.
Bottle courtesy of Presario.
254 characters
GrowHop Series - Cascade IPA from Phillips Brewing Company
4.04
out of
5
based on
20
ratings.