Super Krypton
| Phillips Brewing Company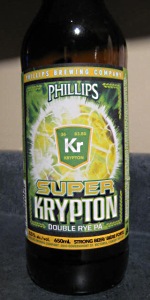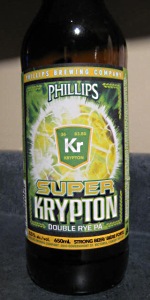 BEER INFO
Brewed by:
Phillips Brewing Company
British Columbia
,
Canada
phillipsbeer.com
Style:
American Double / Imperial IPA
Alcohol by volume (ABV):
8.50%
Availability:
Limited (brewed once)
Notes / Commercial Description:
No notes at this time.
Added by Rutager on 12-12-2012
This beer is retired; no longer brewed.
HISTOGRAM
Ratings: 13 | Reviews: 4
Reviews by biboergosum:
3.95
/5
rDev
-2.7%
look: 4 | smell: 4 | taste: 4 | feel: 3.5 | overall: 4
650ml bottle. More amusing chemistry riffing on the label, me continue to likey.
This beer pours a glassy pale golden amber hue, with two fingers of bulbous, rocky off-white head, which leaves some patchy, fuzzy lace around the glass as it lazily fades away.
It smells of bitter grapefruit rind and pine resin hoppiness, a further tropical fruitiness, kind of pineapple-like, some moderate caramel/toffee malt sweetness, mild rye zinginess, and a soft booze warming. The taste is bitter citrus pith, musty forest floor pine needles, a more prominent rye graininess - earthy and edgy in a rather uncharacteristically soft manner, some bready malt tinged with caramel, who are ok with their mostly second-fiddle status, amongst some loitering pineapple and guava fruit esters, and additional floral, somewhat perfumed notes, a simulacrum of the inflated, and equally pushed-down alcohol.
The bubbles are present, accounted for, and functional to the max(!), the body just on the lee side of medium weight, and actually smooth, but free of any bells and whistles therein. It finishes mostly dry, the rye-dominated malt not big on overt displays of sweetness, and the hops demurring in their multi-toned, fruity natures.
A pretty solid DIPA, skewed accordingly by the inclusion of our prairie-sown rye bros (or is that 'bras', now?). The inherent west coast hop bitterness is hardly attenuated, to be sure, such that an unseasoned eye might not even notice the guest malt interloper. Ah well, s' Phillips, s'hoppy, and s'good.
1,526 characters
More User Reviews:
3.49
/5
rDev
-14%
look: 4.5 | smell: 3 | taste: 3.5 | feel: 4 | overall: 3.5
Appearance. Pours a deep gold, lightly hazy with a bit of amber. 2+ fingers of thick off white head top it, good retention and leaving some nice lace behind. Looks really nice.
Smell. Big spicy hops with lots of cedar, some mint and onion, and a little citrus. There is a little grainy malt and a unique spicyness that I can only assume comes from the rye.
Taste. Nice big hops. Lots of pine and cedar with some floral and citrus notes, just a little green onion. Decent malt base with that nice spicy rye. Nice bitter finish.
Mouthfeel. Medium+ body with below medium carbonation.
Overall. A good, big ipa with that nice rye flavour. I liked it.
650 characters



3.83
/5
rDev
-5.7%
look: 4.5 | smell: 4 | taste: 3.5 | feel: 4 | overall: 4
650ml bottle poured into tulip 20/12/12
A clear golden liquid with lots of bubbles throughout, thumbs width of bone white head sticks around and to the side of the glass leaving several rings of lace with some random patches in between, she looks great
S spicy hops or perhaps its the rye spicing things up? either way its a good thing, some citrus and spruce with some Phillips house yeast
T lemon rind and a little booze on top of what I smell, more spicy notes and a little caramel, quite spicy really almost taking over the DIPA qualities but not quite as there's a good amount of hops thrown at this one
M medium bodied and creamy from the bubbles teetering on foam, slick after the fact and a spicy aftertaste with citrus, faint heat but well concealed for 8.5%
O the rye is hard to miss and it works well with the citrus, forest blast, a little dangerous as it goes down easy for a big brew
drink with caution as this one will hurt you if you let it. Somethings holding it back from greatness but I'd drink another no issues just perhaps in another session. I give Phillips props for brewing good stuff and keeping the price point low and constantly trying new things
1,184 characters


4.26
/5
rDev
+4.9%
look: 5 | smell: 4 | taste: 4.5 | feel: 4 | overall: 4
Bomber into a tulip.
A - Pours a relatively clean, golden-amber color with a thick foamy head, off-white. Thick head retention and excellent lacing, as with all Phillips brews. I think I mention this in every Phillips review I do, but the label design and presentation is just awesome.
S - Typical Phillips with a big blast of tropical hop goodness, with a some caramel malt sweetness, earthy notes, and a great deal of dank pine forest. Mango and pineapple can be made out, and there's a distinct sweet peach character that I love. Some spice from the rye malt looms in the background, but doesn't come through all that much in the nose. Pretty spot on for Phillips so far.
T - There's the rye! Starts off with some toasty caramel malt and mild sweetness that quickly gives way to a salvo of fruity, floral hops, and finishes with a big rye malt character that takes over the palate. Pine and grapefruit take their usual place up front, with some nice pineapple, mango, and peach notes playing in the background. The rye malt is so intense it almost wipes out the hop assault. Slight heat from the booze, though not a whole lot. Overall this profile is pretty demanding, with both the rye and the hops going through the roof.
M - Great feel on the palate, like most Phillips brews. Medium bodied, with a crisp carbonation that fits the profile nicely. Slightly sticky, with an assertive bitterness in the finish, as well as big spice.
D - Phillips' standard Krypton RyePA is probably one of my favorites from the brewery, if not my favorite of all their year-round offerings. But what I enjoy so much about that beer doesn't quite translate to this one. Krypton is an easy drinking, and incredibly balanced IPA with a nice rye quality that makes it one of the most drinkable IPAs I've tried. Whereas Super Krypton is really a slightly above-average hop-bomb with a an intense spiciness from the rye that doesn't so much balance the profile as add to the abrasive flavors. I suppose all together the hops, rye, and booze become a tad tedious for me. Still a great offering from Phillips, but far from their best.
2,118 characters



Super Krypton from Phillips Brewing Company
Beer rating:
4.06
out of
5
with
13
ratings