GrowHop Series - Zeus IPA
| Phillips Brewing Company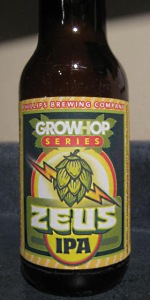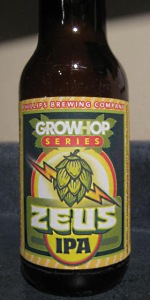 BEER INFO
Brewed by:
Phillips Brewing Company
British Columbia
,
Canada
phillipsbeer.com
Style:
American IPA
Alcohol by volume (ABV):
6.50%
Availability:
Rotating
Notes / Commercial Description:
No notes at this time.
Added by wordemupg on 02-23-2013
HISTOGRAM
Ratings: 12 | Reviews: 7
None found.
More User Reviews:
3.77
/5
rDev
-0.3%
look: 4 | smell: 3.75 | taste: 3.75 | feel: 3.75 | overall: 3.75
341ml bottle, a single procured from the latest Hopbox, it would seem. Nice, simple god of the sky lightning bolt/hopcone label portrayal.
This beer pours a clear, glassy medium golden colour, with two fingers of shiny, cushioned foamy off-white head, which leaves a few striations of layered cloud lace around the glass as it evenly subsides.
It smells of muddled bitter citrus rind, floral perfume, caramel/toffee malt, a bit of resinous pine tips, and an indistinct earthiness. The taste is fairly tangy lemon-lime juicy citrus, middling bready caramel malt, softly boozy floral, earthy hops, some surprising, understated rye-like spiciness, and a further lingering, bordering on loitering, wet pine needle astringency.
The bubbles are a bit peppy and somewhat overzealous up front, but that fades to moderation level soon enough, the body a wavering medium weight, and generally rather smooth in the face of what the hops might have wrought. It finishes off-dry, the toffee-tinged malt not fully giving in to the charms of this particular hop in toto.
I admit that I took the hop profile description on the label to heart, and can verily say that the beer follows it to the letter - high bitterness, florals, spice, and earthiness, in addition to the inherent west-coast citrus wallop, of course. An agreeable tipple, but I can't help but feel a certain beta testing, laboratory character around this one, as if the final product is an iteration or two away from completeness.
1,484 characters


3.98
/5
rDev
+5.3%
look: 4 | smell: 4 | taste: 4 | feel: 3.75 | overall: 4
Phillips Brewing 'Zeus IPA' @ 6.5% , served from a squealer purchased for $6
A-pour is a gold from the squealer to a clear golden/amber in the glass with a medium size white head leaving a spotty lace along the pint
S-citrus & floral
T-crisp & clean tasting IPA
MF-lots of carbonation , full body
Ov-ok tasting beer , decent/good IPA
prost LampertLand
353 characters
3.91
/5
rDev
+3.4%
look: 3.75 | smell: 4 | taste: 4 | feel: 3.75 | overall: 3.75
This pour a nice golden colour with a head that dissipates fairly quickly leaving small islands of head on the beer. Very floral, with citrus notes especially grapefruit rind. The hops come out in the mouth with a fair amount of spicy bitterness.
246 characters



4.03
/5
rDev
+6.6%
look: 4.5 | smell: 4 | taste: 4 | feel: 4 | overall: 4
341ml bottle poured into tulip 22/2/13
A clear golden yellow with lots of tiny bubbles throughout feeding a well sustained two finger foam that leaves several rings of lace followed by some random patches, looks great
S lemon and lime, Phillips house notes, spicy citric hops, faint spruce and perfume with a touch of booze, smells fairly simple but solid
T more of the same really, a little rind opposed to the fresh flesh but it mimics the smell and that's not a bad thing
M medium bodied and on the verge of foam but stays creamy, aftertaste is faint but lingers for ages, nice bitter bite
O quite drinkable and a pretty solid example of the style, a good solid IPA much like many of Phillips brews, not world class IPA's but well priced and fresh here in Alberta
not too far from Hop Circle IMO, this has a little spice and perfume that works for it. I noticed the new "Guest Beer" in the Hopbox and was happy to have an excuse to buy another 12 pack of mixed IPA's
991 characters

3.63
/5
rDev
-4%
look: 3.75 | smell: 3.75 | taste: 3.5 | feel: 3.5 | overall: 3.75
Happy to see that this tasted pretty fresh even though it was from the Snowcase Advent Calendar. The beer is spot on for an IPA and the use of a lesser known hop is pretty cool. No off flavours , some citrus and an earthy note on the finish. I liked the bitterness levels as I found it very drinkable yet hoppy enough. Nice beer
328 characters

3.78
/5
rDev 0%
look: 4.25 | smell: 3.75 | taste: 3.75 | feel: 3.75 | overall: 3.75
341ml bottle poured into a 16oz pint. Possibly a couple weeks out of optimum freshness, but what can ya do.
A - Pours a slightly hazed yellow amber with a frothy head of white foam. Nice head retention and superb lacing, as well as a great label design on the bottle; typical Phillips.
S - Smells crisp and a little fruity. Moderate pine and grapefruit, with some citric sweetness and some subtle fruit notes. Caramel malt is subdued but there, providing more sweetness to the aroma.
T - Hop bite is more prominent than expected, and not quite as fruity as the aroma had me believe. Herbal upfront with some pine in there as well. Fruit is less like pineapple-like and citric, and more grapefruit and maybe mango. Metallic, almost stainless steel sweetness in the finish, along with a lingering hop presence and some onion in there for good measure.
M - Carbonation is a little more smooth than the average IPA, but it doesn't quite have that crispness you get form most either. Bubbles are finer and less coarse, and the body doesn't feel too oily. I like this, but it's not quite to style in my opinion.
D - Overall, not my favorite GrowHop. Lacks a bit of depth, and has some odd flavors upfront. Still, I always enjoy a single hop IPA any time I can get one, and this is no exception.
1,294 characters
3.56
/5
rDev
-5.8%
look: 3.5 | smell: 3.75 | taste: 3.5 | feel: 3.5 | overall: 3.5
I recently spied this single-hop IPA peeking out through the "special guest" window of a Phillips Hopbox mixed pack. Although I believe this is an older rotational (only one box featured this brew, the rest were Simcoe), the freshness date on the box indicated that things should still be fine and I ponied up the dough, figuring that one cannot have too many IPAs around really. Turns out one probably can but whatever. I am still on vacation for a few more days. Zeus is not the most common choice for a single hop IPA, this one known for earthy and spicy flavors which allegedly distinguish it from genetically identical cultivars Tomahawk and Columbus. Zeus the IPA pours an amber orange hue with the typical four inches or so of whitish head you get on a Phillips brew. Aroma is immediately fruity, light orange juice, but quickly converts to an earthy green spice like celery seed, some lemon notes as well. No real tropical aromas and minimal to low grapefruit. Palate is largely consistent with this. I get more of the earthy spice, strong citrus rind, some pine and wood, a tangy metallic note, and hints of green onion. A gentle caramel malt backbone carries things along. More weighted towards the earthy and spicy end as advertised, the aroma was much sweeter than the taste. I'd characterize this as a workmanlike spicy citrus rind flavor with few special effects. Less weedy marijuana resin flavor than some other Phillips IPAs (namely Hop Circle and Green Reaper) and less malty than other single hop offerings I've tried. Not earth-shattering but I am a sucker to taste these hop varieties solo and Phillips captures them well.
1,643 characters

GrowHop Series - Zeus IPA from Phillips Brewing Company
Beer rating:
3.78
out of
5
with
12
ratings