RVA IPA
| Hardywood Park Craft Brewery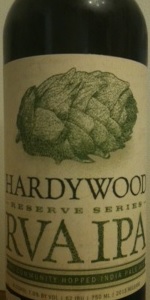 BEER INFO
Brewed by:
Hardywood Park Craft Brewery
Virginia
,
United States
hardywood.com
Style:
American IPA
Alcohol by volume (ABV):
7.00%
Availability:
Summer
Notes / Commercial Description:
No notes at this time.
Added by Beejay on 02-23-2013
Reviews: 9 | Ratings: 109

3.25
/5
rDev
-15.6%
An average beer. Makes me think of a high quality Budweiser. The same crisp hoppy flavor. No floral or fruit attributes, but definitely herbal. Lager lightness with the Hallertau hoppiness.
189 characters

4.1
/5
rDev
+6.5%
look: 4.25 | smell: 3.5 | taste: 4.25 | feel: 4 | overall: 4.5
Serving Type -22oz caged and corked bottle.
Appearance - Dark ruby tan, amber, with a 1 inch foamy, creamy head. Lots of sticky lacing.
Smell - Light citric hops, some sugars, oranges, lemons, pineapple and grapefruit. Some caramel malts in the finish. Not a real strong aroma coming from this bottle.
Taste - Really dank, citric hop bite that's mixed with caramel malts. Near the swallow huge bitter grapefruit hops take over. Loads of lemon and pineapple. Some added sugars along with multiple styles of hops come out in the finish.
Mouthfeel - Some hops and malts coat the tongue. Strong bitter hops nail the palate and leave the tongue bittered. The aftertaste is bitter, citric and dry.
Overall - Interesting beer. Seems like you get some hops at first sip, then different kind of hops come in near the swallow, creating two beers in one. The story behind this being made with people around the community growing there own hops makes this a wonderful beer, and it has a nice big hop bite that's really enjoyable for hopheads. Another winner from hardywood.
1,067 characters
4.12
/5
rDev
+7%
look: 4.25 | smell: 4 | taste: 4.25 | feel: 4 | overall: 4
An excellent beer with lots of pine and citrus. I love hoppy beers and thought this struck an excellent balance. Another well done beer by Hardywood.
151 characters

4.05
/5
rDev
+5.2%
look: 4 | smell: 4 | taste: 4 | feel: 4 | overall: 4.25
A: Orange apricot in color. A little dusty in the glass with some frothy white head on top, some fish eyes popping through.
S: Hoppy with pine and grapefruit notes. A little bit of an earthy smell going on, as well as caramel and bread notes. Citrus zest and floral notes round out the finish with a hint of grass.
T: Flavor wise there is a nice hoppiness, starting caramel notes and a little dark bread, followed by grapefruit, citrus zest and pine. The finish is lemon peel.
M: Medium in body, with very active carbonation. Certainly feels fairly effervescent on the tongue. The finish has a nice smoothness to it.
O: Overall very nice. Good hoppiness, and a nice balance of malt and bread notes. I could actually go for a touch more hop flavor. I think the bitterness is right on point. Overall very good, and perhaps a small taste of what the terroir of RVA is like.
884 characters
4.16
/5
rDev
+8.1%
look: 3.75 | smell: 4.5 | taste: 4.25 | feel: 3.5 | overall: 4
Poured from a 750 ml. Medium-amber in color. Nice lacing and head retention. Heavy dose of hops and flowers open up the nose. There is a soft bread and yeast note that comes out from behind the otherwise hop-dominated presentation.
Citrus and pine notes are fortified on a candy and bread malt backbone. Specific notes of grapefruit, apricot, and a touch of floral earth -- think of slightly "past their prime" roses. There is an interesting, heady flower note, something similar to the combination of tuberose and orange blossom, which I really like. I should clarify by mentioning that I'm a woman that loves and wears Fleurs d'Oranger by Serge Lutens and this has elements of it. A bit of orange juice and pith lingers. A slight chew in the center of the mouthfeel. Finish is dry with a slightly astringent (i.e., powdery) feel. Medium-bodied (with a bit of a push toward full). Tasty and satisfying.
A limited release but worth seeking out either in the bottle or on tap. But as the bottle says (and as sense should dictate), drink it fresh. If you still have this laying around at Christmas time, you are doing it wrong.
As an aside, I had the pleasure of having this on tap as well during the release party for all of the hop growers; the freshly-kegged version was very lively and full of hop flavor. I'm happy to see that much of that flavor translates to the bottle, although the yeast and the malt seem to be a bit more salient from the bottle. In some respects, it is more balanced from the bottle. A few weeks of bottle conditioning likely allowed all of the flavors to round out. Again, I wouldn't stretch this out too long as I imagine within a month or so that assessment is likely to change (for the worse).
Also, my girlfriend and I both contributed Cascades from several plots in our yard. We actually found our signatures on the label (these are very light on the label background but, with a good squint, can be seen). The Hardywood RVA IPA community hop project has us turned on to growing our own hops. We actually had another small round of hop flowers mature after the contribution date; we used these to wet hop a harvest brown ale that is currently waiting to be tapped on our kegerator. All of this to say I might have a slightly biased review, so take these words for what they are worth.
2,324 characters

3.65
/5
rDev
-5.2%
look: 4 | smell: 3.25 | taste: 3.75 | feel: 3.75 | overall: 3.75
Poured an amber orange with a one finger white head that dissipated slowly into a thin ring with light lacing.
Aroma was weak and I could barely pickup hints of citrus and light malt.
Taste of citrus, pine, a light bready malt with a slight hop bite.
Mouth Feel was medium body, moderate carbonation which creates a fizzy feel at the beginning and settles into a smooth and slightly bitter finish.
Overall this is a good beer, well balanced, however, i a little more hop presence would make this a much better IPA.
518 characters
4.38
/5
rDev
+13.8%
look: 4.5 | smell: 4.5 | taste: 4.25 | feel: 4.25 | overall: 4.5
Pours with a whit, heavy, and dense head. The color is deep amber almost caramel. The nose is very floral. Hops are in the air!!! The taste is a little bitter with a decent hop bite to it. Good beer.
199 characters

3.79
/5
rDev
-1.6%
look: 4 | smell: 3.75 | taste: 3.75 | feel: 4 | overall: 3.75
Drinkable beer and one that i wouldn't turn down again in the future. Clear, amber color. Taste is very balanced for a 7% IPA. Expected more hops out of it considering all the hops caricatures on the label. I would say this is a good IPA for folks who don't particularly like IPAs. That may sound bad but, I promise, that's a good thing. Taste is more like a typical English ale.
379 characters
3.6
/5
rDev
-6.5%
look: 3.75 | smell: 3.75 | taste: 3.5 | feel: 3.25 | overall: 3.75
A: Orange gold in color with a nice head that dissipated through the glass. very little lacing through the glass but
S: not sure if it was my sinuses but didn't get a super strong smell from the glass but did have hops and a hit of malt in the end smell. does smell good
T: while cold i had a strong hops flavor that evens out with malt as the beer warms the malts have a sweet bready taste leaving the hops to end on the finish of the beer over all taste is good but i honestly expected more hops
M: more carbonation than i expected that dissipates in the mouth. Carbonation takes away from the beginning flavor but in the middle the malts tend to pop through leaving a good hoppy flavor on the end.
O: Overall a good beer. okay hoppiness, and a nice balance of malt and bread notes. Like i said for an IPA i expected more hops but still was not disappointed. . Overall good and i would suggest trying it especially since its a seasonal brew
Serving type: bottle
972 characters
RVA IPA from Hardywood Park Craft Brewery
3.85
out of
5
based on
109
ratings.