FraGeeLay
| Karbach Brewing Co.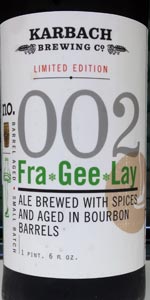 BEER INFO
Brewed by:
Karbach Brewing Co.
Texas
,
United States
karbachbrewing.com
Style:
Herbed / Spiced Beer
Alcohol by volume (ABV):
8.00%
Availability:
Limited (brewed once)
Notes / Commercial Description:
No notes at this time.
Added by Ford on 12-24-2012
This beer is retired; no longer brewed.
Reviews: 14 | Ratings: 119

4.97
/5
rDev
+24.6%
look: 4.5 | smell: 5 | taste: 5 | feel: 5 | overall: 5
What we have here is Karbach's Yule Shoot Your Eye Out Winter black ale aged in bourbon barrels.
Let's just say.. it's great!
Plenty of chocolate and ginger spices.... all wrapped up in a gentle bourbon blanket... to make you feel warm and cozy.
I am hoping this will be an every Christmas type release. 2012 was the first year for this beer. Sold in bombers and available on tap a few places around Houston.
What a great, great beer. Yule Shoot Your Eye Out is top notch and this simply improves on it.
516 characters
4.75
/5
rDev
+19%
This one pours a very dark brown color with a very luxuriously full brown head that is thick, pillowy and settles very slowly leaving a nice delicate lacing down the glass.
The nose is buttery earth tones with the sweetness of malt and bourbon along with hints of dark chocolate, plums and raisins mingled with a pleasant floral note and hints of vanilla.
The taste is sharp, complex and very pleasant. There is a tinge of a sour flavor that is mixed between the bourbon notes and the sweet malt and nicely balanced with the hops. Overall this is exceptionally flavorful with notes of dark chocolate, plums, apricots, raisins, vanilla, coffee and a nice Scottish malt.
The moutfeel is extremely rich and helps to deliver the complexity of these flavors nicely.
Overall this one is exceptional and extremely enjoyable. A real treat to enjoy and I highly recommend it.
873 characters
4.55
/5
rDev
+14%
look: 4.5 | smell: 4.5 | taste: 4.5 | feel: 4.5 | overall: 4.75
On tap at the Sugar Land Flying Saucer, the Hey Merchant, and via bottle in Houston, TX.
A: Pours a dark brown, nearly black color. A two finger rocky tan head forms with excellent retention. Plenty of sticky lace is left behind.
S: At first, the bourbon barrel hits the nose. Vanilla, oak, light sweetness. Coco beans and bakers chocolate comes next. Baked bread with cinnamon spice. I love the aroma. Everything is so well melded together.
T: Like the nose everything works and completes everything else that is going on. Big oak and wood aromas up front with vanilla sweetness. Big coco bean flavors and slightly bitter bakers chocolate. Cinnamon, nutmeg, and clove spices. Everything is balanced perfectly.
M/D: A medium to full body. Very fine carbonation. Velvety smooth and creamy. So enjoyable to drink. I can do more than sip on this.
I love Yule Shoot Your Eye Out. This is excellent as well. Maybe even more enjoyable. Everything is so well balanced. Some people might think that a detriment. Though to me, the subtleties of bourbon barrel, chocolate, and spices that all intermingle are perfect. Well done.
1,120 characters

4.43
/5
rDev
+11%
look: 4.5 | smell: 4.5 | taste: 4.25 | feel: 4.75 | overall: 4.5
FUN 002, aged 14 months
A- Pours light brown with a tan head one finger head.
S- Apples, cinnamon, pumpkin and cocoa
T- Light bourbon flavor, along with oak. Spices are prominant, alcohol is well hidden
M- Very creamy and smooth
O- This held up very well after 14 months. The carbonation was still very prominent, as well as the spices. The only thing that receded was the bourbon. The color lightened up as well, to a light brownish/caramel. This beer was absolutely wonderful
483 characters
4.35
/5
rDev
+9%
look: 4.5 | smell: 4.5 | taste: 4 | feel: 5 | overall: 4.5
Chill night watching football, figured I'd open one of these, I don't write full reviews often, but this is a beer (and brewery) that I feel like are worth it. Karbach is doing great things.
A - Poured into a snifter, frothy tan head with crazy lacing, especially for a barrel aged beer. I've only had Yule Shoot on draft, but I don't recall it being quite this pretty.
S - Big vanilla/oak presence, spices are very toned down relative to the base beer (which for me is a good thing). This is one that I could smell for a while.
T - Frankly, I think the smell is better than the taste, but not by much. Same muted spice relative to the base beer, very smooth and subdued tasting beer, great balance. Barrel flavor is not as present as I thought it would be based on the aroma, but some interesting cherry/fig flavors are brought out that I don't remember from Yule.
M - Perfectly "weighty" and appropriate for a cold (read: 40F) Texas night. Pretty damn drinkable as well. Hopefully they can keep supply in line with demand on these BA products going forward.
1,064 characters
4.2
/5
rDev
+5.3%
look: 4 | smell: 4 | taste: 4 | feel: 5 | overall: 4.5
Christmas Eve....work for the kid is all done, 24 hours of A Christmas Story still in background on TBS as it should be.
A - Super dark brown, beautiful thick khaki head, lacing is righteous, very similar to the non-BA version as expected.
S - Barrel is right there, saying "Hello, nice to meet you!", behind lies the roasted malt, spices and some warm vanilla. Expected a bit more BOLDNESS honestly, but nothing to complain about.
T - So nice having this right after the base beer. The barrel just smooths and mellows everything out almost perfectly. The roasted malt, dark fruits and spices come together as one with the oak/vanilla from the barrel. Notably less dry finish. Some booze makes an appearance, a tad more "wet" than I would prefer.
M - Perfect for a winter warmer imo, not a single complaint here from me.
O - I strongly suggest if you have this finding the base and having it as well, really damn nice job of Karbach showing how well a winter warmer can be with a stint in a barrel. I would drink a lot of this if on tap near me I think. Call me a fan.
Thanks for a great Christmas Eve Karbach, keep up the good work!
1,140 characters
4.19
/5
rDev
+5%
look: 4.5 | smell: 4.25 | taste: 4.25 | feel: 4 | overall: 4
A really unique beer thanks to ApostleBrewing, my first from this brewery. Shared with rudzud.
Pours a great fluffy 1+ finger fluffy thick head that fades slowly, tons of gorgeous lacing, super dark color mostly brown like but lack of light gives it black color.
Nose is very interesting, brown malts, toasty, brown sugar, nutty hazelnut, molasses, syrupy like candy, and quickly into baking spices galore, faint cinnamon, nutmeg, cardamom, holiday spices. Then into barrel, light toasty oak and vanilla, light and barely any bourbon, but then into light brandy soaked raisins, etc, fruit cake like.
Taste starts with the baking spices and biscuit malt, light cardamom, nutmeg, other holiday spices, etc. Then dark fruits, brandy soaked raisins, nuts, almost hazelnut like, etc. then into malts, caramel, hint if toffee and brown malts, brown sugar, molasses, ginger bread cookie, etc. Then into barrel, light toasty oak and hint vanilla, very faint bourbon. A hint of an earthy hop I'm three middle too. Chewy dough like, candy cookie dough, tasty. Finish is sticky semi sweet, more warming booze, lingering candy flavors, ginger, raisins, nuts, etc, light barrel and brown malts and molasses sugar lingering.
Mouth is med to fuller bodied, decent but lighter carb, some warming booze.
Overall a nice beer, tasty, light warming booze, nice brown malts, fruits, spices and nuts, great barrel rounding flavors, quite a nice beer, wish the bourbon came through a bit more as it would really kick this beer up.
1,512 characters
4.09
/5
rDev
+2.5%
look: 4.5 | smell: 4.25 | taste: 4 | feel: 4 | overall: 4
Shared by JLindros ...big thanks!
A - Poured into a Kate the Great tulip a dark dark brown with a two finger light mocha head that slumped to leave a nice quarter inch head that left good side lacing.
S - Aromas of sweet malts, light molasses, holiday spices and the like. Warm barrel notes along with fainter Bourbon.
T - Taste is similar to the nose with more winter warmer notes, sweet malts and caramel, gentle barrel notes with super super faint bourbon notes. Wish that bourbon was stronger.
M - Mouthfeel is solid here lightly carbonated and drinkable.
O - Overall this was a solid offering. An interesting mix of winter warmer spices and faint barrel notes. Would like some more Bourbon though.
707 characters
3.95
/5
rDev
-1%
look: 4 | smell: 4.5 | taste: 3.75 | feel: 3.75 | overall: 3.75
22 oz. bomber poured into nonic
008 in the F.U.N. series (late 2013 version)
L: dark ruby read, clear, pushed up a big fluffy head of tan foam that sticks and laces a lot; keeps a thick tan collar
S: bourbon big-time ... you can smell out out of the bottle and over the glass as you pour, so much so it's a bit shocking -- I've had a few bourbon barrel-aged beers but none have smelled this much like the whiskey; as the head settles, a strong whiskey-cherries-vanilla smell takes over, a blend of all three but whiskey remains the leader; as it warms up, the softer vanilla pushes ahead
T: just about everything but beer :) honestly, it's a fantastic mix of whiskey, sour grapes/red wine, vanilla, ginger, nutmeg and plenty of sweetness.
F: simple with no major flaws ... seems just a hair thin for a brew that looks and acts much like a big boozy stout -- but it's not a stout; it's an aged spiced beer, and i kind of like the drinkability here; enough carbonation
O: MUCH better than the base beer Yule Shoot Your Eye Out from which this springs; here the barrel-aging adds a huge amount of sweet/sour whiskey, vanilla and cherries and softens the huge ginger-nutmeg-spice flavor of the base beer ... so much whiskey flavor but without a hint of alcohol burn -- frankly, it's a bit dangerous that way.
this is not a beer-drinker's beer. you won't find much malt, hops or yeast flavor. but this is by far the best winter-time holiday seasonal I've run into, and while it's not a winter warmer by style, fans of the winter warmer in search of a twist might love this one. loads of spice, a sweet run of whiskey notes and a nice drinkable quaff.
1,652 characters
3.83
/5
rDev
-4%
look: 4.25 | smell: 4.25 | taste: 3.75 | feel: 3 | overall: 3.75
A dark beer, almost looks like a cola in a glass. Aged it a lot not too heavy on the spice anymore, fudge, vanilla, sweet, nutmug and brown sugar, kind of thin feeling (flat I guess) but sludgy at the same time. A good offering but not great.
243 characters

3.66
/5
rDev
-8.3%
look: 3.5 | smell: 3.75 | taste: 3.75 | feel: 3.5 | overall: 3.5
Batch 008 from the fun series
Pours a large layer of beige tan head. Color is black.
Flavor profile: a whole mess of spice. Nutmeg and cinnamon. A touch of pumpkin. Some chocolate. Very malty. The bourbon shows, but it isn't dominate. Definitely tastes like a winter warmer.
Mouthfeel: spiced and warming. Medium to full bodied. Ends with more spices.
Overall, a decent winter warmer, but the spices take away from the barrel flavors. Too much spice.
454 characters
3.13
/5
rDev
-21.6%
look: 3.25 | smell: 3.25 | taste: 3 | feel: 3.5 | overall: 3
Fun Series 008. 2013.
A - Poured a deep brown colour with a bid of a muddy look to it. A thin layer of cream coloured head formed and reduced to a thin film over the top of the beer.
S - Spice notes dominate the nose with cinnamon, nutmeg and all spice coming though. Some roast and a hint of chocolate. Not much of the barrel aging is noticeable but there is perhaps a faint hint of oak that I wouldn't have detected had I not been searching for it.
T - A big spice bouquet dominates - ginger, nutmeg and cinnamon. Some roast and chocolate and a somewhat astringent oak flavour are also present. No bourbon or vanilla come through at all. Way too much spice in this one, which almost completely mutes the barrel notes aside from an unpleasant oak astringency.
M - Medium body. Creamy. Light carbonation.
811 characters

3.05
/5
rDev
-23.6%
look: 3.5 | smell: 3.5 | taste: 3 | feel: 3 | overall: 2.5
Thanks to drummermattie02 for my first two tastes of Karbach, this being the last of the duo. 22 oz. bottle split with my wife amongst a snowstorm. On the 18th. Of fucking APRIL.
Pour is a clay-streaked muddy brown, kind of like my backyard would be if it wasn't fucking covered in snow. Fast-disappearing cap. Nose boast spices by the metric yard, cinnamon & nutmeg are two I imagine I can ID. Light vanilla is the only hint of barrel. Like smelling cookies from a stranger's kitchen & thinking "ooh, these could be really good or really awful."
FraGeeLay is like Paul Bunyan kicking you in the face - if Paul's boot were made of spices. Massive spices overwhelm that base beer, the barrel, several snow-covered robins outside my window, & a small bur oak in the backyard. Tons of cinnamon, ginger, nutmeg, on & on, you name it, it's probably in here. The barrel makes a cameo mid-palate & is immediately drowned out by the spicing: faint bourbon, skeleton of vanilla. Honestly, several ounces in, I could have split this bomber with 3-4 people & been content.
Too much spice, too little beer, too little barrel. This isn't bad, in fact it's decent enough, but it's one note & that note gets tinny after repeated sips. Mediocre.
1,234 characters

2.5
/5
rDev
-37.3%
look: 2.5 | smell: 2.5 | taste: 2.5 | feel: 2.5 | overall: 2.5
002: 2/20/13 12-oz tulip [3/5]
008: 12/8/13 shaker pint full; 2/22/14 4-oz snifter [both occasions, 2/5]
What disappoints me most about Fra-Gee-Lay is that it's such a perfect example of why Karbach, in my opinion, made such a great decision separating Bourbon Barrel Hellfighter out from the rest of the FUN series. BBH: good use of a barrel. The rest of FUN? I cannot say the same thing.
Yule Shoot Your Eye Out is a pretty good Christmas beer. It's not amazing by any stretch, but it's certainly not a beer that I think could be called bad. It's fairly good. Put it into a barrel and suddenly you have a damn mess.
The smell is completely off, with notes of mildew and rubbing alcohol. The beer is significantly flatter than expected, with essentially no carbonation to speak of, which means there's nothing to distract you from the taste, which again reiterates the rubbing alcohol and mildewy aromas. Do I get spices? Yes. Many of the same spices that make Yule pretty good turn into something stale and harsh in Fra-Gee-Lay.
In all, I'm not sure why I tried this a third time. Maybe because the first time wasn't nearly as bad as the second and I was hoping the second was an anomaly and would be vindicated by the third. But there won't be a third time.
1,265 characters
FraGeeLay from Karbach Brewing Co.
3.99
out of
5
based on
119
ratings.