Hop Delusion
| Karbach Brewing Co.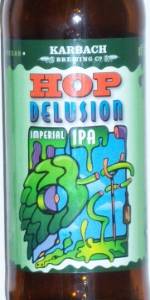 BEER INFO
Brewed by:
Karbach Brewing Co.
Texas
,
United States
karbachbrewing.com
Style:
American Double / Imperial IPA
Alcohol by volume (ABV):
9.00%
Availability:
Rotating
Notes / Commercial Description:
You are in a state of full Hop Delusion, but you knew what you signed up for when you popped this bottle. You knew that it had over 100 IBUs of hop bitterness and that it was dry hopped with insane amounts of Simcoe and Mosaic hops, but you chose to drink it anyway. It's difficult to say if you will ever snap out of it, for you have been smitten with the disorder that many can never overcome.
Added by champ103 on 03-15-2013
Reviews: 63 | Ratings: 393

4.5
/5
rDev
+7.1%
look: 4.5 | smell: 4.5 | taste: 4.5 | feel: 4.5 | overall: 4.5
Overall this is probably the best beer I've had from Karbach.
I have had this from cans and bottle. Both versions are phenomenal.
Appearance: Golden tangerine color with a white foamy head which possesses great retention. Lacing throughout the drinking experience.
Smell: Lots of dank citrus, Citra dry-hopping makes this wonderful to smell. This is a fantastic beer to admire and just keeps getting better and more fragrant as it warms. Alcohol is invisible.
Taste: Very hop forward but the citrus intensity is so delightful. Passion fruit, grapefruit and sweet caramel dance on the palate. Bitterness is at a balanced level, enough to which states this is a DIPA. Clean finish as well, which I thoroughly enjoyed.
Mouthfeel: Assertive, complex but very smooth and almost creamy texture. This is a beer I could enjoy over and over again.
Overall if you have any friends/relatives/trade partners in Texas, please get your hands on this one. Fantastic and a joy to drink.
★
978 characters
3.71
/5
rDev
-11.7%
look: 3.5 | smell: 3.75 | taste: 3.75 | feel: 3.5 | overall: 3.75
Thanks to GRG1313 for sharing this one at his tasting.
Pours a hazy orange with a foamy beige head that settles to wisps of film on top of the beer. Small streaks of lace form around the glass on the drink down. Smell is of malt, caramel, citrus fruit, and citrus zest aromas. Taste is much the same with citrus zest flavors on the finish. There is a medium amount of hop bitterness on the palate with each sip. This beer has a lower level of carbonation with a slightly crisp mouthfeel. Overall, this is a pretty good beer that is tasty but quite hop forward.
★
562 characters

3.25
/5
rDev
-22.6%
look: 3.25 | smell: 3.25 | taste: 3.25 | feel: 3.25 | overall: 3.25
Reviewed live 08/31/13.
1 litre swingtop Eagle Rock growler filled at the Growler Station in Austin, Texas, earlier today, and served into a Spaten stangekrug in me gaff in low altitude Austin, Texas. Cost was $9.50 USD. Expectations are through the roof given its current ratings.
Served cold, straight from me freezer. Side-poured with extra vigor as slight carbonation issues are anticipated.
A: No bubble show forms as I pour.
Pours a four finger wide head of beige colour. Nice creaminess and thickness. Supple complexion. Nice scattershot lacing as the head slowly recedes. Head retention is great for the ABV – ~10+ minutes. Fluffy and appealing.
Body colour is a clear copper-gold of above average vibrance. Translucent/transparent. No yeast particles are visible.
Overall, it's definitely within style conventions and looks pretty good for the style, but the appearance is far from unique or special. The head retention is a highlight.
Sm: Fairly pungent. I could smell it as soon as I poured it.
Juicy citrusy fresh hop character. Grapefruit esters. Orange. Mango. Slightly herbal, though not so much so that I'd call it "dank." Generic floral hop character. Nectary hop character. Light oily hops. Resinous. Light pine. The hop bitterness emerges as a scratchy rough dry feel in the aroma, but the juicy aspect keeps it refreshing.
On the malty end, there's your usual pale malt build with a dash of caramalt – but seemingly not too much. There might be some pils/munich malts thrown in; it's difficult to discern based on the aroma alone.
There's more going on here too. A buried hint of lime. I'm a bit concerned by a buried light candi sweetness – a characteristic that can ruin an imperial IPA. It's certainly on the sweeter end of the bitter/sweet spectrum; hopefully this means any hop bitterness is well balanced by malts.
No yeast character or alcohol is detectable.
A multifaceted aroma that suggests quality, but really it could go either way. The candi sweetness and inclusion of obvious caramalt makes me a little hesitant. Inoffensive and of moderate strength.
T: Tame bursts of mango and grapefruit hop character are dominant insofar as hops are concerned. Some melon. Vague tropical fruit notes come through; luckily any pineapple is minimal. There's a bit of floral and nectary character swimming around in there too, but it never amounts to much. It's surprisingly malty, with too much caramalt and a candied sweetness undermining the balance; the hops should be dominant with the malts supporting but not intruding, and that simply isn't the case here. A bit resinous. No hop bitterness comes through, but I'd honestly take that over the overdone sweetness. Pale malts comprise the bulk of the foundation. Overall, the balance is off but forgivable. I'm not convinced the choices of hops here were particularly motivated toward one direction or focus; it's certainly not a gestalt or particularly cohesive beer. Amplitude is about average.
No yeast character comes through. There's a hint of alcohol warmth; I'd guess this was around 8-9% if I tried it blind.
Depth of flavour is shockingly shallow for a beer in this style (and for a beer as currently highly rated as this). Flavour duration and intensity are both merely average.
I don't pick up any off-flavours. I'm not getting any onion or garlic.
Mf: Smooth and wet. A biteen overcarbonated (and this from a growler fill…). Lightly oily. Not gushed, hot, or boozy, but as aforementioned there is some warmth. Okay thickness and body; it really lacks a full wholesome feel, which brings it down significantly for me. It does have something of a weak, reticent presence on the palate; it's certainly not as open as it could be, nor do I think the texture is ideal for full delivery of the flavour profile. It suits the flavour profile generally, but it's far from coming off custom-tailored to it.
Dr: The cynic in me wants to suggest that locals are rating this highly – either because of a lack of experience with the best in the style or excitement over having an imperial IPA with decent balance available close by. However:
It's my understanding that the gentlemen at The Growler Room drive to Houston to pick up kegs to bring back to sell, and that they may sit on Karbach kegs before tapping them for fills. Maybe this is a couple months old; I can't disregard the current 95 rating with 88 reviews. I intend to revisit it, but the beer as I've had it now is by no means world class, nor is it even what I'd consider quite good for the style.
The highlight of the beer is its drinkability, especially when served quite cold.
It's a pretty decent Imperial IPA which isn't worth the effort to track down in Austin. Doesn't hide its ABV all that well but it's rather drinkable for what it is. I'll really enjoy finishing the growler I got, and I think it was worth the price I paid to try it. At the end of the day, I think that may be what really matters.
C+/B-
★
5,056 characters
4.37
/5
rDev
+4%
look: 4.25 | smell: 4.75 | taste: 4.25 | feel: 4.25 | overall: 4.25
On tap at a Goode Company Seafood in Houston, TX.
L: Nice deep gold to light amber, clear with a faint touch of haze, and a thin creamy head on top.
A: Huge sticky tropical fruit, blueberry, pine resin, and a touch of onion/garlic in the background. Candy malt background with a touch of caramel sweetness.
T/M: Low bitterness for DIPA standards, very smooth, moves into a huge blueberry/fruity hop character with some piney complexities. The malt swoops in and offers a great neutral backdrop with just a touch of candy sweetness. Big lingering hop flavor in a smooth finish.
Overall, an exceptional DIPA, awesome hop character and some pretty good balance. The bitterness could be bumped up in my opinion, but overall there is little to complain about. Karbach is really impressing me.
★
791 characters
4.44
/5
rDev
+5.7%
look: 4.25 | smell: 4.5 | taste: 4.5 | feel: 4 | overall: 4.5
Burnt orange in color with a clear body, this beer experience starts off right with a nose that combines scents of citrus, passion fruit, and pine. Served from the tap, the foam level looks nice and everything appearance- wise seems right.
Tasting this beer, the experience just continues to get better. The hop resins, grapefruit, and bitterness are there, as expected, but there are other flavors worthy of mention, like bread, biscuit, pine, and even some melon. The brew is hop- forward, as it should be, but not in an overdone, excessively bitter way.
Hop Delusion is a very nice double IPA and one of its most surprising qualities is its smoothness. It isn't harsh like some other double IPA and even the higher than average alcohol level seem to behave itself. The smoothness makes this beer deceptively delicious, and it does require care when drinking.
This is certainly a beer worthy of a sample and it is yet another example of Karbach's tendency to overachieve. I based this review on a pint served at World of Beer in the west Houston suburb of Katy, but the bottled version is equally delicious. It is one of the best DIPA brewed in Texas and local craft beer fans should definitely seek it out.
★
1,217 characters
4.13
/5
rDev
-1.7%
look: 4 | smell: 4 | taste: 4.25 | feel: 4.25 | overall: 4
22oz, spring 2013
Riedel tulip
A: Deep orange color. Full finger of off white head. Egg shell like color. Sticky lacing sheeting. Good carbonation.
S: True to label, very dank and resinous here. More earthy and pine aromas. Some hints of orange. Sweet malts.
T: Nice hop punch on the front of the tongue. Nice tarts of bitterness attack the taste buds. Again, more of the earthy herbal notes. Some pine. You do get some sweet fruit flavors of orange and tangerine. Finish is dry with lingering bitterness still hitting the tongue.
M: It's medium bodied.
★
557 characters

4.51
/5
rDev
+7.4%
look: 4.5 | smell: 4.75 | taste: 4.5 | feel: 4 | overall: 4.5
I don't see a date but this appears to be quite fresh.
A: Pours a clear amber with a huge fluffy tan head. Head fades away slowly, leaving a big island behind. Lots of heavy lacework from top to bottom of the glass.
S: Oh yeah. Huge fruity aroma. Sweet candied citrus. Tropical fruits like mangos and pineapple and ...is it papaya? Maybe even sweet melons? Wonderful fruity hops. Absolutely mouthwatering aroma.
T: Big, sharp fruity hops. Again with the tropical fruits. Has a strong, dank resinous hop flavor in addition to the citrus and tropical fruits. Just a little caramel in the finish before the waver of bitterness kicks in. Not overly bitter if I'm honest. Just big juicy hop flavor throughout.
M: Medium bodied, pretty smooth, barely drying. A bit of astringency in the finish with a bit of sticky hop oils.
O: Seriously good IPA. One of the best, if not THE best aromas on an IPA I've ever had. No knock against the beer, but the flavor couldn't hold up to the smell. It's still delicious, it's just that the aroma was THAT good. Need to make an air freshener out of this smell. My first Karbach beer and man what a doozy. Absolutely wonderful, wish they distributed up here.
★
1,195 characters
4.67
/5
rDev
+11.2%
look: 5 | smell: 4.75 | taste: 4.5 | feel: 4.75 | overall: 4.75
Poured into a tulip glass translucent amber with a huge thick frothy white head. Great head retention and wonderful lacing. Scent is strong with a plethora of hops. The taste isn't a wham hop wallop, but it is a good punch of a well balanced variety. Aftertaste is just a hint of caramel, but your tongue is still getting it's butt kicked with hops.
★
349 characters
4.73
/5
rDev
+12.6%
look: 4.75 | smell: 4.75 | taste: 4.75 | feel: 4.5 | overall: 4.75
Pours a clear and crisp burnt orange with 2 fingers of sticky off white foam. Excellent head retention and some nice sticky lacing.
The aroma is exploding out if my glass. Citrus soaked pine sap with wonderful notes of melon and grapefruit as well. I almost get a sugary caramelized note as well with the caramel malt backbone.
The taste is amazing. Very citrus forward with melon and pineapple as well followed by a hop assault on my palate. The malt takes a back seat making this am absolute citrus hop bomb!
Medium bodied with an appropriate amount of carbonation. This is goin down almost too easy... Great hop dragon finish makes you thirsty for more.
Overall this is the best DIPA to come out of TX hands down. Will gladly put it up against any if the more well known hop bombs out there.
★
798 characters

3.9
/5
rDev
-7.1%
look: 4 | smell: 4 | taste: 3.75 | feel: 4 | overall: 4
22 oz bomber pours a lightly hazed copper color with a fairly big cap of off-white head. Decent retention and lacing.
Nose is juicy as hell! Like squeezing some hops and grapefruit into a shot glass. Malts are just a shade lighter than caramel.
Taste is pretty damn hoppy...has an interesting profile where bitterness strikes right away, then fades to hop flavor and then the bitterness strikes again as a lingering sharpness. Limes...yes, yes - remember those Slush Puppie machines from back in the day where it would dispense the sweetened crushed ice and then you could add your own flavoring?? Thats exactly what this reminds me of, a Slush Puppie with an extra squirt or five of the unsweetened lime flavoring. Malts are sweet and grainy but really dont provide a whole lot of flavor. Interesting IIPA, and I think it is really good...but, I think I like SA Endeavour better.
★
882 characters
3.98
/5
rDev
-5.2%
look: 4.25 | smell: 4.25 | taste: 4 | feel: 3.5 | overall: 3.75
Solid looking. Burnt orange with nice head and lacing. Smell is orange, tangerines, and guava. Tons of citrus notes. Good upfront bitterness that rides on the palate throughout. Like the aroma I'm getting tons of guava and tangerines in the finish. Good tropical notes. As it warms toasted malt starts to overwhelm the citrus and is really taking away from the flavor. A toasty sweetness takes over. Around 3/4 of the way through it gets pretty taxing to drink. Heavy, sweet and sticky mouthfeel. Better than Rodeo Clown.
★
521 characters

4.33
/5
rDev
+3.1%
look: 4.5 | smell: 4.5 | taste: 4.25 | feel: 4.25 | overall: 4.25
On tap at Nobi Public House
I think I still like Saint Arnold Endeavour more than this.. but this is great.. just like Endeavour...
I really need to drink them side by side... fresh and see what happens.
I don't like either of them as much as Enjoy By or Sculpin... though they aren't far behind.
Props to Karbach for giving us in Houston another great dIPA option!
Ford scale of Deliciousness.
Really Delicious!
★
418 characters
4.39
/5
rDev
+4.5%
look: 4.75 | smell: 4.5 | taste: 4.25 | feel: 4.75 | overall: 4.25
I have had this several times at the brewery, though this is the first I have seen this at bars. On cask at Hay Merchant in Houston.
A: Pours a beautiful bright and hazed orange color. A two finger egg white head forms. Dense, pillowing, and with excellent retention. A cap of foam stays throughout. Spiderweb lace is left all the way down the glace. This is a looker.
S: This pops with tropical fruits. Orange, mango, banana, passion fruits. Very juicy up front in the nose. Followed by an almost candy like sweetness, though that fades in a second. Finishes more on the dank side, but still exceptional balance between fruits, juice, enough sweetness for balance, and bitter dankness.
T: At first dank hops take over. Though that quickly fades to that great fruit juicy hop flavor that popped and burst on to the senses in the nose. Some sweetness for a second. Then, again finishes with that dank hop, lingering bitterness which is just a bit strong for me. Still excellent.
M/D: A wonderful full body, that is silky smooth. Though with enough carbonation for a crisp bite in the finish. A superlative mouthfeel on cask. I very much enjoyed this. For me to get through two glasses of a DIPA is saying something.
An amazing cask. This will be a huge hit once it is released in full force. Endeavour is great, but this might top it for the best DIPA in Houston. Hmm, need to do a side by side when this comes out in bottles. Highly recommended.
★
1,447 characters
Hop Delusion from Karbach Brewing Co.
4.2
out of
5
based on
393
ratings.