Hop Delusion
| Karbach Brewing Co.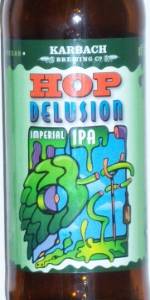 BEER INFO
Brewed by:
Karbach Brewing Co.
Texas
,
United States
|
website
Style:
American Double / Imperial IPA
Alcohol by volume (ABV):
9.00%
Availability:
Rotating
Notes / Commercial Description:
You are in a state of full Hop Delusion, but you knew what you signed up for when you popped this bottle. You knew that it had over 100 IBUs of hop bitterness and that it was dry hopped with insane amounts of Simcoe and Mosaic hops, but you chose to drink it anyway. It's difficult to say if you will ever snap out of it, for you have been smitten with the disorder that many can never overcome.
Added by champ103 on 03-15-2013
Reviews: 63 | Ratings: 393
1.8
/5
rDev
-57.1%
look: 4 | smell: 1.5 | taste: 1.5 | feel: 3 | overall: 1.5
On tap this DIPA is ok. This year is not great when compared to 2014. However the canned batches are acrid and horrible tasting. I call it acrid, some people are calling it an onion off flavor. This beer was canned 4/292015' very fresh. Very bleah. It only has a hint of the nice citrus and floral hop aromas. It seems like all the nice flavoring hop oils went to the kegs and we got stuck with the dregs. There is something very wrong with this beer. Avoid this latest batch of canned Hop Delusion. We deserve better from Karbach.
★
531 characters

4.4
/5
rDev
+4.8%
look: 4.25 | smell: 4.25 | taste: 4.5 | feel: 4.25 | overall: 4.5
A. Finger of off white creamy head with sporadic big bubbles that dissipated quickly. . Golden orange in glass.. transparent with mild carbonation
A. Dank garlicie up front followed by citrus peel and grapefruit flesh.. malty sweetness on the back
T. Butter up front with a lot more citrus than the nose. . Finish is surprisingly dank and resinous. . No alcohol whatsoever
M. Medium with resinous coating and a smooth finish
O. Outstanding
★
447 characters
4.37
/5
rDev
+4%
look: 4.5 | smell: 4.25 | taste: 4.5 | feel: 4.25 | overall: 4.25
Pours a deep orange, with a light brown head with medium retention. Fresh, grassy hop scent. Rich flavors start strong citrus, then fade to pine with a lingering bitter that's nice. Thick mouthfeel, and thick flavors to go along with it.
★
237 characters

4.3
/5
rDev
+2.4%
look: 4 | smell: 4.5 | taste: 4.25 | feel: 4.25 | overall: 4.25
Pours a fuzzy, amber-orange colour, like fancy honey. The tightly packed head fizzles down to a layer of creamy lacing after a few seconds.
The initial aroma smacks you across the face with dank resin, but swathes of pineapple, mango and orangey syrups come to the foreground as things warm up. Some of those tropical notes are lost to a predominant bitterness on the tongue, but sweet, bready malts balance any overly astringent or boozy notes.
The mouthfeel makes me smile, surprising smoothness carrying everything nicely without sacrificing that big, dry bite. All in all, everything is much more well-rounded than the labelling might have you believe. Barring their brilliant Bourbon Barrel Hellfighter, this is the best I've had from Karbach.
★
750 characters
4.28
/5
rDev
+1.9%
look: 4.5 | smell: 4.5 | taste: 4 | feel: 4.25 | overall: 4.5
I thought this beer would be too heavy for chilling by the pool on a hot Texas summer day - but you know what - I found this beer, when very cold in a can a coozie, brings about an incredibly enjoyable experience. The hops are very refreshing, and the beer finishes without that syrupy aftertaste that many Imperial IPA's tend to have. I would choose this over Karbach's Rodeo Clown Double IPA any time I want a strong beer experience with high ABV and IBU.
★
457 characters

4.89
/5
rDev
+16.4%
look: 4 | smell: 5 | taste: 5 | feel: 5 | overall: 4.75
if you're into floral mosaic hops, this is the beer for you! nearly perfect.
poured from a growler filled last night at taps and caps in Lewisville, Tx.
pours a nice copper with foamy ecru head. a little hazy. head dissipates fairly quickly and lacing is not particularly evident. (if the lacing was stronger, I MAY have rated this a "5" overall. I'm into the lacing)
ahhhh...the smell...strong floral hop aroma that it maintains throughout the glass. THIS is nearly perfect.
taste...what you smell is what you taste. hops and hops but not crazy just bitter and overly hopped. despite the ABV, the alcohol is not prevalent. BE CAREFUL unless you want to be dozing as you finish the growler :).
Feel...smooth. no astringency. carbonated but too too much so, at all. just right.
overall...pretty dang good. THIS is what an IPA should be. big, big hops flavor and aroma; ABV with punch; good balance but still leaning towards the bitter side.
I give this the "NO SUCK" guarantee. This may be my current favorite beer.
edit 5/11/16: filled and emptied another growler this weekend...just as satisfying as my first growler upon which I wrote the original review.
★
1,160 characters

4.36
/5
rDev
+3.8%
look: 4.75 | smell: 5 | taste: 4 | feel: 4.25 | overall: 4.25
Had this for the first time last night, as it was highly recommended to me by a fellow beer enthusiast. As a Houston native, Saint Arnold beers have my heart, but this was my first Karbach Brewing beer I've had. It did not dissapoint. Poured a nice caramel orange color, with about an inch to inch and a half head. What really blew me away of all things was the smell. Lots of flavorful citrus/grapefruit aromas, with a hoppy bite at the end. Taste was good, expected more flavor judging by the smell, but had a decent mix of flavors from the aroma with a small hop finish, and a hint of malt backbone. Good beer, would definitely drink again.
★
643 characters
5
/5
rDev
+19%
look: 5 | smell: 5 | taste: 5 | feel: 5 | overall: 5
Pours a dark copper color with plenty of creamy head. Smells of piney and tropical hops. Distinctively Mosaic. Taste is an explosion of hop flavor, touch of alcohol, and clean crisp bitterness. One of the best Imperial IPA's I've had and certainly the best to come out of Houston.
★
280 characters
4.38
/5
rDev
+4.3%
look: 4.5 | smell: 4 | taste: 4.5 | feel: 4.5 | overall: 4.5
I really like this beer. I'm a decent fan just because I support local breweries, but this hits the spot with my palate. I'm s home brewer myself and can instantly pick out the mosaic and simcoe. I just wanna say, great job Karbach, another great offering.
★
256 characters
5
/5
rDev
+19%
look: 5 | smell: 5 | taste: 5 | feel: 5 | overall: 5
Holy sh*t. Best Karbach IPA to date. Hopadillo and Weekend Warrior fans will love the transition. Reminds me slightly of LP Yellow Rose but better because I can get it cold, in a can, and with higher ABV.
★
204 characters
4.75
/5
rDev
+13.1%
Fantastic DIPA, and IMO easily the best thing Karbach does excluding their fun series brews. Loaded with mosaic hops which is apparent in the nose and taste. I LOVE mosaic hops. Nothing compares to that tropical mango like flavor. They did an excellent job balancing out that super sticky dank hop mess with some sweet malts. If you haven't tried it do it.
★
362 characters
4.25
/5
rDev
+1.2%
Always a solid beer. Not too malty for an IPA, great balance. This could be my favorite double coming out of Texas honestly, although Valkyrie is a good shout.
★
161 characters
4.66
/5
rDev
+11%
look: 4.5 | smell: 4.75 | taste: 4.75 | feel: 4.5 | overall: 4.5
This is my first review. This beer made me submit a review after being a long time lurker/user of the info here.
First of all, I got this in my growler earlier today from Whole Foods. People that don't bother putting whether they are drinking from a keg, bottle, or can should not bother posting here because that makes too much difference to overlook.
This is my favorite beer I have had in Texas. Grapefruit and persimmon, maybe tangerine, all on top of a nice piney background. the malt is there, but, it's just underneath it all - a really good balance.
The smell is the same as the taste. The mouthfeel is a little syrupy but smooth enough and the perfect amount of carbonation with it. I don't know why there is a rating for appearing - idgaf about that and you should too!
★
783 characters
Hop Delusion from Karbach Brewing Co.
4.2
out of
5
based on
393
ratings.