Revival Imperial Octoberfest
| Revival Brewing Co.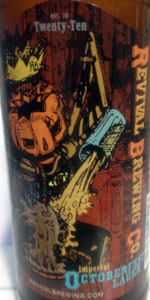 BEER INFO
Brewed by:
Revival Brewing Co.
Rhode Island
,
United States
revivalbrewing.com
Style:
Märzen / Oktoberfest
Alcohol by volume (ABV):
7.00%
Availability:
Rotating
Notes / Commercial Description:
King of the Night Creatures, and all things sweet and sticky, this bitter sweet Imperial-style fest-bier is a beer fit for creatures of the night. Brewed with ambition and honed to break style guidelines, this beer demands respect of it's court and rules the taste-buds of it's subject's with and balanced hand.
Added by TheManiacalOne on 11-20-2011
Reviews: 8 | Ratings: 31

4
/5
rDev
+0.8%
look: 4 | smell: 4 | taste: 4 | feel: 4 | overall: 4
Appearance: Medium amber gold with a thin whitish head that fades to a nice spotty lacing.
Smell: Bready malts and nice hop aroma with a bit of spice. Nice piney hops and a some citrus as well.
Taste: Hoppier than expected with a traditional marzen flair. Nice earthy components and bready character.
Mouthfeel: Medium bodied and crisp, would be perfect on an Autumn day. Drinks well with perfect carbonation.
Overall: A fantastic oktoberfest despite the fact I'm drinking it a bit out of season. Worth a try if you can get it!
531 characters

4.38
/5
rDev
+10.3%
look: 4.5 | smell: 4 | taste: 4.5 | feel: 4.5 | overall: 4.5
Sean Larkin continues to prove he's the Neil Peart of Brewmasters.
This is an Oktoberfest with a bit of an attitude.
A: Beautiful honey color
S: Pleasant caramel and malt
T: Sweet and malty at first, a touch boozy in the middle and finishes with a crisp hoppy bite.
M: Like the girl next door in a dirndl , medium bodied and will go down easy on a fall afternoon.
O: I really dig this beer and it's what every American Oktoberfest should strive to be.
454 characters
3.17
/5
rDev
-20.2%
look: 4.25 | smell: 2.75 | taste: 3.25 | feel: 3 | overall: 3.25
A surprising marzen. It appears a little more on the golden side of a standard marzen, but the head fades a quicker leaving a small amount of lacing.
Aroma is underwhelming, with only hints of hop rather than a heady sweetness of this style.
Taste is more bitter than expected of a marzen. The hop leaves a smooth aftertaste but leavesg a heady and thick feel in the mouth. Being an Imperial Lager, this is where the heft makes itself most noticeable.
Overall it is quite drinkable, though is outside the model of a your usual Octoberfest lager.
548 characters
3.91
/5
rDev
-1.5%
look: 3.75 | smell: 4.5 | taste: 4 | feel: 2 | overall: 4
It was a dark beer full bodied with a bitter taste almost like a IPA. I was expecting something a little smother but it was very good. Different by very good. I recommend a pairing of something salty to go with it. All and all I say if you like IPA's with a little hint of pumpkin spice. Go for it.
298 characters

3.6
/5
rDev
-9.3%
look: 3.5 | smell: 3.5 | taste: 3.5 | feel: 3.5 | overall: 4
12oz bottle poured into taster
Pours a clear brilliant golden orange color with little head. Filmy collar with a few traces of lacing.
Toasted grain, sweet caramel and bread crust in the nose. Malty and lightly sweet with a hint of warmth.
Leafy hops, hint of pear and citrus. Caramel, bready sweetness on a sturdy backbone. Toasted grains, bread crust and a snap of warmth on the finish.
Fuller medium body, well carbonated, crisp and clean on the tongue. Solid, drinkable, refreshing marzen with a slightly boozy kick - I'd be interested in trying more from these guys.
578 characters

3.97
/5
rDev 0%
look: 3.5 | smell: 4 | taste: 4 | feel: 4 | overall: 4
Reviewed blind as part of Blind BIF 7, courtesy of ShogoKawada. Poured into a pint glass.
A - Slightly hazy, orangey-straw-yellow, with around a finger of head that quickly subsides into a thin film, but never disappears. A touch of lacing.
S - Smells like grainy malt and some clean bittering hops. It's a pretty simple, subtle aroma -- I'm thinking an all-malt pale lager? It's not particularly exciting, but it's definitely pleasant.
T - Similar to the smell; a very simple, slightly dry malt backbone with a bit of clean bitterness as the only hop contribution. There's definitely more flavor than I'd expect in an adjunct lager (still thinking all-malt lager, maybe a non-authentic pilsner, who knows), but it's still pretty subtle.
M - Thin-to-medium mouthfeel, with a bit of a carbonation bite.
Overall, I enjoyed this. I'm guessing it's an American pilsner.
Non-blind thoughts:
This definitely did not seem like an oktoberfest, but it was still a pretty tasty beer.
980 characters

4.13
/5
rDev
+4%
look: 4 | smell: 3.5 | taste: 4.5 | feel: 4.5 | overall: 4
A: golden orange in color with about 2 fingers of a white head that fell off fairly quickly with a little bit of lacing
S: very malty with a hint of caramel and some lager yeast notes
T: very malt forward with a bit of bread finishes with bit of hop bitterness rounding out very nice no alcohol
M: medium very true to the style fairlY effervescent with a really nice finish
O: great example of an Oktoberfest or marzen style with a bit of kick from some hop bitterness great balance of malt and hops
507 characters
4.03
/5
rDev
+1.5%
look: 4 | smell: 3.5 | taste: 4 | feel: 4.5 | overall: 4.5
On-tap 11/19/2011 at Julian's in Providence, RI, served in a US tumbler pint glass.
A: The beer is a dark golden brown color, with a large off-white head that fades slowly and leaves a thick lace on the glass.
S: The aroma is faint but contains caramelized malts, lager yeast, spices, some hops and a touch of fruit.
T: The taste starts out very bready with a hearty malt character and lager yeast. Then some mildly sweet flavors of fruit, caramel and spices come in. The hops presence is decent for the style and creates a good balance. The after-taste is slightly bready and slightly sweet.
M: Crisp and very smooth, medium body, medium carbonation, finish is clean.
O: Very tasty, goes down quite easily, not too filling, good kick, good representation of style, this is nice solid flavorful beer to drink for a long time.
842 characters
Revival Imperial Octoberfest from Revival Brewing Co.
3.97
out of
5
based on
31
ratings.