Skinny Dippin' Stout
| Sawdust City Brewing Co.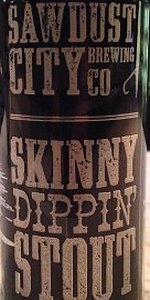 BEER INFO
Brewed by:
Sawdust City Brewing Co.
Ontario
,
Canada
|
website
Style:
Oatmeal Stout
Alcohol by volume (ABV):
5.50%
Availability:
Rotating
Notes / Commercial Description:
No notes at this time.
Added by ritzkiss on 03-12-2012
Reviews: 9 | Ratings: 27
4
/5
rDev
+5.3%
look: 4 | smell: 4 | taste: 4 | feel: 4 | overall: 4
Pitch black, dark mocha head, solid retention and spotty lacing. Nose is toasted grains, burnt roast, hints of coffee and cocoa. Nice traditional flavor profile with loads of cocoa, nice coffee undertones, leans more on the sweeter side than bitter. Solid rendition of the style, easy drinking and easily sessioned.
★
316 characters

4
/5
rDev
+5.3%
look: 4 | smell: 4 | taste: 4 | feel: 4 | overall: 4
Black as a starless, moonless midnight with dark strands of foam that drift like overcast, Skinny Dippin' Stout - and its zero visibility - would offer the ideal conditions for that activity (at least for those who, like me, might be a little self-conscious). Kidding aside, this definitely looks like something worth jumping right into. So let's!
Dark malts pulsate in the aroma with notes of bakers chocolate and black coffee. Nice, but nothing out of the ordinary... that is until the chill wears off, then a subtle hazelnut cream component becomes apparent. Sometimes it's a wonder what a couple degrees difference can make.
The palate profiles more of that dark chocolate/coffee combo, and, by extension, the one prominent quality the two of them share: roasty bitterness. While the modest 35 IBU won't overwhelm most *craft* stout drinkers, those accustomed to likes of, say, Guinness, may find this flavour a little intense by comparison. Still, feel free to sub this is as your go-to session stout.
Admittedly, Oatmeal Stouts are a shade denser and richer (and a percent or so stronger) than your run-of-the-mill Dry Stout, but they're no less quaffable. This one has a dry finish that's clean of any astringency and traces of both sweetness and tartness; of the chocolates in the Quality Street box, this is the one with the cherry-flavoured stuffing (my favourite one!).
Skinny Dippin' Stout is nowhere as adventurous as it sounds, but you'll like what you see. A real beauty, I fell in love the first time I had it. Two years later, it's still every bit as good. A stout like this I could have every day of the year. Throw your pants off and dive right in head first!
★
1,692 characters
3.89
/5
rDev
+2.4%
look: 3.75 | smell: 4 | taste: 3.75 | feel: 4 | overall: 4
Pint at Brothers Beer Bistro. From notes.
A - Black, one finger medium brown head. Nice mild carbonation. Good half finger retention and spotty lace.
S - Vanilla, roast, coffee, some cola. Pleasant.
T - Cola, coffee, roast, mild vanilla.
M - Strongish carbonation, medium body, and a nice sweet vanilla sort of finish.
O/D - A good stout. Sweetness is nice and it nails the roast/coffee profile well. Quite drinkable.
★
422 characters
3.49
/5
rDev
-8.2%
look: 3.75 | smell: 3.5 | taste: 3.5 | feel: 3.25 | overall: 3.5
serviceable stout that finishes a little thin. On tap at Volo. Passable, with a touch of anise, cayenne not noticed, which was brought out in other stouts the brewer has made but not here. Roast aroma draws one in. Black coloured body with a small amount of retained head.
★
272 characters
3.72
/5
rDev
-2.1%
look: 3.5 | smell: 4 | taste: 3.5 | feel: 4 | overall: 3.75
From notes taken during a tap takeover at Imbibe (Kitchener) last night:
Pours a thin near-black, with little head. Didn't realize it was an "oatmeal" stout until logging into BA, as the mouthfeel wasn't as creamy as I'd expected for a "standard" stout.
Beautiful aroma that smells surprisingly like pipe tobacco, leafy and welcoming. This follows through in the flavour as well, with the promised cinnamon less discernible in the background but there in the finish. Lots of roasted and toasted chocolate malts, but for me the pipe tobacco was the predominant flavour.
★
571 characters

3.55
/5
rDev
-6.6%
look: 3.5 | smell: 3.5 | taste: 3.5 | feel: 3.5 | overall: 3.75
Appearance: Solid head retention, impressively so. The body was brown to black in color.
Smell: It smelled surprisingly spicey. The coffee and chocolate notes were subdued while there was a certain smell I couldn't quite place at first and I ultimately labled it as "grass-like".
Taste: Very interesting--it reminded me of barbacue chicken whilst tasting like: chocolate, coffee, and caramel--I'll go ahead and call it an umami flavor. There were also notes of green pepper.
Overall: What an interesting beer, there is almost a dangerous/fun quality to it that begs for another sip. As far as the genre of stouts its definitely way out there. If you want something typical I'd rather point you to Nickel Brook's Bolshevik Stout rather than this. But if you're a bit daring or want something intriguing give this a shot.
SawDust City Brewery says they like to make beers reminiscent of cottage country in muskoka, so this skinny dipping stout is dark like the lakewater at night and is supposed to remind you of that experience. I thought it was a silly idea before I tried the beer but it definitely had a dangerous/fun taste to it and the roasted umami notes really reminded me of late night barbaques and late night swims with mixed company ; )
★
1,250 characters
3.33
/5
rDev
-12.4%
look: 4 | smell: 3.5 | taste: 3.5 | feel: 2.5 | overall: 3
On tap @ C'est What. Served in pint glass.
A - Black with a half finger of light brown head with decent retention.
S - Heavily roasted malts, some bitter coffee and a faint hint of sweetness. Fairly bitter overall nose.
T - Heavily roasted malts with a touch of char. Some coffee notes and a fairly prominent bitterness.
M - Somewhat light. Moderate to heavy carbonation. Disappointing mouth feel.
O - A decent stout but the mouth feel ruined it for me. Watery and overcarbonated.
★
488 characters

4
/5
rDev
+5.3%
look: 4 | smell: 4 | taste: 4 | feel: 4 | overall: 4
On tap at C'est What, into a pint glass. Listed at 5.7% on the menu.
Black in colour, deep reds around the edges. Light brown head with modest retention and pretty nice lacing. Nose is roasty and oat-y, dry dark malt notes. A hint of coffee. Taste again has roasted oats, baker's chocolate maybe verging on dark chocolate and a hint of cocoa. Light bitterness in the finish with some coffee grains. Medium body, with a medium low carbonation. A nice drinkable dry stout, well put together and avoids the roasty sourness that I'm adverse to in this and similar styles.
★
569 characters
4.18
/5
rDev
+10%
look: 4.5 | smell: 4 | taste: 4 | feel: 4.5 | overall: 4.5
On tap at The Only, pint of dark brown almost black stout with finger of khaki head. Nose is chocolate, coffee,light caramel, roast. Full of flavor for ABV, smooth with a faintest cherry tang at the end. Plenty of roast, easy drinking - a local winner in my books. Sawdust City has done a number of nice, quaffable offerings and this is one of them. Love to put it up against St. Ambroise.
On to pint two...
★
411 characters
Skinny Dippin' Stout from Sawdust City Brewing Co.
-
out of
100
based on
9
ratings.