Straffe Hendrik Heritage
| Huisbrouwerij De Halve Maan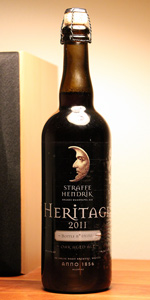 BEER INFO
Brewed by:
Huisbrouwerij De Halve Maan
Belgium
halvemaan.be
Style:
Quadrupel (Quad)
Alcohol by volume (ABV):
11.00%
Availability:
Rotating
Notes / Commercial Description:
Oak Aged version of Straffe Hendrik Quadrupel.
Added by MasterSki on 08-07-2012
Reviews: 31 | Ratings: 169
4.17
/5
rDev
-2.8%
look: 4.25 | smell: 4 | taste: 4.25 | feel: 4 | overall: 4.25
Beer is dark brown with reddish hints. Large-sized beige head. Great retention- seems to just sit there. Good lacing.
Oak is the dominant scent in the nose. Cherry, smells a bit tart. A bit of a red wine scent, quite vinous.
Lots of oak in the taste. Again, quite vinous. Has a real red wine flavour. Some cherry and other dark fruit, red grape and a bit of date. Nice flavour. The oak is pretty strong but quite pleasant.
Full bodied, moderate carbonation. Bready.
Overall, quite good. I don't find it to be the most complex quad in the world, but the oak makes this quite enjoyable. WIthout the oak, I think this would be a nice but unexciting quad.
★
657 characters

4.3
/5
rDev
+0.2%
look: 4 | smell: 4 | taste: 4.5 | feel: 4 | overall: 4.5
Poured into an Ommegang flute glass. Pours a dark, hazy mahogany brown with a massive fine light brown head that continued building for several minutes after pouring and slowly dissipated to a think layer with massive lacing (in a complex, continuous pattern that makes the term "lace" very appropriate). Aroma of dark and light fruit, red wine, oak, leather and tannins. Flavor is complex dark fruit, dark berries, tannin, port wine, wood; earthy. Finishes with a hint of vanilla, oak, and residual dark fruit flavors, slightly vinous. Medium bodied, but very active carbonation gives this a nice mouth feel. A complex dark Belgian that has acquired quite a bit more character from the barrelling. I'm glad I chose this to ring in the new year.
★
745 characters
4.35
/5
rDev
+1.4%
look: 4 | smell: 4 | taste: 4.5 | feel: 4.5 | overall: 4.5
It's amazing what a barrel does to beer. The ever-classy Straffe Hendrik doesn't need a face lift or a makeover, yet a little extra age soaking an oak barrel from the inside out results in a 2.0 version that's even better than the original.
As the best brewed Belgian ales should, the beer billows to the top of the tulip immediately upon first pour. A head of rocky proportions eventually settles and leaves intricate lacing patters on the glass in its wake. Off white froth retains for every second of the session and keeps the savory aromas coming. Dark ruby-ish hues allows little light to show through. This is one sexy looking ale!
With dark fruit a pepper on the nose, the beer's bold and sharp aromas are mildly wine-like with toast, wood, grape and is nearly taffy-like. Vinous notes seem like dry sherry when coupled with scents of blackberry, black currant, and raisin. Sweetness and fruit balance against peppercorn and earthy chicory notes. It's a complex scent that nearly makes the mouth water with anticipation.
Flavors don't disappoint as the tangy sweetness of pulled candy and red wine seep onto the tongue. Its sultry taste invites complementing dry oak, tart berries, cherries, red grape, and raisin to waft over the palate, wave after wave. Surprisingly the impressions of sweetness present themselves, but do so with a dry cotton candy-like taste. Vanilla and black peppercorn battle it out on the light must of wood for a finish of powdered sugar, spicy alcohol, and seared fruit.
Its complicated mouthfeel starts as the carbonation erupts like "Pop Rocks" candies and completely engulfs the mouth with air, pepper, and malt. It causes a rush to finish far before the mouth has fully explored its taste. Its this quick finish that lumps slightly in the throat and leaves a memory of the beer's taste to be appreciated in aftertaste only. Later as the carbonation subsides, the thin sweetness coats the mouth lightly and relies on peppery bite, spicy heat, vinous tartness, and light powdery tannin to wipe clean the malt and start anew.
There are a lot of beers that meet the standard for taste, and some that exceed it. This beer achieves the latter with those intangible savory and succulent tastes and textures that deserve applause. It's a terrific beer that suits the holiday season very, very well.
★
2,333 characters
4.1
/5
rDev
-4.4%
look: 4 | smell: 4 | taste: 4 | feel: 4 | overall: 4.5
Split a 750 ml, poured into a duvel glass.
A: pours a very very dark brown with a finger and a half of tanned head, excellent retention, excellent lacing.... Nice looking beer.
S: some earthy oak, over a bit of sweet malt and darkfruit notes. Also a slightly vinegary vinous note, which comes out more and more as the brew warms.
T: much like the nose, xcept with a lot more vinegar/vinous quality, nice amount of oak, over the quad backbone which adds some sweet dark fruit notes of raisin, prune and brown sugar, very well rounded overall. Very complex.
M: full bodied with high crisp carbonation that stings the palate a touch and keeps this brew moving and drinkable....
O: this is a very nice brew, the oak aging really rounds out the sweetness of the base beer well, and the complex vinegary/vinous notes added a pleasant unexpected quality to the overall brew, nicley drinkable for 11 percent alcohol.
★
915 characters

4.2
/5
rDev
-2.1%
look: 4 | smell: 4 | taste: 4.5 | feel: 4 | overall: 4
Very intriguing beer. The first thing you notice is the big pop when you pull the cork. This beer sure doesn't lack in the carbonation department- it has a very ethereal feel for the gravity. Oak dominates the smell, lending a ton of vanilla, but following right behind it are dark fruits (dates, prunes), spices (peppercorns, anise) and cookies. The taste follows on the nose, but the big carbonation cleanses the palate and the progression of flavors starts anew with each sip. Very drinkable for 11%.
★
503 characters
4.25
/5
rDev
-0.9%
look: 4 | smell: 4 | taste: 4.5 | feel: 3.5 | overall: 4.5
A: Pours a fairly clear dark brown, with lots of sticky porous head. The foam dissipates to a film over most of the surface and a ring around the edge of the glass, which is enough to leave good lacing.
S: Strong resiny sweetness, with a light touch of fruit. The touch of booze is slightly vinous.
T: Full and sweet but not overwhelmingly strong. There's a somewhat bitter balancing note through the middle. It's quite nice overall, and feels more complex rather than just strong.
M: Full bodied, medium prickly carbonation.
Overall, quite good. Too strong to drink too often, but it's nice and I'd have it again.
★
618 characters
Straffe Hendrik Heritage from Huisbrouwerij De Halve Maan
4.29
out of
5
based on
169
ratings.