Dale's Pale Ale
| Oskar Blues Grill & Brew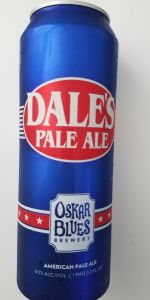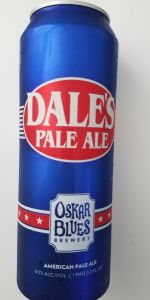 BEER INFO
Brewed by:
Oskar Blues Grill & Brew
Colorado
,
United States
oskarblues.com
Style:
American Pale Ale (APA)
Alcohol by volume (ABV):
6.50%
Availability:
Year-round
Notes / Commercial Description:
None provided.
Reviews: 2,013 | Ratings: 7,620
3.71
/5
rDev
-4.4%
look: 4.5 | smell: 3.5 | taste: 3.5 | feel: 4 | overall: 4
Hmmm a canned beer that is supposed to be good? Definitely worth a try so I can have something to break to places that don't allow bottles if it is indeed good. This poured out of the can a slightly hazy copper color with a tall rising rocky off white head of foam. Pretty good retention and it left big chucks of foamy lace around the glass as it was drank, very appetizing appearance. Aroma is made up of mainly a strong citric hop smell that is backed by slightly doughy malt. Not to complex but a solid nose. The grapefruit hop flavor is what comes through at the front of the taste with piney notes and a bitter finish. A bit of caramel malt peeks through as well when this warmed up a bit, add a touch of depth to the taste that makes for a balanced pale ale. Good medium mouthfeel with sufficient carbonation. I am fairly impressed with this beer, while not the best tasting pale ale it is all around solid and a great canned beer.
939 characters

3.95
/5
rDev
+1.8%
look: 4 | smell: 4 | taste: 4 | feel: 3.5 | overall: 4
Appearance: Amber copper colored. Nicely retentive head.
Aroma: Malty breadyness with hints of caramel and nut. Solid hoppiness in the aroma.
Taste: Sweet up front, balanced very well. Quick finish and a smooth mouthfeel. Way hoppier than the aroma suggests. Bitterness is quick and proceeded by a slightly roasty sweetness.
Notes: Redeems the canned beer name. It would be a great six pack to take somewhere that bottles are banned.
442 characters

4
/5
rDev
+3.1%
look: 4 | smell: 4 | taste: 4 | feel: 4 | overall: 4
Pours a bright clear copper color with a tan well proportioned head. An aroma of American hops (grapefruit, citrus, and pine) plus some un-recognizable weird aroma that quickly fades. A nice sharp pale ale that finishes with a nice bitterness and it has lots of hop flavor. Definitely hop dominated, though there is a bit of biscuity maltiness in here, as well as some sweet malt character. This is definitely a well crafted pale ale that I would be happy to take on a camping trip. As my palate becomes used to this beer I get a solid contribution from crystal malt. It starts in the middle and goes through to the finish.
623 characters
4.22
/5
rDev
+8.8%
look: 3.5 | smell: 4 | taste: 4 | feel: 4.5 | overall: 5
Don't let the can fool you - this is a damn fine pale ale. Poured out a golden orange with a slight haze and a solid bubbly head. Aroma of floral & citous hops, perhaps a slight mango tinge to it. Taste is very clean & refreshing. The hop characteristics that dominate the aroma don't show up like crazy in the taste, rather we have a fairly citrousy, decently malted, very bitter brew. The grapefruity bitterness shows up in the finish, just where you want it. Mouthfeel is clean and smooth with a low carbonation factor. Drinkable? All day long. If you enjoy pale ale's or IPA's, don't pass on this one. A good, solid pale ale and immensly refreshing.
653 characters

3.85
/5
rDev
-0.8%
look: 3.5 | smell: 3.5 | taste: 4 | feel: 4 | overall: 4
Clear bronzy-coppery in hue, it is a lovely color; the white head reached a modest half a finger in height. The retention was decent, it turn to a soapy residue. The subsequent lacing was messy and webby. The nose is stereotypical APA, which is fine by me, the hops are soft but citrusy, some flowers too, the maltiness is soft with caramel notes and there is a pleasant hint of sweetness, ale fruitiness as well. I really like the bouquet on this Pale Ale, simple but very inviting. The palate is very respectable, good, crisp hops bitterness upfront that imparts a grapefruit flavor, it is a little raw and I'm digging that, flowery, the malt adds good balance and a bit of flavor, toasty-bread and caramel. I could also detect a note of brown sugar and leafiness. The finish is appropriately dry. This is a nice little Pale Ale here, ordinary but good. Medium in body with firm enough carbonation, the mouthfeel is a little too rigid but it is acceptable. I found it to be quite drinkable and on par with the countless middle of the road APAs. Maybe I bought this because I wanted to try a micro from a can, maybe it is a gimmick and I fell for it, maybe not. Maybe the future of craft beer is here! Anyway, I wish I could get it locally. Go ahead and buy it for the novelty but you'll enjoy it because there is a tasty beer housed in that aluminum. I purchased a single can for $1.49 in Fort Collins.
1,406 characters

3.87
/5
rDev
-0.3%
look: 4 | smell: 4.5 | taste: 3.5 | feel: 3.5 | overall: 4
The beer poured crystal clear deep golden. The head was white and creamy and fell slowly to lace the glass.
The aroma was fruity and hoppy. Excellent hop aroma with malt and caramel in the background.
The flavor was lacking a little. The bitterness and hop flavor are very restrained. The balance is toward bitter, but the flavor lacks complexity that is present in the aroma.
The finish was dry and slightly bitter lasting into the aftertaste. The body was medium.
12 ounce can. Not my favorite pale ale, but certainly the best one I have ever had from a can!
572 characters
3.8
/5
rDev
-2.1%
look: 4 | smell: 4 | taste: 3.5 | feel: 4 | overall: 4
Pours a pale orange with a small white head. Good lacing on the glass. This is a nice looking beer.
There is a pronounced malt and hop character in the nose. Very nice olfactory balance.
The taste is pretty darn good for a canned beer. The taste is similar to the smeel, just not as balanced as I would like.
The mouthfeel is medium bodied with a dry clean finish. A good drinking beer.
This beer is really good and infinitely drinkable. I would try this one again.
478 characters
3.7
/5
rDev
-4.6%
look: 3 | smell: 3 | taste: 4 | feel: 4 | overall: 4
Got a can as a sample from the distributor who is bringing it into the Virginia Beach market.
Pours a lightish amber colour with a minimal start white head that dissapates quickly. Smell is mainly floral and citrus.
Taste-- I took the first two sips from the can and noticed no metallic notes or off tastes.. Upon pouring into a glass the flavours open up a bit. To me this tasted like a bit less flavourful SNPA. Nice and hoppy with just enough malt to balance. The hops add a nice dry finish to the beer. Drinkability is good as this would be a pretty good session brew especially when outdoors where glass is not allowed. While some may question the practise of canning this beer, I think it's great. Finally a beer you can take out where no glass is allowed and not have to suffer drinking swill. Plus the cans look so different you could probably walk down the beach or street and not get a second look drinking out of it.
934 characters
3.65
/5
rDev
-5.9%
look: 4 | smell: 4 | taste: 3.5 | feel: 3.5 | overall: 3.5
Always being pretty fond of Dale's I decided to review the beer after I had one last night. It does bother me that they do advocate drinking their beer out of a can. I don't get it? What about appearence, head retention and aroma. Does it not matter to them or do they think it doesn't matter to us?
The beer poured a light amber with a nice white head that stayed throughout the session and left a nice lace.
The aroma was full of citrus hops and some nice floral aromas as well.
Flavors were modest. Tastes of sweet malts and very hoppy with flavors of grapefruits possible of other citrus fruits from the hops. Very dry and well hopped. Very bitter and not sweet like some.
686 characters
4.12
/5
rDev
+6.2%
look: 3.5 | smell: 4 | taste: 4.5 | feel: 3.5 | overall: 4
Draught @ Papago
Having had this in the can version many times, my first opportunity for the draught version and I've always said that "Draught Beers" outshine their brothers and sisters in bottles or cans, and this beer is no exception.
The beer pours a translucent amber color with the head large, creamy and an off white color with the lace forming a tight skirt around the glass. Sweet malt nose reinforced by some floral spiciness from the hops, crisp, clean, fresh, "Marvelous". Front is thick malt, sweet and pleasing to the palate with the top moderate in its feel. Finish is lenient in its acidity, the hops powerful in their bite, quite dry aftertaste that is semi-sweet and a real pleasure to quaff.
720 characters
3.92
/5
rDev
+1%
look: 3.5 | smell: 4 | taste: 4 | feel: 3.5 | overall: 4
For a beer from a can, I was pleasantly surprised by this brew. It's always a little weird pouring it out of a can, mentally I think I am going to drink a Budweiser. The beer is nice looking, honey in color, with a little head. The aroma has some definite fruitiness along with the the floral hops and sweet aroma of malts. A thin feeling beer but it the taste of this beer is purdy darn good, the spicy fruit flavors accompanied by a not too strong sweet maltiness, and the good presence of hops leaves a little bite at the end. A very drinkable brew.
552 characters
4.07
/5
rDev
+4.9%
look: 4 | smell: 4.5 | taste: 4 | feel: 3.5 | overall: 4
Well, since I was in a store that actually carries the stuff (in Tucson, not Texas), I had to buy it and taste for myself to see if it was metallic. The beer poured a perfect, clear amber color with a n eggshell colored head that offered a surprising amount of staying power. After 5 minutes, the white wisps still covered more than 75% of the top of my glass. A huge, fruity-hoppy aroma exploded from the glass after the beer glugged ungraciously from the can—I hadn't poured from a can in a long time and it took me a second to reign in the flow rate… I quickly picked up not only PNW grapefruit, but other sweeter, less citric fruits as well, possibly pineapples in sugar? The flavor was much better than expected too: the crisp, hoppiness countered the fruity, malty sweetness wonderfully, leaving a lingering grapefruity/pineapple upside down cake flavor in my mouth long after the beer disappeared. No hint of metal (even though I was prepared to be very suggestible to it) and a nice, smooth, well carbonated body: not prickly and not flaccid. The only possible flaw I can assign this beer is that the mouthfeel may have been a little less full than I expected from 6.5% ABV. Still, this setback was so minor that I'd gladly overlook it for the opportunity to drink this beer more often.
Good Pale Ale—this is one I'd seek out again: the flavor created where pineapple pastry meets grapefruit was unusual and intriguing. I'm glad I bought two cans…
1,467 characters
3.83
/5
rDev
-1.3%
look: 4 | smell: 3.5 | taste: 4 | feel: 3.5 | overall: 4
Pours with a creamy, barely off-white head that settles down over brilliantly clear golden liquid. Nose holds lots of malt and hoppiness (Cascades?) giving off crisp aromas. Taste has a depth of sweet maltiness ahead of a hefty dose of snappy hops that come together nicely. Finishes dry and pleasantly bitter...one of the best canned beers I can remember drinking.
365 characters
Dale's Pale Ale from Oskar Blues Grill & Brew
Beer rating:
3.88
out of
5
with
7,620
ratings