Rub

Carton Brewing Company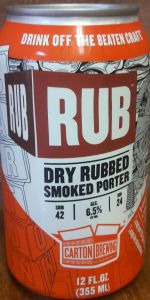 Write a Review
Beer Geek Stats:
| Print Shelf Talker
Style:

ABV:

6.5%

Score:

Avg:

3.88

| pDev:

8.76%

Reviews:

15

Ratings:

From:

Avail:

Rotating

Wants

Gots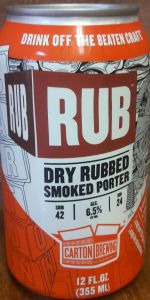 Notes: 2 cups Ethiopian Sidamo medium roast ground "Turkish"
1 cup organic cocoa powder unsweetened no alkaline
1/2 cup diamond kosher salt
1/2 cup organic light brown sugar
1/4 cup ground black pepper
3 Tbs organic ground cinnamon
2 Tbs cayenne
1 Tbs ground cumin
1 Tbs garlic powder
1 cup at flame out and 1/2 cup in secondary for every 20 gallons.

https://www.youtube.com/watch?v=cOOX1Otj2A8&feature=em-subs_digest
Reviews: 15 | Ratings: 48
4.03
/5
rDev
+3.9%
look: 4.5 | smell: 4 | taste: 4 | feel: 4 | overall: 4
A: Dark chestnut and rolling beige head.
S: Green, nutty pistachio. Cereal, brown sugared smoked bacon.
M: Med body, crisp.
T: Grape nuts. Light on smoke. Herbal coffee and toffee. Various types of brown sugar coated jerky. Dark cherry and walnut smokehouse.
262 characters

3.88
/5
rDev 0%
look: 4 | smell: 3.5 | taste: 4 | feel: 4 | overall: 4
12 oz can. Pours brown with tall, long-lasting, fluffy beige head and nice lacing. Aroma is of smoked malt, sour dough, chocolate, brown sugar and dark fruit. Body is medium and crisp. Taste is of smoked malt, herbal hops, coffee, burnt grain, toffee. Finish is long and very bitter. The brew grew on me with every sip.
325 characters
3.88
/5
rDev 0%
look: 4 | smell: 4 | taste: 3.75 | feel: 3.75 | overall: 4
Pours a mostly opaque black color with a short lived fizzy mocha colored head. Smells like beef jerky, cinnamon, spicy pepper. Imagine a smoked brisket , dry rubbed with listed ingredients in header. Now instead of rubbing a piece of meat it is now in the Porter you are drinking. Seems like a novelty brew but works quite well. A nice compliment to a BBQ. Overall my initial thought was what a disaster. But Carton pulled it off nicely. Not many brewers are as creative and inventive such as Carton. It is 6.5% ABV , not 5.4 as listed on header.
546 characters
3.83
/5
rDev
-1.3%
look: 4 | smell: 4 | taste: 3.75 | feel: 3.75 | overall: 3.75
Dark tawny body with khaki head. Aroma of salted meats, coffee, medicinal notes, spice (mostly pepper), syrup. Flavors mirror the nose but lean towards the savory: salted meats (beef jerky), pepper and other spices, dark roast coffee, some dirt, light brown sugar sweetness. Dry, medium-thick body.
298 characters
3.94
/5
rDev
+1.5%
look: 4 | smell: 3.75 | taste: 4 | feel: 4 | overall: 4
This was yet another beer from Carton that I traded for months ago and finally got around to tonight. The ones I've had from them recently have been quite unusual and this certainly fit that bill as it reminded me of something marinated, liquefied, and charred like a Porter. While not my cup of tea, this did grow on me as it warmed up and the flavors became more pronounced!
The pour to this was quite dark with just a hint of light seeping in around the cola brown edges. Plenty of tan, frothy head was to be found as well as it took quite a while to die down. What remained was an odd concoction of aromas and webbed lacing that hinted that this beer had some substance to it. Brown sugary sweetness, cinnamon, underlying chocolate, and faint cayenne pepper gave this subtle but enduring body and could be detected in the aroma, though the chocolate stood out above the others. Spicy, roasted, and slightly alkali, this wasn't terribly roasted as the can indicated. It seemed more like a Rauchbier more than anything else as the Porter aspects were understated from start to finish. Hints of Brown and Scotch Ale-like charcoal stickiness were found here, only adding to my confusion as the aftertaste was that of sausage smoky wood.
Thankfully, the alcohol was light as the nuanced and odd assortment of flavors were allowed to fully shine through and linger for my enjoyment. It doesn't need to be said that there's nothing out there quite like this. Once again, Carton has shown that they're up there when it comes to producing anomalous beers for the discerning imbiber. Count me in in that group as I still don't have this pinned after two cans, but enjoyed it regardless. Recommended for those who love pairing alcoholic beverages with food!
1,753 characters

3.94
/5
rDev
+1.5%
look: 4 | smell: 3.75 | taste: 4 | feel: 4 | overall: 4
Pours almost black with a light brown, foamy head. Smells like a sweet, smoky campfire. Sweet, spicy, and smoky, but it feels like it is lacking a real depth. Still good, though. Some bite from the carbonation, but dissipates quickly.
234 characters

4.15
/5
rDev
+7%
look: 4 | smell: 4 | taste: 4.25 | feel: 4 | overall: 4.25
Smells like campfire tastes like a seasoned Porter is how I would summarize this bizzaro ale. Works for me because I love camping and grilling meats on an open flame and drinking around an open fire. This beer starts off like a rauchbier and a third of the way into the palette transforms into a Porter. The various spice additions mostly get cooked out of this. However you do taste some residual cumin. If you live in a sprawling metropolis and dont get the opportunity to camp that much try and get a hold of this rascal. You won't be dissapointed.
552 characters
2.56
/5
rDev
-34%
look: 3.5 | smell: 2.5 | taste: 2.5 | feel: 2.5 | overall: 2.5
Disgusting and unnecessary. Lots of clashing flavors and spices that have no place in a beer, overlaid on a thin grainy porter. Made a decent marinade for a pork tenderloin though.
180 characters
3.78
/5
rDev
-2.6%
look: 4 | smell: 3.5 | taste: 3.75 | feel: 4 | overall: 4
Wow, this seems like marinaded beef. The cumin and garlic hop out, for a savory element, then the cocoa, coffee, and roasted malt rush in, followed by salt in the finish. It's a fun beer, but personally I'd dial back the cumin. Try one.
236 characters

4.23
/5
rDev
+9%
look: 4.25 | smell: 4.25 | taste: 4.25 | feel: 4 | overall: 4.25
The beer comes in a black color with a light brown head.
The aroma hits of chocolate, cocoa, spice comes through with cayenne, cinnamon, black pepper spice, hints of smoke.
The flavor follows with chocolate, roasted malts, lingering sweetness, with black pepper, cayenne spice, brown sugar sweetness, hints of smoke peeking through. A full on porter, with touches of smoke, and those dry rub spices complementing the porter flavors.
434 characters

4.21
/5
rDev
+8.5%
look: 4 | smell: 4.25 | taste: 4.25 | feel: 4 | overall: 4.25
Happy to be among first to review my home town Carton's new porter, Rub. A spice rubbed porter.
As with all great craft, and all Carton beers, best at cask temp.
Let it warm up, great with food, in my case, garden tomato, pepper, jalapeno, onion, basil, nectarines, with a bit of chicken and mozzarella and olives. Heaven. Great food beer.
A: Sports a one finger tan head with modest retention, dotty lacing and a thin ring. Beer is black and opaque. A looker.
S: Let it warm. Most of the nose is spice first, then coffee and the cocoa powder. I get smoke eventually, and not unlike other smoke porters. I get the spice, that other reviewers did not, but I'm eating peppers!
T: Unlike other reviewers, I get the rub first, and then the cocoa. Coffee is next and paramount mid-taste. I get all of cayenne and cumin, with the smoke, and last the salt, cinnamon and brown sugar. The finish is chalky, dry, spice - pleasant - balances the sweet of porter.
F: Mid body and carbonation. Good feel, no need to amp this, stay right here in 6-7% ABV which is where the greatest beers (other than RIS) live.
O: Food beer. Whether garden salad or burgers or grilled fish. A 4 and I think this has legs. Try 24.
1,210 characters
4.45
/5
rDev
+14.7%
look: 4 | smell: 4.5 | taste: 4.5 | feel: 4.25 | overall: 4.5
This has got to be tied with Gilded Lily for Carton's most unusual beer. First off, looooooooove it. Augie is a foodie, which we know, and this beer is yet another example. I was intrigued from the moment I read the name and ingredient list. I happen to love my father-in-law's dry-rubbed food. Back to the beer, it pours a standard Porter/stout black. The aroma is amazing: it straddles the line between intoxicating and nauseating. I'll tell you why. The first smell is of delicious coffee, but it finishes with garlic. I love the smell of garlic but not of garlic breath. This was a close one. As for taste, I can't even d it justice. There seems to be a blend of tastes, from sweet to slightly bitter, it's like drinking black coffe that has sugar and cinnamon in it. And then just a touch of eat on the back end. I really loved it.
850 characters
4.1
/5
rDev
+5.7%
look: 4 | smell: 4 | taste: 4.25 | feel: 4 | overall: 4
Undated can, but I got it less than a week after release. Bottom says to let it warm up to 46 degrees before you drink it. I'll pour it and wait a good 30 minutes.
L: 2F tan head with OK retention, a little bit of lacing and a thin ring. Beer is black and can says it rates a 42 SRM, which is...black.
S: Let it warm. Most of the nose is coffee and the cocoa powder. I get a tiny bit of the spice mix and some smokiness. So far not remarkably different from other smoked porters.
T: Coffee is almost all you get up front, but individual pieces of the rub do come out as things go on. You get smoke, cayenne and cumin, and some cinnamon and brown sugar. Most of the finish is spice, but it's not very strong.
F: Light to medium body, light to medium carbonation which allows the taste to linger and develop on the palate. A little bit watery, but this would be a monster if they were to up the ABV and viscosity. Maybe sometime down the road? Balance is good, I think.
O: This has been a widely-anticipated release and I think Carton largely delivers on the creative concept. Definitely something different and not an everyday beer, but it's an interesting and not too heavy complement to summer BBQ.
1,204 characters

4.04
/5
rDev
+4.1%
look: 4 | smell: 3.75 | taste: 4.25 | feel: 4 | overall: 4
Poured from fresh can into tulip glass. It pours a dark mahogany - nearly jet black - with a thin, khaki-colored head and minimal lacing. It smells of roasted malt, burnt coffee, dark chocolate, wood smoke, cinnamon, and a whiff of caramel. The primary tastes are burnt coffee grounds, pepper, cinnamon, and tobacco, followed by cherry or other dark fruit, especially as the glass warms. The finish is dry and bitter. This porter has a light mouthfeel and with a modest 5.4% ABV, there is no alcohol burn. I think what sets this smoked porter apart are the strong pepper profile and the subtle, but noticeable, cherry. The more I drink it, the more complex it becomes, which is no surprise given that it is a Carton offering. It's a nice change of pace from the Dubviants I've been drinking lately and another example of Carton's versatility.
846 characters

3.84
/5
rDev
-1%
look: 4 | smell: 3.75 | taste: 4 | feel: 3.5 | overall: 3.75
Was excited to get my hands on this for a while now. The way Augie explains it in the video really made me cream my pants.
Pours a dark chestnut color with the head dissipating quickly (much like my marriage). Little to no lacing.
Smells of slight smoke and fair trade coffee. I'm glad that a villager in India was "fairly" paid for his time in picking coffee beans.. makes me feel snuggly inside.
Tastes like a run-of-the-mill coffee porter.
Mouthfeel is adequate. I didn't spit it out but my tongue wasn't tingled like I was hoping.
Overall, I was a bit disappointed in this offering. I've come to expect more from Carton. I think it would benefit from more spices as I didn't get any at all. I bought 2 four packs so I guess I'll just experiment with some. Maybe drink one warm, maybe use one in an enema....see how that goes. Cheers!
855 characters
Rub from Carton Brewing Company
Beer rating:
86
out of
100
with
48
ratings