EGOIPA
| Carton Brewing Company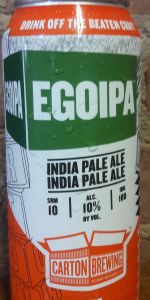 BEER INFO
Brewed by:
Carton Brewing Company
New Jersey
,
United States
cartonbrewing.com
Style:
American Double / Imperial IPA
Alcohol by volume (ABV):
10.00%
Availability:
Limited (brewed once)
Notes / Commercial Description:
Not much to analyze about EGOIPA. Sometimes you just fancy a dank double IPA to sip on, so that's what we made. Multiple hops, multiple malts, multiple yeasts combined in a way to feed the dank side of our enjoyment. Drink EGOIPA because it the dankness you want.
https://www.youtube.com/watch?v=K6Ig3M1DcZc
Added by sloan123 on 09-15-2016
Reviews: 11 | Ratings: 38

3.79
/5
rDev
-11.2%
look: 3.75 | smell: 3.5 | taste: 4 | feel: 3.75 | overall: 3.75
A few years ago Carton - with Boat and 077 - had 2 of the best Pale Ale/IPA's in NJ. Now that has changed with many newer brewery's cranking out amazing brews - Conclave and Magnify come to mind. This is a solid - drinkable IPA but not one I would seek out. Nothing bad about but nothing special either. It does hide the 10% ABV well. I was talking about this with some buddies the other day - with so many great brews out there - especially of this style - you really need to put out something tasty to get noticed at all. I can buy a boat load of equal or better cans at my local shop.
591 characters
4.65
/5
rDev
+8.9%
look: 4.25 | smell: 4.75 | taste: 4.75 | feel: 4.5 | overall: 4.5
A 3 mo. Old can and it's still very dank tasting. Fresh it was like I had fallen asleep under a field of hop vines on a frosty morn; the dew sliding across the lupulin. Funky papaya, sun drenched mangoes provide dank tropic tones. Strawberry, grape peel, jackfruit and srarfruit are brighter flavors. Good spicy and earthy malt presence reminded me of a ginger cookie. My fave IPA from them.
391 characters

3.87
/5
rDev
-9.4%
look: 4 | smell: 3.75 | taste: 3.75 | feel: 4.25 | overall: 4
Poured 16oz can into snifter. Amber orange with a 2 finger dirty white head with sudsy lacing all over the glass. Aroma is heavy with hops and malt. Big citrus flavor that layers in some caramel malt with earthy undertones. Finish is grapefruit rind and pine sap. Feel is medium, stick and well carbonated with a biting bittersweet finish. Tasty IIPA.
351 characters
4.3
/5
rDev
+0.7%
look: 3.75 | smell: 4.25 | taste: 4.5 | feel: 4 | overall: 4.25
Poured into a snifter. Canned about 6 wks ago. A hazy dark amber-orange color with a foamy off-white head. The foam settled quickly into a nice cap. Fruity aromas with pineapple, tangerine, orange, mango, and a hint of earthy hops and sweet malt. Big fruit up front on the first sip as described above, but the mid-palate brought on a big dank resiny flavor, followed by a tangerine/dank finish. Sturdy but reserved malt backbone. Fantastic beer.
446 characters
4.24
/5
rDev
-0.7%
look: 4 | smell: 4.25 | taste: 4.25 | feel: 4.25 | overall: 4.25
It's a mighty big IPA with pine, grapefruit, tangerine, and a little white grape. The malt backbone offers a touch of toast and caramel, but this, for the most part, is a big juicy brew.
186 characters

4.36
/5
rDev
+2.1%
look: 4 | smell: 4.25 | taste: 4.5 | feel: 4.5 | overall: 4.25
Pours amber and hazy. You can smell the sweetness of the malt and earthy hops. Tastes like it smells, huge (but good) amount of sweetness from the malts, dark and dank, with a seriously bitter finish. Only a very slight alcohol taste - carries it well for the ABV. Feels smooth and moderately fizzy, medium body. Intense but very nicely balanced.
346 characters

4.34
/5
rDev
+1.6%
look: 4 | smell: 4.25 | taste: 4.5 | feel: 4.25 | overall: 4.25
Very smooth and hoppy. Pours cloudy amber with thin white head. Aroma is hoppy / bratsish. Feel is very nice, smooth. Taste is again hoppy but not crazy. Overall an excellent IPA
178 characters
4.44
/5
rDev
+4%
look: 4.5 | smell: 4.25 | taste: 4.5 | feel: 4.5 | overall: 4.5
Can dated 9/15/16 and poured into Belgian ale glass. Allowed to warm for nearly an hour per recommendation.
L: Nice 2F head with lots of sticky lacing and a ring and cap. Beer is a really nice hazy gold with orange hues, reminds me a little bit of a tequila sunrise.
S: Very ripe tropical mango and pineapple and a lot of earthy dankness.
T: Waiting for 46 degrees is the right move. Tons of very ripe tropical fruit and some citrus followed by a lot of earthy dankness and a little bit of alcohol heat (they say this is intended). Malts keep a handle on the bitterness while the hops keep the sweetness under control.
F: Medium bodied, light to medium carbonation, very good construction and balance. This is a very strong DIPA and I think Carton manages to walk the line nicely.
O: Carton generally produces very good beers, but this is a clear step up into the major leagues and worth all the critical praise I hope he gets.
We have IDIPA and EGOIPA. Dare we hope for a SUPEREGO Triple IPA?
999 characters

4.48
/5
rDev
+4.9%
look: 4.75 | smell: 4.25 | taste: 4.5 | feel: 4.75 | overall: 4.5
Poured from a can that is a week old into a teku
A: a deep Amber color with a thick foam head. Thick lacing
S: smells like a Black Crowes concert with some honey and citrus thrown in
T: malty, sweet, bitter
Mf: thick and creamy with a bong water finish. Slight sweet lemony flavor lingers.
O: This beer seems like an update of some classic IPAs (think 90 min, Flower Power) the sweetness and high abv are usually no-go's for me. But as usual, Carton puts it all together and creates something special.
508 characters

4.37
/5
rDev
+2.3%
look: 4.25 | smell: 4 | taste: 4.5 | feel: 4.5 | overall: 4.5
One day old. Canned 9/15/2016. Poured into IPA glass. It pours a hazy orange color with peach and brown hues, and one-finger of sticky milk-white head and lacing. It sort of resembles a barleywine. It is less aromatic than I anticipated but it has a pleasant, subdued smell of mango, lemon, grapefruit, yeast, and floral hops. The taste is super dank with sweet tropical fruit and a sweet malt presence throughout. While it also features a hoppy bitterness, particularly in the aftertaste, it doesn't drink like a 100 IBU beer to me. It is no hop bomb. This ale has a thick, creamy mouth feel with significant carbonation, and the 10% ABV is noticeable. It's a DIPA that reminds me of a Barleywine. Good comparisons would be Founders Devil Dancer and DFH 90 Minute. Overall, I enjoyed it and am glad I tasted it fresh.
826 characters

4.3
/5
rDev
+0.7%
look: 4 | smell: 4 | taste: 4.5 | feel: 4.5 | overall: 4.25
At the brewer. Thrilled to be first to review this DIPA grosso.
Fresh off the line, this is just what it says Ego IPA - multiple hops, yeasts, malts, and plenty of ABV, charge, and scat
A: Fine thicker replicate of 0-dub.
S: Medicine, honey, and dank hops.
T: All the above, with a lovely see-saw of stick, sweet, salt, pepper, malt, candy, butterscotch, and bright grassy, ballsy hops.
F: Suitably thick, oily, masculine.
Go for it. This is Ego IPA. A ballsy IPA.
469 characters
EGOIPA from Carton Brewing Company
4.27
out of
5
based on
38
ratings.