To Wong Brew, Thanks For Everything! Julie Brewmar
| Carton Brewing Company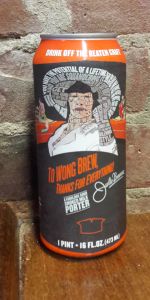 BEER INFO
Brewed by:
Carton Brewing Company
New Jersey
,
United States
cartonbrewing.com
Style:
American Wild Ale
Alcohol by volume (ABV):
6.50%
Availability:
Limited (brewed once)
Notes / Commercial Description:
A Fabulous Sour Smoked Milk Porter
https://www.youtube.com/watch?v=ocZT4oqis-8
Added by sloan123 on 09-30-2016
Reviews: 8 | Ratings: 35
4.08
/5
rDev
+3.8%
look: 3.25 | smell: 4 | taste: 4.25 | feel: 3.75 | overall: 4.25
**
01/20/2017
In a 4-beer carton sampler at Blend.
LOOK: dark black. Small head ; off white. not lasting at all.
AROMA: smoked cheese. smoked meats. Roasted grains, barley, rye, wheat.
TASTE: savory meaty flavors...best of the group surprisingly. I actually did not even order this, but it replaced another stout.
FEEL: medium thick body; sticky, chewy.
OVERALL: really nice beer. surprised at this with it being a kitschy name.
**
451 characters
3.15
/5
rDev
-19.8%
look: 4 | smell: 2.75 | taste: 3 | feel: 4 | overall: 3.25
Pounder can into a snifter appears brown in color with a khaki cap that fades leaving spotty lace.
Aroma is mineral/carbonic laden not leaving room for much else. As it breathes, some roast and tang emerges.
Taste is tart almost vinous with a little roast/meaty feel on the backend that then gets dusty into the aftertaste. Like the nose suggested, there is quite a mineral contribution to this brews character that im not crazy about.
Light in body, modest carbonation. I have no idea what they were going for here or if this is just an infected brew they tried to salvage/save face with but its not bad. Having said that, I dont need to have it ever again either.
668 characters

3.91
/5
rDev
-0.5%
look: 3.75 | smell: 4 | taste: 3.75 | feel: 4.25 | overall: 4
The challenge of a sour smokey porter like this is that it's 1 and done. I cannot smoke 2 Robustos back to back either.
A) Less lace, more slippery than sticky, brown body, with a large loose head, that laces only a little.
S) The nose is better than the taste. ... sour yeast, charred toast, lactose, roast malts, and lots of smokiness.
T: Taste follows the nose with more emphasis on the wild and sour ale. Roasted with a smoky long finish. Sourness increases as it warms.
F: Medium, apiriny, chalky textured beer, a great tongue rub. Feel is best part.
But my palate becomes exhausted by the sour. Could be a great cheese beer.
637 characters
4.34
/5
rDev
+10.4%
look: 4 | smell: 4.25 | taste: 4.5 | feel: 4.25 | overall: 4.25
Poured from a 16 oz. can into a Snorkel glass. Dating on the bottom of the can is smudged, but I know this is fresh!
Appearance: Deep dark brown to almost black body, light tan khaki head. No lacing.
Smell: Roasted malts, some coffee, baker's chocolate, a slightness funky sourness and smoke.
Taste: Interesting and intriguing! Light roasted coffee and malts up front with smoke and that sourness following closely behind.
Mouthfeel: Medium feel to this one, with that tangy sourness and smokiness lingering.
Overall: A sour smoked porter! Never heard of such a thing until this one. But this is really well done. You get the smoke and sour and roastiness all together in one glass.
Thanks to Sammyjaxxxx for this one!
736 characters
4.2
/5
rDev
+6.9%
look: 4 | smell: 4 | taste: 4.25 | feel: 4.5 | overall: 4.25
Nearly pitch black, small tan head and dotty lacing. Looks lively in the glass. Coffee, peet and sour funk in the aroma. Notes of coffee touched with sour milk, tart cherry, smoke fresh of wood and lightly burnt grain. Feel is medium body, well carbonated, super dry tart linger. What to make of this? Oddly delicious.
324 characters
3.99
/5
rDev
+1.5%
look: 4.25 | smell: 4 | taste: 4 | feel: 3.75 | overall: 4
I love Carton. They are brilliant. I think the name is really clever (the beer is brewed for a Patrick Swayze memorial event). The words "sour" and "milk" together scream AVOID at me. I will give it a try. I really love Carton.
16 oz. can dated 9/15/16 poured into Guinness porter glass. Can says to start drinking at 38 degrees so that means pretty much right away.
L: Pours very dark brown but not quite black with a big 3F+ off-white head, which hangs around for a while before leaving sheets of lacing and a cap and ring.
S: Well, it's all there in the nose. The sour yeast, lactose, roasted grains and malts, and a bit of smokiness. It does come off nose-wise as more of a sour brown ale than anything else.
T: Taste pretty much works as nose suggests. It comes off as a creamy brown somewhat sour ale. Roasted grains and malts up front, with a smoky character. Sourness and bitterness come in, but not overdone, and mitigated by the creamy quality of the beer. Sourness does increase as beer warms, so I think that's the reason for the can note.
F: Medium bodied, light to medium carbonation, construction and creativity pretty much off the charts, balance falls into "well, there's only so much you can do..." category considering the ingredients. You have have to drink it fairly quickly before it falls out of balance on the sour end.
O: Honestly, it's pretty good, and the creativity is amazing. Not an every day sort of beer, but glad I tried it.
1,464 characters

4.1
/5
rDev
+4.3%
look: 4 | smell: 4 | taste: 4.25 | feel: 4 | overall: 4
Canned 9/15/2016. Poured into tulip glass; It pours virtually jet black with one finger of beige head and lacing with good retention. It smells of sour coffee grounds. The first taste is sour grape followed by coffee and a faint taste of chocolate. This ale is medium-bodied, mildly-carbonated, and the 6.5% ABV allows for easy drinking. Overall, this is an interesting beer: a sour porter is, at best, unusual but Carton has managed to pull it off. It is pleasant and interesting to drink. I salute Carton for originality with this one.
543 characters
3.99
/5
rDev
+1.5%
look: 4 | smell: 4.25 | taste: 3.75 | feel: 4.25 | overall: 4
Probably tastes what an authentic porter should taset like although the cofree grind aroma gives me hesitance to this full blown endorsement.
Dark walnut brown, minimal head. Aforementioned coffee grounds dominate aroma with slight lacto kick. Really feels like an old school porter: thin, astringent, and a carbonic bite. Flavor is puckering concord grape peel, buttermilk and spent espresso beans. A good beer, and a la Carton they really hit a home run with a concept.
475 characters
To Wong Brew, Thanks For Everything! Julie Brewmar from Carton Brewing Company
3.93
out of
5
based on
35
ratings.