SUPEREGOIPA

Carton Brewing Company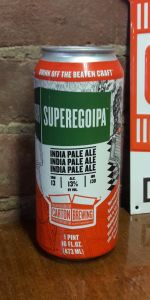 Rate It
Beer Geek Stats
| Print Shelf Talker
Style:

ABV:

13%

Score:

Avg:

4.19

| pDev:

5.49%

Reviews:

12

Ratings:

From:

Avail:

Rotating/Seasonal

Wants

Gots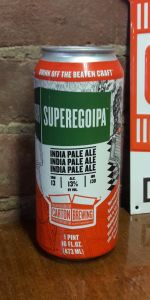 Notes:
Not much to analyze about SUPEREGOIPA. Sometimes you just covet a dank triple IPA to sip on, so that's what we made. Multiple hops, multiple malts and multiple yeasts combined in a way to sate the dank side of our passion. Drink SUPEREGOIPA because it's the dankness you love.
https://www.youtube.com/watch?v=VmkORWE-UUg
justintcoons from Pennsylvania
4.43
/5
rDev
+5.7%
look: 4.25 | smell: 4.25 | taste: 4.5 | feel: 4.5 | overall: 4.5
16 oz can poured into a weizen glass.
Appearance
Slightly hazy blonde. Short white cap. Light carbonation.
Nose
Dank, pine needle, musky mango, papaya, grapefruit, onion, and lemon zest.
Taste
Sun-dried pine needles, resin, dank, and pithy grapefruit. Lemon zest, bright florals, and a touch of onion. Overripe mango and slight blueberry. Slight honey maltiness.
Mouthfeel
Medium-plus bodied, crisp, dry, zesty, smooth, warming, and moderately bitter.
Overall
Color me impressed. Just the type of IPA the beer world has been missing for a while now. Very easy drinking for 13% and gives you a warm fuzzy feeling inside.
Feb 08, 2019

Wiffler27 from North Carolina
4.35
/5
rDev
+3.8%
look: 4.25 | smell: 4.25 | taste: 4.5 | feel: 4.25 | overall: 4.25
pours a solid amber orange with a solid head. nothing crazy but a nice color
smell is just hops, nothing specific. just hops
taste is sweet and full of hop flavor. a strong flavor, clearly a big beer. easy to drink yet huge, must manage to simple sip this
Jan 14, 2018
Claude-Irishman from New Jersey
4.36
/5
rDev
+4.1%
look: 4.5 | smell: 4.75 | taste: 4.25 | feel: 4 | overall: 4.25
About an 11 on the SRM color index. Smells like mango,pineapple,clove, extreme hoppiness. Tastes like fermented peach,mild garlic,lemon zest,massive malts fading in the background Feels smooth and creamy which is amazing considering the ABV. Medium finish, overall this beer is mind boggling.Carton is an amazing brewery in my opinion. This would taste like S*it from almost any other brewer. I thought DFH 120 minute IPA was really not good. This is a perfect balance for an Imperial quad IPA.
Jan 11, 2018
Tony210 from New Jersey
4.26
/5
rDev
+1.7%
look: 4.5 | smell: 3.5 | taste: 4.5 | feel: 4.5 | overall: 4.5
Pours a deep golden : amber, a little on the darker side of golden, slight haze, minimal head. Citrusy aroma, mango, pineapple , lemon. Huge beer! Loads of dank hops (Galaxy?), tongue numbing bitterness, yet still sweet. Lots of mango, papaya, and citrusy lemon rind. Nice malt balance. Carbonation is on point, gives a creamy feel to the beer. Overall a great beer, very tangy, hoppy, and big. ABV is 13% and it tastes like 13% - not a bad thing.
1/7/18
16 oz can from brewery dated 12/29/17
Doesn't get fresher than that!
4.5 rating
Jan 07, 2018

Act25 from New Jersey
4.3
/5
rDev
+2.6%
look: 3.75 | smell: 4.25 | taste: 4.5 | feel: 4 | overall: 4.25
Happy to be 8th reviewer of 2018 edition of SuperEgo.
Let's first talk about definition of dank.
Classic: disagreeably damp, musty, and typically cold.
synonyms: damp, musty, chilly, clammy, moist, wet, unaired, humid
Urban Dictionary: dark, sticky, gooey, and potent. It was originally a common word to describe disgusting basements and caves ect. Then the world of pot took it over and was using it very correctly to describe very potent strains of marijuana, seeing as the definition of dank meets all the qualities you find in good marijuana.
OK so this 13% heavyweight is urban dank.
a) Pours hazed body that supports a white head that quickly fades down due to ABV. a bit of lace and rim, hazed remainder.
s) Abundant fruit flesh and skin, a fruit carving board, syrupy, malty, juicy. Citrus and piney.
t) Fruit flesh again, ripe peach, pear, apple, over ripe apricot, builds to to pine and earthy, chewy dankness with ABV heat.
f) Fruit smoothie, full-bodied with light carbonation, syrupy, then long finish with drying, peppery abv esters finishing.
o) funny that super ego is the rational part of psyche - this is an extreme, unrational, stoned beer. Nothing rational about it.
Jan 06, 2018
JerzDevl2000 from New Jersey
4.25
/5
rDev
+1.4%
look: 4.25 | smell: 4.25 | taste: 4.25 | feel: 4.25 | overall: 4.25
Traded for this a while back, as the date on the bottom of the can was 1/9 with "
[email protected]
" written above it. Love the Freudian reference of the name and the artwork on the can but deep down, this beer was true to form as it was quite deep, dank, and layered. Lots going on here but everything worked well together and this never felt or tasted *too* strong though I could feel the buzz kicking in well before I finished this can off!
Good pour to this as the beer had a deep amber hue to it with plenty of haze, head, and a moderate amount of lacing left on the top of my glass after the first few sips. Tons of dank, piney hops in the nose with even more in the taste. Lots of onion, weed, caramel, and metallic burn in the taste underneath it. This was sticky and thick but easy to get hooked on at the same time. Plenty of hops here but this beer had balance as the body was heavy and the carbonation was moderate. Some peat moss could be found in the aftertaste as the onions and scallions gave way to a more earthy and heavy feel. Loved the depth of this beer as it was smooth from start to finish, but not a smooth sipper in addition!
Plenty of booze here but it never felt out of place as it meshed well with everything else that was going on. This was a vast improvement over the EGO as the potency, dankness, and malts took this to another level. One of Carton's better beers, this is one that should be on the list for any fan of their brews. Fun stuff that felt like a good West Coast IPA without the overly waxy and hoppy nature that characterizes most of them!
Jun 02, 2017

michaelbritten from New Jersey
4.41
/5
rDev
+5.3%
look: 4.25 | smell: 4.5 | taste: 4.5 | feel: 4.25 | overall: 4.25
Canned 1/9/17. A fruit salad Frankenstein'd out of "dank" green onions/scallions; mango, papaya, oregano, berry and perfume. 13% portends a bigger beer, yet this doesn't seem to hit so high; each sip remains easy, and with little hint of the ABV. For me, the strongest branch of the EGO family tree due to its depth. Take time to enjoy all that is offered, sip-by-sip, and you might appreciate Carton's EGO-evolution even more. In any case, a dank "triple IPA" worth its weight on its own.
Apr 20, 2017

Knapp85 from Pennsylvania
4.38
/5
rDev
+4.5%
look: 4.25 | smell: 4.25 | taste: 4.5 | feel: 4.5 | overall: 4.25
Poured out as an orange color with a white head on top. The smell of the beer is pretty dank, I like it like that. Lots of pine resin and such. The taste is also pretty piney, some tropical notes in there too. The feel of the beer is medium to full bodied. Overall it's a pretty solid DIPA.
Feb 04, 2017
IvoryFoxhole from Virginia
4.19
/5
rDev 0%
look: 4.25 | smell: 4 | taste: 4.25 | feel: 4.25 | overall: 4.25
Can dated 12/22/16. Poured into Belgian ale glass.
L: 1F head very quickly knocked down by ABV. Very little lacing left, no cap or ring or anything else. Beer is a clear deep amber with visible carbonation bubbles.
S: Sweet, syrupy, malty. Citrus and piney.
T: Thick and chewy, sweet malts, caramel malts, citrus. Broadens out to pine and earthy dankness with a little bit of ABV heat.
F: Medium to full-bodied, light carbonation, long finish with little drying. Good construction and balance. Pretty good job of controlling the ABV, but still a sipper.
O: Carton is very good at these heavy-hitters and this long-awaited beer is another example. Hope someday to do an ID, EGO, SUPEREGO vertical.
Jan 17, 2017
orcrist_cleaver from New York
4.26
/5
rDev
+1.7%
look: 4 | smell: 4.25 | taste: 4.25 | feel: 4.5 | overall: 4.25
Mother says I shouldn't be drinking this, but I am anyways. After just 3 of these I might even dress up in her clothes, and my name isn't even Norman Bates. Anyways, color is an orange-copper with a steady, rocky pure white head on top. Duration is average, about 3 or 4 min. Aroma as sharp as Mother's shriek, prickly like pine needles. Orange, citrus pith, a spray from her glass puff ball perfume. Rose hips, tropical fruit sweetness reminiscent of pineapple, rotting papaya. There's enough sweetness at times with enough berry esters that I think it's an American Barleywine at times, but no that's not what the can says. Oh, the mouthfeel bespeaks IPA: very drinkable for such a high gravity beer. Moderate carbonation, medium-light body, restrained astringency, and gradual warmth. Overall, well-attenuated. Taste is pretty sweet brahs, definitely on the lines of juicy fruit with a dank spruce tip addition although some lychee fruit sneaks in for an earthier element.
This beer is an intense showcase of New World hops. The malt character is just there; a smidge more and it's one of the premiere barleywines for winter drinking. This beer was crafted with drinkability in mind, and to that ends as far as 3xIPAs are concerned, a tremendous success; but, comparatively to other beers in general it's passable. Personally, my taste falls more in line with EGOIPA because that's just more me.
Jan 16, 2017

MacMalt from New Jersey
4.35
/5
rDev
+3.8%
look: 4.25 | smell: 4.25 | taste: 4.5 | feel: 4.25 | overall: 4.25
Canned on 1/9/2017. 4 days old. Poured into IPA glass. It pours a lovely honey color with one finger of bright white head and lacing. It has lively carbonation and the bubbles ascended the glass throughout the pour. It smells of tropical fruit, onion, pine needles, and floral hops. It's a pleasant aroma but not overpowering. The taste is about as dank as they come with big flavors of sweet fruit on the tip of the tongue, onion, sweet malt, pine, and lots of hops with a bitter, peppery finish. For an IPA, it's super viscous and chewy, with pleasant carbonation, and you can definitely feel the 13% ABV; it packs a wallop. Overall, this is one impressive offering from Carton. It's not for the fainthearted or the session IPA drinker.
Jan 14, 2017
Werdna from New Jersey
4.59
/5
rDev
+9.5%
look: 4.25 | smell: 4.5 | taste: 4.75 | feel: 4 | overall: 4.75
Right up there with Grimm and The Other Half in terms or quality but different vibe. The description is dead on accurate. Way more of a dank taste than fruity or piney. Much like other Carton high ABV offerings, this tastes more like 8% than 13%. Very enjoyable.
Jan 12, 2017
SUPEREGOIPA from Carton Brewing Company
Beer rating:
91
out of
100
with
50
ratings