St Kitts Coffee

Carton Brewing Company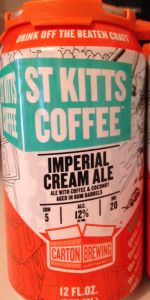 Write a Review
Beer Geek Stats:
| Print Shelf Talker
Style:

ABV:

12%

Score:

Avg:

4.41

| pDev:

4.54%

Reviews:

14

Ratings:

From:

Avail:

Rotating/Seasonal

Wants

Gots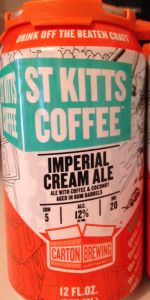 Notes: Imperial Cream Ale with Coffee & Coconut Aged in Rum Barrels

St Kitts Coffee is a continuation of the Regular Coffee game. Our golden imperial coffee cream ale has been finished on Brinley Shipwreck wood and coconut. Much like Regular Coffee looks to evoke an amusing version of the acidic bitter coffee curbed by milk and sugar that starts a day in a paper cup, St Kitts Coffee addresses it in a Caribbean rendition of a mug of sweet, coconut rum touched coffee, lazily sipped in a languid breeze. Drink St Kitts Coffee cause what's the rush man?

IBU: 20
JerzDevl2000 from New Jersey
3.93
/5
rDev
-10.9%
look: 3.75 | smell: 3.75 | taste: 4 | feel: 4 | overall: 4
Like the Irish Coffee, I traded for this a while ago and finally got around to it during a holiday lull! Canned on 1/16/18 with "
[email protected]
" written above it, this also had a strong coffee base with quite a lot going on around that. Hard to detect the wood in this but the coconut sweetness was there throughout as it complemented the roasted base quite nicely!
Amber, hazy, and somewhat thick, this liquid didn't have a lot of head topping it off and left very little lacing behind as I sipped my way through it. Lots of coffee in the nose but the rum spice, wood, and burnt sugar was quite faint compared to what I was hoping for. Thankfully, they came out a bit more in the taste as this felt a bit like Captain Morgan or Myers that was freshly roasted, with a few sugar packets thrown in for good measure. Sweet and sticky, this was quite heavy on the palate with coconut, molasses, and toasted notes rounding out the flavor profile of this beer and like the Irish Coffee, this had the feeling of a cordial rather than something brewed...
...much of that was due to it's high alcoholic content, which was felt from the get-go to the last sip. I wish this was aged in rum barrels as more depth would have taken this up a notch. A bit too strong for my tastes, this was more of a curiosity than anything else but certainly not a drain pour or a letdown. It never felt like an American Cream Ale but was creamy in nature when all was said and done. Worth a go once for the novelty factor!
Dec 23, 2019

Harrison8 from Missouri
4.53
/5
rDev
+2.7%
look: 4.5 | smell: 4.5 | taste: 4.5 | feel: 4.75 | overall: 4.5
Pours a translucent copper with a finger of white foam. Head retention is good. Aroma is dark and bold coffee with a splash of heavy cream liqueur. Notes of toffee, molasses and earthy, toasty, caramely malts take a little edge off of the heat, but not much. Flavor profile is bold coffee with a little fruity quality. Notes of toffee, molasses and toffee add a little sweetness before the boozy cream liqueur hits. Mouth feel is fuzzy and nappy, coming up a little more substantial than velvety. It has a medium thickness. Overall, the 12% ABV becomes a little apparent here, but doesn't distract too much from the pleasant coffee, cream liqueur and cream ale notes.
Served in a 15.5oz Spiegalau tulip from a 12oz can.
Jun 15, 2019
AZBeerDude72 from Arizona
4.39
/5
rDev
-0.5%
look: 4.25 | smell: 4.5 | taste: 4.5 | feel: 4 | overall: 4.25
A: Burnt amber color with a white foamy head that fades pretty fast and decent lacing.
N: Coffee, coconut, rum and roasted notes.
T: Follows the nose, really nice coffee flavors with a mix of coconut and rum, some smokey flavors/char.
M: Medium with some bite, solid coffee flavors.
O: Very nice coffee beer, flavors were excellent.
May 15, 2019

FFFjunkie from Illinois
4.71
/5
rDev
+6.8%
look: 4.5 | smell: 4.75 | taste: 4.75 | feel: 4.5 | overall: 4.75
Look is a slightly hazy copper color and poured with 1.5 fingers of off white head.
Sweet coconut dominates the nose followed by coffee, cream and rum.
Taste is coconut, rum, sweet cream and coffee. Coconut dominates closer to fridge temp but as it warms a bit, the rum shines.
Feel is creamy, smooth and full. Quite nice.
Overall a fantastic beer and is probably my favorite of all I've had from the series so far.
Apr 14, 2019

MacMalt from New Jersey
4.43
/5
rDev
+0.5%
look: 4.25 | smell: 4.25 | taste: 4.5 | feel: 4.5 | overall: 4.5
Canned on 2/14/2019. Poured into a Carton pint glass. It pours a cloudy, orange-amber color. The thin, milk-white head faded quickly. Its nose features freshly-brewed coffee, rum, coconut, toffee, and cream. While I wasn't overly excited by the appearance, the taste is fantastic! The coconut is huge and the rum, while not overpowering, is very evident. There is also abundant coffee and cream. The flavors blend very well. There is no bitterness. It has a thick, syrupy mouth feel with low carbonation, and a warming 12% ABV. Overall, this is one of the more imaginative variants of Carton's Regular Coffee. While it lacks the Jersey diner attitude of the original, it's evocative of a hot morning on a beach vacation.
Mar 17, 2019
Tony210 from New Jersey
4.24
/5
rDev
-3.9%
look: 4 | smell: 4.25 | taste: 4.25 | feel: 4.25 | overall: 4.25
Pours medium to dark golden, minimal head. I smell coffee, & cream, despite it being their coconut and rum beer. Sweet at first, it tastes like the base beer only, but then some coconut pops in, and the rum barrel flavor appears and lingers in the finish. A quick swoosh around in my mouth evokes baileys Irish cream. Carbonation makes it creamy. Overall a pretty cool.beer, worth buying the mixed 4-pack.
2/26/19
16 oz can dated 2/13:19
4.25 rating
Feb 26, 2019

Act25 from New Jersey
4.49
/5
rDev
+1.8%
look: 4.25 | smell: 4.5 | taste: 4.5 | feel: 4.5 | overall: 4.5
Thrilled to buy (and review as among the first) this at brewers tonight. It looks as good as it tastes.
a) Dark, grand marnier body that throws up a good lace and a ring of last.
s) Crazy strong brandy, http://www.grand-marnier.com/ nose and taste. So happy the coconut not overone (as it is over at (Death by... Oskars)
t) Amazing that beer is so brandy-like with essence and distillation of orange-brandy with hint of coconut.
f) Smooth sipper, long in the draw. totally worth the price. Sip, meditate, simmer. Totally let it resolve to cask temp!
o) Hard to discern between French and St Kitts the best of the coffee series? St Kitts by a husk of a tiny margin,
Feb 23, 2019

Blackop555 from Michigan
4.39
/5
rDev
-0.5%
look: 4.25 | smell: 4.5 | taste: 4.5 | feel: 4 | overall: 4.25
Pours orange. Foamy, medium Whitehead Fades slowly.
Smells toasted coconut, caramel, vanilla, coffee and light rum.
Taste sweet coffee and roasted malt. Followed by toasted coconut and light rum. Finish is sweet with a coconut and rum linger. Medium body and smooth medium carbonation.
Sep 02, 2018

Hopheadjeffery from Illinois
4.31
/5
rDev
-2.3%
look: 4.75 | smell: 4.25 | taste: 4.25 | feel: 4.5 | overall: 4.25
Tasted in a Rastal Teku from a 12 fl oz can on May 9, 2018. Golden imperial coffee cream ale has been finished on Brinley Shipwreck wood and coconut. Interesting.
May 30, 2018
q33jeff from New Jersey
4.42
/5
rDev
+0.2%
look: 3.5 | smell: 4.5 | taste: 4.5 | feel: 4.25 | overall: 4.5
**
02/22/18
Carton Coffee Cream Ale tasting.
Impressed overall at all 5 of these beers; didn't eralize they were 12%. The ABV is well masked.
#1 St. Kitts Coffee
Awesome Cocnut Flavor. Rum is sweet and smooth. Awesome beer. Heavy and light at the same time.
#2 Regukar Coffee
The standard. Coffee and lactose are a natural match in this. Very SMooth. This one also feels fuller than the others.
#3 Irish Coffee
Surprise here. Minty and spicy. The mint actually works pretty well in this unlike many other mint beer disasters I've had. Nutmeg is also apparent and gives a kick to the coffe flavors.
#4 Kaffee und Kuchen
Cherry is a downer, but the almond keeps it at bay.
#5 Cafe Y Churro
Disappointed in this since it was rated so high. Felt like it needs mroe of the vanilla and cinnamon.
Overall these were a great experience. Would love to get some of the St. Kitts in the summer.
**
Feb 24, 2018

DVMin98 from North Carolina
4.57
/5
rDev
+3.6%
look: 4 | smell: 4.5 | taste: 4.75 | feel: 4.5 | overall: 4.5
Poured from can to snifter. Color is a deep golden with mild head. Smell is straight coffee with a bit of sweetness. Now the fun starts. Flavor is coffee up front, great coconut/coffee in the middle, then the sweetness from the rum hits you in the back. Nice cream ale. Probably the best I've ever had. Great job Carton!
Feb 10, 2018
GreesyFizeek from New York
4.77
/5
rDev
+8.2%
look: 4.5 | smell: 5 | taste: 4.75 | feel: 4.5 | overall: 4.75
On tap at EBF in Boston, MA.
This one pours a light orangeish/yellow, with a small head, and not much lacing.
This smells like sweet toasted coconut, caramel, creamy coffee, lactose, coconut rum, and toffee.
This is honestly one of the best beers I've had in a long time. The base Regular Coffee is exceptional, and the tweaks to create this variants elevate it even further. The coconut melds incredibly well with the coffee- it feels like both coconut frosting and toasted coconut flakes are here, with vanilla, lactose, caramel, and lots of roasty coffee. The rum barrel is light, but certainly present. I was worried the barrel-aging would increase the booziness. One of the world's biggest mysteries in the world is how they make the 12% ABV in Regular Coffee completely invisible. Even with barrel-aging, this variant is still not boozy. What kind of sorcery is this?
This is one is medium bodied, creamy and delicious, with a normal level of carbonation for a 12% cream ale.
This is such a fun and decadent beer. There's basically nothing like it.
Feb 06, 2018

Knapp85 from Pennsylvania
4.38
/5
rDev
-0.7%
look: 4.25 | smell: 4.25 | taste: 4.5 | feel: 4 | overall: 4.5
Poured out as a nice golden color with a thin white head on top. The smell of the beer has a very nice sweet coffee aroma to it. The taste reflects the nose. Sweet, coffee and subtle coconut in there as well. Overall the beer is quite good, if you like the series you'll definitely enjoy this one.
Feb 03, 2018
IvoryFoxhole from Virginia
4.28
/5
rDev
-2.9%
look: 4.25 | smell: 4.25 | taste: 4.25 | feel: 4.5 | overall: 4.25
Canned 1/16/18. Poured into tasting glass. Per instruction on bottom of can, let warm to 46 degrees (figured about an hour would do it).
L: 1F head with poor retention, practically no lacing, leaving not a trace. Beer is a clear light copper. Looks good.
S: Coconut and notes of rum barrel, for sure. Lactose, some sweetness and sweet malts. As always, the coffee is behind and weaker than I would like.
T: Pretty much follows nose. Coconut, rum, lactose, sugar, and then the coffee kind of comes along. ABV a bit more noticeable here and I think maybe the rum barrel triggers the senses there.
F: Medium bodied, lightly carbonated. Finish draws out as ABV acts lower than it is and certainly drinks quicker than would be indicated. Good construction and balance.
O: Again, very creative and I think this is the best of this year's new offerings (bring back Cafe Caretto sometime, I loved it!)
Jan 26, 2018
St Kitts Coffee from Carton Brewing Company
Beer rating:
94
out of
100
with
43
ratings