Famous Smoke Shop & Leaf Cigar Bar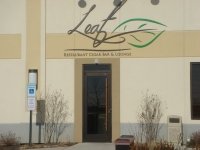 PLACE INFO
Type:
Bar, Eatery
90 Mort Dr
Easton
,
Pennsylvania
, 18040-9202
United States
(610) 559-1336 |
map
leafcigarbar.com
Notes:
Casks available via gravity dispensed firkin on select occasion.
Added by LeafyGreen on 09-17-2011
Reviews: 7 | Ratings: 9

4.22
/5
rDev
-0.9%
vibe: 4.5 | quality: 4.5 | service: 4 | selection: 4
Stopped in here with the girlfriend, her friend and one of my college buddies that lives in Easton. This place is located in an industrial park in the middle of nowhere, which is welcomed though because I'd rather not deal with parking downtown.
The atmosphere in here for me was great. Dimly lit place with a mid size bar, several tables set up for eating, and even a grand piano in the back. They allow you to smoke in here, and a Famous Smoke shop is right next door with an unbelievable selection of cigars, so I loved it from the get go. The service was good too as after we ordered our first beers, the bartender actually came out to our table and asked us for our next round. The selection is good, they have 10 rotating taps, with about 80 different bottles in a cooler underneath. HOWEVER, there must be some cooler in the back because they had a Idiots Drool advertised on the bar shelf. I had recently gone to the release, stood and line and came out empty handed. Here if I just went to the Leaf I could get a bottle hassle free, marked up slightly from the release but I got one needless to say. I didn't try the food but there is a chef that works there so I'd imagine its probably legit. Everything was reasonably priced as well.
Bottom line, they have world class cigars in the store attached to the bar, with great beers, and encourage them to be enjoyed in the same place and its not in downtown Easton. A little out of the way for me but a great place to go. Will definitely make trips back. Highly recommended!
★
1,534 characters
4.13
/5
rDev
-3.1%
vibe: 4.5 | quality: 4.5 | service: 4 | selection: 3.5 | food: 4.5
Smoking at the bar? YES! Visited this place after a beer trade and I am glad that I got the chance to sip on some quality beer (and admittedly some martinis) while smoking a fine cigar. This experience is often limited to strip clubs as of late (not that there is anything wrong with that) and it was nice to get a nice, classy experience.
The atmosphere was great, with everyone being very laid back. Nice, open bar area. Service was a tad spotty, but overall good. The bartender kept mentioning how she wasn't feeling well...we all have those days, so I think if I came back the service would likely be better. Selection of beer was decent...not exceptional, but decent. They had a couple beers mismarked in terms of style, but they weren't far off. Most importantly, we got a bottle of Rapture here from Weyerbacher which was AWESOME because it is hard to come by a bottle and you cannot buy singles from the brewery.
Food was pretty good. I wasn't blown away, and given the price, I felt I should have been. This is a nice place to visit on occasion, but I wouldn't have it be my regular watering hole. Just as a heads up, there is a CBS event coming up here in December. Might be worth a visit around that time!
★
1,219 characters
4.03
/5
rDev
-5.4%
vibe: 4.5 | quality: 4.5 | service: 3.5 | selection: 4 | food: 3.5
We visited this place after a trip to the Weyerbacher brewery. Off an industrial side road, this restaurant stands alone but is definitely not unknown, as even in the early afternoon, there was quite a crowd there. Connected to the restaurant is what is probably the largest humidor / selection of cigars I've seen in one location.
Most importantly...YES YOU CAN SMOKE AT THE BAR.
I've never smoked cigarettes, but I love a good cigar once in a while, and I miss the glory days when you could go to a bar and light up right there. Thank God for a new bar that caters to the appreciation of good beer AND good smoke.
The bar at Leaf is medium-sized, and seats maybe 15-20 people, and there is ample table space for a pretty big crowd. Additionally, there is an outside dining area, and a small sofa lounge that seats less than 10 people, but can be a good place to relax in front of the tube with a drink and a smoke.
Service was a bit chaotic. Our bartender was nice, and she knew the general info about the beers on tap, but she was very unorganized. Not entirely her fault though, as she didn't have much help, but that's still something this place could improve on. There were about 10 beers on tap, including the likes of Weyerbacher, Lost Abbey, and Left Coast. Lots of bottles to chose from, with good explanations in the beer bible. Specialty cocktails available for the non-beer-drinker. I scored a bottle of Weyerbacher Rapture, which I couldn't even get at the Weyerbacher brewery, thanks to retarded antiquated PA beer laws.
Food was decent, with a so-so selection. I panicked and ordered a burger, which was not the best, but still okay. I was kind of jealous of the wife's mozzarella wrap, which looked mighty tasty. Prices were decent overall.
Of course I had to smoke a cigar at the bar, so in lieu of my own cigar, I got a Perdomo 10th Anniversary Champagne torpedo, which went great with my post-dinner drink.
Because of distance, I doubt I'll make it back to Leaf anytime soon, but I really wish I could. Need more places like this.
★
2,058 characters
4.45
/5
rDev
+4.5%
vibe: 4 | quality: 4.5 | service: 4.5 | selection: 4.5 | food: 4.5
Being a beer guy, I wanted to go to some place that had a good beer selection. I heard of Leaf through a friend so I thought I'd go check it out with a beer friend. I was skeptical on my way there, cigar bar, restaurant .... bit was pleasantly surprise. The staff was so nice and friendly, the food was very flavorful, came out hot and was extremely satisfying. I understand they use locally sourced ingredients and make everything from scratch. Who makes ice cream from scratch these days :)
The beer selection is second to none. They have something like 70 - 80 bottled beers and I think 9 taps which pour seasonal and craft beers. Very impressive for what seems to be an upscale restaurant. The Weyerbacher Imperial pumpkin is supposed to be on tap soon, and it may be already, so I'll be going back for a taste of that. I gave 4.5 of 5 only because everyone can use room to improve. If they had Golden Peasant they would have received a 5 from me in the selection category.
Kennett Square beer fest just around the corner!
★
1,029 characters
4.83
/5
rDev
+13.4%
vibe: 4.5 | quality: 5 | service: 5 | selection: 4.5 | food: 5
Great beer selection...so many to choose from (over 90). I started a checklist of their entire library of beers so I can eventually try them all. In addition to their normal selection, they also offer a quite a few seasonal beers; I just had a pumpkin ale yesterday that was fantastic.
The food is outstanding. You can definitely tell everything is fresh. The soups of the day and daily lunch specials have all been delicious.
Overall, nice atmosphere, great beer selection, delicious food, friendly staff. It's worth the trip.
★
529 characters

4.2
/5
rDev
-1.4%
vibe: 4.5 | quality: 4.5 | service: 4 | selection: 4 | food: 4
I had heard about this place a few months ago from some people who work at another bar I enjoy going too. It sounded like an unique place to check out once it opened so I kept it in mind. I added them on Facebook to keep me up to date on when they were going to open. Last Friday was the grand opening so my one friend and I drove down for a meal, some brews, and a cigar. We got there around 7:30 or 8 and got a table virtually right away. The room is full of cigar smoke but in all honesty, to me it wasn't that bad. I prefer the smell of cigars over cigerettes any day. We ordered some drink and the beer list was pretty extensive. I managed to find an Italian brew that I've never tried before so I bought a bottle of that and was quite pleased with it. The tap selection was nice along with most of the bottles they had as well. The service was pretty good, everything was to our liking when it came to the food we ordered, the waitress was pleasant and willing to help out with questions if we had any. The food menu is actually very nice. I managed to only get the cheesesteak sandwich as my main course, my friend got the beer mussels and she housed them down pretty quickly! The appetizer we orders was the Mango Chipolte dip with homemade chips. Awesome dip!! I was floored with the balance of sweet and hot that this had! Really freaking good stuff. The price was pretty good, I think with everything we had 1 app, 2 meals, several drinks, 1 dessert, and 2 cigars we spent about 70-80 bucks which might seem like a slot but I personally think it was pretty well priced. My only complaint was that I didn't get a glass to pour my first 2 beers into. I didn't bother asking, I just finished my water and poured the beer in that glass. That was my only flaw with the place that night. Everything else seemed spot on. Will go back one day in the future.
★
1,860 characters

5
/5
rDev
+17.4%
vibe: 5 | quality: 5 | service: 5 | selection: 5 | food: 5
This is not exactly a review, but i would like to take a moment to tell you all about Leaf Restaurant Cigar Bar and Lounge...
Leaf Restaurant Cigar Bar and Lounge has finally opened in Easton, PA and we couldn't be more excited! Our beer menu features 80 bottled selections and 10 constantly rotating taps. On Draft right now you will find Weyerbacher Romeo, Founders Breakfast Stout, Pretty Things Jack D'or, Breckenridge 471 IPA, Smuttynose Pumpkin Ale, Riverhorse Tripelhorse, Boulder Hazed and Infused, Lost Abbey Carnevale, Jolly Pumpkin ESBam, and good old Guinness. Other brews coming soon to our tap lines include Port Old(er) Viscosity, Dogfish Head Black and Red, Stouts Oktoberfest, Left Coast Hop Juice, Weyerbacher Harvest Ale, Flying Fish Oktoberfish, and Beer Geek Breakfast!
We use locally sourced ingredients in our cuisine and we are the only place around to offer such an extensive beer selection and high quality food in a smoke-friendly environment. Our prices are reasonable and range from $8 to $30 for an entree with most on the $8 side of the spectrum. Selections include locally sourced burgers and wings, steak sandwiches, and fine entrees like our Lamb Milanese or Polynesian Tuna. The roasted tomato bisque is hot, delicious, and available every day! Check out our website and make your reservation online or give a call to our friendly and knowledgeable service staff. We look forward to seeing you soon at Leaf Restaurant Cigar Bar and Lounge!
-Evan
-Executive Chef
★
1,501 characters
Famous Smoke Shop & Leaf Cigar Bar in Easton, PA
4.26
out of
5
based on
9
ratings.