American Brown
| The Civil Life Brewing Company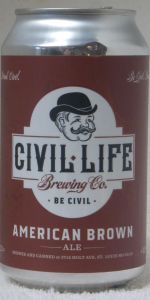 BEER INFO
Brewed by:
The Civil Life Brewing Company
Missouri
,
United States
thecivillife.com
Style:
American Brown Ale
Alcohol by volume (ABV):
4.80%
Availability:
Rotating
Notes / Commercial Description:
One of the coolest styles in the BJCP (Beer Judge Certification Program) as its development came out of American Homebrewing! This is where our Brown comes from as well. We keep this beer riding a line between chocolate bitterness and coffee roast and support it with American Hops as well. Brown Beer is one of our favorite styles and has a lengthy history due to the fact that most malt kilning plants in ages past were using direct heat to roast and kiln. It was a lot harder to keep malt light in color back in the day, but we've got most of it down to a science now.
Added by DCon on 09-17-2011
Reviews: 14 | Ratings: 117
4.45
/5
rDev
+10.7%
look: 4.25 | smell: 4.25 | taste: 4.75 | feel: 4.25 | overall: 4.25
On draft at Roast House. Surprisingly good. Good roast in the aroma, very tasty malt with some roast, very smooth and lip smacking. Rolled through a pint. Excellent brown.
175 characters

4.45
/5
rDev
+10.7%
look: 4.5 | smell: 4.5 | taste: 4.5 | feel: 4 | overall: 4.5
Enjoyed on-tap @ the Civil Life Brewing Company in St. Louis, MO for $5 (@ their 1st "Soft Opening"). Tapped from the line w/o a tap handle on it yet (too soon to have their tap handle branding), into a 16oz German Seidel Glass.
Aroma- Very clean with tons of malt and coffee in the nose. Has also a ton of toastiness and is very robust. Perfect!
Appearance- Received with a 1 finger, off white head that has good retention. Is an extremely dark brown color body that is clear. Leaves TONS of lacing afterwards.
Flavor- Has a high malty sweetness and roasty character from the beginning of the drink that lasts all the way through! Tons of coffee seem to be added into this one. Medium-High bitterness and can't get any better than this taste!
Mouthfeel- Medium Bodied (could use a bit more body), Medium Carbonation, Bitter all the way through, and has a small warming finish that makes the palate think its an 8% abv beer or higher.
Overall Impression- This American Brown is going to be giving all of the rest of the browns a run for their money! Very strong, malty, and filled with tons of coffee. Will be coming back to Civil Life to be getting a growler of this! While this brings back my liking to the American Brown style, I'm certainly going to be promoting this one from here on out!
1,302 characters
4.27
/5
rDev
+6.2%
look: 4.5 | smell: 4.25 | taste: 4.25 | feel: 4.25 | overall: 4.25
Really tasty. Balanced chocolate, roast, & light hoppiness. Looks good in the glass with a nice tan head with good lacing. Smell is roasty and coffee forward.
159 characters
4.26
/5
rDev
+6%
look: 4 | smell: 4.25 | taste: 4.25 | feel: 4.5 | overall: 4.25
seemingly their most popular beer here, and for good reason, its one of the better brown ales ive had in a long time, nearly flawless with the execution and just a great recipe. brewed on the easier drinking side of the brown ale spectrum, a deep mahogany color with over an inch of white lace head on it, pretty in the dimpled mug they serve it in at the brewery. it smells a little sweet, not overly hoppy for something deemed to be american, and with a little more yeast character than i am used to in this particular type of brown ale. great chocolate and ruby type malt presence here, this is rich and flavorful without being overly roasty or bitter from darker malts. very very smooth beer, odd in such a light bodied brown, but this has a mellowness to it like no other, just carbonated enough, rounded edges, great balance of flavor and feel. nutty for a minute, like almond flour or something, its earthy and dry, impressively layered for avoiding the darker grains. overall a really splendid brown ale, sort of between american and english in style, despite the name, and one of the best beers they make at civil life. not to be missed!
1,146 characters

4.18
/5
rDev
+4%
look: 4.5 | smell: 4 | taste: 4 | feel: 4.5 | overall: 4.5
On-tap @ the brewery.
A - Pours a lighter brown color, large frothy tan-colored head, nice collar, thin cap, and some spotty lacing.
S - Brown sugar, slight coffee, some chocolate, toasted malts. Really nice slight roast. Very solid...enjoyable stuff.
T - Similar to the nose. Perfect amount of malts and sweetness. Brown sugar, chocolate, toasted malts, hint of roast. All very well done and put together nicely.
M - Medium, good carbonation, creamy sweet finish.
O - An excellent representation of the style and one of my favorite American Browns of recent memory. I would drink this 24/7 if I was closer to the brewery. Alas, I'll only be able to enjoy it when I'm in town. Great stuff.
695 characters
4.16
/5
rDev
+3.5%
look: 4 | smell: 4.25 | taste: 4.25 | feel: 4 | overall: 4
Received 5 oz pour. Pours a light brown with a little light coming through around the edges. Coffee and bitter chocolate notes on the nose. Packs so much flavor for a beer being under 5%. Good, roasted malt and bitter chocolate flavors with a slightly hoppy finish. Very drinkable.
285 characters
4.14
/5
rDev
+3%
look: 4 | smell: 3.75 | taste: 4.5 | feel: 4 | overall: 4
Medium dark, heavy lace, rather thick, with a smoothe balanced taste. More of a roasted taste than anything else, but more sophisticated drinkers will not other more subtle flavors.
182 characters

4.1
/5
rDev
+2%
look: 4 | smell: 4 | taste: 4 | feel: 4 | overall: 4.5
A - Brown beer with a tan head that faded to a nice ring. Some decent spots left on the sides of the glass.
S - Smells like a brown ale should. Nice brown sugar, little bit of chocolate, some lightly toasted malts. A good, hefty dose of flavor that is for something with this ABV.
T - Good brown sugar malts, chocolate, and some roast. There's great flavor on this lower ABV beer. No complaints here.
M - Medium bodied with good carbonation. Not over carbonated like too many brown Ales.
O - Good Brown Ale. Goes down easy, good flavor, can drink a lot of it. Also goes well with food.
590 characters
3.97
/5
rDev
-1.2%
look: 3.5 | smell: 4 | taste: 4 | feel: 4 | overall: 4
Dark brown to black in color. Can't see through it in the glass. Nutty. Malty. Hints of vanilla and grain. Light bodied. This is a nice brown ale, but it's still a brown ale, albeit a very good iteration.
204 characters
3.9
/5
rDev
-3%
look: 3.75 | smell: 3.75 | taste: 4 | feel: 3.75 | overall: 4
Poured into a pint glass from the tap at iTap-Soulard.
Pours a nice mahoganny with a thin light tan head. Some light comes through and lights up some ruby/amber edges.
Aroma of burnt roasty malt. Some slight nuttyness. There is some aromas of sweet caramel malt present as well. Very appealing and straight forward.
Flavor is pretty straight forward and yummy. Burnt malt balanced by some nice sweetness. Some nice coffee notes mixed in with some nuttyness as well. Crisp and clean. Finishes with some nice coffee bitterness and some slight grassy herbal hop notes. Motuhfeel is light and crisp.
Good traditional ABA. Civil Life is perfecting their craft and they make a great Brown Ale
690 characters
3.85
/5
rDev
-4.2%
look: 3.5 | smell: 3.5 | taste: 4 | feel: 4 | overall: 4
On tap at Broadway Brewery in Columbia, MO.
A - Poured out a clear, brown color with a one-finger, tan head of long-lasting foam. It left thin rings of lace on the glass.
S - It smelled very nutty with some mild floral notes.
T - It tasted very nutty with toffee, caramel and some mild chocolate. Subtle hop bitterness.
M - It was crisp, sharp and smooth. A medium bodied ale with a dry finish.
O - This is another tasty brew from The Civil Life. Looking forward to more beer from these guys.
497 characters
3.79
/5
rDev
-5.7%
look: 3.75 | smell: 3.5 | taste: 4 | feel: 3.75 | overall: 3.75
An interesting and distinctive beer. I would probably have it again if simply because there's nothing else really like it.
The color was a little odd, almost a chocolate soda with all the carbonation. The head had an odd brownish tint to it as well.
It was quite tasty, but thick. It was a sort of hybrid between a brown ale and a milk stout.
342 characters
3.53
/5
rDev
-12.2%
look: 4 | smell: 3.5 | taste: 3.5 | feel: 3.5 | overall: 3.5
Pours a clear, dark brown color. 1/3 inch head of an off-tan color. Good retention and good lacing. Smells of sweet malt, strong pale malt, hint of dry hop, and a hint of toffee. Fits the style of an American Brown Ale. Mouth feel is sharp and crisp, with an average carbonation level. Tastes of hops, strong sweet malt, slight pale malt, toffee, and a hint of dry hop. Overall, good appearance, decent aroma and body, but the blend is too sweet (almost cloying).
463 characters

3.46
/5
rDev
-13.9%
look: 3.75 | smell: 3.25 | taste: 3.5 | feel: 3.5 | overall: 3.5
Dark chocolate brown in color. No light will pierce this brew. Fingernail thin eggshell colored foam on top. Aroma of caramel and coffee is present but faint. The flavor is very much so coffee and and dark malt. The mouthfeel is a bit chalky and thick.
252 characters
American Brown from The Civil Life Brewing Company
4.02
out of
5
based on
117
ratings.