Bo & Luke
| Against The Grain Brewery & Smokehouse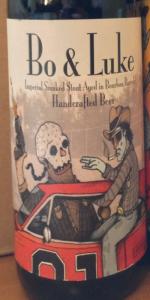 BEER INFO
Brewed by:
Against The Grain Brewery & Smokehouse
Kentucky
,
United States
|
website
Style:
Russian Imperial Stout
Alcohol by volume (ABV):
13.00%
Availability:
Rotating
Notes / Commercial Description:
Originally an Against the Grain Brewery and Brouwerij De Molen collaboration beer. For the first incarnation, De Molen head brewer Menno Oliver hopped in a muscle car and drove straight through from the Netherlands to Louisville, KY (that's USA folks) to brew this bourbon inspired ale, and we liked it so much, we decided to do it again. We took the ingredients in bourbon whiskey (Barley, Rye, Corn) and then smoked them with cherry wood and brewed a huge imperial stout with them. Then to top it off we aged it in Pappy Van Winkle Bourbon Barrels. The resulting beer is rich, smokey and complex, with a bourbon character of caramel, vanilla and spice.
Added by TMoney2591 on 10-08-2012
Reviews: 80 | Ratings: 855
4.25
/5
rDev
-1.4%
look: 4 | smell: 4 | taste: 4.5 | feel: 3.5 | overall: 4.5
Poured into a snifter.
Pours inky black with a small mocha ring around the edges.
The smell is cocoa nibs and whiskey. A touch of oak with some sweet fudge like aromas as well. Maybe some smoke as well but it is very subtle.
Big bourbon characteristics on the palate. Oak, vanilla, and booze with a hint of coffee and dark chocolate. Some fudge and dark fruit such as cherries come through too. A touch of smoke. Pretty excellent.
Medium bodies and sticky. Really kind of thin for a stout of this quality.
Overall, a great beer. Very surprised something of this caliber came out of my home town. Granted, its not Rare or PVW Dark Lord, but its still a very solid bourbon stout.
★
687 characters

4.46
/5
rDev
+3.5%
look: 4.75 | smell: 4.25 | taste: 4.5 | feel: 4.5 | overall: 4.5
Served in a snifter on tap at Local Option in Chicago. For those that don't know, this was aged in Pappy van Winkle barrels.
The beer pours a wonderful deep black color, hues of dark brown are certainly apparent, intensely opaque. A mocha colored head with tight knit bubbles rises to the top of the glass, easily a finger high that has fantastic retention and leaves behind a great web of lace as well as a significant amount of film atop the beer once the head does recede completely. The aroma is wonderful, lots of roasted coffee and charred wood, the smoke is such a great layer that plays well with the dark chocolate malt, but is still a bit abrasive, the bourbon is smooth and rich, no astringency with sweet chocolate and alcohol at the finish. The flavors are even more complex, lots of roasted coffee, charred wood like the nose led on, but the smoke is much less abrasive, plays so well with the chocolate, toasted malt. The bourbon is perfect, smooth, rich, brings out hints of vanilla and toffee sweetness that counterbalances the harsher roast elements. The body is wonderful, big and rich, coats the mouth very well, borderline creamy, a slightly drier finish than I'd like, but it's just about perfect.
Verdict: Wonderful stout that only got more complex and flavorful as it warmed. The PvW treatment is just as good as any high profile beer I've tried be it Rare, BA Dark Lord or King Henry and the smokiness is just as great as a beer like Barfly. This was a real treat to enjoy and I hope to have the chance to enjoy it again.
★
1,548 characters

4.2
/5
rDev
-2.6%
look: 4 | smell: 4.5 | taste: 4.25 | feel: 3.75 | overall: 4
Pours an opaque jet black color with a hint of a toffee head that quickly dissipates, leaving only a ring of foam around the circumference.
Sweet, boozy bourbon hits early in the aroma, accented later by woody, oak notes. Underlying those notes are chocolate, roast malt, and a touch of coffee. Deeper into the profile, hot tar and tobacco add complexity. Dark fruit scents of plums and bruised curries surface as it warms.
Initial flavor impression is almost overwhelming in complexity. Sweet, dark fruit carries throughout the profile, with cherries at the forefront. Bourbon, vanilla, and oak surface on another plane, fading to a roast malt, coffee finish. Intertwined throughout are comparatively subtle flavors of chocolate, malted milk balls, and soy sauce. Tobacco makes an appearance at the slightly bitter finish. Umami notes of soy sauce surface as it warms. There's some phenolic character present. Tar and tobacco join the party late.
Body is on the fairly viscous. Carbonation is minimal. There's a bit of alcohol warmth, but it's not indicative of the strength of the brew. It finishes slick and extremely smooth.
Overall, a very complex offering. I've never had Pappy bourbon, so I'm not sure where various flavors were derived. It's a lot fruitier than anticipated, with a good amount of bourbon character, as well. Lacks the anticipated strong roast/coffee flavors often associated with the style. It's a sipper, but not terribly obvious in the flavor. I think the malt character could've been a little stronger to provide a backbone for the other flavors. The fruitiness was somewhat overpowering. Still, a great beer.
★
1,641 characters

4.42
/5
rDev
+2.6%
look: 4 | smell: 4.5 | taste: 4.5 | feel: 4 | overall: 4.5
A collaboration beer with De Molen aged in PVW barrels. As a BIG fan of ATG, I had heard of this beer and practically peed in my pants when I saw this on the growler station at Party Town in Florence, KY. Poured from a growler into a Unibroue Maudite snifter. The pour is extremely dark with no light getting through and some brown tint along the edges. Very, very little head and almost immediate dissipation (common for barrel-aged beers). Lots of vanilla, oak, and bourbon on the nose.
Very full body and nice firm mouthfeel. The taste doesn't quite follow the nose in that the bourbon smells very hot, but the flavor doesn't show it. It's actualy quite smooth and drinkable for this style. There are nice sweet malty notes up front and bitter roasted flavors at mid-palate. The bourbon isn't nearly as hot on the palate as it is on the nose. For me, the flavors are very well-married as the roasted notes are balanced by malt and vanilla sweetness. Other flavors include oak, maple syrup, figs, and a hint of smokiness. Is this stuff really 14% ABV? I find that difficult to believe. There is naught but a whiff of booze on the finish and a lingering oaky warmth.
Overall, I was really impressed by this beer. The folks at ATG have once again done themselves proud. One of these days, I'm sure they will start bottling their wonderful beers so that us Kentuckians can share them with BAs across the country. This beer is not about combining flavors of coffee, chocolate, and bourbon. It is all about the bourbon. It's kind of like BCBS only much, much smoother. I freaking loved it.
★
1,588 characters

3.85
/5
rDev
-10.7%
look: 4 | smell: 4 | taste: 3.5 | feel: 4.5 | overall: 4
Served in a snifter at Au Cheval.
A PVW barrel-aged smoked imperial stout. Okay! This stuff pours a bleak onyx topped by a half-finger at best of tan foam. The nose comprises bourbon, roasted malts, dark chocolate syrup, oak, vanilla bean, and a kiss of char. The taste focuses mostly on the bourbon barrel, with the roast and molasses coming in a distant second, and a tiny bit of smoke clinging to the edges. This would usually be fine, but the bourbon seems to drown out any other flavors for most of the drinking experience. The body is a light hefty, with a very light moderate carbonation and a thick, chewy feel. Overall, an intense bit of beer, one that, considering how much it focuses on the bourbon aspect, hides its alcohol dangerously well...
★
758 characters
Bo & Luke from Against The Grain Brewery & Smokehouse
95
out of
100
based on
80
ratings.