Two Front Teeth
| Kissmeyer Beer
BA SCORE
81
good
11
Reviews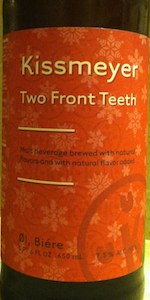 BEER INFO
Brewed by:
Kissmeyer Beer
Denmark
kissmeyer.net
Style:
Fruit / Vegetable Beer
Alcohol by volume (ABV):
7.50%
Availability:
Winter
Notes / Commercial Description:
No notes at this time.
Added by DeanMoriarty on 12-15-2012
Reviews: 11 | Ratings: 18

4
/5
rDev
+18.3%
look: 4 | smell: 4 | taste: 4 | feel: 4 | overall: 4
A - Hazy copper-orange with a finger of frothy off-white head. Fades normal.
S - Sweet caramel malts, dark fruits, brown sugar, bready malts, Belgian yeast, spices, citrus zest.
T - Sweet caramel and dark caramel malts, cherry and other dark fruits, brown sugar, citrus zest, Belgian yeast and some spices, bready malts.
M - Medium bodied, moderate carbonation. Smooth with a fruity, sweet, and lightly spicy finish.
D - Nicely balanced fruity Belgian ale.
460 characters

3.72
/5
rDev
+10.1%
look: 3 | smell: 3.5 | taste: 4 | feel: 4 | overall: 3.5
Picked up a 22oz bomber from Bev Mo in Point Loma for $5.99 and poured it into a Brouwerij 't Ij branded tulip glass.
Bottled on: 10/01/12
A: Pours a hazed copper hue with blonde edges, a solid 2 - 3 finger head, giving way to almost no lacing what so ever.
S: Light vinegar, raisins and molasses, toasted grain and brown sugar, biscuit and faint hint of booze at the very end.
T: Much fruitier than the nose insinuates - black currant, sour cherry, bitter pomegranate - burnt toast, sweet and grainy, finishes slightly sweet with a faint hint of alcohol - nice balance of sweet and sour dark fruits.
M: Straight up medium-bodied - chewy - takes some work to get through, but worth the effort - good carbonation for the style - bitter finish from the sour pomegranate juice.
For the price and ABV, this one's a steal - great holiday and fresh fruit flavors - would definitely recommend and revisit.
904 characters

3.69
/5
rDev
+9.2%
look: 4 | smell: 3.75 | taste: 3.5 | feel: 4 | overall: 3.75
Poured into a becker a hazed and murky tea-tinged coper color,difficult really to make out the color of this beer,a nice looking creamy one finger light beige head that leaves broken rings of lace all the way down.Pomegranite juice with its tartness dominate the aromas with mild brown sugar underneath,a little phenolic wheat spice lingers.Starts out with pomegranite juice on the palate and it dominates the flavor profile,underlying brown sugar and caramel sweetness, some fruit-cake like notes as well.This isn't bad I can't drink alot because it gets to seet and or tart after awhile but honestly it's not to bad.
618 characters
3.63
/5
rDev
+7.4%
look: 3.25 | smell: 4 | taste: 3.5 | feel: 3.75 | overall: 3.5
38
22 oz bottle into
A - A little hazy, but a nice burning amber color. Nice two and a half finger head with some retention. Good lacing.
S - Dark malts, fresh fruitiness, coriander, orange peel. Smells like a dark fruity witbier.
T - Much like the aroma, but fruitier. Nice berry presence. Some dry malt flavors.
M - Nice mouthfeel. Pleasant and not overbearing.
O - I enjoyed this. I won't go out of my way to try it again, but it was enjoyable. Definitely worth trying, and I could see this being a real hit with the right person.
540 characters
3.55
/5
rDev
+5%
look: 3.5 | smell: 3.5 | taste: 3.5 | feel: 4 | overall: 3.5
Bottle I shared at my tasting.
Pours a hazy orange with a foamy orange-tan head that settles to a film on top of the beer. Small streaks of lace form around the glass on the drink down. Smell is of malt, citrus zest, alcohol, and some earthy aromas. Taste is much the same with a citrus zest flavor on the finish. There is a mild amount of hop bitterness on the palate with each sip. This beer has a good level of carbonation with a crisp mouthfeel. Overall, this is a pretty good beer but nothing all that exciting in my opinion.
531 characters
3.51
/5
rDev
+3.8%
look: 4.25 | smell: 3.75 | taste: 3.25 | feel: 3.5 | overall: 3.5
A thick brown pour, very rich looking in that it's multiple colors merged into one as you can see brown with come copper and orange to lighten it just a bit. The head is minimal: contrasting white, but with no retentio and basically no head. Points held back for poor head, but added for the rich look of the liquid.
Not much for the nose to decipher. It's very bready, lots of caramel malt, and even some dark fruits. The ABV level isn't extraordinarily high, but my olfactories do pick up a bit of alcohol.
Most of the stuff from the nose is in the taste as well. Has a bready taste with some caramel. Near the back some of the hops come out and play with the citrus peel.
Multiple layers, but I'm not convinced they work. Thick and yeasty up front. A splash of sweetness followed by bitterness and eventually tartness. The bitterness doesn't last long into the swallow but the tart bite does, leaving you with a relatively dry finish.
I'm not sure how to classify this beer. It's got some fruitness to it, but I wouldn't really characterize it as a fruit beer. It's not an easy drinker due to the tartness and strange feels. Overall, just a bit better than good.
1,170 characters

3.43
/5
rDev
+1.5%
look: 4 | smell: 3.5 | taste: 3.5 | feel: 3 | overall: 3.25
Pours a hazy copper color with an off white head. In the aroma, dark fruits and cinnamon. In the taste, dark fruits, that have notes of a tartness, with cinnamon notes. A spice like bite and a medium bodied mouthfeel, with a small dry, tart dark fruit in the aftertaste. I like the small tartness, but just about average for a holiday beer.
340 characters

3.38
/5
rDev 0%
look: 3.5 | smell: 3.5 | taste: 3.25 | feel: 3.25 | overall: 3.5
Served from a brown glass (bomber) bottle into a Samuel Smith's nonic at a tasting. Reviewed from notes.
A: Pours a two finger head of light khaki colour, nice cream, and nice thickness. Retention is good. Body colour is a lively gold-copper. No yeast particles are visible. No bubble show. Light glow/vibrance in the body.
Sm: Spice, caramel, biscuit malt, orange rind, berry (pomegranate), some fig/plum on the open, and clean malts. A bit of brown sugar. Malty sweetness.
T: Floral with berry and brown sugar. Orange rind; caramel. Some buried citrus. Pomegranate is quite limited. Lacks body.
Mf: Smooth and wet. Nice sugary coarseness. Good carbonation. Suits the flavour nicely, but it's a bit thin and weak.
Dr: Drinkable and enjoyable. I like it. ABV is well hidden.
B-
787 characters

3.37
/5
rDev
-0.3%
look: 4 | smell: 3.25 | taste: 3.25 | feel: 4 | overall: 3.25
22 oz bottle, dated best before Jan. 2016, served in a Porter Bar goblet.
A - Clear red-amber color. Head is moderate in size with very good retention and lacing.
S - Dark malty beer mixed with a fruity saison and light spicing.
T - Much like the aroma, but less spicy and a bit sour. Some citrus and berry presence along with more obvious dark fruits. Modearate dark malt flavor.
M - Nice mouthfeel. Near full and smooth. Well carbonated. .
O - Worth trying. Could be a real gem for the right person.
509 characters
3.2
/5
rDev
-5.3%
look: 3 | smell: 3 | taste: 3.25 | feel: 4 | overall: 3
Pours a muddy brown, like creek water after a heavy rain, only this has a thin, off-white head. Not too many scents, only sour cherries, some alcohol, Robitussin DM, yeast. The taste is fairly simplistic, too. An alcohol injected, malted fruit beer - cherries, beets, currants. I'm not too sure what makes this a Belgian strong ale other than the consistency and feel, which is moderately smooth, some carbonation. There's definitely a tartness to it, but very little in the way of sweet, other than a hint of toasted caramel.
526 characters
1.7
/5
rDev
-49.7%
look: 2.75 | smell: 2 | taste: 1.25 | feel: 3 | overall: 1.25
bottle served in chimay goblet
Looks like beer and grapefruit juice.
Smells like grapefruit juice.
Tastes like beer and grapefruit juice. Truly awful.
Mouthfeel is fine. Not great not bad
I do not want to ever drink this again. I don't think beer should taste like a grapefruit. As a disclaimer I would say I prefer sweet beers like Guldren Draak, St Bernardus ABT 12 and Leffe Bruin, Mc Chouffe etc. I do not like bitter beers.
433 characters
Two Front Teeth from Kissmeyer Beer
3.38
out of
5
based on
18
ratings.