Workingman's Pilsner
| Fountain Square Brewing Co.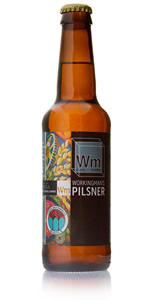 BEER INFO
Brewed by:
Fountain Square Brewing Co.
Indiana
,
United States
fountainsquarebrewery.com
Style:
Czech Pilsener
Alcohol by volume (ABV):
5.00%
Availability:
Year-round
Notes / Commercial Description:
No notes at this time.
Added by Lukafer on 03-17-2012
Reviews: 9 | Ratings: 72
3.47
/5
rDev
-6.2%
look: 3.5 | smell: 3.25 | taste: 3.5 | feel: 3.75 | overall: 3.5
any beer with a grateful dead or marx reference is cool with me, and this can be interpreted either way, so props for that. the beer aint bad either. its a real pale straw color, like second runnings of a pale ale in appearance. the head is tall and mighty, and although it settles fast, the beer looks really crisp and nice for a minute. the nose is unremarkable really, generic czech type pils malt with a little body to it, and then the hops, which are noble region for sure, and pretty well dosed, above the european average for sure. the flavor is bright for how reserved the aroma is, fresh grain and a healthy helping of the hops, which add an herbal quality along with a rather prominent bitterness. this beer is supremely refreshing, and its not nearly as light as it looks like it is. clean finish though, save a little bitterness. overall a cool beer from these guys, my first. one i could hammer a sixpack of on a warm day while splitting wood no problem. workingmans beer, i like it.
996 characters
3.87
/5
rDev
+4.6%
look: 3.5 | smell: 4 | taste: 4 | feel: 3.5 | overall: 3.75
2015: revisiting this one, bbd: 060815
Bready biscuit, more of a crisp feel this time around, clean and smooth.
Bumped up feel/overall scores.
2014:
Served in a tumbler glass, canary yellow with a light haze to it. Thin ring of foam, not much of a head on it. A tiny bit of lemon shortbread aroma, soft florals, that's nice.
Bready taste, lightly floral, dry and clean in the aftertaste. Feel is a bit limp and watery with a bit of slickness. Needs more carbonation and crispness. Tastes ok but just doesn't feel right. Kind of a mixed bag overall, it needs a little fine tuning to sing.
Thanks to Howard for this one!
621 characters

3.41
/5
rDev
-7.8%
look: 3 | smell: 3.25 | taste: 3.5 | feel: 3.5 | overall: 3.5
Pours a cloudy golden, with a huge head of white carbonation. Not much lace, though, oddly.
Nose is light grains and malts, yeast. Very mild.
Taste is crisp and malty, with only a tinge of citrus hops at the finish. This is a smooth and easy-to-drink lager -- not overly memorable but solid and quite session-worthy.
318 characters

3.59
/5
rDev
-3%
look: 3.25 | smell: 3.5 | taste: 3.75 | feel: 3.5 | overall: 3.5
"Fountain Square Brewing Company: bringing science to the art of brewing." I like where this is headed.
A: Pale yellow, translucent body with only a split-second of bubbly white head until it diminishes to nothing. Very little lacing and retention, as such, making it look like your run-of-the-mill pale American lager.
S: Though faint, the nose extends typical bready qualities with a spike of unexpected fruitiness; toasted, buttery bread melds with pear and raspberry iced tea to give off a reasonably tart apple pie scent. Clean lager yeasts are mild but noticeable toward the finish.
T: On the forefront it's citrus and grain, exhibiting a soft blend of pulpy orange juice and wheat bread. Though slow to start, the yeast is evident in every moment of the drink, making chewy dough the major sensory experience of this beer – a warm, floury wholeness that fills the palate to the brim. Slight black pepper and mint flavors of the hops bring out crusty baguette tastes in the finish, giving a dry, grainy aftertaste.
M: A bit slimy and undercarbonated for my tastes – I feel like this would be better on tap. More fizz to bring out the hops and keep this from becoming a chore by the bottom of the glass.
O: This is an interesting beer because of its inconsistency; that is, some areas (like the genuine bread flavors) are above average and some areas (like the faint nose) are below average. As I said above, I'll try this on tap if I can, and as of now, I'm still interested in picking up a few more bottles from Fountain Square – though not of this one.
1,581 characters
3.85
/5
rDev
+4.1%
look: 3.75 | smell: 3.75 | taste: 4 | feel: 3.75 | overall: 3.75
A definite hit of malt and grain, a hint of floral hops come across in the nose. The taste is crisp cracker malts, a fine bitter finish. A clean feel, and very drinkable. One of the better Pilsners I've enjoyed.
214 characters

4
/5
rDev
+8.1%
Pours a soft, frothy head. Grainy, malty aroma. Clear, golden color. Starts with a nice, grainy bitterness with a touch of citrus. Smooth malt builds over the grainy hops. Finish is slight bitterness, grainy hops and lingering malt.
This is really, really nice. Great complexity and great hop profile.
304 characters
4.26
/5
rDev
+15.1%
look: 4.5 | smell: 3.5 | taste: 4.5 | feel: 4.5 | overall: 4.5
Sign at brewery says 5.5% Abv and 25 IBU
Served in a pint glass.
Appearance is a light golden yellow, with a thin layer of head. Smells slightly grainy, I'm not a huge pilsner fan, but this is one o the better ones I've had. At first sip it's slightly spicy, slight citrus followed by malt with a bitter finish. It's not an IPA finish but a slight drying, bitter finish. Very tasty! Mouthfeel is a lot fuller than you would associate with a Pilsner, probably due to the higher ABV.
Overall, this is a very solid beer from a new brewery. Again, not usually impressed with Pilsners but this one is a home run. It's a new one for them, so hopefully they keep it consistent.
679 characters

3.51
/5
rDev
-5.1%
look: 4 | smell: 3 | taste: 3.5 | feel: 4 | overall: 3.75
Aroma:White bread, slight yeast
Appearance: Straw with foamy white head
Taste: White bread, honey
Palate: Slightly sweet, light mouthfeel. Smooth, non-bitter finish. A tinge of sweetness.
Overall: Pleasant pilsener, very drinkable. No unpleasant undertones.
258 characters
3.59
/5
rDev
-3%
look: 3.75 | smell: 4 | taste: 3.5 | feel: 2.5 | overall: 3.75
This bottle poured a slightly hazy, straw colored body with a thin, watery head that dissipated rather quickly. The aroma consisted of earthy and floral hops shadowed by a bread and yeast note. The taste was very similar to the aroma, but the bread flavor was dominant. The floral, earthy, and piney hops were very subtle in the finish only. The mouthfeel was a touch watery, but nothing to stop me from buying another sixer. Overall, a great brew.
448 characters
Workingman's Pilsner from Fountain Square Brewing Co.
3.7
out of
5
based on
72
ratings.