Legend Of The Liquid Brain
| Bull & Bush Brewery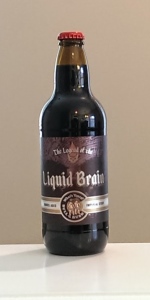 BEER INFO
Brewed by:
Bull & Bush Brewery
Colorado
,
United States
bullandbush.com
Style:
American Double / Imperial Stout
Alcohol by volume (ABV):
12.00%
Availability:
Rotating
Notes / Commercial Description:
No notes at this time.
Added by BeerAdvocate on 03-28-2005
Reviews: 35 | Ratings: 147
4.61
/5
rDev
+6.2%
look: 3.5 | smell: 5 | taste: 5 | feel: 4 | overall: 4
I just recently moved back to the great state of Colorado and have to say I did miss the great beers brewed here. I spied this brew and was thoroughly impressed. I had the 2008, 2006, 2003 and a few sips of my friends 2009. All were amazing. I liked the scotch aged the best so my review will reflect that one.
A - Super dark and opaque no light could ever get through this beer. I was disappointed in the way it didn't have any head. I know, I know, its high alcohol, but I missed it all the same
S - ooh boy. You can definitely tell this was aged in a scotch barrel. Crazy strong scotch aroma as well as those dark fruity undertones that come with most imperial stouts. I happen to love scotch almost as much as beer so this was a great smell to me.
T- The smell was very indicative of the taste. Great scotch taste as well as cherries and plums. Reminiscent of Bell's Batch 9000 beer with a sweet finish. It almost had a wine-like taste. Loved every drop of it.
M- coated the moth very well. It was a little thinner than I was expecting but still great.
D- This beer is potent. The alcohol was masked pretty well but you could definitely taste it.
1,152 characters
3.87
/5
rDev
-10.8%
look: 3.5 | smell: 4 | taste: 4 | feel: 4 | overall: 3.5
Pours a deep, dark, bottomless black, with nary a head to speak of. This one looked a lot like used motor oil and smelled like straight booze. I like straight booze. Huge bourbon aromas, along with some dark chocolate and vanilla. The bourbon is very well integrated into the beer, and never overpowers. Nicely balanced, and dangerously drinkable.
347 characters
4.37
/5
rDev
+0.7%
look: 4.5 | smell: 5 | taste: 4.5 | feel: 4 | overall: 3.5
What a great brew. It's kind of a Royal Oil-Light. Well, it's not light by any means but not as thick as the Oil. Not a lot of carbonation so the mouth-feel is pretty smooth. What I get from the taste is cherry twizzlers. It's so sweet and yummy. When ever they have this on tab, i have to get two at least. :)
310 characters
4.72
/5
rDev
+8.8%
look: 4.5 | smell: 5 | taste: 4.5 | feel: 4.5 | overall: 5
Not sure what vintage, possible '05? Pours a dark brown with a thick tan head.
The nose has chocolate, coffee, bourbon, vanilla, molasses, oak and roasty malts.
The taste has lots of dark roasted malts and bitter hops, but is well balanced by dark pitted fruits, wood, vanilla, cocoa and whiskey.
Thick, creamy body is delicately carbonated. Great stuff from Bull and Bush.
378 characters
4.17
/5
rDev
-3.9%
look: 4 | smell: 4.5 | taste: 4 | feel: 4 | overall: 4.25
This was a 2005 vintage on tap at the Bull and Bush. It was black as night and had a serious whiskey/bourbon smell going on. The taste had more bourbon, thick, coats your mouth. This is pretty darn good and it must certainly be barrel-aged. It kinda reminds me of Goose Island Bourbon County Stout which is a good thing. If you like RIS or barrel-aged brews, try this one. Oh, and the bartender told me it was 12% ABV.
Update 2014 bottle, outstanding aroma, chocolate, sweet, bourbon, yum.
490 characters
4.41
/5
rDev
+1.6%
look: 5 | smell: 4 | taste: 4.5 | feel: 4.5 | overall: 4.5
From notes during my GABF 07 trip (had at the brewpub itself).
2005 Vintage.
Ridiculous lacing. Subdued chocolate, bourbon and vanilla aroma.
Creamy. Milk chocolate, sweeter coffee. Bourbon is nicely in the background. Some vanilla.
Excellent balance. Rich, yet somehow light on the tongue. Low carbonation. Ridiculously drinkable for 12%!
344 characters
3.74
/5
rDev
-13.8%
look: 4.5 | smell: 3 | taste: 3.5 | feel: 4.5 | overall: 4.5
On tap at the brewpub; served at room temperature in a chalice for $6.50. Pricey, but worthwhile.
A: Opaque, jet black with a not-too persistent, tan head.
S: Muted aromas of syrup, coffee, and sweet cream. Little to no hop aroma; no off aromas (diacetyl) or strong esters. The bouquet neither stands out nor offends.
T and M: Smooth, creamy mixture of chocolate, sweet cream (this is almost like an imperial sweet stout), coffee, tobacco, and stwed fruit. Very well balanced with enough bittering hops to keep it from being overly sweet; though overall the sweet, liqueur-like flavors are the star of the show here.
D: Very smooth for an RIS; the 11% ABV is very well hidden, and there's only a trace of the warming at the end of each sip.
A very good, well-balanced (read: not too hoppy, not too aggressive) interpretation of the RIS. I get the feeling this is what most imperial stouts would have been like before American hops entered the picture. This joins Redfish's Blackalicious, Rock Bottom's Kick'N Chick'N and Pumphouse's Backdraft as one of the most enjoyable only-on-tap impy stouts in Colorado. Seek it out if you're in Denver.
1,146 characters
4.35
/5
rDev
+0.2%
look: 4 | smell: 4 | taste: 4.5 | feel: 3.5 | overall: 5
The Legend continues, apparently, retired or not. It was on tap over the weekend before Memorial Day at the pub. The stout I tasted did not particularly strike me as being aged in Bourbon barrels. The Royal Oil that I slammed afterwards was a Bourbon bomb, but that's another discussion.
This was a top notch Imperial Stout, but of a style that won't please everybody. Pretty sweet, medium-bodied, balanced hops (at most) and moderate in its bitter roastiness. Alcohol burn was minimal. Flavors of chocolate, licorice, raisins, toffee, and molasses. Aroma was mostly chocolate and molasses. Carbonation was muted. Very… no, make that "too" easy to drink.
Now, why were they not open on Memorial Day, so I could go quaff another??
740 characters
3.62
/5
rDev
-16.6%
look: 4.5 | smell: 5 | taste: 3 | feel: 3.5 | overall: 3
Draught @ the Boulder Strong Ale Festival. Lovely aroma of bourbon, oak, chocolate, coffee and roast. Unfortunately, the flavor was a bit of a let down. The barrel seemed to only contribute whiskey flavors, not vanilla or coconut or other nuances. The body was also disappointing.
280 characters
4.52
/5
rDev
+4.1%
look: 4 | smell: 4.5 | taste: 4.5 | feel: 5 | overall: 4.5
Retired my ass, served in a goblet. Poured mahogany/black with 2/3" tan head. Good head retention & lacing
S: Bigtime bourbon, booze, vanilla & a whiff breadyness & choclate
T: Huge bourbon smack up front to include the warming alcohol, then dryness & vanilla. I catch a little chocolate & roasted grains as well. Finishes dry sweet & warming
MF: Rich, sticky & chewy with adequate carbonation to being out all the flavors
Man this was quaffable, a bit heavy to session on & the intial alcohol heat could be a little more subtle. I wanted to take a jug home, but alas they wouldn't sell it by the jug, sigh
618 characters
Legend Of The Liquid Brain from Bull & Bush Brewery
4.34
out of
5
based on
147
ratings.