American Hero
| Liquid Hero Brewery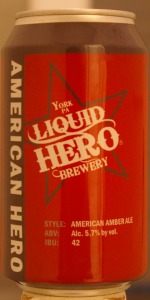 BEER INFO
Brewed by:
Liquid Hero Brewery
Pennsylvania
,
United States
liquidhero.com
Style:
American Amber / Red Ale
Alcohol by volume (ABV):
5.60%
Availability:
Year-round
Notes / Commercial Description:
No notes at this time.
Added by Slatetank on 12-16-2011
Reviews: 9 | Ratings: 68

4.06
/5
rDev
+16.7%
look: 4 | smell: 3 | taste: 4.5 | feel: 5 | overall: 4
Smell- the smell was a bit of a turn off. Had a bitter smell to it.
Looks- Cloudy, Amber
Taste- Crisp, very pleasant to the mouth. Rich to feel.
Overall - Not the most attractive lady in the bar, but don't judge a beer by it's bottle. This is a great every day beer. year round I could sit down and knock back a few pints of this. MUST TRY!!!
347 characters
3.6
/5
rDev
+3.4%
look: 3.5 | smell: 3.5 | taste: 3.75 | feel: 3.5 | overall: 3.5
12oz. can poured into a tumbler glass.
A: deep amber, some chill haze, with a half inch of light khaki haze. Little lacing.
S: Some biscuity malts, slight caramel, and some very light earthy/citric hop.
T: The malt bill is pretty dry. Biscuity, and slight caramel sweetness. Hops overshoot their mark to balance and are slightly too bittering on the finish. Pretty tasty nonetheless.
M- A bit too dry, bitter and metallic, but lighter side of medium.
O - If they could back off the bitterness, and find a yeast strain to impart some fruity notes, they'd have something here (New Belgium Fat Tire as an example) I'd certainly have it again though. Lots of English Bitter qualities here rather than an Amber Ale.
716 characters
3.57
/5
rDev
+2.6%
look: 3.75 | smell: 3.5 | taste: 3.5 | feel: 3.5 | overall: 3.75
A: The beer is very hazy amber in color. It poured with a quarter finger high beige colored head that died down, leaving lots of lacing on the surface and the sides of the glass as well as a collar around the edge.
S: Light to moderate aromas of caramel malts and grassy hops are present in the nose.
T: The taste has flavors of caramel malts and floral and grassy hops, the latter of which contribute a light to moderate amount of bitterness. There also seem to be some hints of earthy yeast.
M: It feels medium-bodied on the palate and has a moderate amount of carbonation.
O: This beer is very well balanced between the malts and hops; the taste seems like a constant battle between caramel and bitterness on your taste buds with alternating notes of sweetness and grassy hops.
Serving type: can
804 characters
3.5
/5
rDev
+0.6%
look: 3.5 | smell: 3.5 | taste: 3.5 | feel: 3.5 | overall: 3.5
From BeerAdvocate Magazine #86 (Mar 2014):
Citrus, Toasty, Yeast
A well-put-together Amber Ale, the brewers dose this brew sufficiently with Cascade and Centennial hops. This beer has some body to it, while the toasted malt flavor evens things out. Even with all of this, though, it lands around the middle of the pack.
STYLE: American Amber Ale | ABV: 5.7% | AVAILABILITY: Year-round
388 characters

3.5
/5
rDev
+0.6%
I have been slacking where The CANQuest ™ is CANcerned, reducing and eradicating my interminable bottle backlog, but I am now rededicated to the real mission, which is to review EVERY CANned beer in existence. I love the guys at Liquid Hero and have even been over to visit their digs in York, PA. When they began CANning, they knew of my affinity for beer in metal cylinders and began bringing me some at various events. Things bogged down while awaiting picture approval, but now, all is in readiness.
From the CAN: "This beer is our hero because it was the very first perfected beer we made. Easy drinker, nice amber color, not too hoppy and not too malty. Great for deck parties, backyard ladder golf games, or just sittin' at a bar. And the best part of it all is that we put it in a [CAN]! Cheers! [undersigned] Matt [,] Josh & Christian".
When the Crack! happens, it's a party now, boys! Once more, it was a brimful CAN and these types of parties involve the inverted Glug. The resulting pseudo-cascade was fantastic! The three-finger cap of dense, rocky, tawny head sat there in defiance of me, refusing to move and willing to wait me out. Go the f**k ahead, M-F'er! I sat patiently and watched as it slid down the glass, leaving lovely lacing in its wake. Color was a Coppery-Brown (SRM = > 17, < 22) with NE-quality clarity. Nose had a biscuit maltiness accompanied by a grassy hoppiness. The CAN read "Unfiltered" and my last pour unleashed a little sludge as lees. No problem as that is what makes and keeps me a regular guy. Mouthfeel was medium. The taste was a nice, happy medium between the bready, biscuit malts and the grassy hops. I CAN remember being told, about a decade ago, that the Amber style was dead, but with the love of hops, it has been revived, sans the cloying sweetness that used to be a trademark of the style. Finish was semi-dry, since the malts were not imparting a whole lot of sweetness to begin with and the grassy hops lingered well after the swallow.
2,011 characters
3.49
/5
rDev
+0.3%
look: 3.75 | smell: 3.5 | taste: 3.5 | feel: 3.25 | overall: 3.5
A: Pours a relatively clear deep reddish amber in color with light amounts of active visible carbonation and some garnet red highlights. The beer has a half finger tall sudsy foamy beige head that reduces to a medium sized patch of bubbly thick film surrounded by a thin film covering the remainder of the surface of the beer and a medium thick ring at the edges of the glass. Moderate amounts of lacing are observed.
S: Moderate aromas of biscuit malts, toasted malts, and caramel malts with moderate aromas of grassy and spicy hops.
T: Upfront there are moderate flavors of toasted, biscuit, and caramel malts with minimal amounts of sweetness. That is followed by moderate flavors of grassy and spicy hops which impart a light to moderate amount of lingering bitterness.
M: Light to medium bodied with moderate amounts of carbonation.
O: Easy to drink and enjoyable, though nothing spectacular. Nicely balanced with the flavors and aromas of the hops + malts - neither is overpowering.
992 characters
3.35
/5
rDev
-3.7%
look: 3.5 | smell: 3.5 | taste: 3.5 | feel: 3 | overall: 3
I had this on tap at the White rose -served chilled in a pils glass.
The color is murky ruddy brown with a thick cream cap w/ ultrafine bead and light lace clings. The beer has an ulfiltered look that gives translucent clarity. The smell of the amber is lightly fruit with a slight diacetyl note with mild toasted malt odor. A mildly creamy body, slightly yeasty feel and fruity with a gentle malt element with medium body and semi-sweet finish.
The taste is above average with an appropriate amount of caramel and bready sweetness and mild toasted notes. There is a slight fruity tanginess from the yeast with slick buttery accent however it finishes semi-dry with low bitterness. This has a bit of sweetness but doesn't fall into the full malt or higher than average hopping type amber categories which brings it down overall for me. the taste could have a cleaner yeast which also makes it lackluster for me. It could use some refining in general, but I prefer a drier amber overall.
995 characters
3.34
/5
rDev
-4%
look: 4.25 | smell: 3.25 | taste: 3.25 | feel: 3.5 | overall: 3.25
Another can courtesy of the creator of the canquest, woodychandler. Poured from a 12 oz. can. Has a pretty deep amber color with a 1/2 inch head. Smell is mild, some light hops. Taste is also on the mild side, some hops, light malts, easy drinking but kind of a bit on the bland side. Feels medium bodied in the mouth and overall is a mediocre beer.
349 characters
3.32
/5
rDev
-4.6%
look: 3.25 | smell: 3 | taste: 3.5 | feel: 3.5 | overall: 3.25
Solid - a nice balance of maltiness offset by a bit of bitterness from the hops. On the lighter side of medium bodied and not overly carbonated. Easy drinking and refreshing.
176 characters
American Hero from Liquid Hero Brewery
3.48
out of
5
based on
68
ratings.