H3 Trippel Belgian Style Ale
| Port Jeff Brewing Company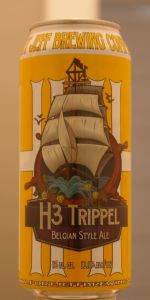 BEER INFO
Brewed by:
Port Jeff Brewing Company
New York
,
United States
portjeffbrewing.com
Style:
Tripel
Alcohol by volume (ABV):
10.10%
Availability:
Rotating
Notes / Commercial Description:
No notes at this time.
Added by merc7186 on 07-10-2012
Reviews: 7 | Ratings: 54
3.12
/5
rDev
-21.2%
look: 3.75 | smell: 3 | taste: 3 | feel: 3.25 | overall: 3.25
It has a grassy malt taste. Kind of a grape flavor. Very carbonated, medium-to-light bodied. A bit of a tin-like taste. Some caramel. A bit tart. It feels like a average Sam Adams ale.
It is extremely bubbly. Tons of bubbles coming out from everywhere like gnats on a humid afternoon. A small but thick foamy white head and some lacing. Relatively clear with a bronze color. Metallic scent.
I got at Beer Boutique in Williamsburg, Brooklyn.
443 characters

3.73
/5
rDev
-5.8%
look: 3.75 | smell: 3.75 | taste: 3.75 | feel: 3.5 | overall: 3.75
A-somewhat hazy light amber color with two fingers worth of white head
S-bready malt, fruity sweetness, light spices and yeast
T-pretty sweet with some peppery spice and yeast
M-medium body, moderate carbonation
Overall a bit on the sweet side and carbonation seems a little low for the style, but I always like the try Tripels made by US breweries
352 characters
3.84
/5
rDev
-3%
look: 3.75 | smell: 4 | taste: 3.75 | feel: 4 | overall: 3.75
Picked up a growler at the brewery on the way to the ferry to CT.
A - Golden pour with a cloudy look and a bit of sediment. Soapy foam settled quickly. Almost no lacing.
S - Banana and clove, and a bit of bubblegum scent.
T - Tangy feel from the belgian yeast. Spicy notes in the finish. There is a sweet flavor from sugary fruit as well.
M - Medium feel, minimal carbonation. Leaves a lingering bite on the palate.
O - A good local brewery makes a nice belgian style. I could get into this one again.
508 characters

3.99
/5
rDev
+0.8%
look: 3.75 | smell: 4 | taste: 4 | feel: 4 | overall: 4
Growler filled at Green Growler Grocery, Croton-on-Hudson, NY
Pours heavily hazed, darker apricot, moderate off white head, that does not stay for long. Leaves some low sheeting and just a bit of fine lacing.
The nose is fruity, with a wiff of yeast.
Flavorful take on the style with more tropical fruit notes, some pepper, bubble gum and again yeast. Quite dry, with more pepper, some lime and ample hops in the finish.
On the lower side carbonationwise for the style.
Fruity sweet balanced by the citric and hoppy finish. Nice job here by another emerging and quality L.I. brewery.
Well worth a try.
608 characters

4.34
/5
rDev
+9.6%
look: 4 | smell: 4.25 | taste: 4.5 | feel: 4.25 | overall: 4.25
Triple is one of my favorite styles and Port Jeff does it right. Filled a Growler from the brewery after tasting and falling in love. Nice fruity, spicy smell to it. Very well masked alcohol with minimal warmth to the finish. Well balanced brew that can easily sneak up up on you because it's made correctly.
308 characters

4.47
/5
rDev
+12.9%
look: 5 | smell: 4.25 | taste: 4.5 | feel: 4.5 | overall: 4.5
As a retired U.S. Navy sailor, I truly miss getting underway. I mentioned this to a buddy on Veterans Day & he suggested riding ferries as a way to get water under my feet again! What a great idea! I took Amtrak to Penn Station (NYP), transferred to the LIRR, rode out to Port Jefferson, NY and took the ferry across Long Island Sound to Bridgeport, CT to watch back-to-back nights of AHL hockey before coming home. I also scored some CANs of beer for The CANQuest (tm) while I was at it.
From the CAN: "1. Long Day 2. New Job 3. Train Ride 4. Pre-Game 5. Yard Work 6. Game's On 7. Won Bet 8. Lost Bet 9. Didn't Bet 10. Nerves 11. New Kid 12. Not My Kid 13. Bamping 14. Last Call 15. Got Fired 16. Holidays The Original Dropper"; "Small Batch - Big Taste".
A 16-fl. oz. tallboy CAN sits before me like a challenge, as though The CANQuest (tm) has not tackled its ilk in the past. I Crack!ed it open with little resistance, but given that it is a "Belgian Style Ale", the likelihood of lees was high. Having readied my Belgian glass, I CANmenced a VERY gentle Glug, but the rising head caused me to back off of even that. It resulted in a finger of dense, firm, French Vanilla-colored head with such wonderful retention that I thought back to the making of meringue. In high school, I discovered the magic of HomeEc & was even CANtemplating becoming a pastry chef until I joined the U.S. Navy. One of my highest hurdles was meringue, but once I perfected it, I was putting meringue on everything! Even after all of that typing, the head has not moved! Color was Amber to Deep Amber/Light Copper (SRM = > 9, < 13) with NE-quality clarity. Nose was at once spicy & musty, like old newspapers from the attic liberally sprinkled with black pepper. Mmmm. Mouthfeel was full & creamy & I closed my eyes & envisioned an N2 dispenser inside of the CAN. The taste was an interesting amalgam of black pepper, banana, clove, old newspaper and a slight tartness. It was an iron fist wrapped in velvet, entering like a Trojan Horse, quietly, calmly & then letting loose like a runaway freight train! Suddenly, I could no longer focus my eyes. It was like liquid self-trephination! Gabba gabba hey! I'm a middle-aged lobotomy! Finish was so gaspingly dry that I could not help but take another sip, but with each one, I was rendered into more and more of a pinhead. The papery pepperiness was utterly breathtaking! Did I just sniff some glue? More, please!
2,443 characters
4.58
/5
rDev
+15.7%
look: 4.5 | smell: 4 | taste: 5 | feel: 4.5 | overall: 4.5
Belgian-style Tripel is one of my favorite styles to drink with friends as it roars with complexity and many of the existing benchmarks for the style, such as Westmalle, are readily available for comparison. I learned to appreciate the style the hard way and treat each bottle or growler as if it were a vintage '82 Bordeaux wine: with respect and admiration.
Upon hearing that one my local breweries was celebrating its first year in business, I made my way to the party with my girlfriend where I found The Port Jeff Brewing Company had produced a Tripel only the days before the event. Curious to find out more, the first glorious pint (tulip n/a) told me everything: exceptionally strong yeasty character combined with potent abv in a wheaty base that was spiced with orange, pepper, and other mysterious items.
The pioneering aroma of this spicy blonde ale was the best news I had tasted all day and I made a point of of returning for 2 growlers I would later use in a pairing demonstration in NYC.
1,005 characters
H3 Trippel Belgian Style Ale from Port Jeff Brewing Company
3.96
out of
5
based on
54
ratings.