Mousel Premium Pils
| Brasserie de Luxembourg Mousel -Diekirch SA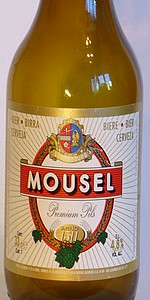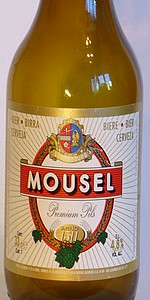 BEER INFO
Brewed by:
Brasserie de Luxembourg Mousel -Diekirch SA
Luxembourg
Style:
German Pilsner
Alcohol by volume (ABV):
4.80%
Availability:
Year-round
Notes / Commercial Description:
No notes at this time.
Added by TheLongBeachBum on 04-14-2004
HISTOGRAM
Ratings: 12 | Reviews: 8
Reviews by BlackHaddock:
2.03
/5
rDev
-24.5%
look: 2.5 | smell: 2 | taste: 2 | feel: 2 | overall: 2
OK, so I am sitting outside my holiday home on a camp site called Petite Suisse (little Switzerland) in Belgium. I know I should be drinking other stuff, but I had to drive the next day, that is why I'm reviewing Pilsners/Lagers that I've bought during a raid into Germany and Luxembourg. This came forth and last in the tasting stakes.
Brown 33cl bottle, well in date when reviewed.
Light yellow colour with very little head, what there was came across as a soft white covering.
The aroma was nothing, the beer produced a vacuum nothing could survive in. I couldn't even smell my wifes body odour!
Mellow, soft pilsner taste, very strange. No harshness or crispness, no bite to the beer at all.
This was my first beer from the Duchy for a few years, I choose the wrong one to start with (I hope) because I have 6 more beers I've brought home from Luxembourg to review at my leasure.
888 characters
More User Reviews:

2.07
/5
rDev
-23%
look: 2.75 | smell: 2 | taste: 2 | feel: 2.25 | overall: 2

3.29
/5
rDev
+22.3%
look: 3.5 | smell: 3.25 | taste: 3.25 | feel: 3.5 | overall: 3.25
Decent Pilsner. I bought this at an import store in China. Golden color, lots of carbonation, crisp, slightly hoppy taste. Not too bad for the style.
152 characters

2.95
/5
rDev
+9.7%
look: 3 | smell: 3 | taste: 3 | feel: 2.5 | overall: 3
I remember drinking this beer in Luxembourg back in 1967. At that time I loved the stuff, but then again, I was 21 and had not tasted the multitude of brews the world would offer up over the next 37 years. Back in Echternach, Luxembourg this last March I was given the opportunity to go back to "childhood". Urk, very disappointed to say the least. Sorry, but this beer does not stand the test of time. Now, on the other hand, Luxembourg Elbling wine is at the top of my list. Man alive that little Duchy is great!!
515 characters

2.01
/5
rDev
-25.3%
look: 3.25 | smell: 2.25 | taste: 1.75 | feel: 1.25 | overall: 2.25
3.06
/5
rDev
+13.8%
look: 4 | smell: 3 | taste: 3 | feel: 3 | overall: 3
Paid around 3.50EUR for a six-pack of 330mL bottles...
*Reviewed on 03.07.2005
The beer pours a pils golden base, medium white head, excellent retention and a few spots of lacing. Smells like any other normal lager.
Tastes like a typical pils, no real hops kicking it. It's pretty smooth on the way down, alright on the palette. Could be a session beer if I lived in Luxembourg. There are better session beers but this one is just average.
Final Thought: This beer is alright, but nothing revolutionary or to get excited about. It is from tiny Lux which is per se cool.
581 characters

2.33
/5
rDev
-13.4%
look: 3.5 | smell: 3 | taste: 2 | feel: 2 | overall: 2
From my notes 5/30/2007 pours a two-finger white head that fades quickly leaving some lace. Crystal clear amber color. Slight hoppy nose. Light-medium carbonation and light-medium bodied. Flavor is balanced to slightly hoppy. Lingering bitter finish. €2.00 ($2.74) on-tap 300ml glass from Le Beaujolais Restaurant Luxembourg, Luxembourg.
338 characters
3.1
/5
rDev
+15.2%
look: 3 | smell: 3 | taste: 3 | feel: 3 | overall: 3.5
Had on-tap in Luxembourg.
Beer is a golden color with a good head that lasted longer than expected. Smell was grainy with a bit of hops. The taste was a bit crisp but quite smooth and easy. This seems to be a typical German pilsner. It was a nice change from the Belgium beers and local wines.
294 characters
3.13
/5
rDev
+16.4%
look: 3.5 | smell: 3 | taste: 3 | feel: 3 | overall: 3.5
Had this beer while visiting ggaughan in Strassen. This is one of the everyday drinking beers in Luxembourg.
Poured a crisp, clear golden yellow with moderate carbonation and about a 1 inch head. Poured this one into a decent pilsner glass. The head remained for about 15 minutes.
The bouquet has a slight hop component with just a whisp of malt and a sweet smell I cannot identify. Very similar to most common German pilsners.
The taste was what I expected. Clean, crisp with a slight hoppy bite. Again, very Germanic in its presentation. Mouthfeel was good, as there was really no earth shattering revelation to this beer.
This is an easy drinking beer for a hot day, a night out with your best gal or on one of those global warming evenings that Al Gore is predicting. If you like German pilsners, than you will enjoy this beer.
835 characters

3.35
/5
rDev
+24.5%
look: 3 | smell: 3 | taste: 3.5 | feel: 3.5 | overall: 3.5
Had on-tap in Luxembourg City on the square, one of the stock beers of the place. Nice standard drinking beer, great for a meal or thirst-quencher, nothing distinctive of note.
A= poured a nice typical-lager light gold with a rather large head, still about 4cm when the very clean glasses were hastily carried to our table. Great lacing that stayed forever.
S= better than I expected for a "common beer"- evidence of good hops and malts.
T= again, better than I expected, we were with a local who said it wasn't her favorite beer but it was okay. I was very happy, actually, since in the US we'd probably have been stuck with overcarbonated macro-rot. Flavorful hops bite, hints of hops florals but not a lot, and quality malt in what seemed to be at least clean non-detracting local water. Rather decent for a stock table-beer.
M= nothing unpeasant, nice hops bite aftertaste.
D= very drinkable in quantity if you were in the mood and nothing else more exciting was being served.
986 characters

2.94
/5
rDev
+9.3%
look: 3 | smell: 2.75 | taste: 3 | feel: 3 | overall: 3
Mousel Premium Pils from Brasserie de Luxembourg Mousel -Diekirch SA
Beer rating:
2.69
out of
5
with
12
ratings