Ramuri Bucefalo
| Restaurante Bar Rámuri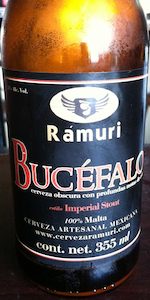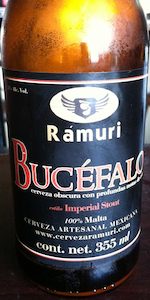 BEER INFO
Brewed by:
Restaurante Bar Rámuri
Mexico
cervezaramuri.com
Style:
American Double / Imperial Stout
Alcohol by volume (ABV):
9.30%
Availability:
Rotating
Notes / Commercial Description:
No notes at this time.
Added by treque on 11-04-2011
This beer is retired; no longer brewed.
HISTOGRAM
Ratings: 8 | Reviews: 5
Reviews by lehueve:

More User Reviews:
3.75
/5
rDev
-1.1%
look: 4 | smell: 4 | taste: 3.5 | feel: 3.5 | overall: 4
A: good looking, completely black, opaque, dense, seems to have a heavy body, the head has sand solor, 1 finger head dissipates quickly but remians a tiny layer, waste left on the glass
S: strong roast malts aroma, dark chocolate
T: very high roast coffe beans flavour, some chocolate, a long high bitterness end, medium body, not so well balanced for me
360 characters
4.92
/5
rDev
+29.8%
look: 4.5 | smell: 5 | taste: 5 | feel: 5 | overall: 4.75
I'm a Mexican. I've always thought that Mexican beer was OK under international standards. Some commercial brands were Good compared to American commercial brands yet not competitive against German/Eastern European commercial beer brand.
I was living out of Mexico for almost 2 years, came back, and now there's a micro brewery artisan beer boom happening in the country. I tried a few of this new brands and was utterly disappointed. Some of these brands made me laugh, as it seemed they were 'trying' to recreate the styles they represented with sad results.
It all changed when I tried Ramuri Bucefalo Imperial Stout on bottle.
It was extremely good in the sense that it was different that any other imperial stout I've tried before yet extremely good to leave me satisfied and give me the option of diversity, here's why:
S - coffee, chocolate truffles, vanilla, SUGAR CANE MOLASSES, wood
T - coffee, chocolate truffles, oatmeal, SUGAR CANE MOLASSES
Mouth feel - Milky, rich, molasses, no bitter after taste
It has no noticeable alcohol smell or taste even though it boasts 9.3% alc. It was quite weird for a strong beer not to taste or smell a bit like alcohol but I thought it was great.
cons-It didn't have much carbonation and not a refreshing mouthfeel, but it isn't weird, most imperial stouts don't have the refreshing mouthfeel as they are made for cold weather, except for Old Rasputin which is one of my fav's.
The alcohol impact wasn't quite strong like other imperial stouts, yet the mild happy dyonysus wave slowly arrived. Good beers give a quality inebriating feeling, making me happy and not giving hangover, this one was no exception. It was quality.
This is now one of my favorites now, and it means the new micro brewery in Mexico is actually delivering results. Try this one, it is good, it is different, it has a nice uncommon molasses taste to it, it is a hard to find beer.
1,907 characters

3.56
/5
rDev
-6.1%
look: 4.5 | smell: 3.5 | taste: 3.5 | feel: 3.5 | overall: 3.5
Pours a very very dark colour. Maybe a touch of brown at the edges. Head is dense, ochre, smooth, with beautiful lace. Looks wonderful.
Smells sweet and very malty, but a good belt of smoke to it as well. Quite meaty, with a glazed note upfront, then roast and smoke on the back. Fine enough, but I don't love it.
Taste is roasty, quite black with some toffeed sweet notes on the front, then gets bitter, burnt, quite peppery and charry. Bit spicy on the back as well, and a touch of that wood smoke coming through. Unfortunate sweet by-product flavour is noticeable, but very nice otherwise.
Bit sharp, noticeable booze on the back, but otherwise fairly smooth.
Big beer, but not so big as to hide all its faults in a tsunami of flavour.
742 characters
3.97
/5
rDev
+4.7%
look: 4.5 | smell: 4.25 | taste: 3.75 | feel: 3.75 | overall: 4
355ml brown bottle from my brewing lecturer. My bottle just calls this the Rámuri Imperial Stout, but it seems to be elsewhere known as the Bucefalo.
Pours a deep, rich black-brown, with a lovely, creamy and thick deep oily brown head. Body is smooth but fine and holds streams of fine-bubbled carbonation. Lacing forms in patches, and the weight of the body is evident as it crawls back down the interior of the glass. Looks very good.
Nose is dark, roasty and smoky, with some interesting flow-on effects from the smoke: I get some lanolin and sheep-pen, some woody notes and an evanescent character of wild fruit like lilly-pilly. Above all of this is an inherent dryness: the roast and the smoke tame it so much as to forbid any real sweetness from coming through. It's very interesting.
Taste is similarly styled: big roast and smoky char come through strongly, again railing on any real sweetness, with more of those organic sheep characters coming through as well. Very dry, husky and quite bitter on the finish. There's a smoothness in the feel, but this is again superseded by the burnt, roasted characters which provide a cutting vector through the centre.
Overall, this is a potent, dark and very interesting Imperial Stout. I'm certainly very interested that this comes from the land of bland Cerveza. It's not only a decent Imperial Stout, it's a very aggressive one: one that I'd be cowed and impressed by even if it came from a more belligerent locale.
1,472 characters

3.35
/5
rDev
-11.6%
look: 3 | smell: 3 | taste: 4 | feel: 2.5 | overall: 3
Purchased a 12oz bottle from the Beer Box in Tijuana and poured it into a pint glass.
On the bottle: Cerveza Obscura con Profundas Notas de Cafe - Imperial Stout- 9.3%
A: Black as night thin head that dissipates before the first sip, no lacing but has legs like a good wine.
S: Slightly metallic smoky dark chocolate.
T: Smoky sweet and malty, bready yeast, roasted coffee, hint of vanilla bean, mild grassy hop, finish is slightly boozy that mellows as the beer warms up a bit.
M: Full bodied though somewhat thin - needs more carbonation like most of their beers i've tried.
This one needs time to to develop but shows a lot of potential. Not sure what their continuous issues are with under-carbonation, but it's one of the most consistent attributes from this brewery.
780 characters

Ramuri Bucefalo from Restaurante Bar Rámuri
Beer rating:
3.79
out of
5
with
8
ratings