NoDaRyeZ'd
| NoDa Brewing Company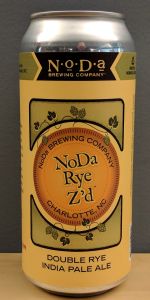 BEER INFO
Brewed by:
NoDa Brewing Company
North Carolina
,
United States
nodabrewing.com
Style:
American Double / Imperial IPA
Alcohol by volume (ABV):
8.85%
Availability:
Year-round
Notes / Commercial Description:
No notes at this time.
Added by thagr81us on 10-29-2011
Reviews: 11 | Ratings: 83
4.35
/5
rDev
+6.6%
look: 4 | smell: 4 | taste: 4.5 | feel: 4.5 | overall: 4.5
On tap at World of Beer in Raleigh. Served in a pint glass.
A - orange with a thin lacing of head
S - citrus, faint pepper, rye
T - opens with a big, peppery, rye character and finishes with a sweet, grapefruit, citrusy hop character; in the middle there is a broad spectrum of hop flavors - piny, spicy, herbal
M - medium bodied, well carbonated, smooth
This is a rather solid and balanced beer. The rye adds a nice dynamic. The hops are balanced and flavorful. Seven varieties of hops were used to make this beer and they all come through nicely. This is definitely worth a try.
585 characters

4.27
/5
rDev
+4.7%
look: 4.5 | smell: 4.25 | taste: 4.25 | feel: 4.25 | overall: 4.25
A crystal clear, copper colored beer with a foamy white head that leaves ribbons of lacing behind on the glass. Smells like oranges and rye bread with some floral hoppiness. Sweet and bitter with a rye finish that is dry. I really like this beer a lot and hope to see it for sale again.
287 characters

4.23
/5
rDev
+3.7%
look: 4.5 | smell: 4 | taste: 4.5 | feel: 4 | overall: 4
Poured into a Noda snifter at the grand opening of the tap room.
A: Pours a brilliant honey orange color with a finger and a half of white head.
S: Bread and subtle caramel butterscotch (not diacetyl) followed by piney, citrusy hops. Neither dominates the nose of this beer, which tells me I'm in for a well balance DIPA.
T: Similar to the nose with a bready, caramel butterscotch flavor and a nice, balanced hop presence. There is a slight alcohol burn in the finish but not enough to make this one undrinkable. Very nice rye double IPA.
M: Creamy smooth with perfect carbonation for the style.
O: This is a really good rye double IPA. I can see myself drinking this and the Coco Loco porter on a pretty regular basis. I should also mention that I have been on an IPA kick lately, so my palate may have been less sensitive to hops when I had this beer.
863 characters

4.13
/5
rDev
+1.2%
look: 4.5 | smell: 4 | taste: 4 | feel: 4 | overall: 4.5
Pours an amber color. Half inch head.
Smells of alpha acids. Very bittering hops, smells like an English ipa. I cant discern citric or piney hops, it all smells bitter to me.
Taste is loaded with alpha acids. Hops are slick, probably because they were added in the boil. Very bitter, scary bitter.
Body is light for the amount of hops in this thing. It kind of feels like the just kept adding hops to he boil.
413 characters
4.08
/5
rDev 0%
look: 4.5 | smell: 4 | taste: 4 | feel: 4.5 | overall: 4
Had at the grand opening. Double Rye IPA. Served from tap into a NoDa snifter. Pour red orange with a one finger off-white head that subsided to a very minimal amount slowly. Maintained phenomenal lacing throughout the glass. The aroma was of sweet malt, citrus, citrus hop, and earth. The flavor was of sweet malt, citrus, rue, citrus hop, and sweet alcohol. It had a medium feel on the palate with medium carbonation. Overall this was a pretty good brew. The rye on this one was definitely present. It had a nice bite but was balanced nicely with the citrus aspect going on. You can tell this is a slightly high ABV brew, but it isn't abrasive by any means. A definite must try. Tick.
686 characters

4.06
/5
rDev
-0.5%
look: 4.25 | smell: 3.75 | taste: 4.25 | feel: 4 | overall: 4
16 oz pour into an IPA glass from a growler.
A - Orange/ruby with a fluffy two finger head. A touch cloudy, but mainly clear. Great lace and head retention.
S - Hoppy/pine, faint sea salt.
T - This is good. Yeah, I know, why? Cereal grains, pine/grass, some dank on the finish. A little peppery, most likly due to the rye. Start picking a touch of fruit/orange as it warms.
M - Carbonation low, slightly creamy as a result.
O - This is good. Well made. Get Nodaryzed.
474 characters
4.03
/5
rDev
-1.2%
look: 4.5 | smell: 4 | taste: 4 | feel: 4 | overall: 4
on-tap, snifter treatment at the brewery
appearance: nice branded snifter (could do without the URL, but hey, they're new...), bright orange body, fluffy white cap
smell: citrusy hops, big sweet caramel core
taste: some spice from the rye but mostly structural support for the hop profile - oily pine and citrus, moderate bitterness, chewy caramel and dough. Good stuff - a nice introduction
mouthfeel: big-bodied, moderate bitterness
overall: straight out of the gates with the Rye DIPA - nice
499 characters
4
/5
rDev
-2%
look: 4 | smell: 4 | taste: 4 | feel: 4 | overall: 4
Appearance: Arrives in a snifter with a small cap atop the copper color liquid; streaks and strands of lace
Smell: Caramel and pine
Taste: Caramel and pine, up front, with the spicy rye flavors acting as a counterpoint to the malty sweetness; in fact, after the swallow, the caramel is obliterated by the hops and rye, providing a dry and bitter finish
Mouthfeel: Medium to full body with moderate carbonation
Overall: While I like my IPAs to have a little less sweetness, the way this beer develops makes for an enjoyable drink
532 characters

3.95
/5
rDev
-3.2%
look: 4 | smell: 3.25 | taste: 4.25 | feel: 4.25 | overall: 4
On-tap, somewhere, while visiting Charlotte, July 2012:
The beer was served in a tulip glass and appeared a deep amber color and had a nice white thick head, not well retained, but faded into a thin ring. The beer gave off a thin rye aroma, nothing else. The beer had a nice, big rye backbone with a very nice pine hop. The beer had a medium feel, smooth, pretty easy to drink for a higher ABV beer. Good carbonation as head can easily be recreated. Overall, a pretty good beer.
479 characters

3.77
/5
rDev
-7.6%
look: 4 | smell: 4.5 | taste: 3.5 | feel: 3.5 | overall: 3.5
Aroma: Bold American hops. Very sweet crystal malt. Some darker malt is present, slightly roasty.
Appearance: Light copper, just a touch of haze. Head is pale white, good retention.
Taste: Interesting flavors at work here. Some dark roasty malts, lots of crystal. Some funky spice, chili pepper. Hops are there, but not overwhelming. Very little citrus, pine and bitter floral notes.
Mouthfeel: Medium body. Slick and oily. Finishes mildly dry from all the hops and spice.
Overall: Not the typical double IPA. Bold flavors all around, although pleasant and savory aren't the first words that come to mind.
609 characters
3.7
/5
rDev
-9.3%
look: 4 | smell: 4 | taste: 3.5 | feel: 4 | overall: 3.5
Appearance: Golden amber, Finger of head and slight lacing
Smell: Hop-forward as expected, citrus.
Taste: A tasty rye IPA, but sweet mother is it bitter! I had this on the heels of a Porter, so my fault for setting it up for trouble. I like rye beer a lot, and want to try this again as a standalone
Mouthfeel: Solid, but then again, I was ready to send it down the hatch due to the bitterness.
I am not excited about this offering, yet I will try it again.
462 characters
NoDaRyeZ'd from NoDa Brewing Company
4.08
out of
5
based on
83
ratings.