Dismiss Notice
Dismiss Notice
Tri Umphant
| NoDa Brewing Company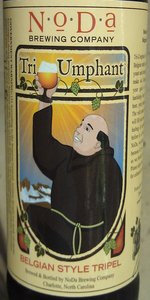 BEER INFO
Brewed by:
NoDa Brewing Company
North Carolina
,
United States
|
website
Style:
Tripel
Alcohol by volume (ABV):
9.70%
Availability:
Limited (brewed once)
Notes / Commercial Description:
No notes at this time.
Added by lanamj on 03-27-2012
This beer is retired; no longer brewed.
Reviews: 9 | Ratings: 52

4
/5
rDev
+7.5%
look: 4 | smell: 4 | taste: 4 | feel: 4 | overall: 4
Opened Bottle # 117 of 1518. Served in a room temp pint glass. Congrats on the first bottling guys.
A- A slow pour generates little to know head in this hazy gold beauty. Not much in the way of retention or lacing out of the bottle. On tap the day of the release, it was a a different story. Nice foamy heady that held well. Bottle score 3.5 , tap 4.5 , so I give it a 4.
S- Lots of sweet smooth aromas. I pick up lots of ripe bananas, sweet candi sugar, raisin, caramel malts and sweet booze. Lafey Tafey and brown sugar!! I like, although triple is not my favorite of the ale aromas, this one is well balanced.
T- Banana nut bread, raisins, caramel malts, slight amount of toffee and a crisp hop finish that is short lived but present. Again Lafey Tafey.
M- Smooth and crisp. For an ABV of %9.2 it drinks incredibly easy. The carbonation is spot on, most triples I feel are to active but this one is just right.
O- My hats off to NODA for this one. I feel its a great representation of the diversity and talent that this up coming brewery possesses. I cant wait for them to bottle more great bears... who knows maybe next time it will be darker ;). Awesome beer will enjoy the other three over the next few years. One of my favorite triples by far.
★
1,266 characters

3.94
/5
rDev
+5.9%
look: 4 | smell: 3.75 | taste: 4 | feel: 4 | overall: 4
A - translucent orange, slightly cloudy, pours with a thin head and dissipates to a lace.
S - doughy, banana, mild clove
T - candied sugar, bread, Belgian yeast
M - suprisingly smooth, slightly low on the carbonation. Stickier as it warms.
O - pretty solid tripel, strong offering from a local.
1 pt 6 fl oz from frougles
★
326 characters
3.85
/5
rDev
+3.5%
look: 3.75 | smell: 3.75 | taste: 4 | feel: 3.75 | overall: 3.75
Poured from a bomber into a snifter, the beer is a bright, slightly hazed, copper-gold coloring with a thin, wispy, surface coat of white head. Aromas of lemon, fig, ginger, clove, apricot, toasted grain, and orange zest. Fruity, light, effervescent nose. Flavors are tangy fruit forward, with a more rich character of old world fruit, including date and fig, followed by hints of rich caramel, honey, and a subtle spice character. Bubble gum, toffee, and citrus fruit notes become more present as you drink, as well. Very layered and dynamic. The spicing, once light and accenting, begins to build a bit more as you drink, as does a subtle warmth from the ABV. Light, crisp, effervescent body that remains refreshing throughout. The aftertaste is more of the tangy sweet, leading into a crisp, slightly dry, slightly lingering finish. Solid beer.
★
847 characters
3.75
/5
rDev
+0.8%
look: 4 | smell: 4 | taste: 3.5 | feel: 3.5 | overall: 4
Bottle number was unreadable on my bottle upon opening, but it was #### of 1518. Signed by the owner and head brewer! Served from bottle into a NoDa snifter (proper!). Poured a golden yellow-orange with a half finger white head that subsided to a minimal amount slowly. Maintained excellent lacing throughout the glass. The aroma was comprised of sweet malt, banana, banana runts, and sugar. The flavor was of sweet malt, spices, banana, earth, wheat, grain, and alcohol. It had a light feel on the palate with medium carbonation. Overall this was a fairly good brew. There was just something about the aroma on this one that made it like crystal meth to me as the banana runt aroma was very awe-inspiring and kept me smelling my brew over and over for quite some time before even taking my initial sip. Upon taking my first sip, I was kind of disappointed that the banana runt aroma didn't carry over into the flavor. I know that if it were that sweet it would kill the beer, but this was replaced with an earthy and somewhat boozy aftertaste that stuck to your palate. If the booziness wouldn't have been as present this one could have been a top-notch Tripel in my opinion. A well done brew by NoDa and especially well done for their first bottling. Can't wait to see what the future holds as far as their releases.
★
1,324 characters

3.68
/5
rDev
-1.1%
look: 4 | smell: 3.5 | taste: 3.5 | feel: 4 | overall: 4
Bottle from Brawley's
Appearance: yellow-orange pour with a dcent head
Smell: Typical for the style, bananas, sugar, caramel, brown sugar and booze
Taste: Again, well representative of the style, cloves, bananas, toffee, brown sugar
Mouthfeel: Smooth and good carbonation
ABV: Not my favorite, but a good representative of the style.
★
334 characters

3.67
/5
rDev
-1.3%
look: 4 | smell: 3.25 | taste: 3.75 | feel: 4 | overall: 3.75
Thanks to kubrick215 for sharing. 750ml, bottle #1288/1518.
Hazy and very dark golden orange colored with golden banana yellow edges and a 1.5 finger frothy, white head that quickly settle into a thick,  lasting ring.  Streaks of soapy lace are left behind.
Slightly funky aroma with strong yeast presence. Lots of bread, banana and bubblegum along with zesty spice, pale malt and earthy hops.  Hints of clove, coriander and pepper as well as some banana bread and citrus peel.
Medium bodied and complex with zesty spice, bready yeast and ester-y fruit notes.  Reminiscent of a wheat beer with bread, citrus rind and peppery spice.  I'm picking up some clove, ginger, coriander and pepper followed by wheat, bread/yeast and citrus peel.  A touch of banana followed by some bubblegum, orange peel and grapefruit.  Not too sweet, however, with masked ABV and decent balance.  Some earthy hops toward the finish which is slightly tart.  
★
949 characters
3.62
/5
rDev
-2.7%
look: 3.5 | smell: 4 | taste: 3.5 | feel: 3.5 | overall: 3.5
22oz bomber, split over the holidaze
appearance: served in an olde hickory vessel, light straw-orange body, minimal head retention
smell: banana, clove, sugar, yeast, alcohol
taste; I've always been a fan of the tripel style - NoDa's interpretation is pretty well to style with no real memorable highlights or downfalls. Sugary sweet, yeast, banana and clove, light citrus
mouthfeel: medium, light carbonation
overall: a good beer but not too exciting and would prefer to see some other bottled offerings in the future
★
523 characters
3.39
/5
rDev
-8.9%
look: 3.75 | smell: 3.5 | taste: 3.25 | feel: 3.25 | overall: 3.5
Bottle. Pours a very clear light amber color with a smallish white head on it. Nose is quite yeasty and slightly sweet, reminiscent of a lot of the Belgian styles of beer. Taste is slightly sweet, but has a bit of a bite to it that is a little unexpected. Not a bad brew, but not great.
★
286 characters

3.32
/5
rDev
-10.8%
look: 3 | smell: 3.5 | taste: 3.5 | feel: 3 | overall: 3
This is bottle 1081 of 1518, courtesy of thagr81us. Thanks Calton!
This beer pours a light bodied, bright polished bronze in color with a good amount of carbonation yet no head or lacing. The nose is pretty straightforward and simple. There is pale, sweet almost candied bubblegum yeast and a touch of alcohol. The flavors too feature sweet pale malts, that bubblegum yeast again, some artificial banana flavoring, and light alcohol. There is some residual sugar to it. It drinks light and yeasty and isn't as full bodied as most. It's ok. It's just a little too simple for my liking. The appearance, lack of head, and clarity take away from the finished product. I prefer a bigger, bolder, yeastier and cloudier Tripel. This just doesn't satisfy what I look for and expect from the style.
★
790 characters
Tri Umphant from NoDa Brewing Company
-
out of
100
based on
9
ratings.