Gordgeous
| NoDa Brewing Company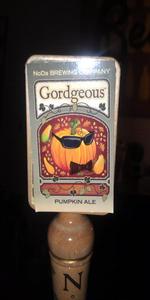 BEER INFO
Brewed by:
NoDa Brewing Company
North Carolina
,
United States
nodabrewing.com
Style:
Pumpkin Ale
Alcohol by volume (ABV):
6.40%
Availability:
Fall
Notes / Commercial Description:
No notes at this time.
Added by thagr81us on 11-21-2012
Reviews: 10 | Ratings: 66
4.35
/5
rDev
+8.5%
look: 4.5 | smell: 4.5 | taste: 4 | feel: 4.5 | overall: 4.75
I generally tend to detest novelty beers, especially pumpkin beers, as I'm not a fan of the flavor of pumpkin, nor the spices used. However, due to my undying support of this brewery, I gave this beer a shot. It was, by far, the most balanced pumpkin beer I've had, and the best representation of the style I believe I've tried.
I wouldn't necessarily sit down and order multiple glasses, but for the style, this was outstanding.
430 characters

4.31
/5
rDev
+7.5%
look: 4 | smell: 4.25 | taste: 4.5 | feel: 4 | overall: 4.25
I am not the biggest pumpkin beer fan but received this as a gift in a mix pack. I think because of the way this style is way too over-spiced with nutmeg and cinnamon (shipyard pumpkinhead comes to mind). But this one I really enjoyed. This gift opened my mind to the style again.
280 characters
4.12
/5
rDev
+2.7%
look: 3.5 | smell: 4 | taste: 4.5 | feel: 3.5 | overall: 4
On tap at brewery.
Glad that someone added this beer so I could review. This was the best pumpkin beer of the season. Poured dark amber with small off white head that left decent lacing. Aroma was very sweet and mostly spicy (pumpkin pie spices like cinnamon, coriander, all spice, etc.) with a little bit of pumpkin coming through. The taste was more of the spice, but with a real pumpkin kick. This beer has the best balance of spice and pumpkin I've encountered. The pumpkin taste was extremely fresh and pleasant. Medium mouthfeel that was easy enough to drink without seeming thin and watery. Overall a real surprise and something I'm looking forward to for next year.
674 characters

4.08
/5
rDev
+1.7%
look: 4.25 | smell: 4.25 | taste: 4 | feel: 4 | overall: 4
a clear, dark, amber beer with a light tan head that left only a band of lacing. The aroma is pumpkin pie spice that is heavy on the cinnamon and clove with a sweet caramel maltiness. The beer tastes sweet and spicy with a lot of cinnamon and clove. The yeast brings a mild pie crust taste and the beer finishes sweet and slightly bitter. Pretty good pumpkin beer for sure.
373 characters
4.08
/5
rDev
+1.7%
look: 4.25 | smell: 4.25 | taste: 4 | feel: 4 | overall: 4
on draft at beer study in chapel hill. dfh tulip shaped pint glass.
pours a dark orange with a nice inch thick head. very pumpkiny aroma strong on nutmeg and cinnamon. taste is more of the same but with a good amount of clove as well. very spice heavy. fuller side of medium bodied.
overall for a pumpkin beer its in the upper echelon. recommended if youre looking for this style.
383 characters

4.02
/5
rDev
+0.2%
look: 4.25 | smell: 4 | taste: 4 | feel: 4 | overall: 4
From a growler at The Beer Growler poured into a tulip glass.
A - Pours a clear ruby red with a two finger fluffy tan head. Maintains a decent lace.
S - Pumpkin and a variety of spices...cinnamon, nutmeg, clove.
T - Follows the nose, with a smattering of grassy hops and peppery spice.
M - Carbonation is medium, right in the middle area for heft, and it does leave a slight sticky coating.
O - One of my favorite pumpkins (though I have only had it a few times). Recommended for those who like a little more spice in the mix.
538 characters
4
/5
rDev
-0.2%
look: 4 | smell: 4 | taste: 4 | feel: 4 | overall: 4
Had this one at the source! Served from tap into a NoDa shaker. Poured a deep red-orange with a half finger off-white head that subsided to a minimal amount quickly. Maintained excellent lacing throughout the glass. The aroma was comprised of sweet malt, pumpkin, clove, coriander, spices, and subtle cinnamon. The flavor was of sweet malt, spice, cinnamon, clove, pumpkin, and coriander. It had a light feel on the palate with medium-high carbonation. Overall this was a good brew. I usually am not a big fan of pumpkin beers if I am honest. However the spice balance on this one was quite pleasant. The cinnamon note going on was really nice and not overly spicy as some can be that I've had in the past. This fact made it quite easy to drink and rather enjoyable. Really nicely done brew for the style. Tick.
813 characters
3.97
/5
rDev
-1%
look: 4 | smell: 3.75 | taste: 4 | feel: 4.25 | overall: 4
Note: Growler purchased at Bestway in Greensboro, NC
A: Pours a crystal clear medium garnet reddish amber in color with light amounts of active visible carbonation rising from the bottom of the glass slowly and some deep crimson red highlights. The beer has a finger tall dense foamy beige head that reduces to a couple of small patches of thick film and a thin film covering the entire surface of the beer with a thin ring at the edges of the glass. Moderate to significant amounts of lacing are observed.
S: Moderate aromas of pumpkin pie spices (nutmeg, clove, and cinnamon in descending order of strength) as well as some light to moderate aromas of slightly sweet roasted pumpkin.
T: Upfront there is a light amount of sweetness from the grainy malt and roasted pumpkin flavors along with a moderate amount of pumpkin pie spice flavors - primarily nutmeg with lighter notes of clove and cinnamon. Minimal amounts of bitterness.
M: Medium bodied with moderate amounts of carbonation. Smooth and creamy.
O: Not nearly as sweet as I expected based on the aroma, which is a good thing - one of the better balanced pumpkin beers I have had in recent years with a great blend between the pumpkin sweetness and the spices. Definitely one I would grab again.
1,260 characters

3.86
/5
rDev
-3.7%
look: 4.25 | smell: 3.75 | taste: 3.75 | feel: 4 | overall: 4
Had on tap a few days back at Potent Potables.Poured into a standard pint glass a deep burnt orange with nicely formed one finger off white head,I liked the deep color and nice head to this beer.Aromas of pumpkin pie spice,alot of nutmeg and clove with underlying cinnamon,smelled sweet but it wasn't overly sweet tasting.Spiced on the palate with a fair amount of nutmeg and clove,a lightly drying finish keeps the sweetness in check...just enough.You have to like nutmeg to really like this beer and I do somewhat so I enjoyed it.One of the better new pumpkin beers I have tried this season.
593 characters
3.85
/5
rDev
-4%
look: 3.75 | smell: 4.25 | taste: 3.75 | feel: 3.5 | overall: 3.75
L - dark amber. Course bubbly head.
S - allspice, cinnamon, and of course pumpkin! Slight clove as well.
T - more of the same aroma. Pumpkin seeds. Caramel.
F - medium body. Slightly prickly carb.
O - decent pumpkin beer. Not overly sweet and had some slight hop bite. Drinkable.
286 characters
Gordgeous from NoDa Brewing Company
4.01
out of
5
based on
66
ratings.