Duckworth's Grill & Taphouse - Ballantyne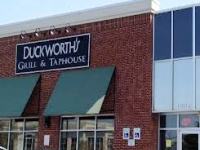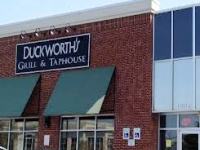 Bar, Eatery, Beer-to-go
14015 Conlan Cir
Charlotte
,
North Carolina
, 28277-3476
United States
(704) 752-7284 |
map
duckworths.com
Notes:
Reviews: 10 | Ratings: 33
4
/5
rDev
-8.5%
vibe: 4 | quality: 4 | service: 4 | selection: 4 | food: 4
For the area the place is great. This is considering that the other "tap rooms" that are close are Hickory Tavern (better sports bar) and Growler USA. I must say I have not been to Growler's yet. My main reason for coming here is the beer club which rewards you (in insane quantities) for drinking different beers. It is a cool program and I will take advantage since I work and live close to the bar. This is just the second time I have been here. First with a group at a table and second at the bar solo. Service is fine. I never rely on the bartender or waitstaff to have knowledge of beers unless it is a beer exclusive location (take The Thirsty Monk in Asheville, NC for example; downtown location). Their website and tablets have all the beers on tap with discriptions at your fingertips. So, don't be a douche and use technology! Food is good for bar quality. It try's to be sports friendly but I found it dead on a Sunday at 4:30pm. People were not interested in sports. That's fine to me. I just want the beer. Good selection with seasonals included! I will be back many more times. Looking forward to reviewing the uptown location. Says over 400 beers on tap!!
1,171 characters

3.9
/5
rDev
-10.8%
vibe: 4 | quality: 3.75 | service: 4 | selection: 4 | food: 3.75
Decent sports bar type atmosphere with lots of Craft Taps. Staff is usually friendly, but standard waitresses and waiters, rarely knowledgeable about many of the brews. Gets crowded after work, calms down around 7, weekends are busy. Great for NFL and college games.
Beer selection runs from good to okay, sometimes you just can't have what everyone wants. They do have bottles as well, fair selection, but for drinking there, I never tried to get anything to go, so not sure on this one.
Food, they have a very large menu, but all standard bar fare for the most part, with a few surprises on occasion. Usually well prepared, decent portion size and quick getting it to the table, unless super crowded.
704 characters
4.46
/5
rDev
+2.1%
vibe: 4.5 | quality: 4.5 | service: 4.75 | selection: 4.5 | food: 3.5
The beer selection is nice. I love the amount of dark beer selections that you don't typically see. Duckworth's in general is a bar first and restaurant second. I prefer a 50/50 bar/restaurant. This is the standard by which all other restaurants are judged. I find myself making up reasons to go in order to consume mass quantities of dark beer.
The price/quality ratio on the food is a little off. I don't like $10-15/plates, but this is do-able. The beer prices are reasonable and the pint nights and ability to have flights is awesome.
I would say that the menu could be a little less bar and a little more restaurant, but besides that it is a great craft beer restaurant. The service here is good better than the Park road location and the parking is better, but not great probably because it has great beer ;-)
818 characters
4.66
/5
rDev
+6.6%
vibe: 4.75 | quality: 5 | service: 4.5 | selection: 4.25 | food: 5
What a great place owned by a local guy. Food is excellent and tons of TV's. The chicken philly is top notch. Beer selection is quite good Laguinta's Sucks, Green Flash, and a great selection of local NC beers. 3 dollar beers on Monday and Wednesday all day. 80 taps and a cask. This place can't be beat and is a great addition to South Charlotte.
347 characters

4.23
/5
rDev
-3.2%
vibe: 3.75 | quality: 4.25 | service: 4.25 | selection: 4.25 | food: 4.5
Great food - much better food than Taco Macs (right down the road) but not as many beers. They still have a ton of beers on tap and a great menu with frequently rotating beers. Food-wise you HAVE to go with the Buffalo Chicken Philly - they are a cheesesteak factory and this is what they do best.
297 characters

4.58
/5
rDev
+4.8%
vibe: 4.5 | quality: 4.5 | service: 4.5 | selection: 5 | food: 4
Wow...not a review in 2012? How is that possible?
I've been a customer of Duckworth's since they were in the small location on Park Rd with 20 drafts...and man have they grown.
Without a doubt the best beer selection in Charlotte, and with their specials I would say they have the BEST selection and prices. The food is also very good, I love their burgers, cheese steaks, and the best fried pickles I have ever had.
Rob is the owner and often stops by and talks, the staff seems to be for the most part very knowledgeable (with a few exceptions) and if you like TV's they have if I remember right over 60 HDTV's here.
622 characters
4.35
/5
rDev
-0.5%
vibe: 4 | quality: 4.5 | service: 4 | selection: 5 | food: 3.5
It's really hard to differentiate much between the Duckworths on Park Road and this one in Ballantyne, so here are some of the highlights...
* This one is MUCH closer to my parents house - dangerously close with no decent competition of any sort in craft-beer for miles on end
* Staggering amount of tv's - awesome tv's. There's plenty to be said for "atmosphere" in beer bars, but I really like sports. This is a sports bar that just happens to have the best taplist in the city, and beyond.
* It's in Ballantyne - so yeah, you'll have to deal with all of that.
* Taplist is actually longer than the Park Road location, but for all intensive purposes it's roughly the same. $3 pints on Monday and Wednesday.
* Huge interior - restaurant area lacks any sort of atmosphere - try to at least get in the large bar room.
* The service ranges from suspect to suspiciously sharp at the Park Road location - it's probably a few steps behind here, but it's young and the craft beer explosion is still a relatively new experiment in Charlotte, so I don't hold the staff accountable like I would in Portland, Seattle, Chicago or San Francisco
I'm not in Charlotte that often, but I can't even begin to run the #'s on how many pints per visit that will be consumed here.
1,266 characters

4.33
/5
rDev
-0.9%
vibe: 3.5 | quality: 4 | service: 4.5 | selection: 5 | food: 4
Here is the bottom line on Duckworths Ballantyne. The food is well above average for a sports bar. The cheesesteaks and pizzas are very good and the wings are among the best around. The tap selection is the best in Charlotte and I doubt you could find anything appreciably better in any other city. 80 taps all craft no filler. It is simply world class. Prices are pretty standard at $4 for 14 oz standard beers going up to a max of $7 for 8.5 or 11.5 oz pours of the higher end beers. Mondays and Wednesdays are $3 for everything on tap with a very small number of exceptions for the most expensive of beers. They have food specials every day. The service is noticeably better than at many other spots I have been to. The servers are pretty knowledgeable on the beers they offer and always seem to strike up a friendly conversation while taking care of you. Really the only negative for Ducks is a lack of ambience. It is a typical loud big screen tv saturated sports bar type feel with the addition of a crowd of beer geeks. For quality of food, unreal tap list, great specials and plenty of tv's to catch your game you cannot do better than Ducks.
1,150 characters

4.03
/5
rDev
-7.8%
vibe: 3.5 | quality: 4 | service: 4 | selection: 4.5 | food: 3.5
I have been going to Duckworths on Park Rd. for a few years now and really enjoy it, so I was really glad to see this one opening up a little closer to the house.
This location is set up in similar fashion to the Park Rd. location, but much larger, and about twice as many TV's. The place is pretty nice, but not much in the way of atmoshphere.
The service was pretty good. Our server was attentive, and very pleasant. My glass was never empty for longer than a minute or two without him checking on us. He seemed to know the food menu fairly well, but didn't have the same level of understanding of the beer menu.
The selection is terrific. 80 Taps + 1 cask. If you can't find a beer that suits you here, you won't find one anywhere. Really a vast selection of great local and regional beers, as well as some midwest and west coast beers.
The food is the same menu as the other Charlotte location. Decent food at a decent price. Nothing that will knock your socks off, but better than many beer centric places that I have been.
Overall, this is a great addition to the Charlotte beer scene.
1,097 characters
4.4
/5
rDev
+0.7%
vibe: 4 | quality: 4.5 | service: 4 | selection: 5 | food: 4
Nice addition to the southside, though not any closer to me than the other Charlotte Ducks. Bar room in front when you enter, dining left, same ad park though much larger feeling. The giant mostly open room setup makes the place very noisy. Menu looks the same, best and pretty much only cheesesteaks in town. Many staff members from the Park road location, are all adequate. Solid selection with a few more taps than Park, equal quality I'd say. Silent Night, Breakfast Stout, St. Bernardus 12. Could get $3 drafts 4 days a week alternating between the 2 locations. Too bad I'm about 10 years past my 5 night a week bar times.
627 characters
Duckworth's Grill & Taphouse - Ballantyne in Charlotte, NC
Place rating:
4.37
out of
5
with
33
ratings