Slumbrew Rising Sun Ale
| Somerville Brewing Company (Slumbrew)
BA SCORE
81
good
12
Reviews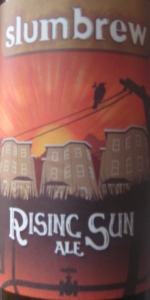 BEER INFO
Brewed by:
Somerville Brewing Company (Slumbrew)
Massachusetts
,
United States
slumbrew.com
Style:
Altbier
Alcohol by volume (ABV):
5.70%
Availability:
Limited (brewed once)
Notes / Commercial Description:
No notes at this time.
Added by smcolw on 06-10-2012
This beer is retired; no longer brewed.
Reviews: 12 | Ratings: 34

4.18
/5
rDev
+17.4%
look: 4 | smell: 3.5 | taste: 4.5 | feel: 4 | overall: 4.5
Pours a dark reddish-brown with a one-finger head into my glass. Colors are where they should be.
Barley mixes with clove and banana aromas to highlight the unorthodox approach of this ale.
Think of this is as the anti-pale wheat. It has that old-school alt character, which lends itself to easy drinking escapades. For me, I think something that is much more flavorful than Long Trail.
Lingering barley and clove flavors. Again, very flavorful. Chewy. Molasses? I think so.
I like this. It's unorthodox. It's a style that I've never heard of (dampfbier). Do check it out!
579 characters

4.13
/5
rDev
+16%
look: 4 | smell: 3.5 | taste: 4.5 | feel: 4.5 | overall: 4
I like altbiers, and this one was excellent. In a pint glass the beer was a red amber color, a little hazy. There was a small tan head.
Malt, fruit, and spice in the aroma. A little muted.
Ah, but the taste more than made up for the aroma, and really amplified it. A lot of malt in the taste. Some sweet fruit. Late cinnamon taste that really lingered.
This was a wonderfully smooth beer, very drinkable.
407 characters
4.04
/5
rDev
+13.5%
look: 4 | smell: 3.75 | taste: 4.25 | feel: 4 | overall: 4
The beer was poured into a stange glass. The beer pours a darker shade of copper and hazy. The beer has a thick, light tan head that retreat slowly, leaving splotchy lacing along the glass. The beer has many visible tiny bubbles along side the glass. The first aroma is of bubblegum and bread. There's some toffee in the smell as well as some banana aroma. The flavor is of toasted bread crust, toffee, and some slight nuttiness. I also get some grassy hops in the flavor as well as that banana I picked up in the nose. The body is light to medium with moderate carbonation. The beer drinks very easily and there's only a slight aftertaste. This is a very good beer.
666 characters
4
/5
rDev
+12.4%
look: 4 | smell: 4 | taste: 4 | feel: 4 | overall: 4
Picked a 22 oz. bottle of Slumbrew's latest offering, Rising Sun, at Craft Beer Cellar in Belmont on June 2, 2012. I enjoyed this beer in my Dogfish Head signature snifter. This is the first proper bottle of Slumbrew I've had–always interested to taste what the local breweries are brewing, so definitely excited for this. Doubly interested, since this is, as it turns out, a German Dampfbier-style ale, a style that is fairly obscure and that I have yet to sample. It features an all-malted barley malt bill...hmmm...interesting.
Appearance (4/5): The beer pours a 1.5 finger tope-colored head of foam that sits atop a dark chocolate body of beer. The beer is pretty dark, though semi-transparent, and holding it up to the light reveals auburn highlights. Looks pretty good.
Smell (4/5): The nose on this dark ale is very bready, grainy, and rich. I pick up notes of dark bread–maybe pumpernickel?–hay, bran cereal, and a hint of cinnamon-like subdued sweetness. Pretty bold odors–and I like that. I can't say I've smelled a beer that has a similar aroma to this. Very unique if not wonderful smells, so bonus points to Slumbrew.
Taste (4/5): The beer's taste picks up where the smell left off. You can definitely taste the rich malted barley–it really dominates the taste and gives this beer a definite bread-like character. It isn't very sweet, despite being described as a "malt bomb". One of the neat things about this beer is the spicy note from the hops that emerges in the finish, working its way out of the shadows of the bran cereal and pumpernickel-like flavors. Overall, a very rich-tasting beer and really packs tons of flavor into a beer of ONLY 5.70% ABV. Kind of a meal-in-a-glass. I can't say I love the flavor–it's very good, not great–but it really doesn't taste like anything I've had before and is definitely interesting, so, for that it scores a 4. This is definitely a good, hearty ale
Mouthfeel (4/5): Mouthfeel on Rising Sun is pretty good. Good medium carbonation and the beer is nice and smooth, a little creamy on first sip, and goes down easy. Nothing really impressive to remark upon in this category; the mouthfeel pulls its weight and doesn't represent a drag on this brew's quality.
Overall (4/5): This is very solid beer from Slumbrew. Lots of good rich, malty flavor can be found in Rising Sun. This beer seems to me best suited for the cooler months with its deep and earthy flavors and would pair very well with a big Thanksgiving meal. I really enjoy this beer's uniqueness and it's bold flavors, and I think there are plenty of craft beer drinkers out there who will, too. Check it out.
2,649 characters

3.74
/5
rDev
+5.1%
look: 3.5 | smell: 4.5 | taste: 3.5 | feel: 3.5 | overall: 3.5
Poured a half inch beige head with decent lifespan. The body in masstone is a burnt umber brown, quite dark, which surprised me considering the Rising Sun name, and when you held it to the light you can make out a pretty dark burgundy color, so I get it, but it's more of a last moment of sunset than a rising sun. Smell is great with a complex mix of caramel, malt, molasses, fig, and hops. The taste, although good, is far simpler and understated compared to the smell. And there's not much to the finish.
507 characters
3.69
/5
rDev
+3.7%
look: 3 | smell: 4 | taste: 3.5 | feel: 4.5 | overall: 3.5
22 oz Bomber into my Pretty Things goblet. Served refrigerator temperature after a three mile run.
A - dull copper color, looks a little like dirty water. Head fades quickly but some lacings persist. Iced tea color.
S -slightly sour malt/yeast smell. Bread dough.
T - sweet & sour. Strong lemon flavor mixed with the yeasty sour. Tasty. Hints of fish oil? or am I trying too hard.
M - crisp and thirst quenching. Goes down like a dry cider perhaps.
O - it's given me the hiccups but I forgive it. Different than what I usually have, nice flavor, not sure I want more than one however.
589 characters
3.65
/5
rDev
+2.5%
look: 4 | smell: 4 | taste: 3.5 | feel: 3.5 | overall: 3.5
Another one lost in the back of the fridge, hopefully hasn't faded too much.
Pours a big fluffy 1.5 finger head that fades semi slowly with nice lacing over semi clear but dark cranberry mahogany ruby brown colored beer.
Aroma hits my nose from a few feet away on the pour, big malts, very interesting, with lots of caramel, toffee, light roast, roasted reddish malts, candy, nutty, etc. Then the bock comes in with nice toffee, light raisin, reminiscent of a dark wheat beer, hint candied banana, and just a touch of herbal grassy hops.
Taste starts with lots more malts, toffee and caramel right out, slight hint of roast, nutty malt flavors, etc, before more yeast additions, big toffee and light bananas foster, candied raisin and fig, again a dark wheat flavor for that bock yeast. Caramel really saturates before hops come in lightly, hint herbal grassy earthy like hops, light bitterness, earthy dirty raisin flavor, abs just a light yeasty flavor. Finish is slightly drier, little sticky, lingering dark fruits, fig raisin, toffee, caramel, fruity flavors, and light earthy hops.
Mouth is med bodied, sticky syrupy mostly, decent carb.
Overall not bad, interesting blend of malt flavors and bock yeast flavors, little too syrupy but mostly a good beer.
1,265 characters
3.56
/5
rDev 0%
look: 4.5 | smell: 3.5 | taste: 3.5 | feel: 3.5 | overall: 3.5
From the bottle's label:
Inspired by a less known German brewing style called dampfbier--an all barley malt bill fermented with wheat beer yeast--we found a delicious new expression for our Happy Sol yeast. This beer pours a deep red color with unique malty flavors from roasted barley, Munich, pilsen and caramel malts. A subtle hop spice is derived from German Perle and Hallertauer hops.
Pours with a decent head that leaves some chunky lace. Dark brown color where light shines through well.
Relatively light aroma of darker, toasty malts.
Thin bodied with a high level of carbonation. The brew comes across as a wheat beer with a mild degree of sourness. I don't detect the hops.
695 characters
3.39
/5
rDev
-4.8%
look: 4 | smell: 3 | taste: 3.5 | feel: 3.25 | overall: 3.5
Draught @ Noho Brewfest: This one pours a clear, dark amber color. There was very little heads on it. It has a milder nose. Malty, toasty, hint of roast and biscuit. The taste is good. Malts, roastiness, hint of dryness in finish. Maybe some nuttiness. Nice.
258 characters

3.11
/5
rDev
-12.6%
look: 2.75 | smell: 3.5 | taste: 3 | feel: 3 | overall: 3
22oz bottle poured into stemless wine glass. Bottled 5/13, about 3 months old.
A- Pours a yellowish red copper color with a slight off-white head that dissipates fairly quickly, carbonation dies off after awhile.
S- Espresso beans, some dark fruits, cola, a bit of licorice, caramel. A lot going on and decently aromatic, would be fairly pleasant smelling if the cola presence wasn't there.
T- Caramel malts, slight dark fruits, barley, a fairly distinct flat cola taste that sort of ruins the beer a bit, finishes with espresso beans, some wheat, and light caramel malts.
M- Initially fairly spritzer then fading to be a little bit on he flat side, medium bodied, easy drinking.
O- I haven't had to many altbiers, but I wasn't a huge fan of this one and I know I've had much better of the style. This was drinkable but it didn't quite fit together with a slight off putting cola presence.
894 characters
2.65
/5
rDev
-25.6%
look: 3.5 | smell: 3.5 | taste: 2 | feel: 3 | overall: 2.5
22oz bottle purchased as a single from somewhere localish. Bottled 5/12.
Poured into an imperial pint glass, formed a 1/4" tan head over the clear reddish orange brew. Head recedes gradually, with sticky lasting lace. Aroma is malts and a light tartness.
Taste starts nutty sweet, kicks it up pretty hard on the tartness in the middle, balanced close with the lemony undercurrent. Mouthfeel is pretty smooth, but drinkability is limited by omnipresent sour character. Hoped for better.
488 characters
2
/5
rDev
-43.8%
look: 2 | smell: 2 | taste: 2 | feel: 2 | overall: 2
An all barley malt brew fermented w/ wheat beer yeast. Deep red color with malty flavors from raosted barlye, Munich, and piseln and caramel malts.
To be honest, not a fan of the Perle and Hallertauer hops. Adds a spice flavor that turns me off. Tastes to me that additional spice was added. Need to investigate the effect of these specific hops more.
352 characters
Slumbrew Rising Sun Ale from Somerville Brewing Company (Slumbrew)
3.56
out of
5
based on
34
ratings.