Lobstah Killah
| Somerville Brewing Company (Slumbrew)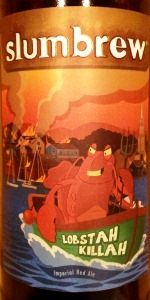 BEER INFO
Brewed by:
Somerville Brewing Company (Slumbrew)
Massachusetts
,
United States
slumbrew.com
Style:
Irish Red Ale
Alcohol by volume (ABV):
8.00%
Availability:
Spring
Notes / Commercial Description:
It wasn't always his temperament, but they were the ones ... the ones that went looking for him after all. Today is a new day. Lobstah Killah Imperial Red Ale is a special blend of Maris Otter and other malts balance a resiny mix of Columbus, Cascade and Simcoe hops. Our hoppy imperial red ale is the beer of choice for imperial decisions.
Added by beerman999999 on 05-02-2013
Reviews: 14 | Ratings: 90
3.99
/5
rDev
+0.8%
look: 3.75 | smell: 4 | taste: 4 | feel: 4 | overall: 4
A: The beer is clear reddish amber in color and has no visible carbonation. It poured with a quarter finger high beige head that died down, leaving a large patch of bubbles in the center and a thin collar around the edge of the glass.
S: The smell is a little sweet and has aromas of toasted malts along with hints of pine resin hops.
T: Following the smell, the taste has flavors of toasted malts along with notes of tea leaves and hints of herbal hops. There's slight bits of sweetness but also hints of bitterness.
M: It feels medium-bodied and a little smooth on the palate with a low to moderate amount of carbonation.
O: This beer is easy to drink and is a very good representation of the style. I would definitely try this again.
740 characters
4.19
/5
rDev
+5.8%
look: 4.25 | smell: 4 | taste: 4.25 | feel: 4.25 | overall: 4.25
Poured from a 22oz bottle into a mug glass.
A: The beer is a medium brown color, with a large dense off-white head that fades slowly and leaves a thick but spotty lace on the glass.
S: The aroma contains rich caramelized malts, floral hops and some citrus.
T: The taste starts out sweet with flavors of caramel and a little citrus. Then a strong but not over-powering hops presence for the style comes in. The malt character is hearty and provides a very good balance. The after-taste is slightly sweet and slightly hoppy.
M: Crisp and very smooth, medium body, medium carbonation, finish is slightly sticky.
O: Tasty, goes down very easily, not too filling, good kick, good representation of style, this is a very nice flavorful beer to drink for a long time.
766 characters
3.74
/5
rDev
-5.6%
look: 4 | smell: 3.75 | taste: 3.75 | feel: 3.5 | overall: 3.75
Served on-tap at Bukowski Tavern in Boston, MA
A: Pours a clear deep garnet red in color with some light to moderate amounts of visible carbonation and some copper + amber highlights. The beer has a finger tall beige head that slowly reduces to a very thin film covering the majority of the surface of the beer and a thin ring at the edges of the glass. Light amounts of lacing are observed.
S: Light to moderate aromas of toasted and caramel malts along with some lighter notes of grassy hops.
T: Similar to the smell, this beer is pretty much all malts without being too sweet - I tasted flavors of toasted and caramel malts. Very light flavors of grassy hops that balance out the sweetness from the malts. Light amounts of bitterness which fade quickly.
M: Medium bodied with moderate amounts of carbonation.
O: Enjoyable but a little strong at 8% ABV to be called easy drinking or sessionable - the alcohol is pretty well hidden. First beer from this brewery and it was likely a good one to start off (saw a bunch of different places in Boston that had an offering from them on tap).
1,092 characters
3.63
/5
rDev
-8.3%
look: 4 | smell: 3.5 | taste: 3.5 | feel: 4 | overall: 3.75
Small head but it leaves an excellent blanket of lace. The color is dark amber with lots of haze.
Upfront I get evergreen smelling hop. There's a bit of toasted malt in the background.
Toasty and very dry malt. Thick dark brown toast just shy of being burnt. Strong bitter hop kick--straight out bitterness without other "notes". Full bodied and lowly carbonated. Nearly astringent.
386 characters
4.19
/5
rDev
+5.8%
look: 4.25 | smell: 4.5 | taste: 4 | feel: 4 | overall: 4.25
Pours hazed lobstah red.
The smell is hoppy with citric/tropical fruits and pine. Plenty of "red" caramel-ish malt backs it up.
The taste is of sweet toffee/caramel with mild toasted bread. Musty/citric/piney hops weave in and out. It has a strong malty backbone with balancing hops in the finish. Alcohol is nicely incorporated with just a hint of pepper. Some residual sweetness lingers on the lips.
It hits full-bodied, without being thick. It has medium carbonation.
This is a wicked good beeah! Hoppy, malty, tasty - great smell! Too bad it doesn't come in a six pack. Very enjoyable and dangerously drinkable!
619 characters

3.88
/5
rDev
-2%
look: 4 | smell: 3.5 | taste: 4 | feel: 4 | overall: 4
Pours a three-finger cream/beige head that fades slowly to a thin layer leaving a good lace. Hazy amber color. Medium carbonation and medium bodied. Pine/resin nose and flavor is pine hops and caramel, light bitter aftertaste, higher ABV is hidden. $7.20 for a 220z bottle from a Tully's Beer & Wine Wells, ME.
312 characters

4.27
/5
rDev
+7.8%
look: 4.5 | smell: 4.25 | taste: 4.25 | feel: 4.25 | overall: 4.25
Deep amber in color with an off white head. Good lace and retention. Great balance of sweet tasty malt and bright piney hops. Super creamy and thick with great feel and finish. Although a bit cloying after a while. Great hop profile and definitely an Imperial Red as opposed to an Imperial Red IPA. Solid, delicious beer for malt fans and hop heads alike.
355 characters

3.94
/5
rDev
-0.5%
look: 4 | smell: 4.25 | taste: 3.75 | feel: 3.75 | overall: 4
Ruby colored with a decent sized off-white head. Sweet caramel malt aroma with some piney hops to balance it out. Medium bodied with a thick texture and slightly bitter finish. Very drinkable for 8%. I enjoyed this beer and look forward to trying some of their other offerings.
277 characters
4
/5
rDev
+1%
look: 4 | smell: 4 | taste: 4 | feel: 4 | overall: 4
Semi hazed dull orange color with about 2 fingers of off white head with an orange tinge. Nice hoppy nose of citrus fruits, tangerines covered in sticky caramel drizzle.
Thick body with initial sweetness but the beer avoids being sticky. Carbonation is brisk but doesn't break the body up too much. Sweet candied tropical fruits up front. Malty sweetness hits the mid palate. Faint bitterness to balance everything, lingering cereal grain flavors along win a touch of tobacco make de a unique, tasty and refreshing beer that brings you to thoughts of a Hawaiian luau at sunset. Different in a good way with some other hidden complexities, burnt sugars, tangerines, faintly flowery. A complex beer with lots of different flavors that all work together, it's also just nice to sip and enjoy it.
793 characters

4.04
/5
rDev
+2%
look: 4 | smell: 4.25 | taste: 4 | feel: 3.75 | overall: 4
Lobstah Killah opens to a strongly hoppy nose, with nice clouds of pink grapefruit and lemon oil up front, followed by slightly lighter bits of pine and grapefruit rind. This strongly citrus-based hop aroma mixes nicely with large amounts of sugar, including brown sugar, touches of super sweet confectioner's sugar, and a wide assortment of fruit esters, including orange, berry, cherry, peach, apricot, and even a dash of kiwi and honeydew melon. All of these rest atop a bed of light toast crust, biscuit, and Grape Nuts cereal, as well as complementary sprinkles of vanilla and caramel. As a whole, the nose is very nice, geared mainly towards the sweet end, but with a good balance of bitterness and bready notes to keep things from swinging too wildly towards the sugar event horizon. The citrus notes from the hops play especially nicely off of the sugary fruit esters, bringing to mind syrupy fruit cocktails.
On the tongue, the beer is hoppier than expected, with grapefruit rind, pine resin, dandelion stem, and mint coming in strongly, with citrusy lemon oil and pink grapefruit following in a distant second – almost exactly opposite what the nose let on. The sugars are still heavy, with brown sugar and an assortment of orange, berry, cherry, and apricot fruit esters, but are largely subsumed beneath the strong hops, and are not allowed to shine through as strongly as they did on the nose. Toast crust, biscuit, rising whole wheat dough, and Grape Nuts cereal form a light bready base, but are also difficult to locate against the hops. The aftertaste is more hops, focusing still on the bitter notes, and lingering for a long time in a grassy dandelion stem and pine resin smack. Mouthfeel is medium, and carbonation is medium to medium-high.
Overall, this is a nice beer in many ways, but the hops tend to overwhelm everything else. Had this been marketed as a double IPA, this would not have been an issue, but the "Imperial Red Ale" note speaks to a higher sugar presence that is simply not there, causing the beer to seem out of balance. This is not to say that the beer is not delicious – in fact, I would easily buy another bottle – but it's not what I expected, and the result, especially because of the drastic difference between the aroma and the taste, was too jarring.
2,314 characters
4.18
/5
rDev
+5.6%
look: 4 | smell: 4 | taste: 4.25 | feel: 4.25 | overall: 4.25
Solid beer (imperial red ale) from slumbrew. First beer I've actually tried from slumbrew. Excellent taste, kind of caramel-y and malty. Dark red in appearance. Poured from a 22-oz bomber into a large beer stein. Decent head. Nice lacing around the glass.
255 characters

4.29
/5
rDev
+8.3%
look: 4.5 | smell: 4.25 | taste: 4.25 | feel: 4.5 | overall: 4.25
Been a while since I had this, but finding out that it's available in four-packs of tallboy cans for the insanely fair price of $11.99 (and that's at a store that usually runs pretty expensive) definitely sold me on trying it again. Always been a Slumbrew fan, and LK has been a consistently well-built double red ale with a focus on and penchant for balance.
Pours an attractive copper/ruby beer with some nice brighter orange-ish highlights if held to direct light. Head is a slightly tan color with great retention and absolutely fantastic, sticky lacing. A very attractive pour here; this has clearly translated very well to a new format.
Nose is heavy on chocolate and biscuity notes with a dash of roasted nuts and spicy, earthy hops. I get some orange peel, pine, roasted barley and ruby-red grapefruit as well. As mentioned before, this is a very balanced beer. Though the brewery describes it as a "hoppy imperial red", it's nothing like, say, Founders ReDANKulous or Oskar Blues G'Knight. This is definitely its own breed of "American strong ale" with a great balance between hoppy and malty notes, delivering each in equal kind.
On the tongue, there is an initial wave of pine-forward hops with some juicy citrus fruit, but it's quickly tempered by a smooth, even maltiness reminding of oats, with a soft, palate-coating quality. Chocolate biscuit and toffee come forward big time in the transition to more citrusy fruitiness towards the finish.
Feel is rather hefty and boisterous, but this definitely doesn't feel like a rather large beer. The full-leaning body lends a very round maltiness and excellent balance to the proceedings, with medium carbonation and just the right amount of hoppy slickness to keep this drinkable, consistent and high quality. An excellent deal by an underrated brewery!
1,815 characters
4
/5
rDev
+1%
A - wow, solid murkey brown amber body. Nice tan head with some serious retention. I mean the head is going nowhere! Nice lacing as well.
S - Just like a red ale should. Spicy and sweet
T - Sweet molasses and caramel and chocolate. Smokey, spicy and maybe a little bit of coffee. All of it cut by slight citrus but mostly pine and floral hops. Cherry and earthy hops in the aftertaste.
M - Medium/full body with moderate carbonation. Not too sticky, leaves the mouth clean.
O - Seriously great beer. Will definitely be picking up some Lobstahs again soon.
568 characters
3.63
/5
rDev
-8.3%
look: 3.75 | smell: 3.25 | taste: 3.75 | feel: 3.75 | overall: 3.75
Appearance: Standard for this type of beer which is reddish color with a decent head.
Aroma: Biscuits and caramel malts with some grassy hops.
Taste: Similar to aroma. Malty biscuits and caramel with a grassy hop taste and some buttery oils as well.
Overall: I bought this because I liked the "Lobstah" rowing away angry. That being said, I do not normally buy Irish red ales as they seem average in many ways, however, this Imperial version of the style was good. Light and refreshing for a hot day in June, and the 8% abv is appreciated (not by my wife), and was hidden well. If you want to try something different, this imperial red was a interesting twist on the classic red ale. Cheers!!
695 characters
Lobstah Killah from Somerville Brewing Company (Slumbrew)
3.96
out of
5
based on
90
ratings.