Tighthead Brewing Company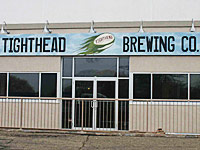 PLACE INFO
Type:
Brewery, Bar
161 N. Archer Ave.
Mundelein
,
Illinois
, 60060
United States
(847) 970-9174 |
map
tightheadbrewing.com
Notes:
No notes at this time.
Added by elginirishpunk on 11-01-2011
Reviews: 12 | Ratings: 39
4.33
/5
rDev
+5.9%
vibe: 4 | quality: 5 | service: 4 | selection: 4
As Tighthead is our hometown brewery, we have visited dozens of times over the years, and thus I feel that I can give a fairly accurate and somewhat objective review:
First, the beer--A good variety of styles at any given time, all solid. Prices are what you'd expect for a craft brewery that still pours actual 16-oz. pints and not the fake 12-oz. "pints" you get at some places. Of their staples, Scarlet Fire and Boxcar Porter stand out as our favorites, especially if the Porter is on cask.
Second, the ambiance--they recently doubled the size of the tasting room which is good because the old space was getting cramped. There is also a smallish patio that looks out at the parking lot and nearby railroad tracks. The crowd varies by time of day and day of week. Children and pets are allowed, at least not usually turned away, but there are no special accommodations for either. We've seen all ages up to and including newborn babies. The crowd gravitates toward douche-y on weekends, but I guess that's to be expected, what with people driving up from the city. (Just look at who is ordering flights and you'll know what I'm talking about.)
Third, food, or should I say NO food--Tighthead does not serve food aside from the stray bag of chips. You can bring in your own or there is a binder of local menus. Occasionally they also have food trucks.
Fourth, service--no real complaints here. Bartenders are typically friendly although they sometimes get bogged down pouring the aforementioned flights and filling growlers. Weekend afternoons typically see a steady stream of people (99% dudes) coming in for growler fills.
1,631 characters

4.71
/5
rDev
+15.2%
vibe: 4.5 | quality: 4.5 | service: 5 | selection: 4.75
My wife and I have visited here twice during our trips to the local area the past two summers. We really enjoy the beer selections and small tasting room. The staff is great and helpful. We really enjoyed the various IPAs and tasting flight. We were introduced to their beer while drinking at Firkin in Libertyville, and made our way over to the brewery after our taste of Irie.
I was fortunate enough to get a glass of the barrel aged Old Kaya Dog and loved it! Tighthead is very underrated, but should be on your radar if you're looking to try good beer.
564 characters

3.87
/5
rDev
-5.4%
vibe: 3.5 | quality: 4 | service: 4 | selection: 3.75
Nice selection of ales, the lace on all the taster glass were nice.
Bartender Nathan was friendly with good service. Fair sized bar, place is a bit hard to find hiding behind the main street but large parking area. As a Graphic artist I noticed artwork on the five main beers are quite nice.
292 characters

4
/5
rDev
-2.2%
vibe: 4 | quality: 4 | service: 4 | selection: 4
Tucked away in a business park near the Mundelein train station. Pretty simple bar and tap room set up with a small outdoor porch. Very inviting, friendly staff and some board games to pass the time. Nice selection of beers. I got the preset sampler, which was 7 healthy pours of their year rounders. Some special ones on tap plus a barrel ager. Overall a good experience, recommend stopping in.
395 characters
3.33
/5
rDev
-18.6%
vibe: 3.25 | quality: 3.5 | service: 3 | selection: 3.5
This place can be hard to find the first time you go looking for it but is a great place to try some local craft brews. Their Irie IPA is second to none. Chilly Water Ale and their Dopplebock are also top notch. This place can be hopping in the evening so don't be surprised if you find it hard to get a seat.
309 characters
4.36
/5
rDev
+6.6%
vibe: 4.5 | quality: 4.5 | service: 4.75 | selection: 3.75
Selection was a little low, but that was admittedly due to the late hour of arrival and the fact that the bottling schedule was not in my favor. Will definitely visit again.
173 characters

4.29
/5
rDev
+4.9%
vibe: 4 | quality: 4.25 | service: 4.25 | selection: 4.5
Just their own beers in little brewpub you wouldnt know was there. About 12 selections, always good beers on the menu in a variety of styles. Irie is known locally, Boxcar, Chilly Water, Bears Choice is also good. Then they have the heavy hitters Wee Heady and Midnight Shadow worth a try. No food served.
305 characters
4.24
/5
rDev
+3.7%
vibe: 3.75 | quality: 4 | service: 4.5 | selection: 4.5
A-As many craft breweries, it's located in the back of a more business/industrial area (near the train station in Mundelein). They have a small outdoor area and the inside is minimally decorated but comfortable and a nice setting to have a few after work on a Friday. They have a TV or two which typically shows sports.
Q-I "discovered" this brewery recently and really enjoy it. It's a new favorite in the Chicagoland area, which has no shortage of craft brewers popping up. Everything I've had, thus far, is solid. They have a way with hops that end up with 40 IBU beers having great hop character, when others have a billion IBU to get the same effect.
Service-Bartenders are nice and friendly. They appear to be in the habit of carding and then using your first name in their interactions with you. Some might see it as a plea for tips, but I actually believe it's a nice touch. No difficulties being served even when the bar is full.
Selection-Great selection with multiple IPAs, barleywines, English session ales, reds, pales, etc. At least on Friday afternoon/evening, they have one cask ale on which rotates.
F-They do not serve food with the exception of small bags of pretzels, peanuts, etc. I can't recall if they're free or if there is a small fee. Delivery is allowed and seen frequently (pizza, sandwiches, etc. from nearby restaurants).
V-I would consider Tighthead to be slightly expensive for pints/growler fills based upon other suburban breweries. I don't want to oversell this point, as there are other breweries around with similar pricing that aren't as good. I'm more than willing to go back and pay a dollar more for my pint and a few bucks more for my growler fill than I'd like to; knowing that it's going to be good.
1,750 characters

4.44
/5
rDev
+8.6%
vibe: 4.5 | quality: 4.75 | service: 4.5 | selection: 4
Great brew pub, no food in house but you can bring your own and they have outside vendors come in occasionally. They do give tours on weekends. Small local place with great atmosphere. I live near by and have tried all there brews. They also have an annual beer fest which the host. Cheers!!
291 characters

4.08
/5
rDev
-0.2%
vibe: 4 | quality: 4.25 | service: 4 | selection: 4
Once you get there (my GPS blew it the first time out) you would be in for a treat. a nice friendly feel kind of reminds me of some of the old neighborhood bars I grew up around in the city. The proprietor (Bruce Dir) and his staff try and make you feel at home and this helps when enjoying there refreshing traditional style brews of which there are about 10 on tap on a regular basis (Irie ipa is my personal favorite) and I also love the fact that you can get 1/2 growlers to go. They have no food in the tap room but there always seems to be a food truck parked outside and they have no problem letting you bring food in. Good bang for your buck and they also have trivia night on wed. and some live music on thurs. Very enjoyable and look forward to my visits
764 characters

4.16
/5
rDev
+1.7%
vibe: 4.5 | quality: 4.5 | service: 4.25 | selection: 3.5
Did a tour / tasting here in late 2012 . Tap room is a bit small but it's got a good vibe. There were a few board games available to play. There are a bunch of menus that you can order from local eateries. The owner/head brewmaster is a real cool, nice guy. He's got a great taste for music too, Grateful dead and other awesome classic rock playing in the tap room. Irie IPA is awesome!
386 characters

3.73
/5
rDev
-8.8%
vibe: 4 | quality: 4 | service: 3.5 | selection: 3.5
Finally got around to stopping in here after one of my now almost-usual to the City. Digging the convenient access to the Mundelein station. The place is in a normal industrial-park office building type o' thing (if you're ever been in the Telser Rd. area of LZ, you'll know what I'm talking about), equipped with a handful o' tables and a nice li'l bar, all in view of the brewing apparatus behind the back window. The house beers are all solid brews, more than enjoyable, if I do say so myself (and I'm pretty sure I just did). The bartender was genial, but not as knowledgeable about the beers as I would have expected from a brewery's tap room. The lack of any house food is also a bit off-putting to some, but I like the ability to bring in any outside food to enjoy alongside my pint o' Tighthead. Overall, a nice place, a welcome addition to the burgeoning Lake County scene. I look forward to returning as regularly as I can manage.
940 characters
Tighthead Brewing Company in Mundelein, IL
3.87
out of
5
based on
857
ratings.