Lighthouse Amber
| Cheboygan Brewing Company
BA SCORE
84
good
15
Reviews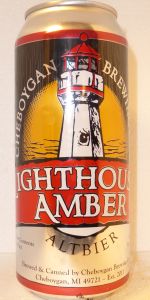 BEER INFO
Brewed by:
Cheboygan Brewing Company
Michigan
,
United States
cheboyganbrewing.com
Style:
Altbier
Alcohol by volume (ABV):
5.25%
Availability:
Year-round
Notes / Commercial Description:
No notes at this time.
Added by jmich24 on 11-27-2011
Reviews: 15 | Ratings: 106
3.15
/5
rDev
-14.6%
look: 3.5 | smell: 3.5 | taste: 3 | feel: 3 | overall: 3
Pours a dark amber, with a fine half inch frothy head and great lacing. Scents of sugar cookies, grass, balsamic vinegar, and molasses. Definitely an odd scent profile. Taste has notes of soy, malt, and a touch of molasses. Very different taste from the nose, not really much there. Mouthfeel is very light, some fine carbonation, but overall an incredibly easy drinking beer, almost too easy. Perhaps I got a bad bottle, but I felt this was really lacking substance.
467 characters
3.2
/5
rDev
-13.3%
look: 3.75 | smell: 3 | taste: 3.25 | feel: 3 | overall: 3.25
Pours a beautiful, medium dark, hazy, mahogany-brown. Two inch, tan, creamy, persistent head forms. Restrained nose. Where are the aromatic hops? Medium-full body. Sweet malt, caramel, and toffee on the palate. Almost too sweet - would like some bitter contrast. Nice Belgian lace. Extended lingering with hints of whole-grain bread. It is a filling and thirst-quenching ale.
375 characters
3.31
/5
rDev
-10.3%
look: 3.75 | smell: 3.25 | taste: 3.25 | feel: 3.5 | overall: 3.25
Pours a medium-dark hazy copper color with some orange highlights at the top of the beer where some light is allowed to pass through. A beige, almost yellow-tinted head tops this one off, leaving almost no lacing in its wake. The aroma is initially sweet, dark, and nutty - extremely malt heavy with almost no immediate hop presence at all. Subsequent sniffs reveal more caramel malts, and some mild dark fruits, like plums and raisins, though not as sweet. The nuttiness and caramel malts seem to overpower everything else.
The taste, like the aroma, is also malt heavy, though possibly a little more balanced. There is a mild chocolately flavor that goes hand in hand with the heavy caramel. Toasted nuts and light brown sugar are also floating around. Hops actually come out a little bit; slightly peppery, ashy, and more on the herbal side of things. They don't add too much bitterness, though I'm sure they help to balance out some of the sweetness, as this one never becomes cloying or over the top. Some light raisins and plums in the aftertaste with the still-heavy caramel and cocoa flavors. Thin-medium body, slick and well carbonated.
Not a bad beer; easily drinkable. It just doesn't really do much for me. Somewhat one dimensional and boring, and it doesn't really stand out in any particular category, so it feels like there's no reason to revisit. Thanks to Jeff for sharing this one, though.
1,409 characters

3.31
/5
rDev
-10.3%
look: 3.5 | smell: 2.5 | taste: 3.5 | feel: 4 | overall: 3.5
12 oz bottle into a pint glass.
a - pours a deep, reddish, copper shade with a thin cap of tan head that dissipated as soon as i finished pouring. what i'm left with is a thin film around the edge and no lacing.
s - buttered popcorn, black tea, faint grass. an odd aroma for sure.
t - sweet carmel malt with notes of black tea, chocolate, grass and faint dark fruits. ample bitterness to counter the sweetness but hop character is muted at best.
m - medium in body, lighter carbonation, fine co2 profile. has a bit of a mouth coating stickiness to it.
o - very drinkable but a bit of an odd beer flavor/aroma wise. not really sure what to think about this. might have to try it again with a few other examples of the style to see how it compares side by side.
765 characters
3.53
/5
rDev
-4.3%
look: 4 | smell: 3.5 | taste: 3.5 | feel: 3.5 | overall: 3.5
Tasting my second beer from Cheboygan Brewering over Father's Day weekend in Michigan. The beer pours a nice clear amber with thin white head that is not lacing. The smell includes milk chocolate and roast. The taste has what the smell provides. A very solid beer, but not my favorite amber....to me this is closer to a Brown Ale than amber. Nonetheless...worth part-taking in for sure.
386 characters
3.56
/5
rDev
-3.5%
look: 3.5 | smell: 3 | taste: 3.75 | feel: 3.75 | overall: 3.75
Appearance: dusty mahogany with a one and a half finger tan head that leaves no lacing
Aroma: toasted malts with a touch of hops, simple and mild
Flavors: toasted grains, sweet brown nut-fruit bread, roasted caramel, faint grassy feel,
Mouthfeel: light carbonation, smooth, bready aftertaste with a dusting of dry hops, medium body, not too sweet, very mild to mild bitterness,
To the Point: a nice tasting altbier, I would buy this again
444 characters
3.59
/5
rDev
-2.7%
look: 3.75 | smell: 3.5 | taste: 3.5 | feel: 3.75 | overall: 3.75
Bottle from Champagne's. Hits the spot, better than I thought. Malty aroma. A good balance of malt complexity, not too sweet. Very good drinkability. A tad above average mouthfeel, smooth. Tan coloured body and a bit of tan coloured head. A transition beer.
257 characters
3.63
/5
rDev
-1.6%
look: 3.75 | smell: 3.75 | taste: 3.5 | feel: 3.5 | overall: 3.75
Bottle poured into a pokal.
A- 1-1/2 finger head fizzes and drops to a light film. Clean, chestnut body. lots of spritzy carbonation. The head is ever changing as the heavy carbonation continues to rush to the surface. Decent stick.
S- really malty. Mix of brown sugar and toasted nuts. Quite robust, really.
T- Follows aroma. Lots of roasted nuts and brown sugar/caramel. Lighter fruity tones, dark fruit, like overripe plums. Slight spicy, peppery hops.
M- Moderate body. Heavy, though delicate carbonation.
O- It's an easy drinker. While not well versed in altbiers, it's much nuttier and sweeter than expected. I could be fooled for some sort of nut brown even. Nice late winter, early spring beer. I can even see similarities to the Salvator I've been enjoying through Lent (even with obvious style difference). I'd buy it again when I crave a malty treat.
866 characters
3.9
/5
rDev
+5.7%
look: 4 | smell: 4 | taste: 4 | feel: 4 | overall: 3.5
12 ounce bottle into pint glass, no bottle dating. Pours lightly cloudy ruby red color with a 1 finger dense light khaki head with good retention, that reduces to a thin cap that lingers. Light spotty soapy lacing clings on the glass, with some light streaming carbonation. Aromas of caramel, toffee, toast, brown bread, plum, apple, light nuttiness, light chocolate, herbal, and yeast earthiness. Very nice aromas with good balance and complexity of dark/bready malt, earthy hops, and yeast ester notes; with good strength. Taste of caramel, toffee, toast, brown bread, light chocolate, light nuttiness, plum, apple, herbal, and yeast earthiness. Light earthy herbal bitterness on the finish; with lingering notes of caramel, toffee, toast, brown bread, light nuttiness, light chocolate, herbal, and yeast earthiness on the finish for a good bit. Very nice robustness and complexity of dark/bready malt. earthy hops, and light-moderate yeast fester flavors; with a nice malt/bitterness balance and zero cloying flavors after the finish. Medium carbonation and body; with a very smooth and moderately creamy/bready mouthfeel that is nice. Alcohol is very well hidden with minimal warming present after the finish. Overall this is a very nice altbier. All around good robustness, balance, and complexity of dark/bready malt, earthy hop, and light-moderate yeast ester flavors; and very smooth to drink. A very enjoyable offering.
1,428 characters
4
/5
rDev
+8.4%
look: 4 | smell: 4 | taste: 4 | feel: 4 | overall: 4
Appearance: amber with a dark tint and a tan, fluffy head Smell: Has bread and sweet malt aromas Taste: A little heavy German dark bread tart at the start, dark kettle sugars, rich malt, and dark bread crust flavors finishing with a light tartness and faint dark fruit. Mouthfeel: Creamy, medium body to medium full, medium light carbonation
342 characters

4
/5
rDev
+8.4%
look: 4 | smell: 4 | taste: 4 | feel: 4 | overall: 4
A: One finger fluffy off white head. Deep amber color. Nice lacing.
S: Big carmel malts!
T: Sweetness of the huge carmel maltiness is balanced with a light earthy bitterness on the finish.
M: Medium mouthfeel, easy drinking and smooth. Light bitterness is just enought to balance it out.
O: This was a very solid offering up at the Millersburg Bar in the NE Michigan. I walked in expecting to order PBR and ended up drinking three of these. Very well done!
461 characters
4.01
/5
rDev
+8.7%
look: 4.25 | smell: 3.75 | taste: 4 | feel: 4.5 | overall: 4
Had this one a couple times in northern Michigan bouncing around on vacation. Pretty popular as a tap option at a lot of bars, even if it's the only non-BMC option. I can see why. For sake of review, this one was had on tap at the Keyhole in Mackinaw City. Pour was beautiful garnet. Aroma was subtle, sweet and malty. Taste was malt, dark bread, some small fruit notes. Creamy mouthfeel. Would have again.
406 characters

4.18
/5
rDev
+13.3%
look: 4 | smell: 4 | taste: 4.25 | feel: 4.25 | overall: 4.25
Undated 16 oz can at 54 degrees into shaker
$ 2.09/can at the Lager Mill
Aroma slight, malt
Head large (five cm, aggressive pour), light brown, creamy, slowly diminishing to
Lacing poor – rare tentacle left behind by receding head
Body amber/brown, clear
Flavor a little fruity with malt coming through; no hops, no alcohol, no diacetyl
Palate light to medium, somewhat creamy, soft carbonation
Overall, a pleasant easy drinking brew that won't challenge your tolerance for extreme flavors.
Appearance 4, Aroma 4, Flavor 4.25, Palate 4.25, Overall 4.25
557 characters

4.33
/5
rDev
+17.3%
look: 4.5 | smell: 4 | taste: 4.5 | feel: 4.5 | overall: 4.25
Pours a very nice ruby red with a small off-white head.
Smells of roasted malt and molasses
Nice creamy mouth feel
Tastes is sweet and nutty with very smooth finish.
This is an an excellent brew overall with a wonderfully complex flavor and a very smooth finish.
268 characters

4.5
/5
rDev
+22%
look: 4.5 | smell: 4.5 | taste: 4.5 | feel: 4.5 | overall: 4.5
I picked up a bottle of Cheboygan Brewing Company's Lighthouse Amber yesterday for $1.69 at The Lager Mill. I have never heard of this brewery before, but I am always down to try a new Michigan brewerys, so lets see how it goes. No visible bottling date. Poured from a brown 12oz bottle into a imperial pint glass.
A- The label looks good and it has a nice looking picture of a lighthouse on it. It poured a nice muddy amber color that took on a nice bright ruby amber color when held to the light. It had three and a half fingers worth of fluffy light tan head that died down to a thin layer that stayed till the end and it left lots of nice lacing. This is a great looking beer, no complaints here.
S- The aroma of this beer seems to be dominated by caramel malts that have a medium amount of sweetness and impart a very big toasted bread aroma along with some light grains and biscuity aromas. At the end I got a nice dose of caramel that added some good complexity and I didn't pick up any hops in the aroma. This is a nice smelling beer the toasted bread and caramel aromas go very well together.
T- The taste mirrors the aroma nicely, they are pretty much the same. It starts off with loads of caramel malts that have just the right amount of medium sweetness and impart a big toasted bread flavor that is followed by an equally nice caramel flavor. Towards the end I get some light earthy hops flavors followed by a light amount of bitterness and a slightly sweet toasted bread aftertaste that stayed for a while. This is one tasty beer, the malt profile is pretty much perfect, I really like it and the quality of the ingredients really comes through in the taste.
M- Very smooth, surprisingly creamy, medium bodied with a good amount of medium carbonation. The mouthfeel worked very well with this beer, there is nothing I would change.
Overall I was really impressed with this beer and I thought it was a great Altbier. This beer was all about the malts and they were very well put together and that made for one tasty brew that I really enjoyed drinking. This beer has great drinkability, it's real smooth, not filling, and the taste really grabs my attention, I could drink this all night and perfectly satisfied. What I liked most about this beer was pretty much everything, but I think the flavors were my favorite aspect, I really liked the combination of toasted bread and caramel. What I liked least about this beer was the absence of hops, a little more hop flavor might make this the best Altbier ever, I also didn't like the fact that it had not bottling date, all new brewerys should date their bottles, it just makes sense. I will for sure be buying more of this beer, it's too good not to and I highly recommend it to anyone, it's that good. I was really impressed with this beer and brewery, they sure made a very good first impression on me, for a beer and brewery that I have heard nothing about this was a great surprise and I am glad I took a chance on this brew. This has to be the best Altbier I have ever had, I don't think they get much better then this. Awesome job on this beer guys, rest I assured I will be more then willing to check out more of your brews, this is quite the sleeper beer, people need to know how awesome this beer is, you can bet I will spreading the word.
3,316 characters
Lighthouse Amber from Cheboygan Brewing Company
3.69
out of
5
based on
106
ratings.